Unleash Your Adventurous Spirit: Motorcycle Touring in Tanzania with MotoBirds
Is a motorcycle tour in Tanzania worth it for adventure lovers? Absolutely, and we have the insider scoop from one of our experienced guides who has led multiple tours in this awe-inspiring country. Brace yourself for some insights straight from the road! Our guides, who know Tanzania like the back of their hand, have ridden intensively in this area and can't wait to share their knowledge with you. Picture yourself cruising through vast plains, spotting incredible wild animals along the track, sleeping over in beautiful safari lodges, where giraffes, gnu and zebras are but a few meters away or sip a cold beer watching elephants drinking close by… Sounds like a dream come true, doesn't it?
Have you ever wondered why motorcycle touring in Africa can be so exciting? 
We created this article to provide you with an answer to that question and, hopefully, show how you would benefit from doing it with MotoBirds.
One of the MotoBirds team members had lived in Africa for several years, which gave us precious insider knowledge about the countries that would offer the kind of amazing adventure riding and stunning attractions we were looking for to include in our tour calendar. If you're seeking an unforgettable experience in Africa, look no further than Tanzania!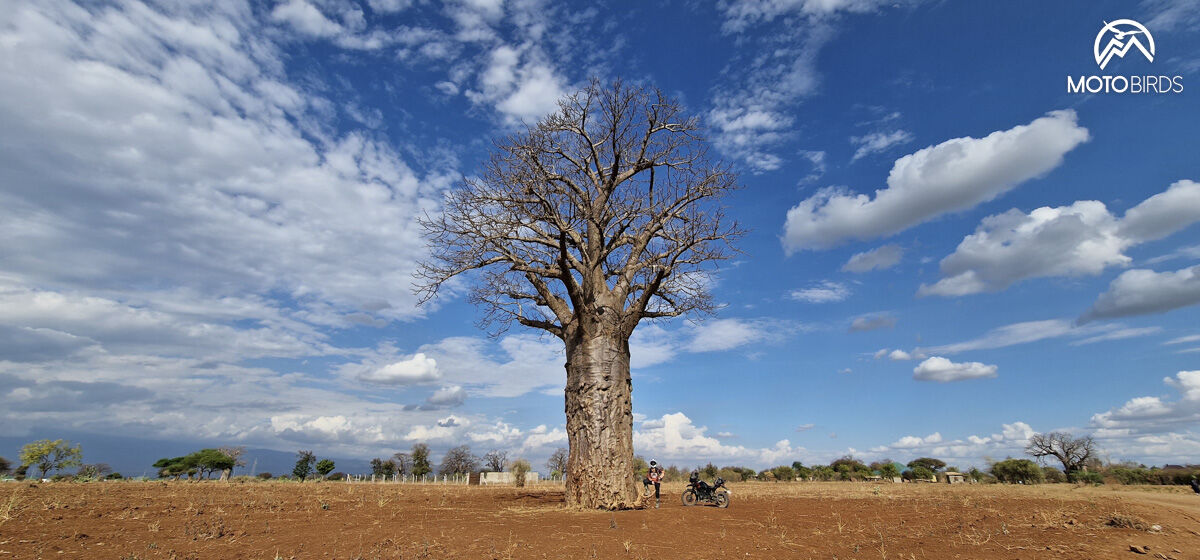 Tanzania ticks all the boxes for us: it offers outstanding opportunities for motorbike adventure tours, great landscapes, superb wildlife parks, and a range of good to great accommodation choices. In our opinion, a perfect Tanzanian adventure motorcycle tour would combine the following elements:
terrific riding experiences, including river crossings, single tracks, 4×4 tracks, and, of course, outstanding scenery,
no long-distance asphalt riding,
good to excellent hotels,
the world-famous main attractions of Northern Tanzania,
variety, from the Massai steppes to the Indian Ocean,
rental bikes (it is too expensive to ship bikes to Tanzania) and a support car,
a price that offers great value for money,
the possibility to have both 4×4 vehicles and motorcycle riders on the same tours, while ensuring that both groups have special itineraries.
We were eager to present travelers with a complete offer, providing them with the opportunity to enjoy terrific MotoBirds trips on the African continent.
Have a look at frequently asked questions we receive since we started touring in Tanzania.
Motorcycle Touring in Tanzania: what is the best time to go?
So, when is the best time to embark on this unforgettable journey? Tanzania has two rainy seasons, a short one and a long one. To make the most of your adventure, we recommend going towards the end of the year. Why, you ask? Well, during this time, the grass is shorter, making it easier to spot majestic animals roaming the savannah.
Our MotoBirds tour is carefully scheduled to take place at the tail end of the dry season, just as the first refreshing rains start to fall, bringing relief to the land and creating a magical atmosphere, especially near the majestic mountains. Imagine capturing those stunning photographs with dramatic cloudy skies as your backdrop.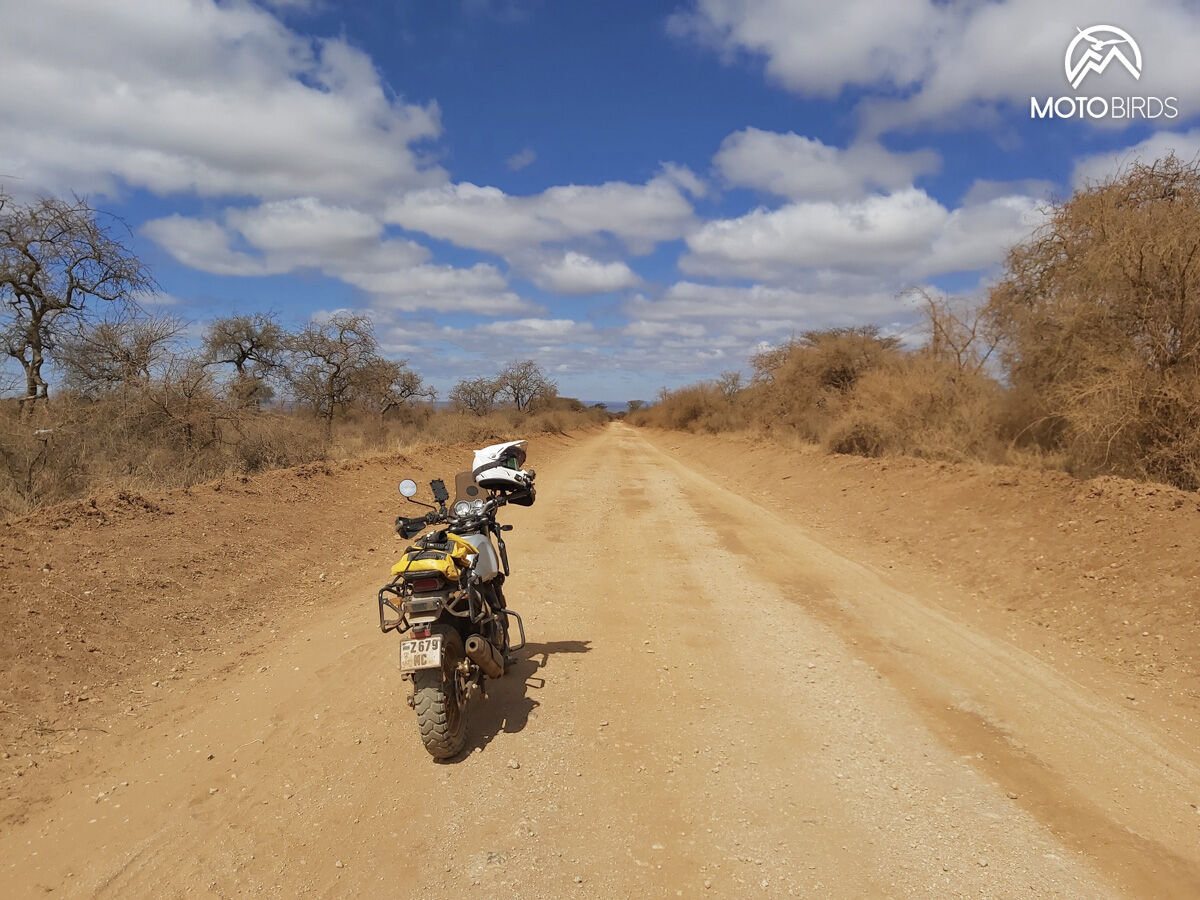 Curious about riding in the rain? Fear not! Our seasoned guide assures us that any rain we may encounter along the route is nothing to worry about. In fact, if a few drops happen to fall, they never last long enough to dampen our spirits or gear. And if it does rain, it's usually towards the evening when a short, refreshing storm graces us briefly before moving on. So rest assured, you'll be enjoying the thrill of the ride without any worries about getting drenched.
What to expect as a rider?
In Tanzania you can expect a mix of single tracks, scenic paved roads, mountain roads, and gravel roads in varying conditions. There are also a couple of river crossings to add some excitement. While the route is mostly on unpaved tracks, there are few truly difficult sections. Some prior off-road riding experience will definitely help you make the most of the tour. The terrain is constantly changing and it is never repetitive. You'll also have the chance to ride close to herds of wild animals, an experience you'll never forget. Trust us, you won't have to find out if your motorcycle can outrun a lion!
What your guide thinks: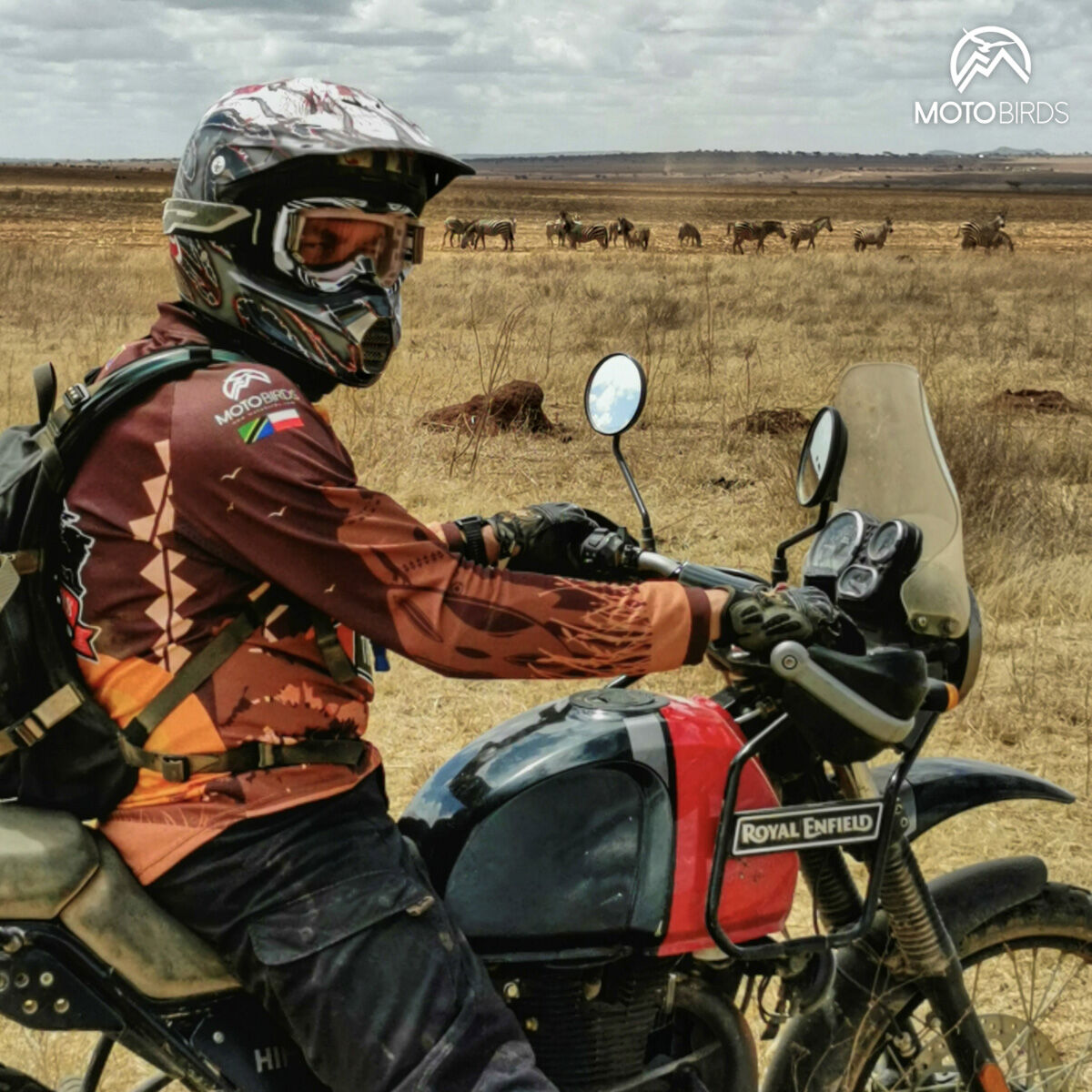 "I love this tour because it's both entertaining and endlessly varied. You'll pass through a variety of ecosystems and see amazing landscapes and wildlife. The kind of track we go on keeps changing, with single tracks, a few sandy sections, short paved stretches, rolling 4×4 gravel roads, and even a deserted beach. The river crossings are great fun too. Motorbike riders always love crossing rivers! The scenery is constantly changing as you pass through African villages, deserted savannah, and mountains. It's a truly amazing motorcycle experience on pretty much every level – landscapes, riding, local flavors, wildlife, and accommodation. There are a couple of longer riding days on the tour. But as the scenery and the riding are great, it is never a problem. It always makes my day to see the dusty, smiling faces of riders at the end of each day!"
How is the accommodation?
Get ready to live out your own "Out of Africa" adventure with Motobirds in Tanzania! The tour we offer you includes comfortable accommodation, as well as a few nights in stunning tented camps that will transport you back to that classic movie. You'll be the main character in your own adventure, living out your wildest motorcycling dreams.
But the excitement doesn't stop there – we also have a rest day by the Indian Ocean at a barefoot lodge on a deserted beach. It's an unforgettable experience that you won't want to miss. And to top it all off, all of our hotels have that special touch that will make you remember them for years to come.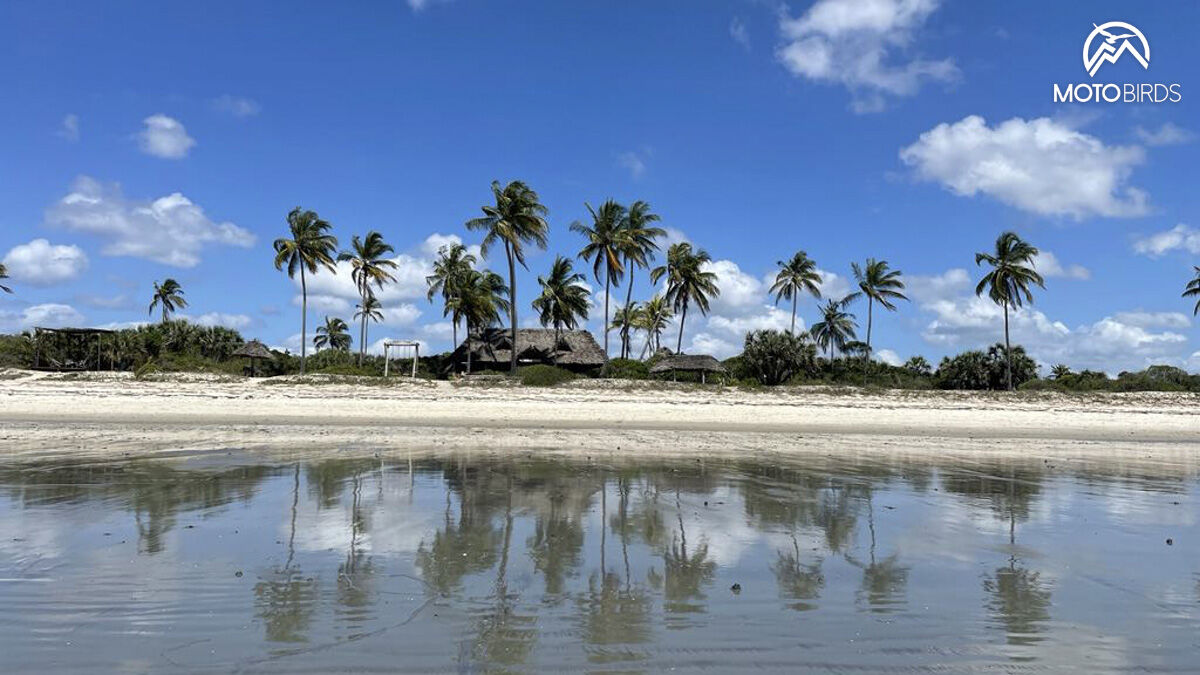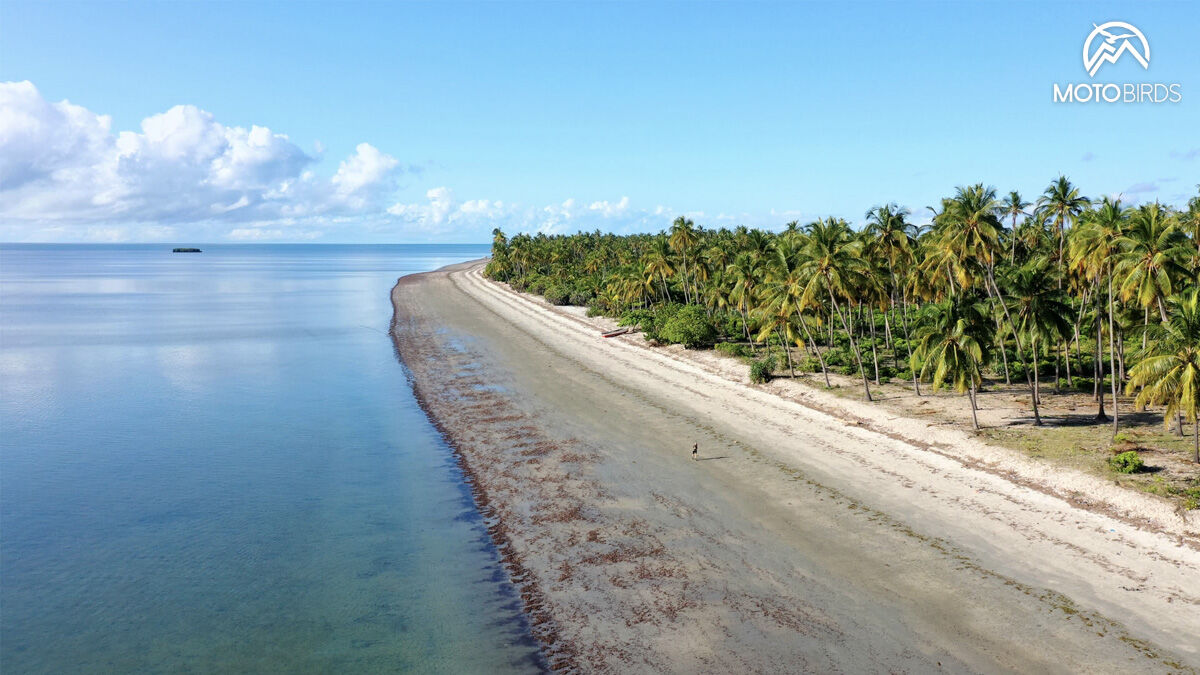 The hotels and resorts are one of the great features of the Tanzania tour. In fact, they're one of the highlights of the trip, especially the ones on the Indian Ocean and the tented camps. They're simple yet luxurious.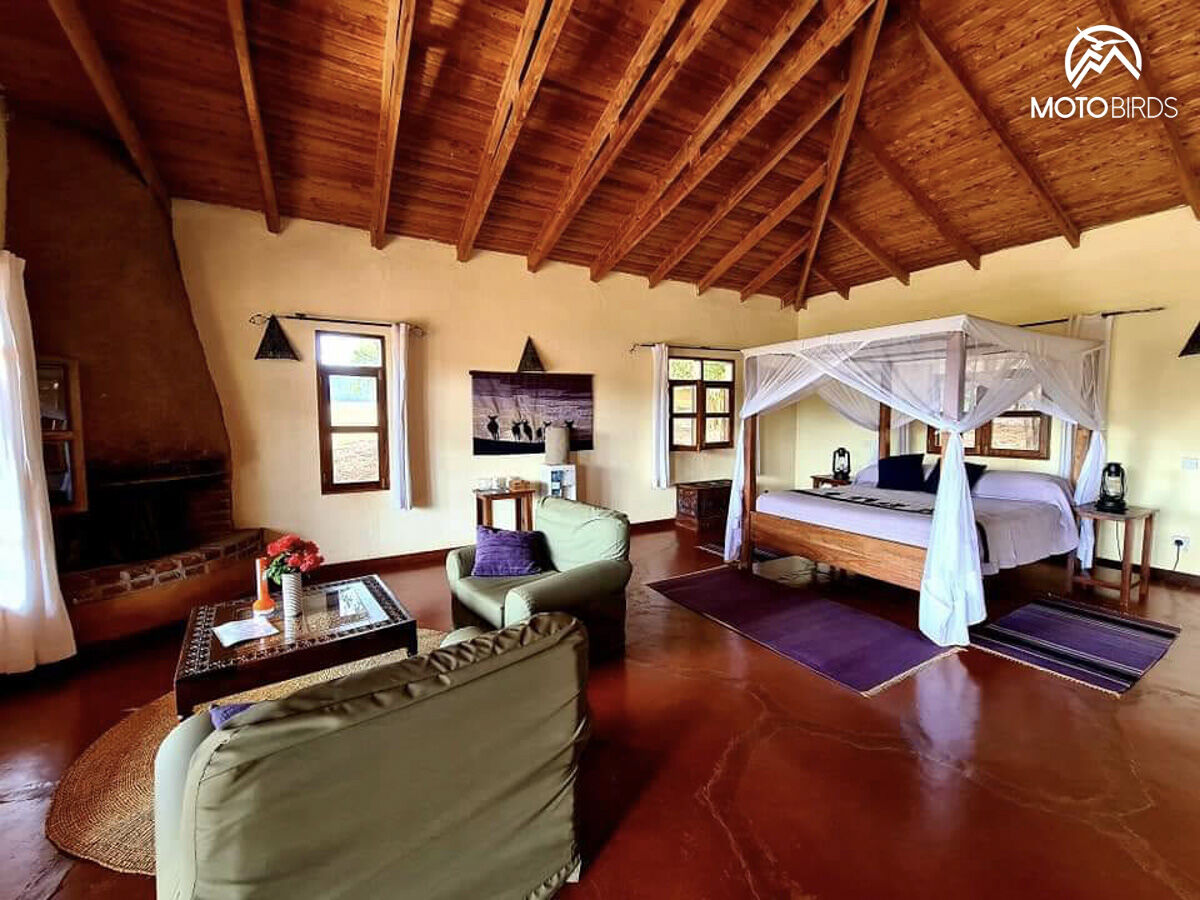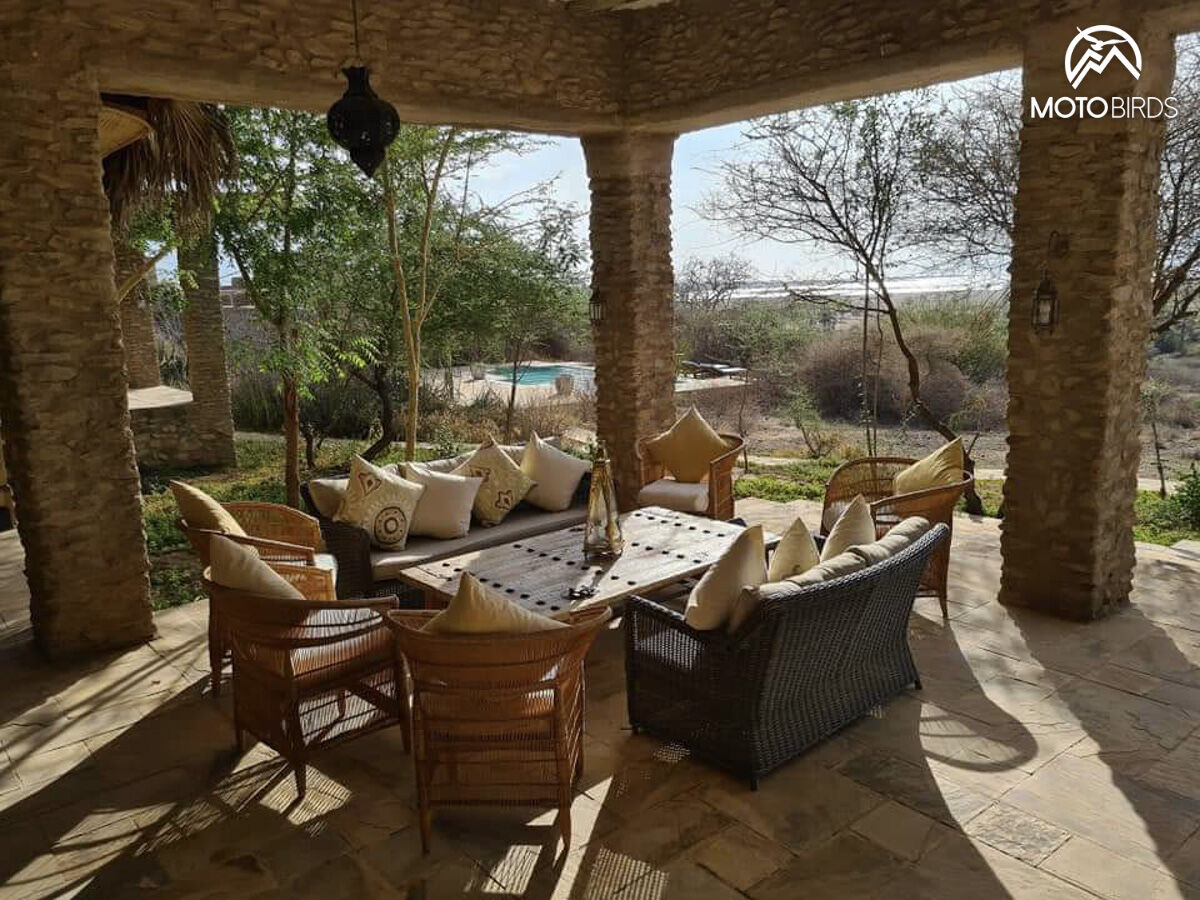 What to wear?
Off-road gear such as motocross boots and body armor with the enduro jumper are the best choice.  If you want to look fancy and comfortable you can always order one of our tailor made, especially for Tanzania trip, enduro jerseys.
Also bring a light wind or rain layer for those cooler days, or should we have a short rain on the way. You don't need to bring a rain suit.
Temperatures will range between pretty hot to pleasant. Sunscreen, a hat and sunglasses are items you should throw in your bag. You will be sent a suggested packing list as you get closer to the tour date, to make packing easier.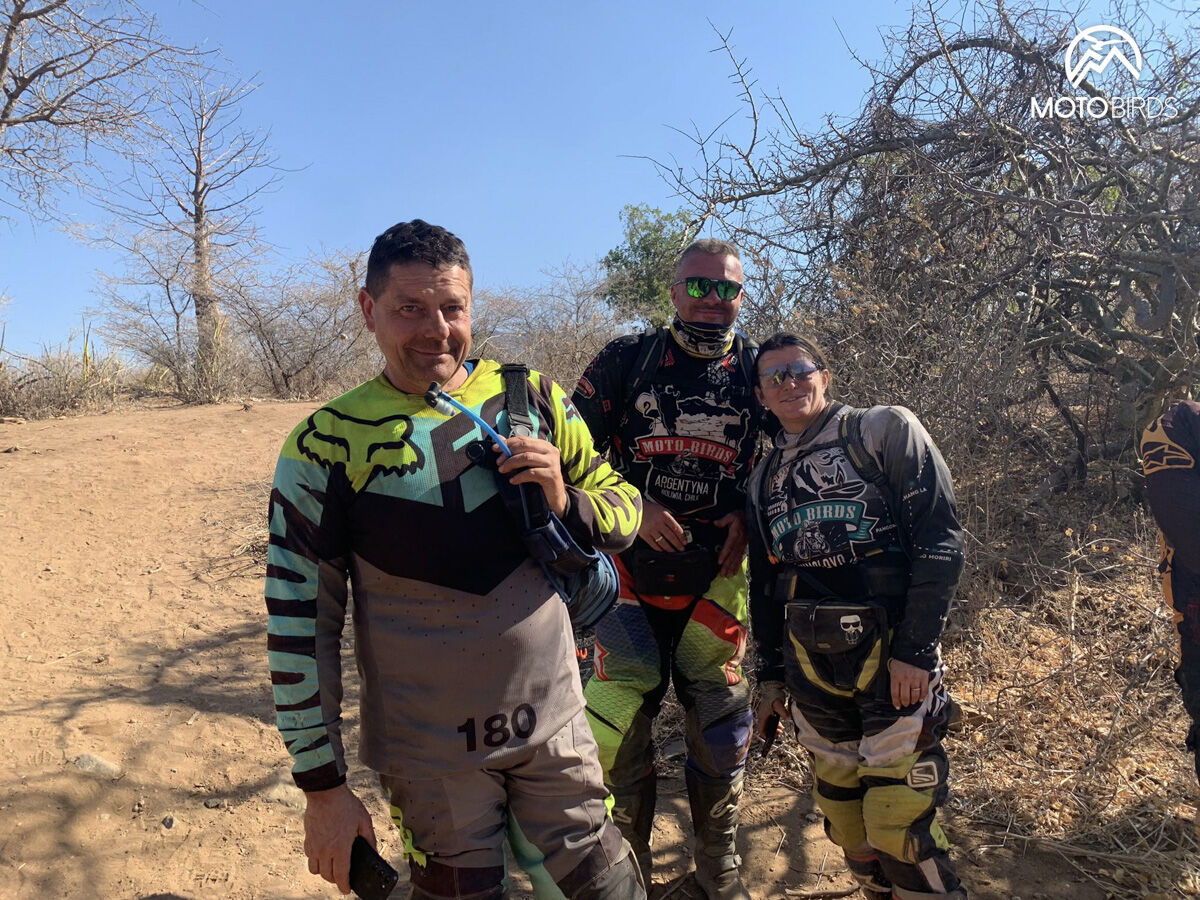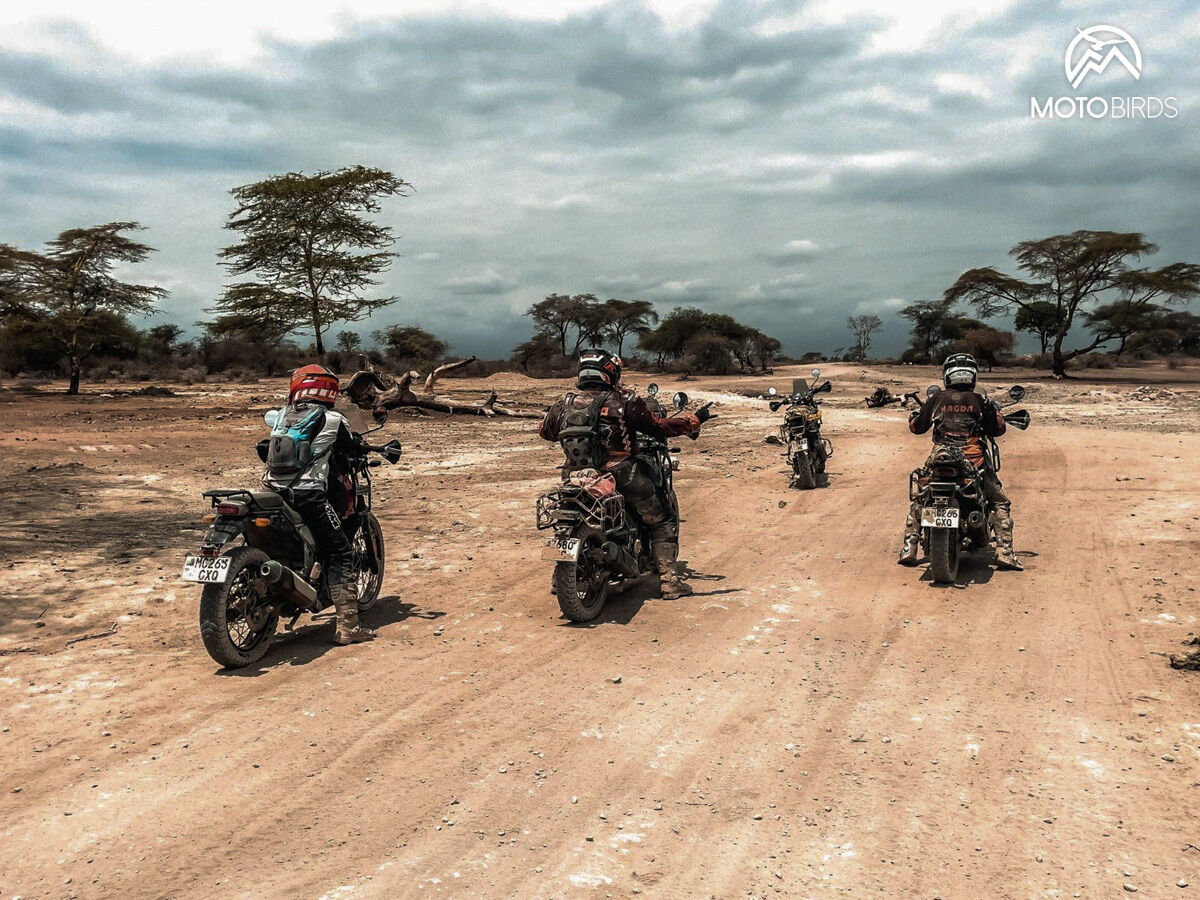 What Luggage Should You Bring and What Not To Forget?
The best luggage type are soft waterproof roll bags. It is better to avoid hard-shell suitcases. If at all possible, try to limit yourself to 20kg, without your riding gear.
First on your list should be a swimming costume! There are a number of great pools and swimming opportunities along our route. Make sure you don't miss them. Mosquito repellent will go a long way to make your tour more comfortable. Other than that, sandals, shorts, and light clothes. You won't need much more. Don't forget there are safari days: a good quality camera can take better pictures than most smartphones, if this is important for you.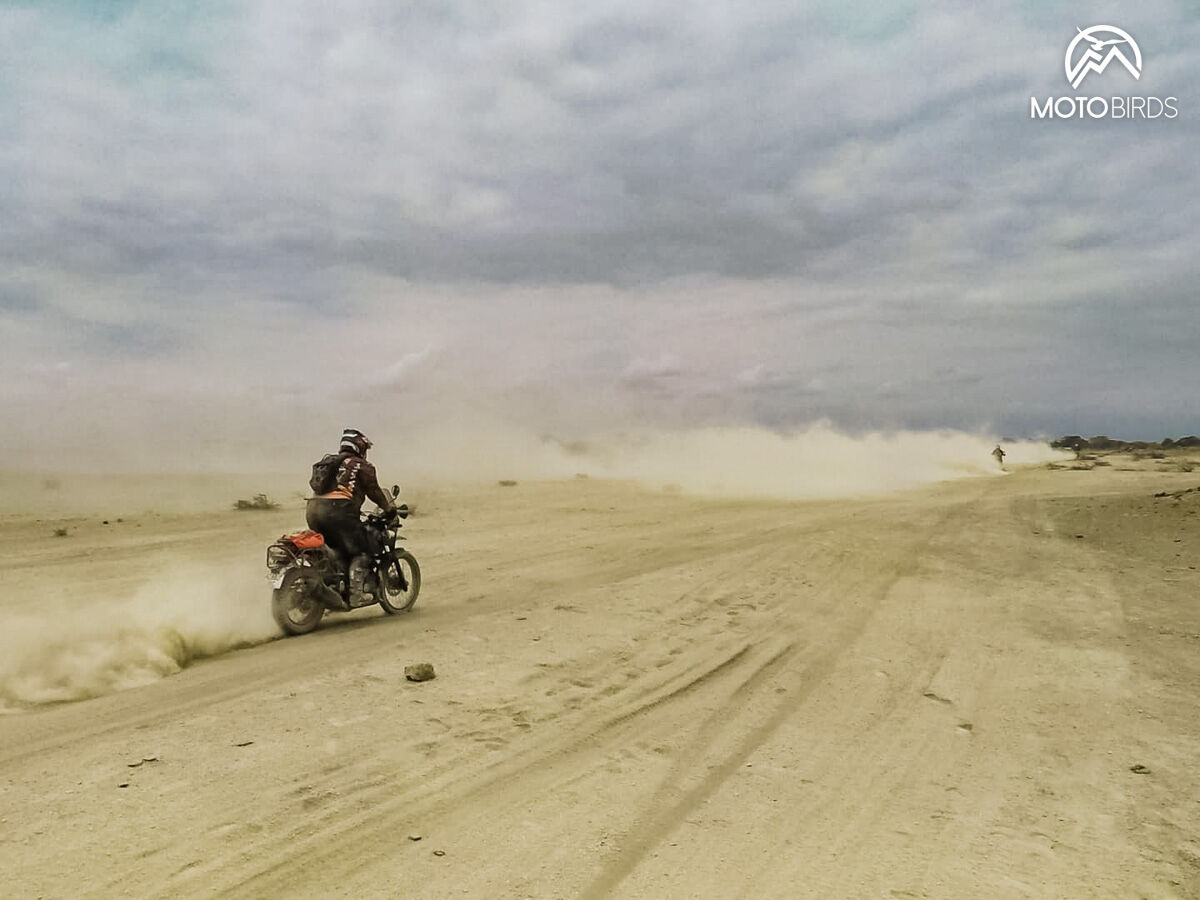 What's also important is not to forget to drink enough water during the day. For this a water bladder in the backpack is something important. In the evenings, it's better to prefer long sleeves and pants. Not because of the temperatures, but to have less surface to spray repellent on. Yes, there are mosquitoes in some areas!
Our guides travel with a 40L soft bag. In hotels you can usually do laundry, and at these temperatures everything dries quickly.
How To Get There?
We start and end the tour in Arusha. Arusha is the main city in the North of Tanzania. The closest airport is called Kilimanjaro International Airport. From the airport, expect a 35 to 45 minutes taxi ride to get to the hotel. Ethiopian Airlines, Qatar airways, KLM, British Airways are some of the main airlines flying there.
Pretty much as safe or unsafe as many other places. As everywhere, don't flash your cash and be cautious in more crowded places.
This part of Tanzania you will visit with us is safer than a number of European capitals. If you follow basic principles you have nothing to fear. It's best not to wander around in the middle of night in surroundings I am not familiar with. But that's pretty universal, not specific to Tanzania.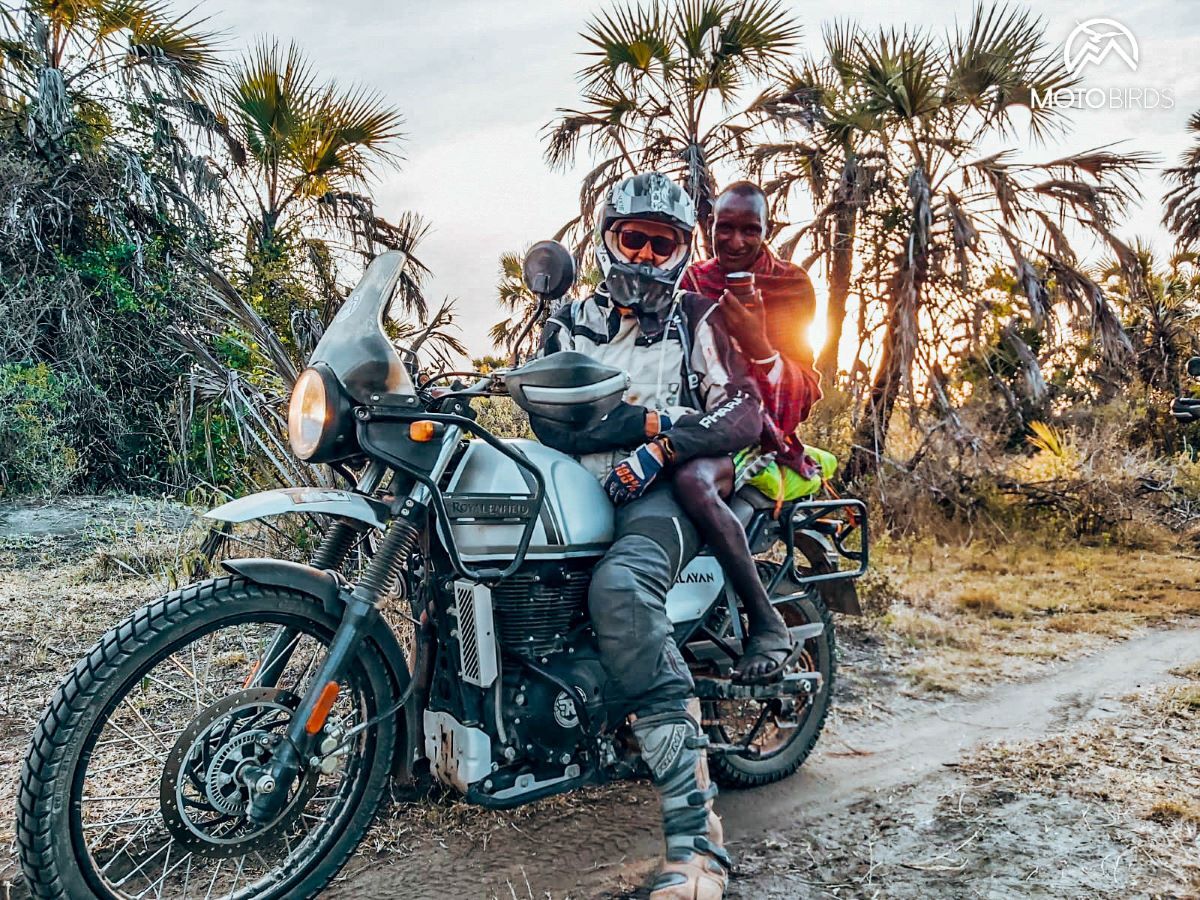 What's A Typical Rriding Day Like
We meet for breakfast typically around 7:00 or 7:30. We depart around 8:00 or 8:30. There are a number of breaks during the day. Be it for pictures, rest, coffee or lunch. Sometimes also for a puncture…
We ride as a group, with two guides: one in the front of the group and one in the back. We do it this way to make sure all can ride at their own pace, without pressure. There will always be someone behind you, to make sure you know where to go, or to deal with any potential issue along the route.  In the evening, we have a briefing about what to expect the next day, so everyone can prepare.
Because of the dust, it's better to keep a safe distance between riders. This is why the leading guide will always stop at intersections to make sure riders know where to go.
One of our guides has the following thoughts on riding with a group on Tanzanian trails: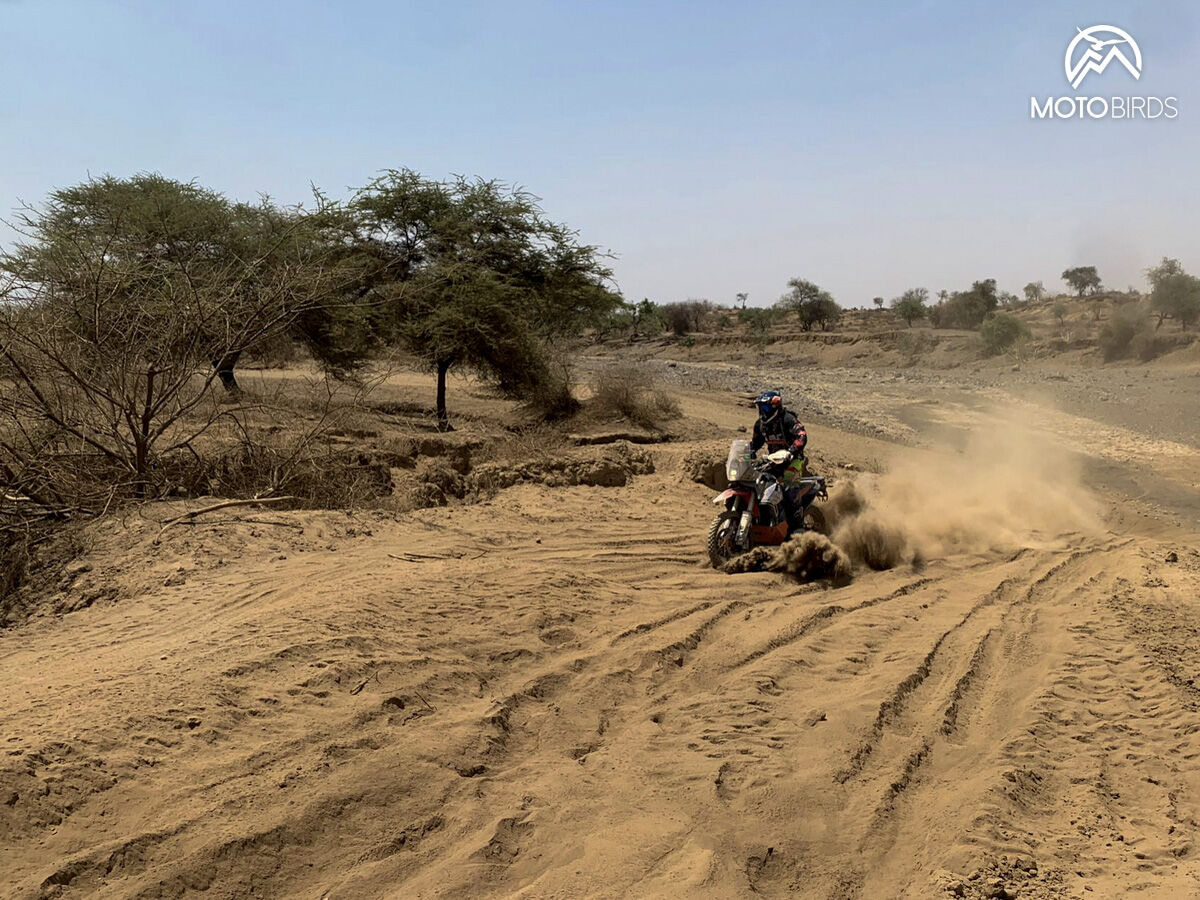 "I make regular stops at intervals, usually every hour, sometimes more frequently, depending on the group and the type of route we are taking. Sometimes participants want to stop more often, depending on the scenic views along the route and how many photos they want to take. I adjust my riding pace to match the participants' pace and ensure everyone feels comfortable. It is extremely important for everyone to maintain distances between each other; otherwise, you'll be riding in a cloud of dust, which is not pleasant. Even with maintaining distance, by the end of the day, everyone is more or less dusty."
Is the Route Fixed?
Yes and no… We have prepared a route that, in our opinion, is… ideal. However, sometimes, depending on the pace, riding skills of the group, weather conditions, and road conditions, we need to make some changes or modifications. This way, we aim to adapt it to the specific group and prevailing conditions. It may become more challenging or easier compared to the "original model." Generally, we do not change hotels from what has been planned. With several, larger groups, it would simply be impossible.
One of our guides, approaches the topic of the route like this: "Sometimes I have to change the route if the group is tired, if the conditions on the route require it, or if the group is eager to tackle more demanding off-road sections. The priority is always to provide the best riding experiences and safely reach our final destination hotel before dusk. Besides, as it's Africa, circumstances can change, and we must respond accordingly. I don't consider it a problem: I know the routes well enough to always have ready Plan B and C."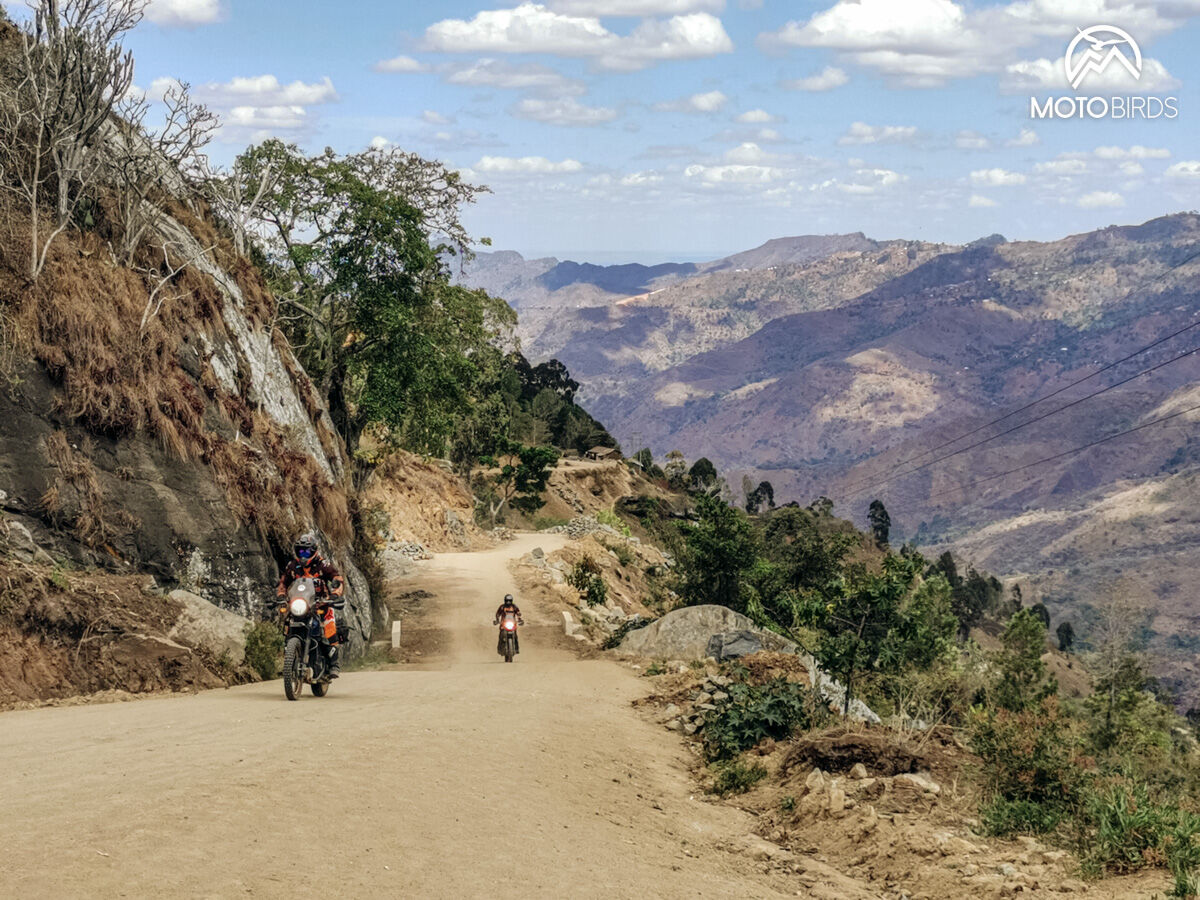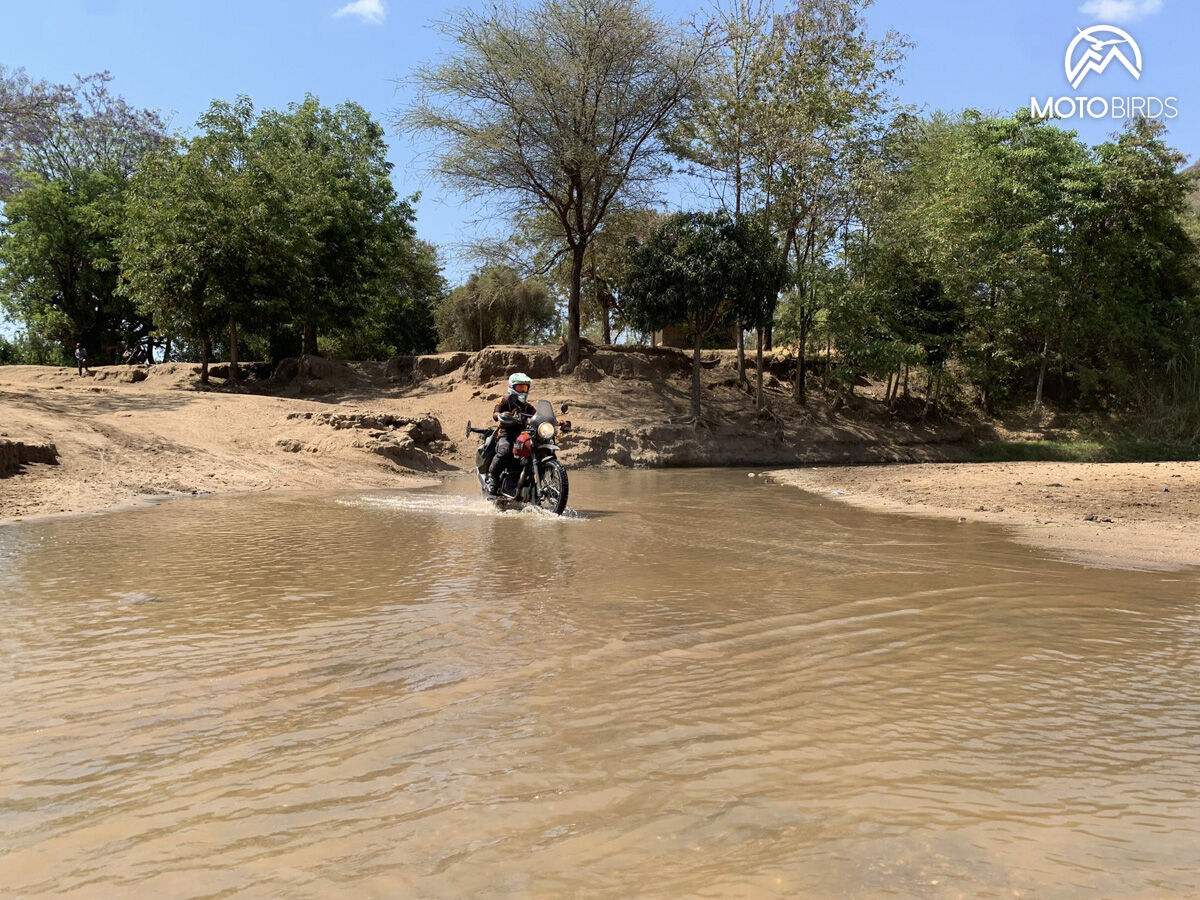 What if You can't ride
We all can have an off day… This is why there is a support car with a trailer. If you happen to be unwell to the extent you can't ride safely, your bike can be loaded on the trailer and you will be able to ride in the support vehicle until you feel well enough to ride.
After the first day, we get a good feeling of the pace and capabilities of the riders. We may then decide to ride as one or two groups. You should always ride at your own pace. It is your adventure. If you want to stop for pictures, do so!
What your guide says: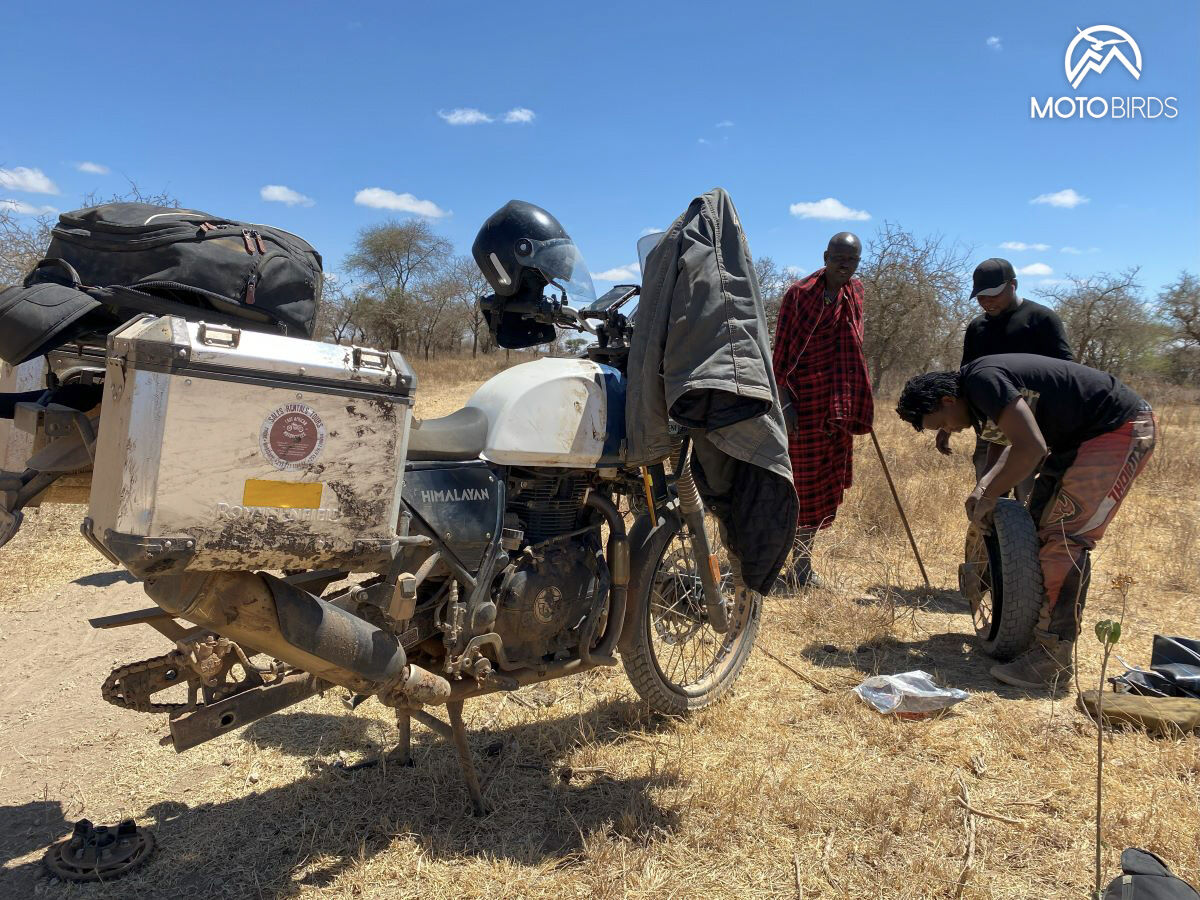 "It's essential that all riders go at their own pace. It's your hard-earned vacation, not the one of the other ladies or fellows on bikes. We just have to reach the next hotel before nightfall. On this tour, I have to be attentive to the timing: some sections are not long, but we can get delayed by punctures for instance. And we really want to avoid riding at night. We once had 9 punctures in a 30 km stretch! It is therefore important to build some safety in the riding times. I know when we have to leave from a break, lunch or a fuel stop, depending on the group pace."
What Experience Level is Required?
You don't need to be an advanced rider, although some prior gravel riding experience will help.
We had all kinds of riders on the Tanzania tour. There was even one who had ridden 300km on a motorbike – in his life! What is most important is a positive attitude. Of course, some basic fitness goes a long way. But this is the case with any physical activity.
It's not the ideal tour for absolute beginners, but it is certainly within the reach of less experienced riders. The first days can seem a little daunting to newer riders. But all riders pick up confidence very quickly. Tanzania is a terrific place to ride, by any measure!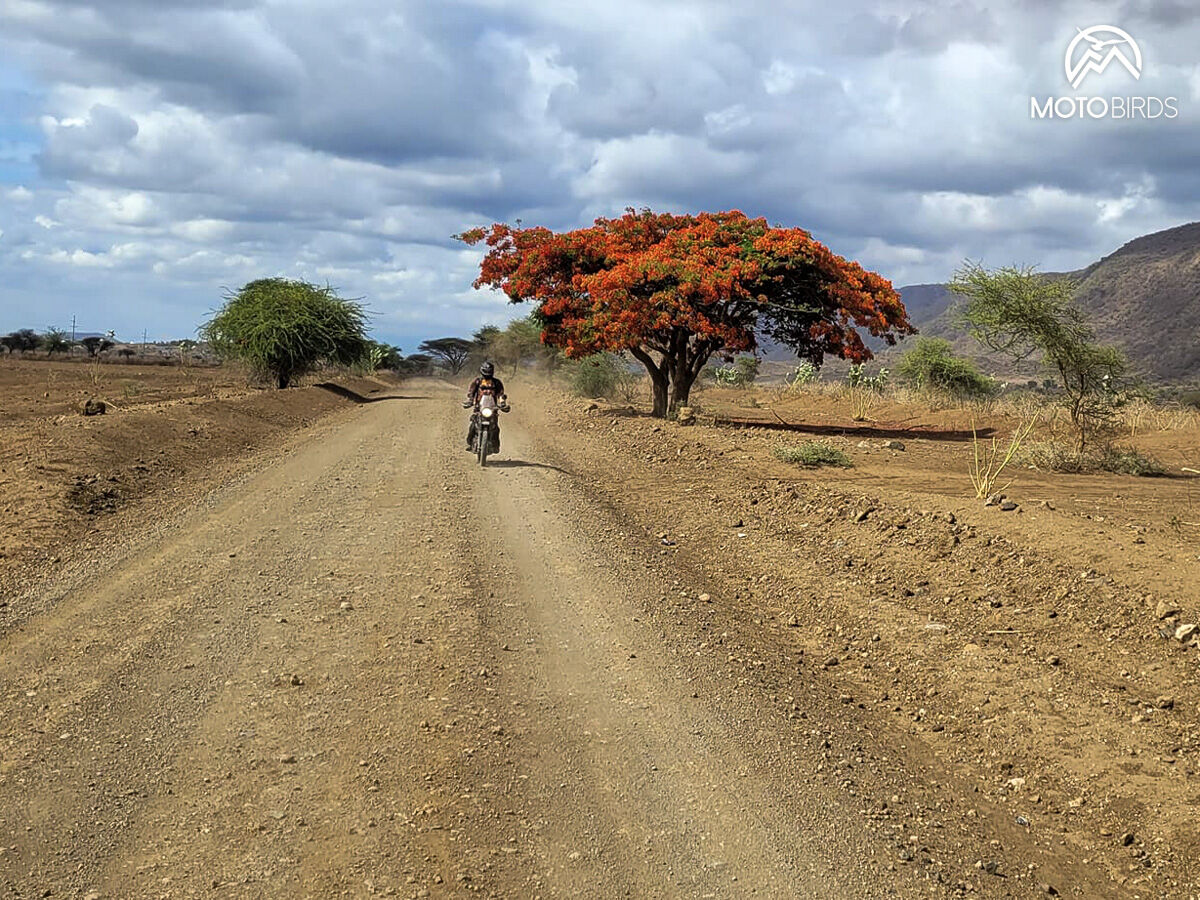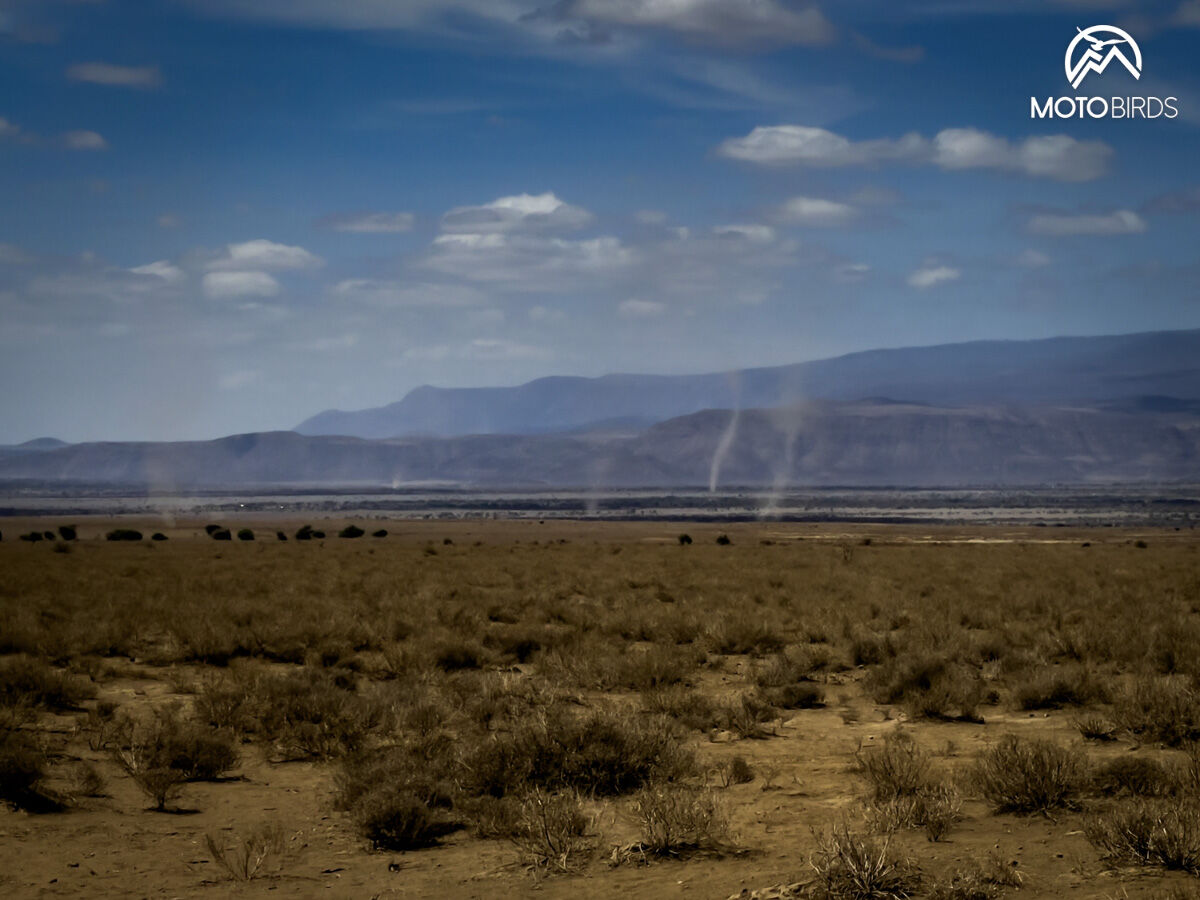 What Food Choices Are Available
Vegetarians will always find options in Tanzania. Overall the food is good, tasty and varied. However chicken is almost often a better choice than beef. There are great fruits to be enjoyed! The water's not potable, but bottled water is available everywhere.
Are The Safaris Really Worthwhile
Just take a few minutes to read about Ngorongoro or Mkomazi, and its rhino sanctuary. Or better, watch some YouTube videos. There is a lot of great information and pictures that will demonstrate that these excursions are absolutely worth every minute of your time.
The certainty to see huge herds of wild animals in their environment, and in the unique scenery of the Ngorongoro crater is something nobody will ever forget. Too many places became overcrowded or lost their charm because of mass-tourism. NgoroNgoro never feels like Disneyland with animals. Mkomazi National park is far less well known, but very beautiful and has a unique charm.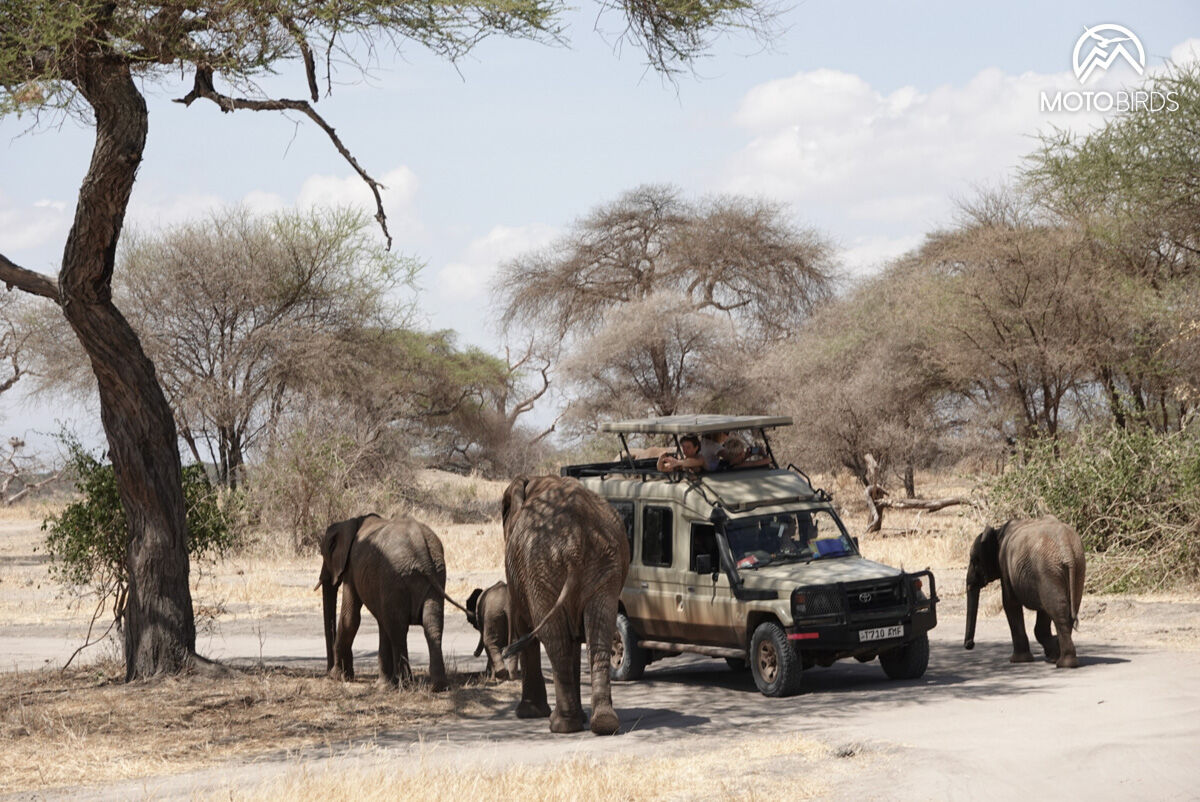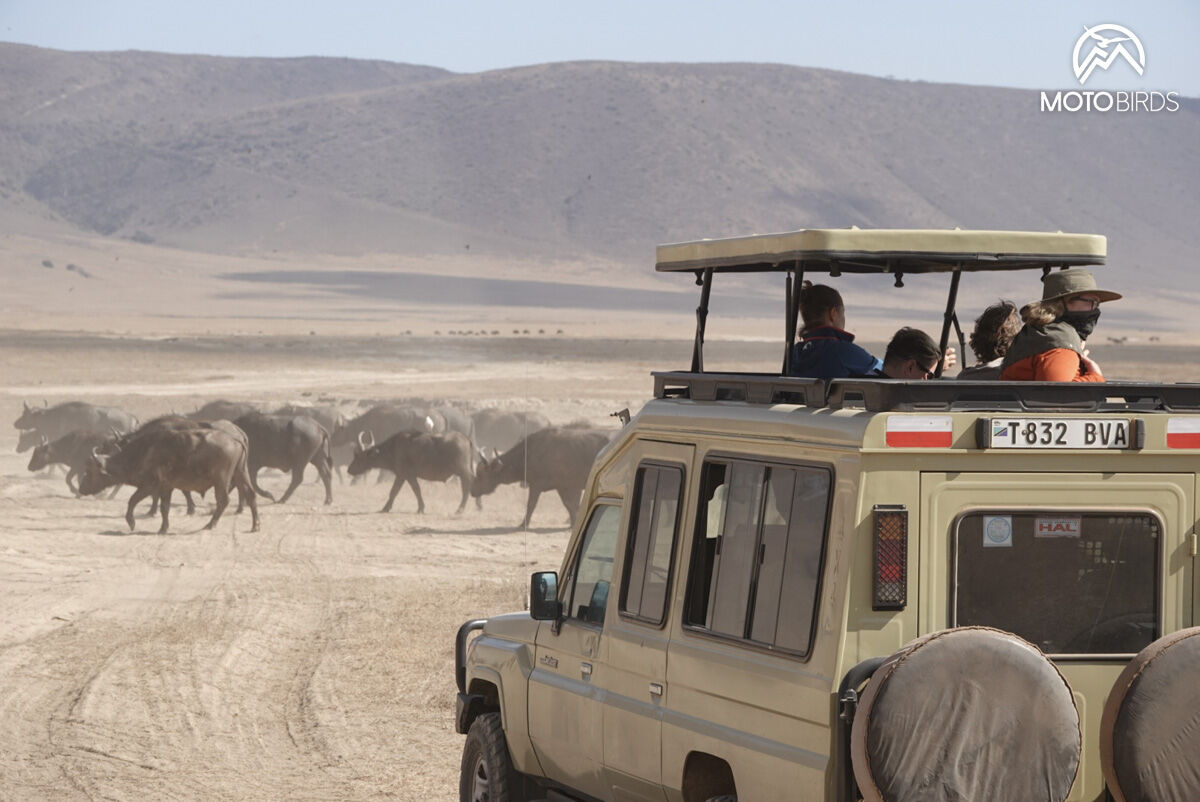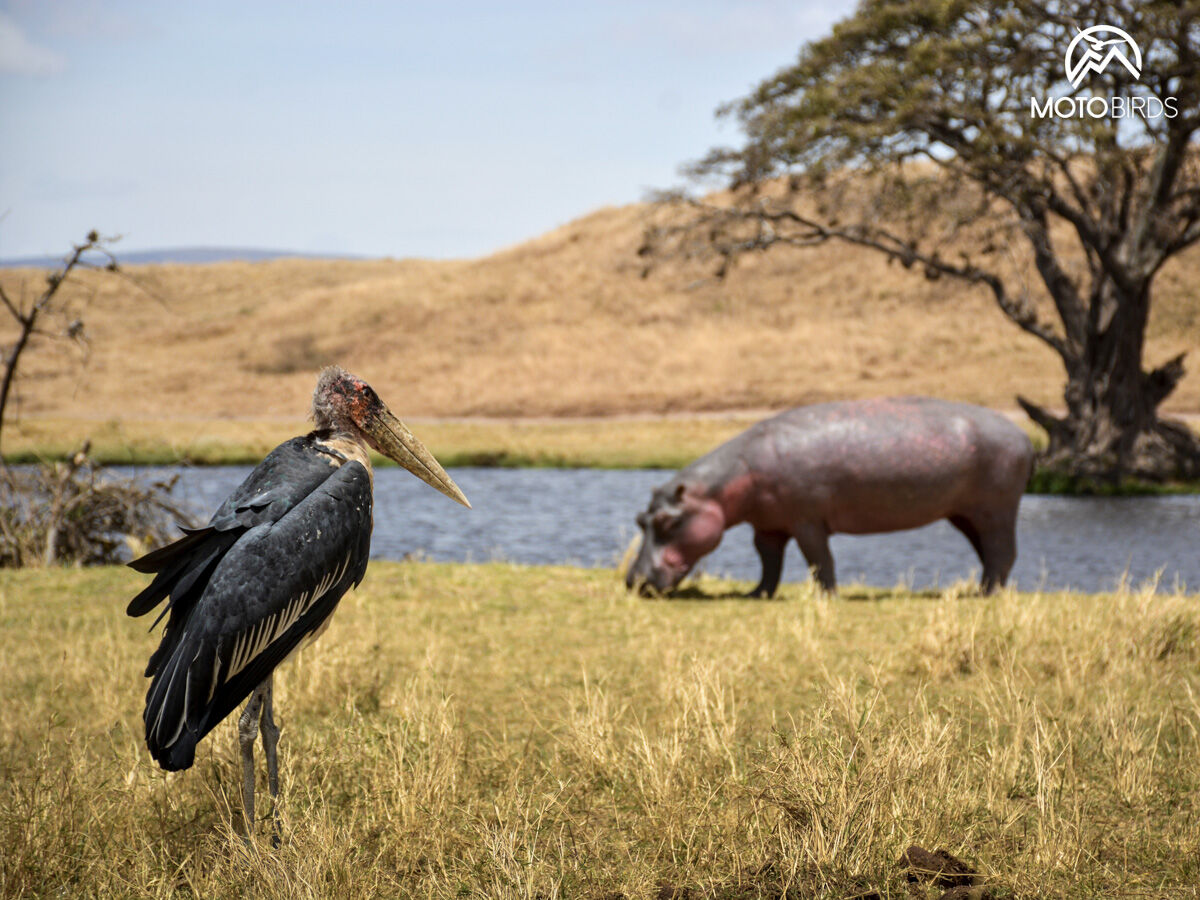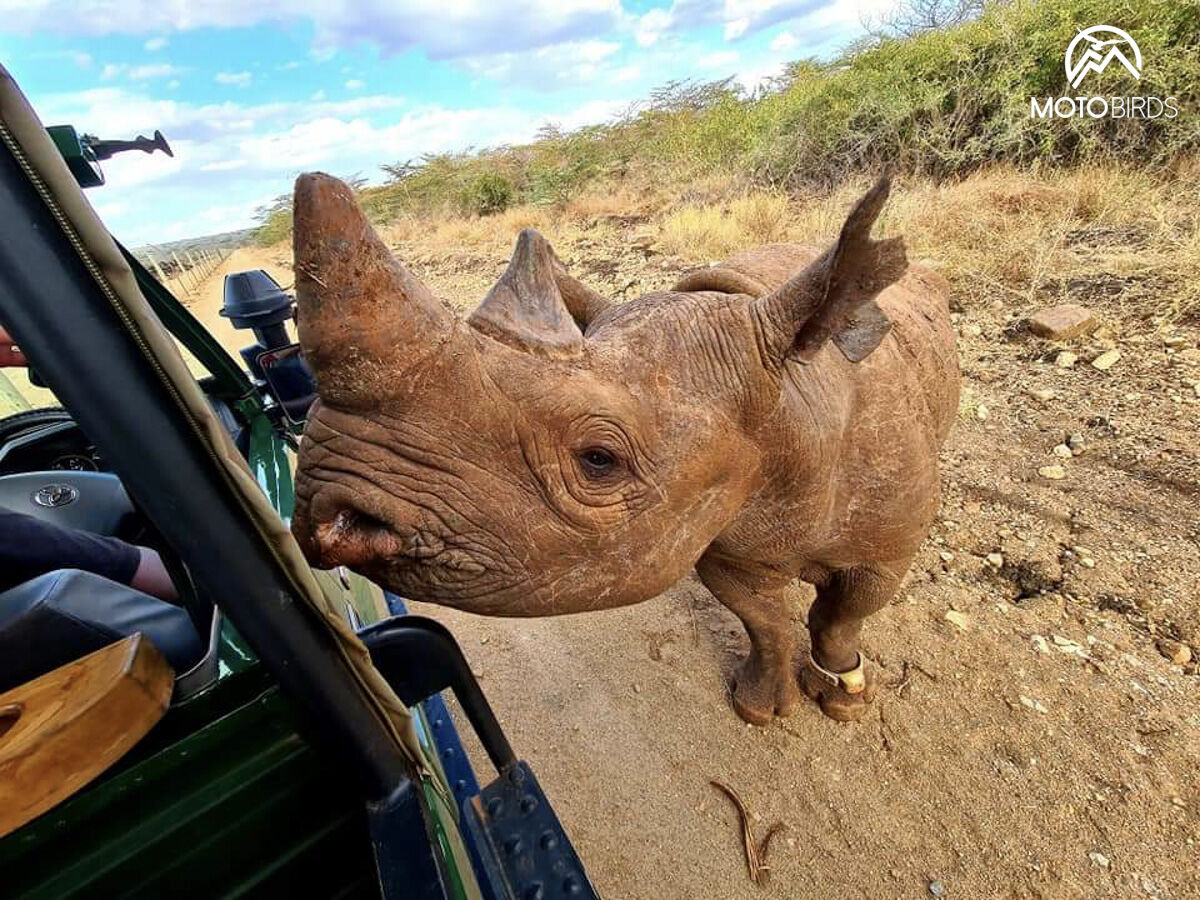 We hope you found some clues here to decide if Tanzania is the kind of motorcycle adventure that will get your heart pumping faster. If you like riding on dirt roads, if you want every day to be different, if you'd love to spend some time in one of the most iconic landscapes of East Africa it might well be for you!
With our expert guides and carefully planned routes You're sure of one thing: you'll have the adventure of a lifetime.
If you still have questions, drop us a line or give us a call. Otherwise, start packing!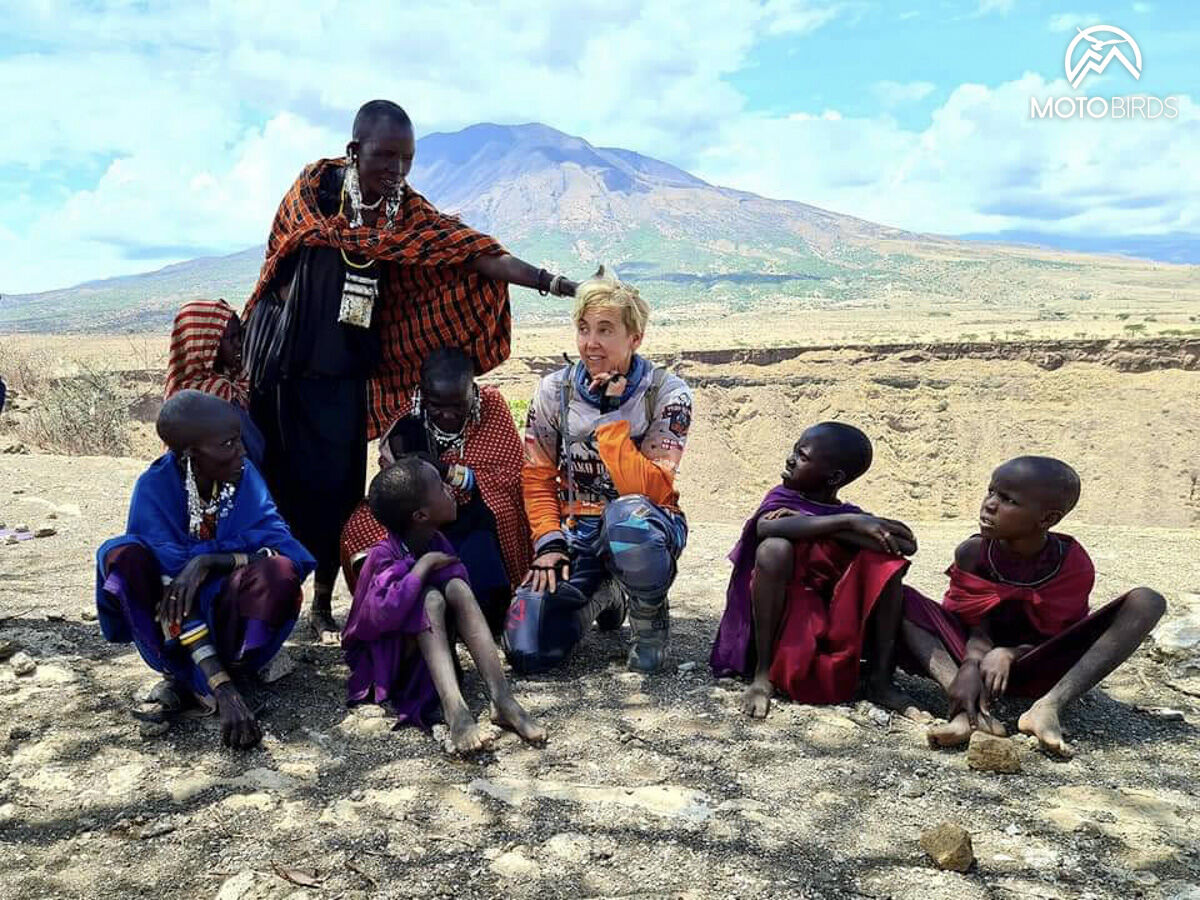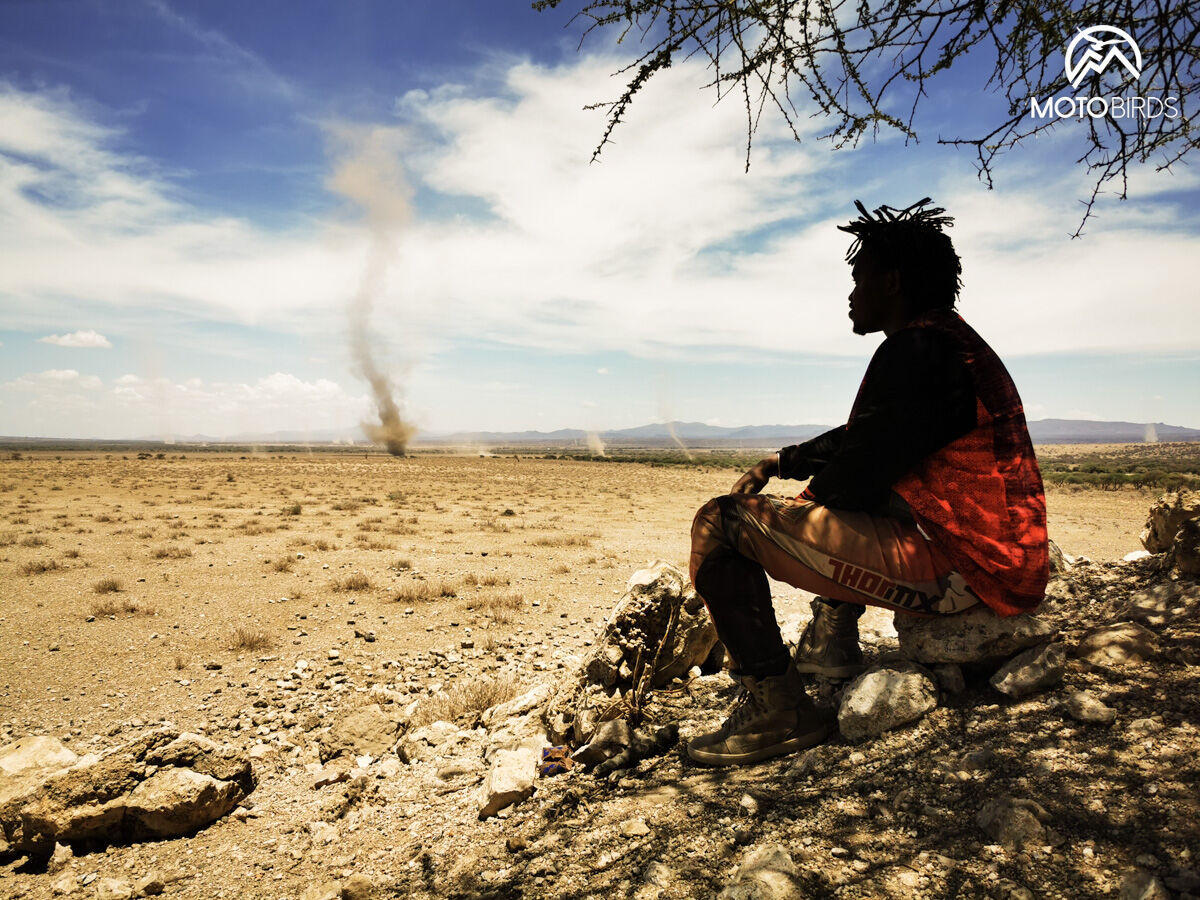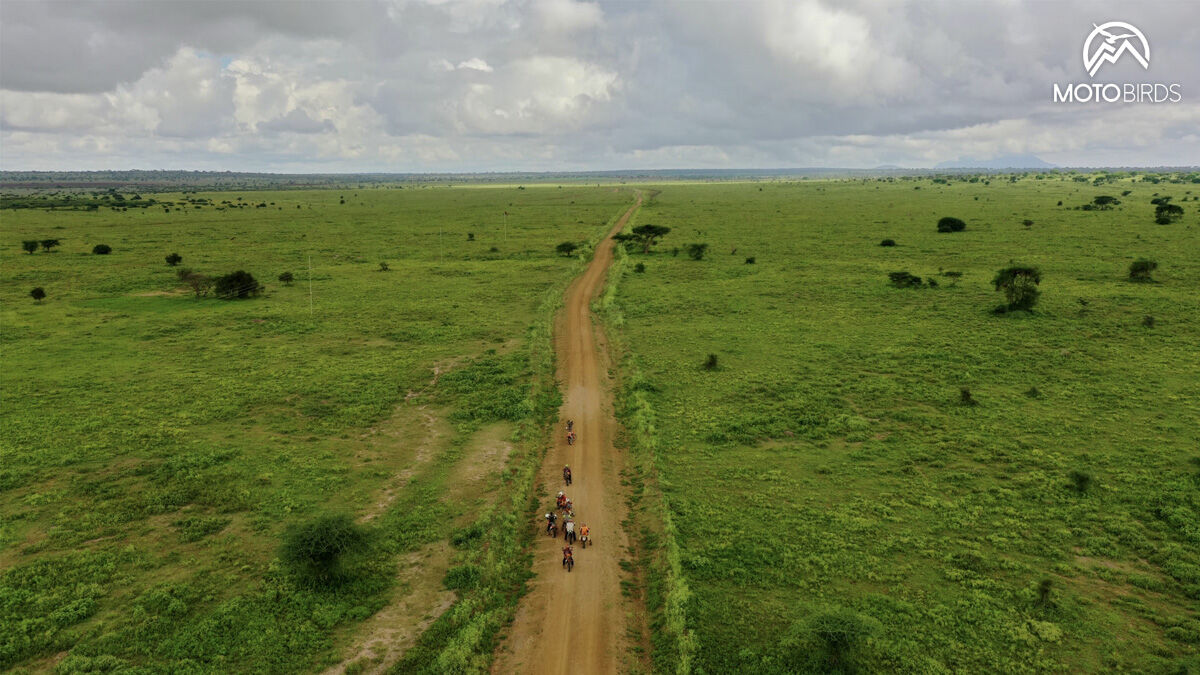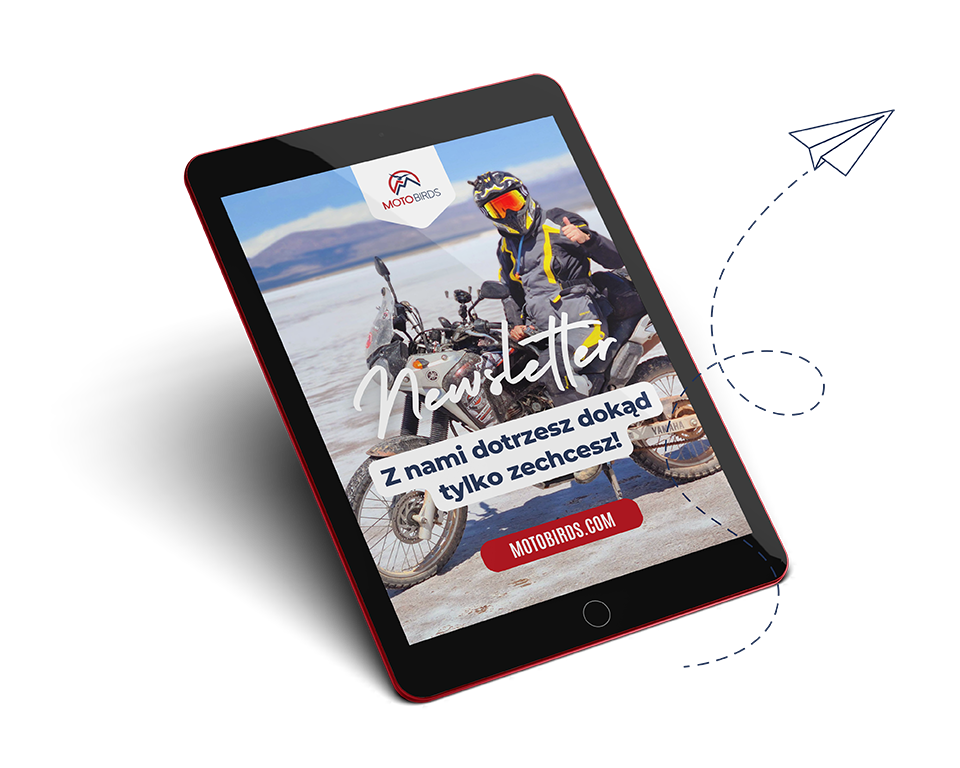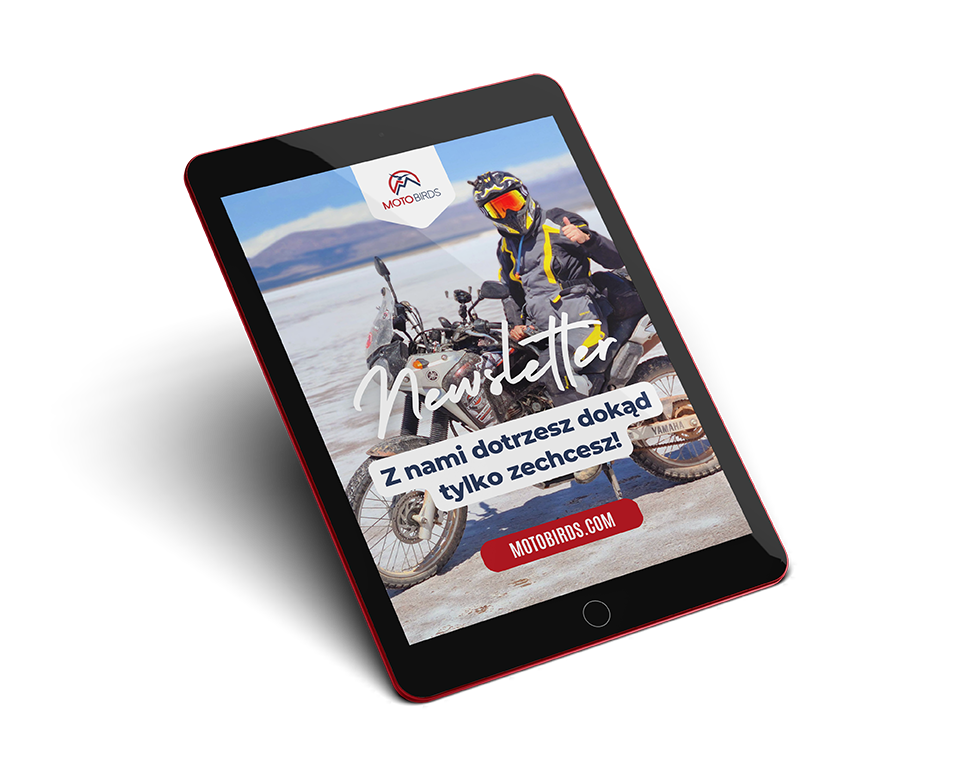 Subskrybenci newslettera dostają więcej!
Dołącz do Uskrzydlającego Newslettera MotoBirds, aby nie umknęły Ci żadne ważne treści, testy sprzętu, podróżnicze inspiracje i najnowsze oferty! Damy Ci też znać o świeżych publikacjach na naszym blogu.
​