How to Pack for a Motorcycle Trip: Practical Checklist and Tips from MotoBirds!
Is there a universal, ready-made list of essential items to pack for a motorcycle trip? This is a very common topic of discussion on motorcycle trips, and even on a daily basis among motorcyclists. Many travelers often ask us what they should take on a motorcycle trip and how to pack it all? Packing for a trip is always a compromise: weight and space are limited on a motorcycle. In this article, we will share some valuable tips on what to bring to avoid being overloaded and still have everything you need. With years of experience in motorcycle travel, we have learned from our own mistakes and by observing others. We have perfected the art of packing! Today we will share some tips with you!
Over the years, we've seen some riders loaded as if they had just been kicked out of the house – and regretting their packing, every single day of their motorcycle adventure. Others ended up missing that special item they really would have wanted or needed…
It's nice to have every possible thing handy.  However, packing for a motorcycle trip is a matter of compromise: weight and space are always a problem.  It's in fact great fun!
So, there you have it:  in this article, we'll share the Motobirds motorcycle trip packing list. This packing list was developed and refined over many expeditions, close to home or to pretty remote places on different continents.  While this motorcycle packing list will not cover every possible situation, we're sure our packing list will give you a solid starting point on what to pack for your next motorcycle adventure- and a couple of tips as well!
Of course, If it is going to be a camping trip, the list will be different than if you'll be staying in hotels or pensions. You obviously will not need cooking and camping stuff if you're not camping.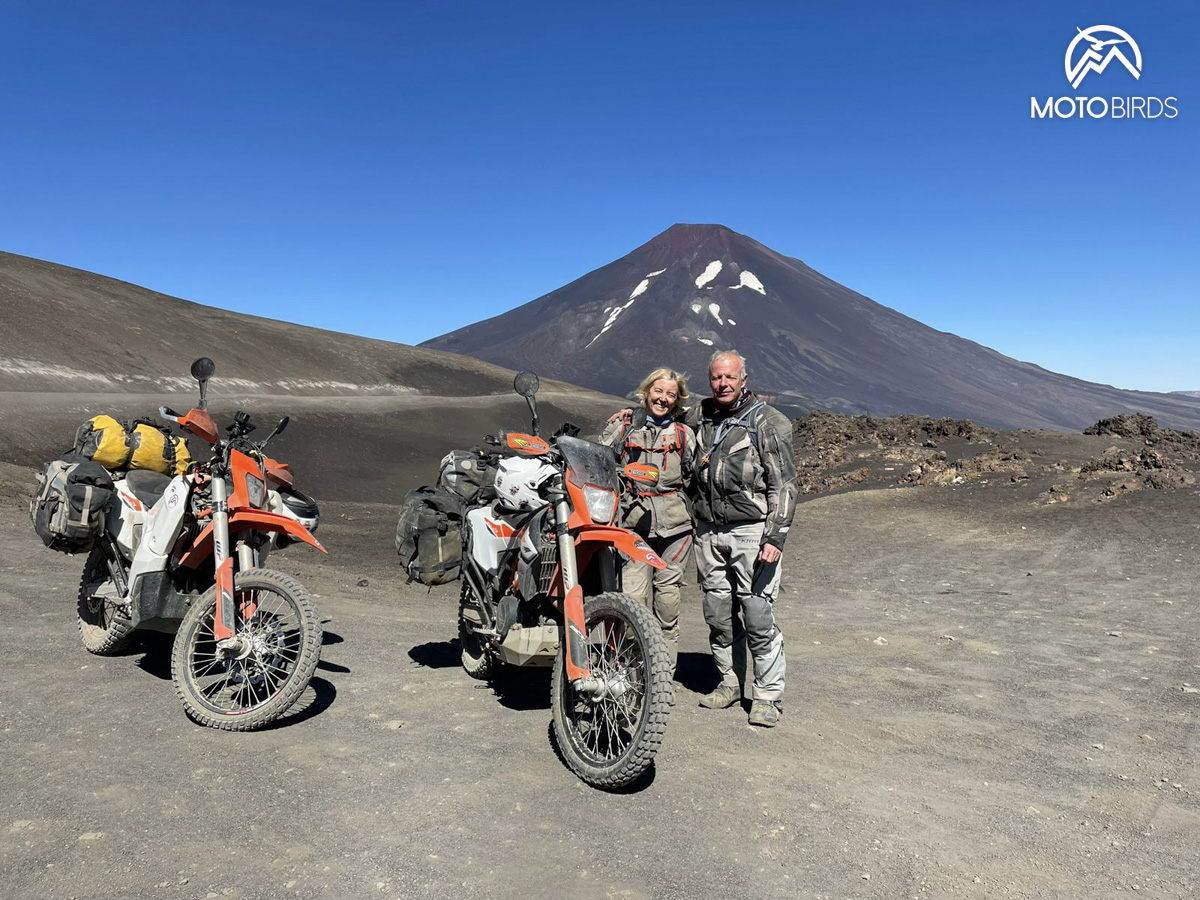 Important tips before we get started
Before we go into the details of what to bring, there are three important considerations, regardless of the type of motorcycle trip you are planning:
Necessities are available pretty much everywhere
There are very few places in this world where you can not find basic necessities. Let's take the shampoo example: you might not be your favorite shampoo brand everywhere, but you will find shampoo or something that will do in pretty much any small shop. There is little point in packing shampoo for the entire tour duration. This applies to many usual items. Do you really need foot soap, face soap, shower gel, laundry detergent and shampoo? Shampoo is most probably all you need.
Especially if your trip takes you on unpaved roads, weight is one of your main enemies. A lighter bike handles much better in sand or loose surfaces.  Thrills and spills can sometimes happen during off-road adventures: A lighter bike is much easier to pick up if you happen to drop it.  The day that happens, you'll thank us for having packed light! 
If you need to stop:  bear in mind that your stopping distance might not be the same on a heavily loaded bike.
A good idea to help you in the packing decision making, is to grab something most of us have in our kitchen – and almost never use: the kitchen scale:  weight every item and write down the weight of each item. Then add it all up, and refine your list. This will help you decide if you really want to carry the entire collection of the printed Harry Potter novels – or that 6kg anti-theft chain along on your next motorbike adventure.
Always pack in the same order
Heavier items should always be at the bottom of your luggage (see point 1 above).  Things you need on a daily basis, stored on top.  It's pretty useful to use colored bags to pack the things that belong together, so you don't have to rummage through all your stuff to find that fleece you need now!  Just look for the yellow bag…
Then, always, always pack things in the same order and in the same place in your luggage.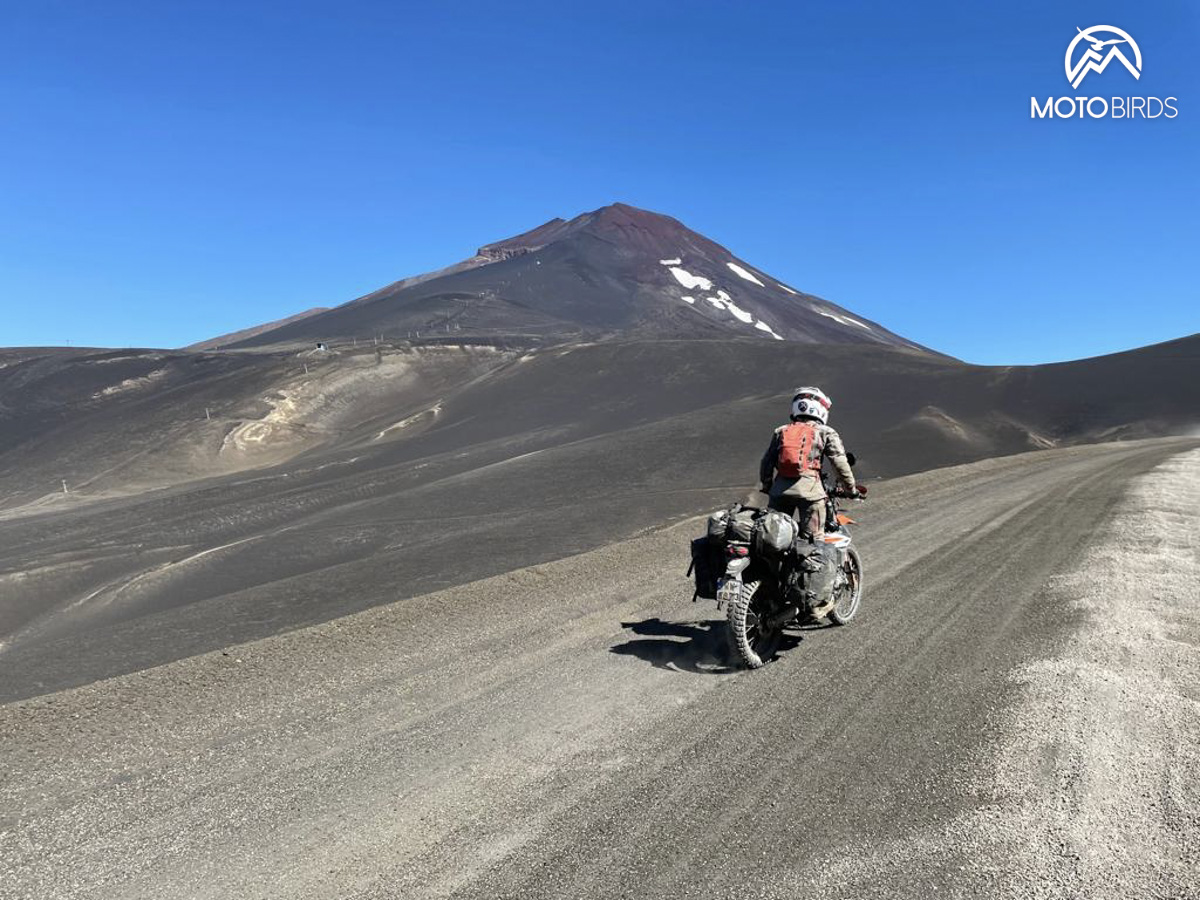 Don't mess with the bike's center of gravity
If you are going to take a top-box, or will have a bag strapped to the rack of your bike, keep its packed weight and size to the minimum.  Adding a lot of weight on top of the bike changes its center of gravity. This matters because it affects the handling of the bike.
CAMPING ITEMS
Tent:  We're not going to go here into a detailed side-by-side comparison of tents.  If you're hesitating about a specific tent model, Google's your friend.  However, besides using Google, what we know is what works best is a tent that has two doors, aprons, and is big enough to accommodate 2 people, even if you travel alone.  It's also a good idea to pick a model that allows you to sit inside the tent without becoming a yoga master. Whatever brand you choose, it is best to look for something that weighs around 1kg (including pegs).  A great weight saving tip is to invest some money in titanium pegs. Expensive for sure, but they are super durable and light.  There are tents out there which also allow you to park your tent inside. Without wanting to start a debate, we all know motorbikes are not made of sugar: they do not melt under the rain. A motorbike can happily sleep a few nights outside (even in the rain or snow), if it means saving over 4kg luggage weight.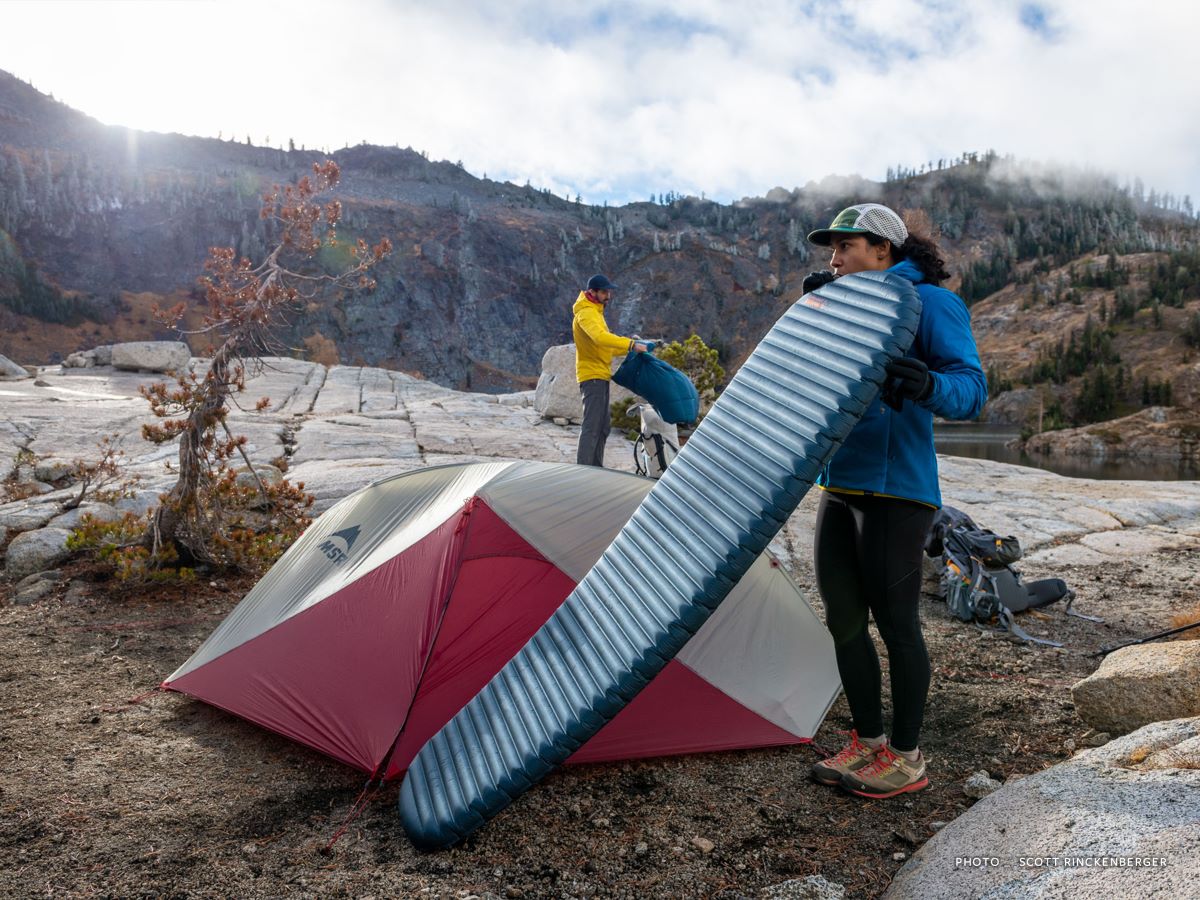 Sleeping pad:  there are tons of options on the market.  At Motobirds, we love Therm-a-Rest (NeoAir Uber Lite is a safe choice). 
We love their products because they are extremely durable, light, and have a built-in insulating layer. That layer helps keep you warm during cold nights. Look for something you like that weighs around 0.5kg.
A much cheaper option is available at Decathlon (heavier though).
Inflatable pillow: The Sea-to-Summit Aeros inflatable pillow packs smaller than your fist and will last you for years. It weighs only 60g.
Sleeping bag: anything you like that has a temperature rating suitable for the place you're going to ride.  A liner goes a long way to keep your sleeping bag cleaner longer.  It also gives you more flexibility to adapt to a wider temperature range. Keep weight in mind as you make your sleeping bag choice.
Frontal lamp:  Must have an LED bulb and a rechargeable battery.
Chair: We tried sitting on the ground on a rock, on a log, on a pannier, even on each other's knees.  Nothing beats a comfortable seat after a long day in the saddle.  We love the Helinox Chair zero (0.5kg).  It is pretty much the gold standard as far as we know. There are much cheaper knock-offs available on the net or Decathlon. There is also a newer arrival from China worth taking note of: it is called Naturehike. We purchased some of their products to try them out, and the quality is flawless, for a fraction of Helinox. 
Stove: The MSR multi-fuel stove is a clear winner for us.  It's light, bullet-proof and works in almost any condition. The fuel bottle can also serve as an emergency fuel reserve for your bike.  Remember to always pack a set of seals for the pump!
Bear in mind that your stove and especially the pump need maintenance. Yes, you need to purchase the maintenance kit. Do it before every adventure and it will never let you down.
There are tons of videos on youtube on the topic of stove maintenance.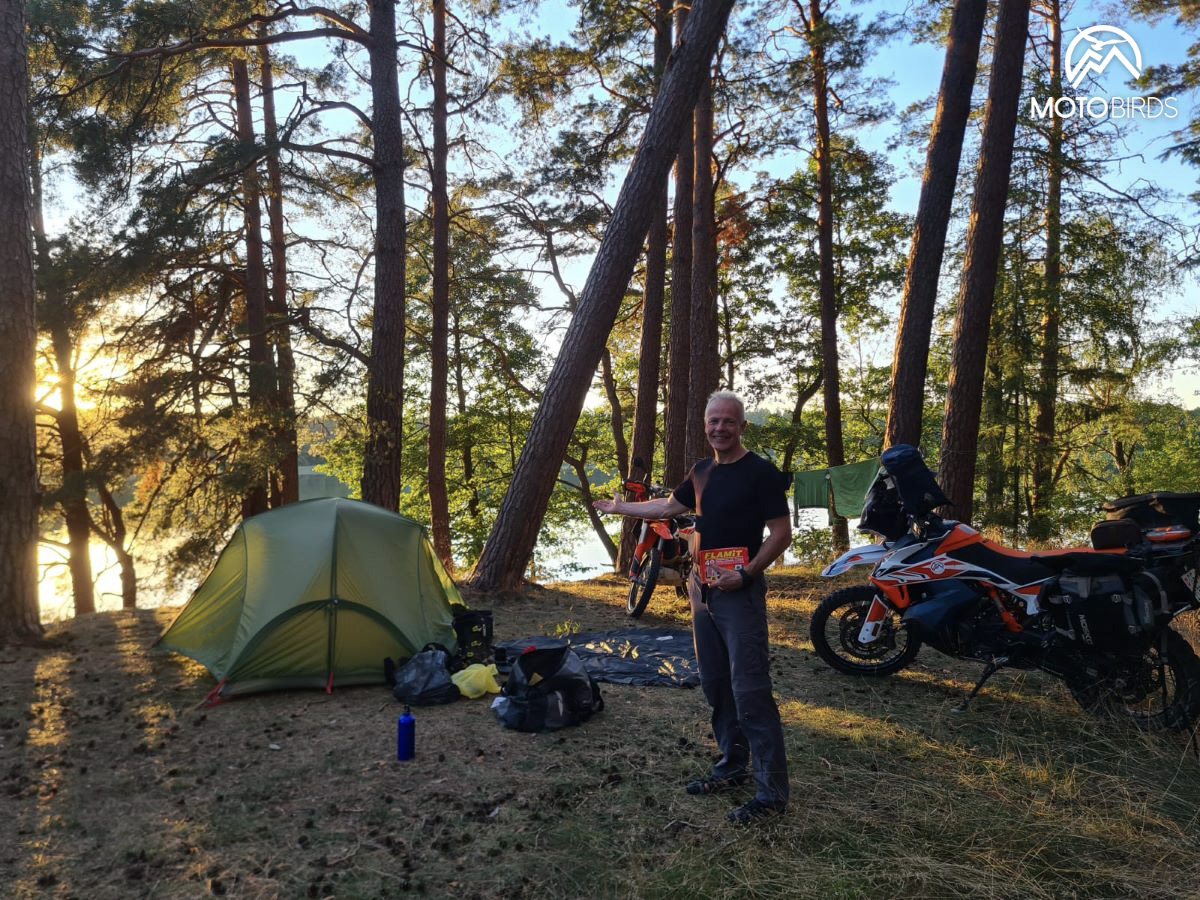 It will be more helpful than deciphering the instructions provided by MSR in the service kit. Bear in mind that the stove has different nozzles, depending on the fuel you intend to use. If you use the wrong nozzle, it won't work well and you pots will be covered in soot.
Pots & pans:  We're minimalist as far as cooking… We pack one silicon cooking pot per person, one metallic cup and this is it.  We eat directly from the cooking pot. For cutlery we have one camping spoon/fork per person. Our pocket knife doubles as a kitchen knife. We recommend: https://seatosummitusa.com/products/x-pot .
Food:  We never carry food for days in advance. Remember what we said about being able to find necessities everywhere? What we always have with us is emergency food for one day – should something unexpected happen.  Other than that, we buy the stuff we need along our route.  What works great are those prepared meals you can find in almost any roadside shop: powder soup, dried prepared rice or pasta, etc.  All we do is add water and it's ready to eat.  It's not high-end cooking, therefore a good idea is to bring a couple of zip-lock bags with some salt, pepper, dried garlic or any of your favorite spices.  This goes a long way to improve the taste of whatever ends up in your cooking pot.
We can't start the day without coffee, so instant coffee is what we pack.
A small bottle of detergent is also a good idea if things get really greasy. Alternatively, your shower gel or shampoo with some sand mixed with a little water cleans pretty well too.
Water: On more remote expeditions, we always carry a 4L water bladder, each.  Plastic water bottles are the worst possible solution: plastic water bottles cannot be packed easily; they can break when dropped. Finally, they create waste that must be carried around to the next garbage disposal location.
What we use? Check our recommendation here.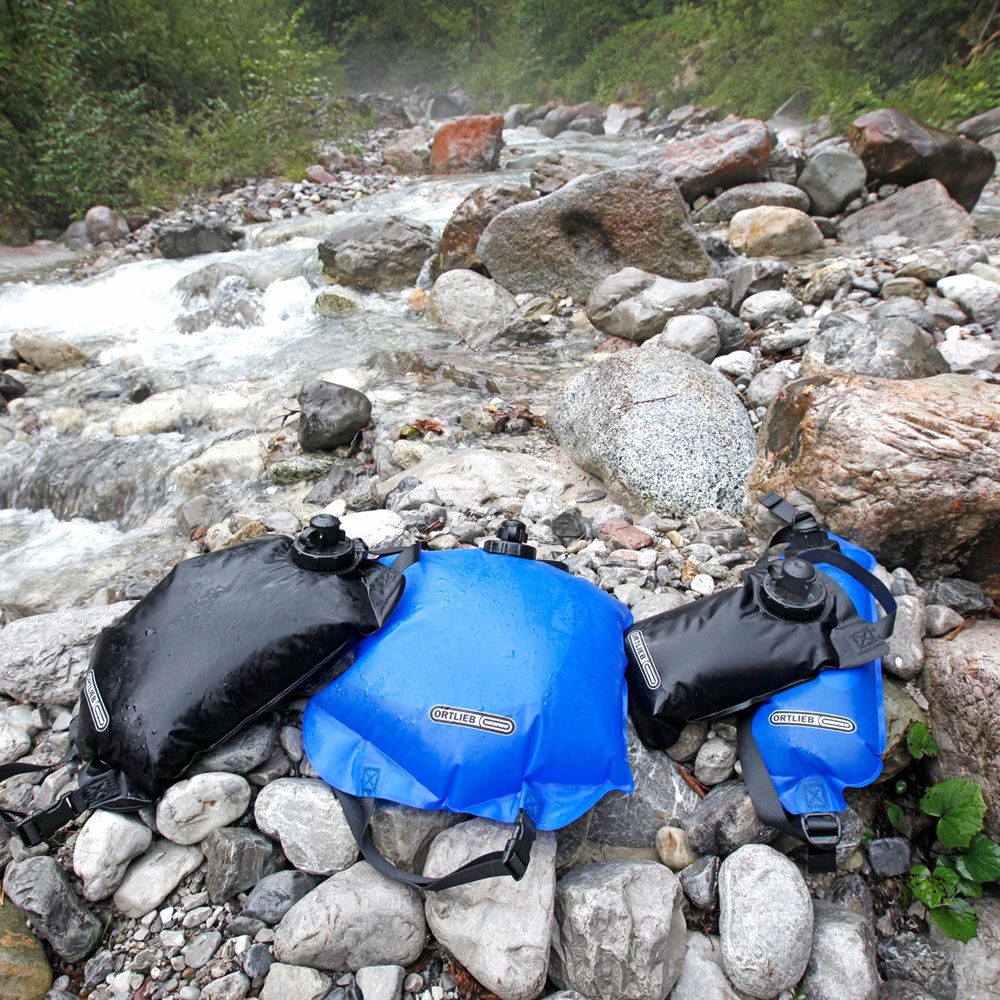 Fuel: We do not pack jerrycans. Jerrycans are also one of the worst solutions: they are the same size full or empty and are a pain to carry around and strap. If we need extra fuel, we use a fuel bladder.  Available with Desert Fox or with Giant Loop.
The durability of GiantLoop is in our view more durable than the cheaper Desert Fox.
Backpack: We use mountain-biking backpacks, in which we can fit a 2L water bladder. The water bladder helps you to stay hydrated.  Also, the backpack is where we store all the small items we need to access on a daily basis.  It is best to choose a backpack model that has a chest and a waist strap:  This keeps the bag firmly attached to your body.  There are many options on the market, but anything bigger than 16L is probably an overkill.
As the universe hates empty spaces: the bigger the bag, the more weight you'll end up carrying on your shoulders.
SMALL ITEMS THAT MAKE A DIFFERENCE
It's not only in love that small things matter! We learned the hard way that small things make a difference.  
Here's what we learned:
If you have a bag on your bike, we suggest using rok-straps to strap it https://rokstraps.com/
Paper tissues
Wet wipes
Ear plugs, if you use them
Power bank
Adaptor, if needed
Lip balm
Small bottle of laundry detergent (not needed in hotels)
Sun-screen
Hat, if where you are going is going to be hot & sunny
Spare straps: 2
Sun glasses
6m rope to hang your laundry (if you camp)
Mosquito repellent – if needed.
A couple of spare 30L garbage bags: to pack food, wet clothes, or even your garbage
A microfiber cloth: you can attach it to your bike.  Great for many things, including as an emergency towel
If you intend to make camp fires, some dry fire-starters are useful when the wood is not completely dry – and a lot less dangerous than fuel! If you intend to make campfires, a camping pocket chainsaw is a great gadget to bring along.
2 spare phone charging cables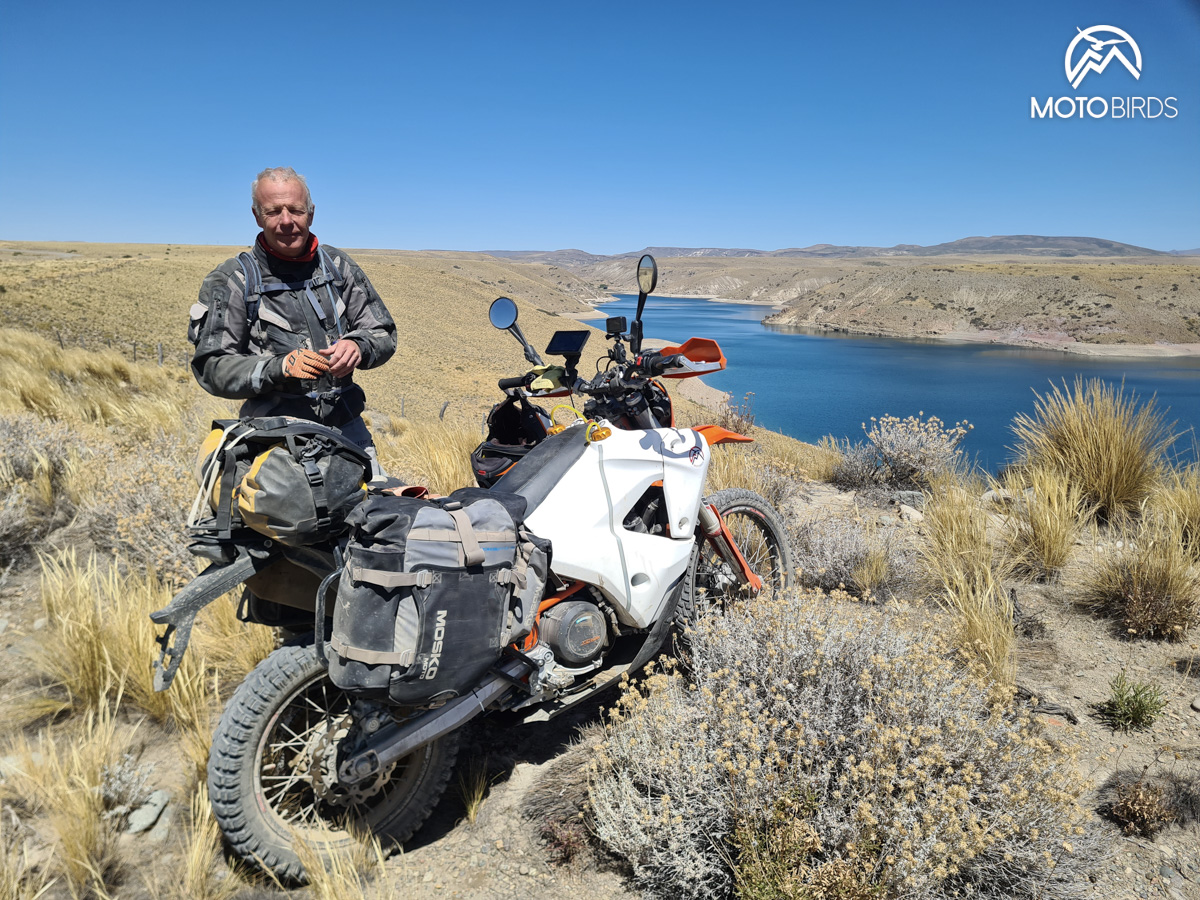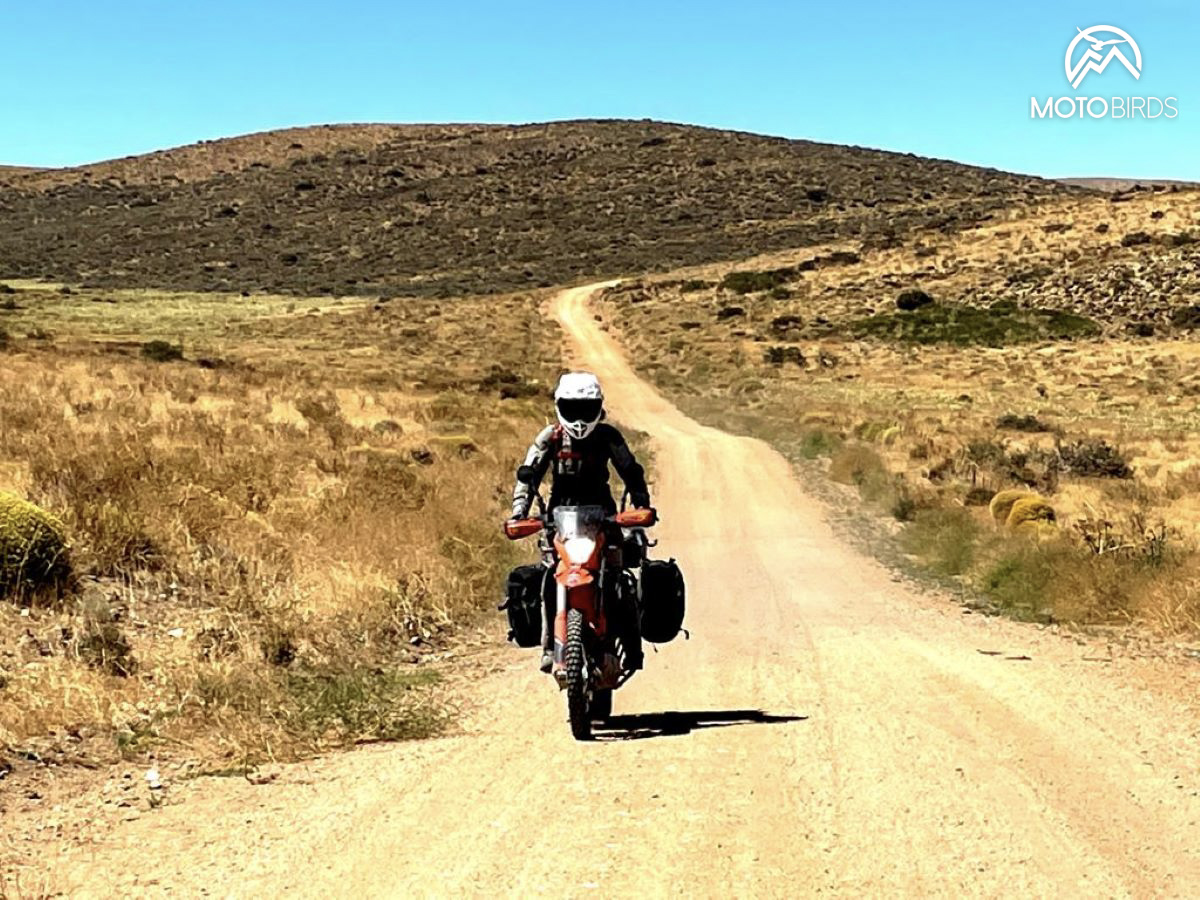 CLOTHING
This is truly an endless topic…  Some riders tend to pack an entire wardrobe.  Others pack so little; they look like they might have escaped from the gulag.  
We've decided to give you here a basic list, as a starting point.  A good idea is to pack clothes in different colored bags.  This way, you know -for example- that the red bag has your motorcycle related spare clothes.
Motorbiking underlayers: enough to stay warm, but in warm climate, we just take one change along
Motorcycle socks: One spare pair
Buffs: One spare
T-shirts: 2
Long-sleeved shirt: 1.  This is especially important if you go to places with a lot of sun
Fleece, jacket: This depends where your adventure takes you
Camping trousers, with removable lower leg: can be used as swimming trunks as well
Underwear: 2
Footwear: something that does not weigh much and packs easily. But still allows you to walk comfortably
One pair of socks to wear with that footwear of the previous point
One heavy duty plastic bag for dirty laundry. You then use the same bag as a field washing machine for your laundry
TOOLS ESSENTIALS
The tools you must bring along will depend on:
the duration of your trip
how far could you be from a place where you can get assistance or buy parts, etc.
Is your trip mostly off-road or mostly on-road?
If your planned motorbike adventure takes you to very remote places for longer periods, there are additional items to consider in your motorcycle packing list:  a power booster (should your battery die), spare tubes, liquid metal, fuel bladder, brake pads, brake & clutch levers, etc.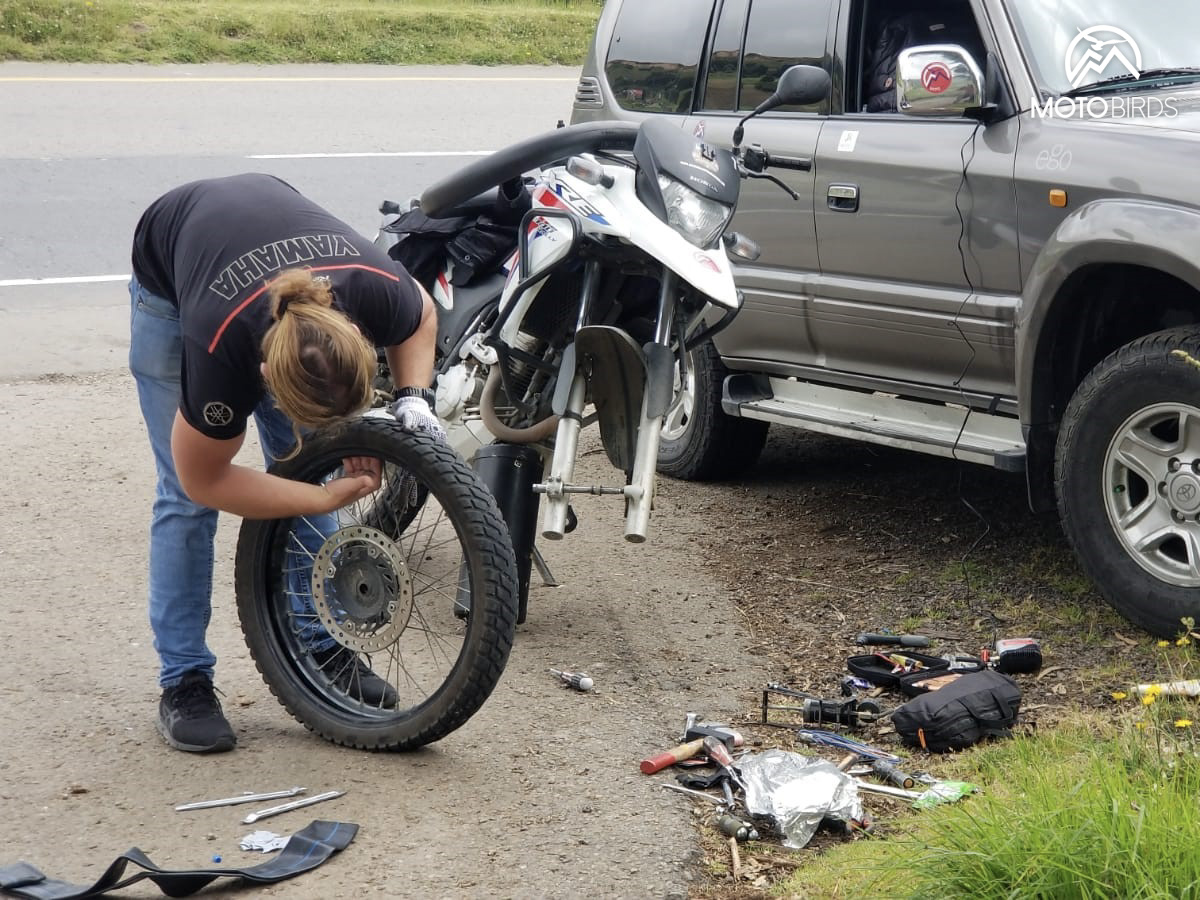 If this is the kind of trip you have in mind and need ideas, reach out: we promise we'll do our best to share our experience!
A useful tip is to research potential service locations prior to your trip.
Save these locations, websites, phone numbers, email addresses in your phone. In case of problems on the road, it'll save you a lot of stress and time!
Basic toolkit related to your motorbike. Please check it has everything you need! For example the Tenere T7 kit does not have the 19mm Allen to remove the front wheel axle.
Soft copy of your bike manual
Chain lube, for those non-GS riders. You can also buy any cheap engine oil from the fuel stations along the way to use as chain lube. Or ask for waste engine oil from any workshop, which will be free… Never pack several cans of chain lube!
ire repair kit that works for your tire type – and make sure you know how to use it.  Don't forget tire-irons if you have tubed tires… Puncture milk can help (although it is a mess when you remove the tire), but don't ever rely on this to grant you the coveted "flat immunity" – especially if you ride off-road
Portable side-stand, if your bike does not have a central stand
A small can of WD40 does miracles, also if you have to get the tire back into the rim after a tire repair, or zipper maintenance.
Compressor or pump.  It should be something that gives enough pressure to pop the tire bead back into place.  So, unless you have really strong arms, and masochistic tendencies, a bicycle pump from your local supermarket might not be your first choice!
Small pressure gauge (not the electronic type)
Spare fuses
Engine oil top-up, if your bike needs it
Clutch/brake lever (brake and clutch lever are usually identical)
Battery booster, if you travel to really remote places. Can serve as a power bank too
Remember: If you have never done it before, it is a good idea to practice changing tubes at home before your trip. It will save you a lot of stress if it's the first time you're stuck somewhere in the middle of nowhere with a flat. Some practice in the comfort of your own home goes a very long way.
MEDICAL KIT
Having a suitable medical kit on a motorcycle trip can make a big difference, in case of an accident. You should absolutely have one with your group on your motorcycle trip.  We recently wrote a detailed review of a medical kit designed by bikers, for bikers: this can be found here.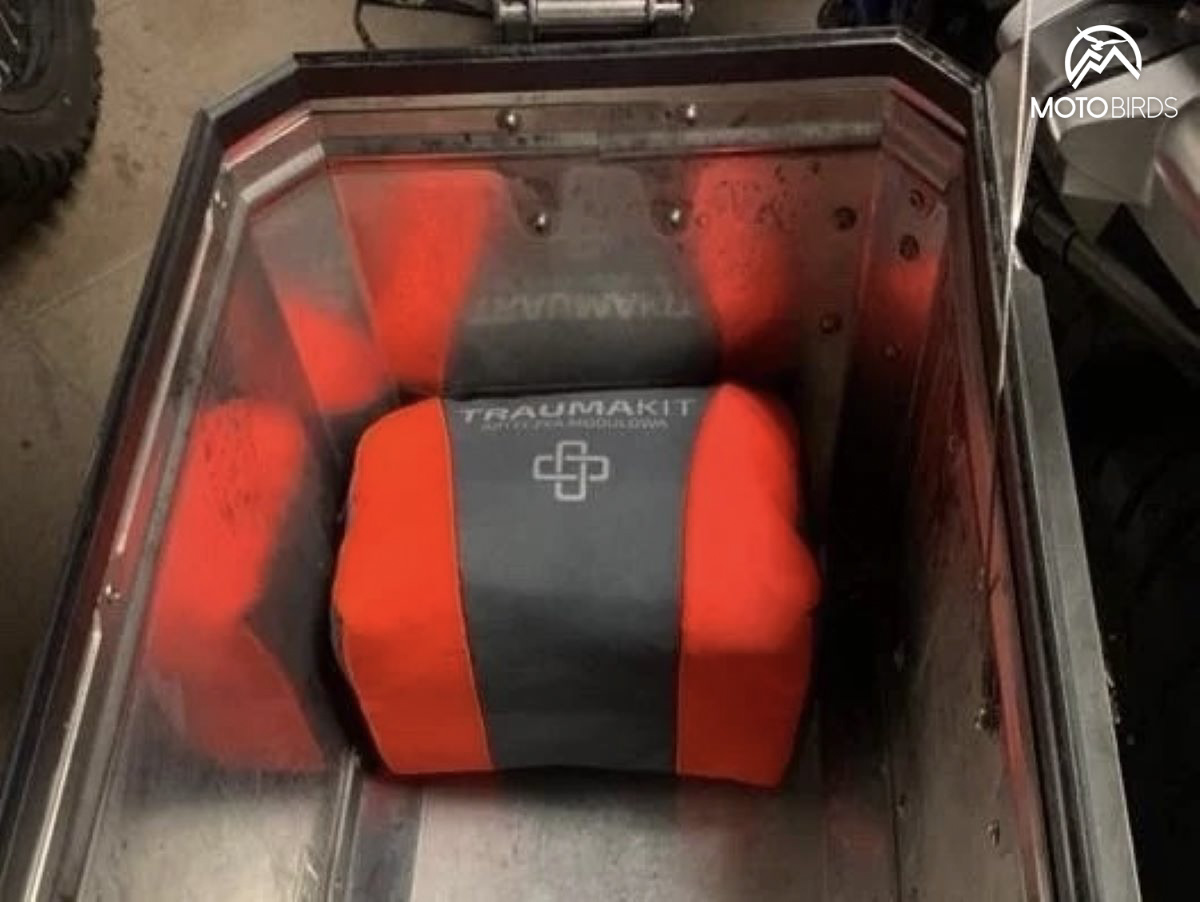 If you stayed with us this far, there is one last unanswered question:  How much should all the luggage weigh?  In other words: do I have too much stuff? 
We did this exercise for you: Our maximum packed weight for a multi-week motorbike off-road camping adventure to remote places is 18kg. This is for the rider that pulled the short straw, and has to carry the tent… This weight includes basic food for 2 days, but no spare water or spare fuel.  
For shorter, European based trips, our target luggage weight is 14kg. It is less, because in Europe, we're never far from a shop.
We hope this Motobirds motorcycle trip packing list gives you a head start to develop your very own list for your next motorcycle adventure!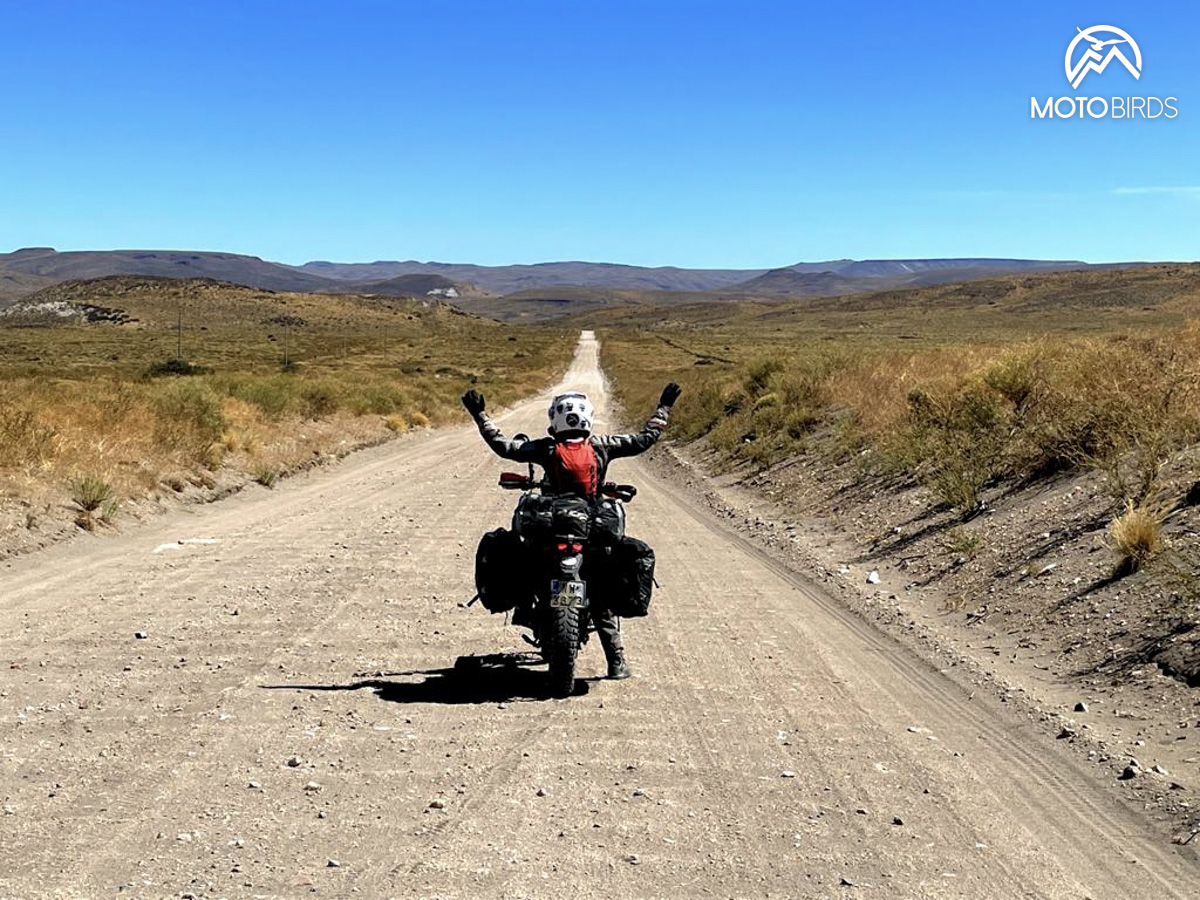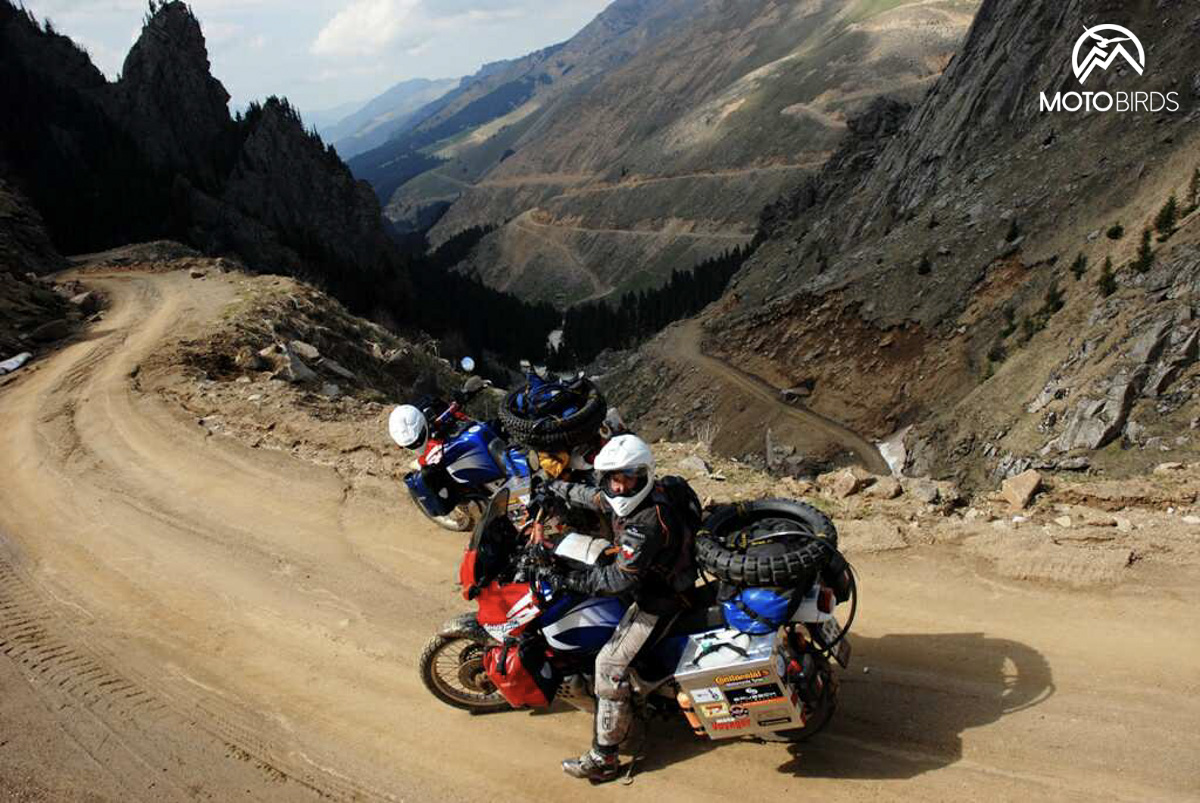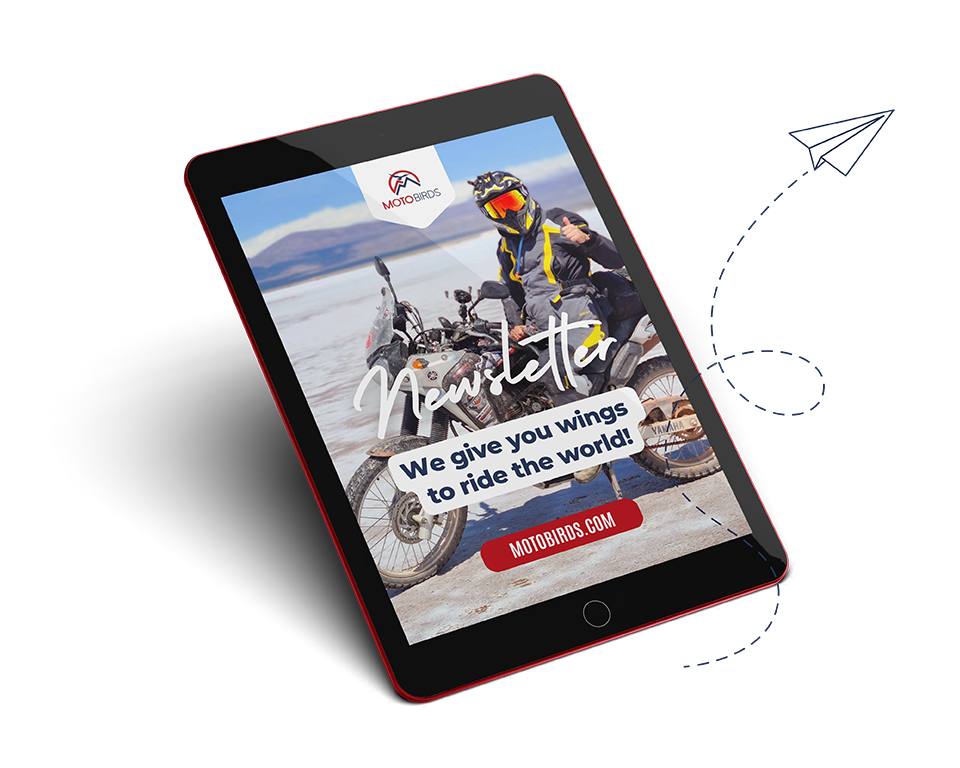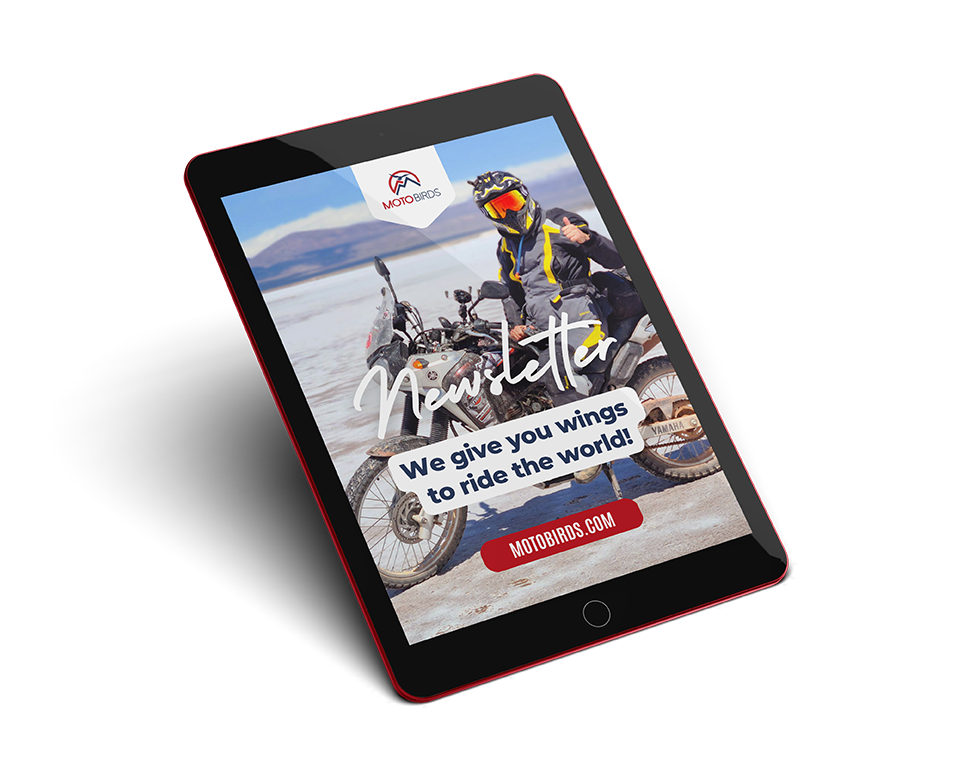 Newsletter subscribers get more!
Join MotoBirds Soaring Newsletter and don't miss any important content, gear tests, travel inspirations and newest offers in the future! We'll also let you know about fresh publications on our blog.