MOTORCYCLE SHIPPING TO EUROPE, ASIA, SOUTH AND NORTH AMERICA
REGULAR TRANSPORT OF MOTORCYCLES AND OTHER VEHICLES
Are you an independent traveler looking for transport for your vehicle? We'll take care of it!
We organize safe transport of motorcycles, quads and cars to the most remote corners of the world. Choose the direction and date from our regular offers, and we'll take over from here! You can count on the full support of MotoBirds. We can even pick up your vehicle from your doorstep if needed! Motorbikes are safe, thanks to our to our proprietary transport cages and strict processes. We also take care of the customs formalities, all for one fixed price. There are no hidden fees, surprises or commissions.
INFORMATION, THAT YOU CAN FIND ON THIS PAGE
click the link to scroll down to the section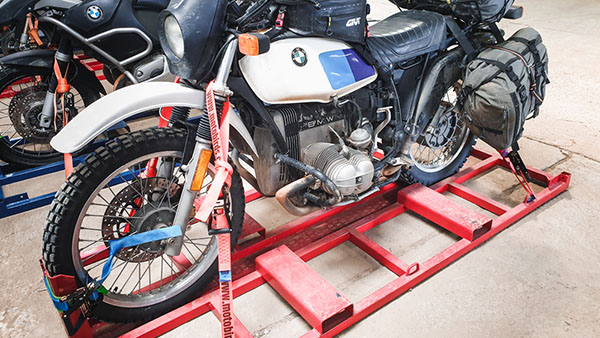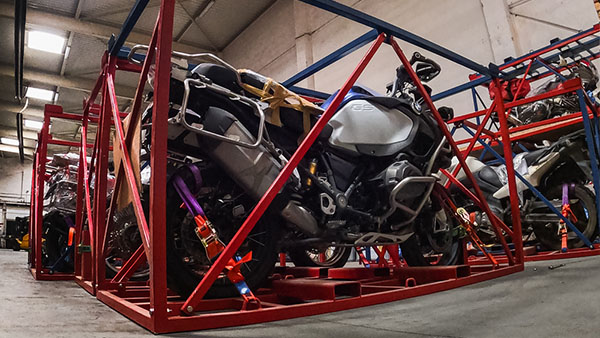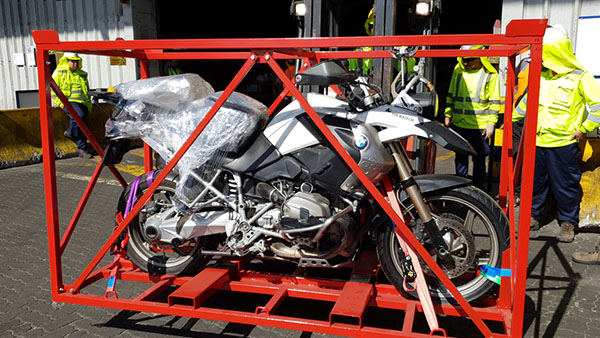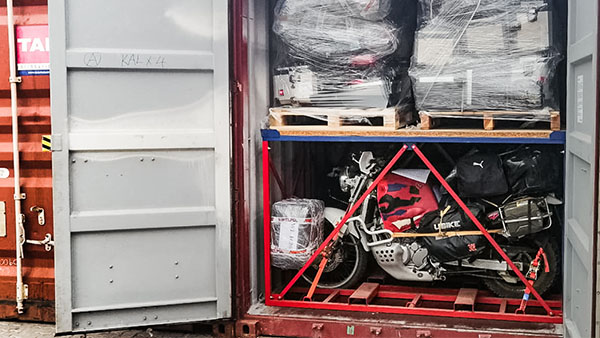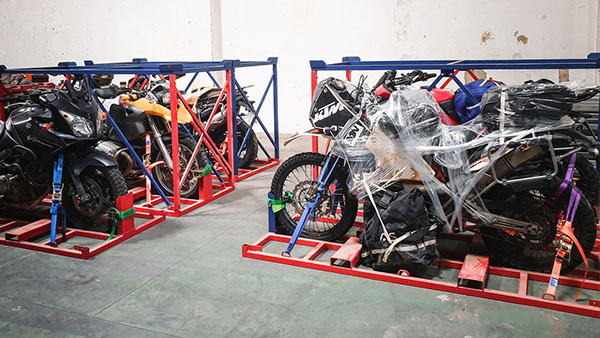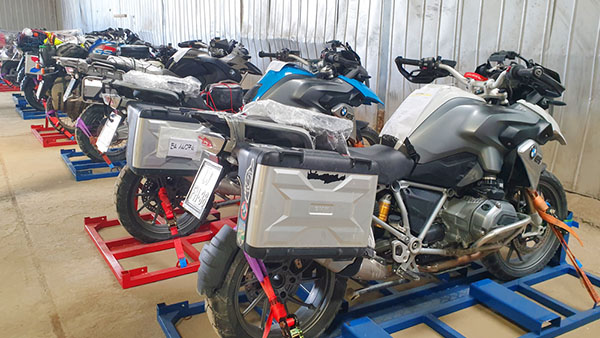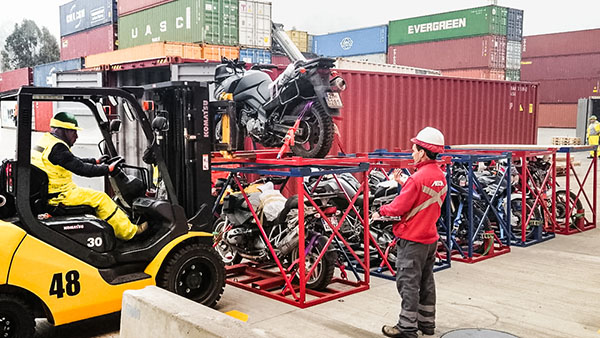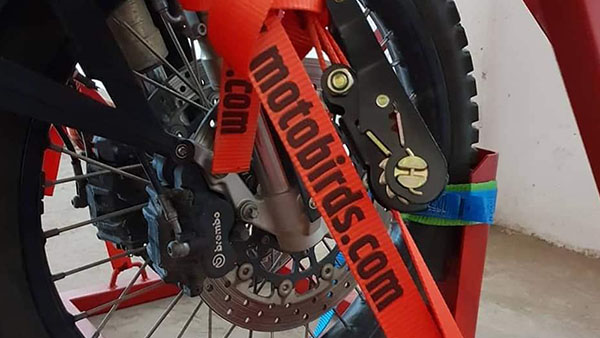 SHIPPING SCHEDULE
DATES AND DESTINATIONS
SICILY FROM / TO POLAND
SHIPPING
from Poland
PICKUP
in Italy
RETURN
from Italy
PRICE
two ways
PRICE
one way
18.04.2022
Warsaw, Poland
21.04.2022
Catania, Italy
28.04.2022
Catania, Italy
650 EUR
N/A
BOOK
ICELAND FROM / TO POLAND
SHIPPING
from Poland
PICKUP
in Iceland
RETURN
from Iceland
PRICE
two ways
PRICE
one way
around 4.07.2022
Warsaw, Poland
from 25.07.2022
Reykjavik, Iceland
around 15.08.2022
Reykjavik, Iceland
1500 EUR
N/A
BOOK
CHILE FROM / TO EUROPE
*possible to leave the motorcycle in Arica, Iquique, Punta Arenas (additional fee)

SHIPPING
from Poland
PICKUP
in Chile
RETURN
from Chile
PRICE
two ways
PRICE
one way
17.10.2022
Warsaw, Poland
from 5.12.2022
San Antonio, Chile
Feb/Mar 2023
from San Antonio*, Chile
2350 EUR
1850 EUR
BOOK
16.11.2022
Warsaw, Poland
from 6.01.2023
San Antonio, Chile
Feb/Mar 2023
from San Antonio*, Chile
2350 EUR
1850 EUR
BOOK
16.11.2022
Warsaw, Poland
from 6.01.2023
San Antonio, Chile
6.03.2023
from Cartagena, Colombia
3200 EUR
N/A
BOOK
19.12.2022
Warsaw, Poland
from 3.02.2023
San Antonio, Chile
Feb/Mar 2023
from San Antonio*, Chile
2350 EUR
1850 EUR
BOOK
INDIVIDUAL SHIPPING
CONTACT FORM
YOU HAVEN'T FOUND A SUITABLE TRANSPORT SOLUTION?
Are you an independent traveler, looking for motorcycle transport, or other vehicle, to an unusual destination or a date outside of our scheduled shipments? We'd love to hear from you!
WHY SHIP WITH US:

With us you will gain:
One all-inclusive price. No hidden fees or surcharges.
We're bikers: we'll take care of your bike as if it were our own!

VEHICLE COLLECTION AND DELIVERY
You don't have to worry about delivering a motorcycle, quad or car to us. We can pick it from any place that is convenient for you. The same goes for delivery.

PROPRIETARY CAGES
We guarantee the safety of your motorcycle thanks to our proprietary shipping cages. Our shipping cages allow us to keep the motorcycles assembled (including wheels). This is the safest and most effective way to ship bikes, while making sure nothing gets damaged or lost in shipment.

Extra luggage
No need to travel by plane with luggage you don't absolutely need with you: You're welcome to ship some luggage along with your bike.

Save time
We know your time is precious and we won't waste it. We make sure your vehicle reaches destination and we keep you updated before you ask.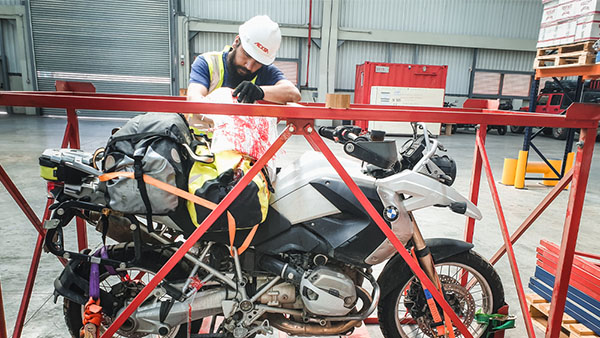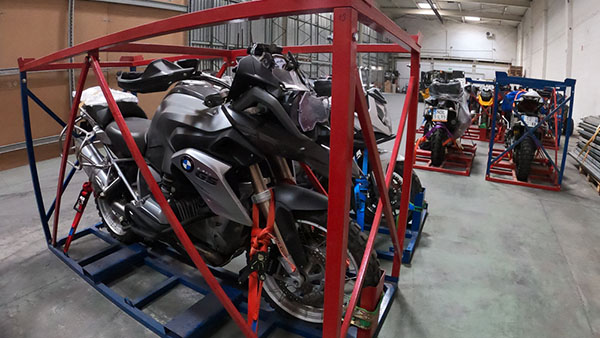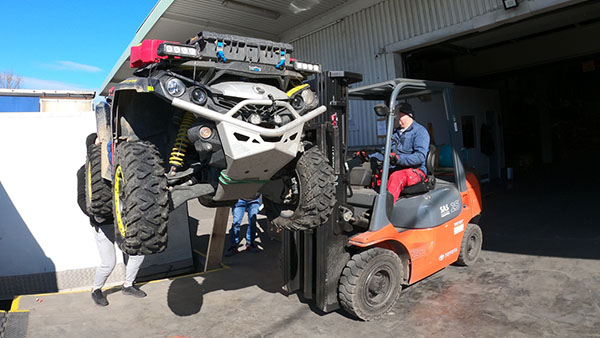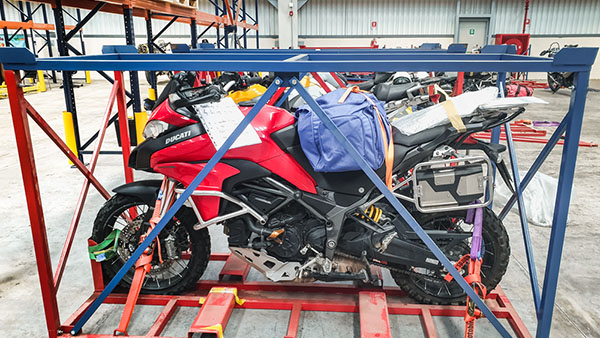 IMPORTANT INFORMATION
ABOUT SHIPPING
---
Find out more about the details of vehicles and motorcycle transportation.
"Hi MOTOBIRDS! I picked up my motorbike one week ago, in Trento (Italy) after a long trip across Chile, Argentina and Bolivia. I've used Motobirds services only for the bike transport from Italy to Chile and back; and not for the group ride across South America (I've drived indipendently, with a friend of mine, with two bikes, deciding the route on our own). The transport service has been perfect! And the price is good, in comparison with other agencies offering a similar service. The bike has been handled carefully and has not suffered any demage. The most important note I want to point out is the bureaucracy aspect: Motobirds takes care of all the customs procedures and the customer has only to sign some papers. This is a huge aid for the traveler (the biker). Thank you MOTOBIRS!! Bye, Riccardo"
Riccardo Dezulian
14.05.2020
"Ditta molto seria che cura molto i dettagli della spedizione. finalmente la moto è arrivata sana e salva.grazie Aleksandra, Agata, MotoBirds. sicuramente quando dovrò spedire lì farò con voi. ciao. (Bardzo poważna firma dbająca o szczegóły wyprawy. W końcu motocykl dotarł bezpiecznie. Dzięki Aleksandra, Agata, MotoBirds. Zdecydowanie jak będę musiał znów wysłać to zrobię to z Tobą. Do zobaczenia.)"
Piero Bertazzoli
22.04.2020
"Bardzo serdecznie polecam, najlepszy transport quadów!!"
Kosmita Andrzej
10.04.2020
"Our bikes are back from Chile ! Thank you Motobirds Aleksandra, Guy, Agata for your fantastic service. We appreciated the professionalism, the precision, the knowledge in shipping and motorcycling in the countries you are shipping to. We appreciated your care and how you handled our requests. You are the best !"
Benedict Stalder
7.04.2020
"MotoBirds to wspaniała obsługa od początku do końca. Motocykl dotarł do celu w ustalonym terminie i co bardzo mi się podobało to ciągły kontakt i informacje, gdzie jest statek itd. Taka komunikacja sprawia, że nie musisz się zastanawiać co się dzieje z Twoim motocyklem i wiesz, że jest w dobrych rękach. Polecam jak najbardziej."
ANNA ŻAK
"I shipped my bike twice to South America and each time Aleksandra proved to be very professional and reliable. Excellent service, friendly staff and on time delivery. I definetly recommand MotoBirds!"
GEORGE THOMS
"I have recently shipped my bike from South America to Europe, and MotoBirds took care of absolutely everything. All I had to do was show up, hand the bike over, and wait for it to arrive in Europe – MotoBirds dealt with everything from prepping and packing the bike to customs and port paperwork on both Chilean and EU sides. Everything was done extremely efficiently and on time, and when I came to pick my bike up in Warsaw, all it needed was a little bit of chain oil – it started immediately and I could simply ride off. I can't recommend MotoBirds enough – thank you so much for making international motorcycle shipping easy."
EGLE GERULAITYTĖ
"Korzystałem z kumplami z transportu do Ameryki Południowej. Wszystko przebiegło sprawnie i terminowo. Ola to osoba w pełni profesjonalna i chętna do pomocy, więc wpłaca przebiegła wzorowo. Korzystaliśmy tylko z transportu, mimo to dostaliśmy sporo cennych rad, dotyczących, różnych ciekawych miejsc i tras motocyklowych. Polecam."
MARCIN SUCHOŃ
You can reserve a place for a choosen transport by paying a deposit of EUR 100.
You can pay the deposit using electronic payments via our website or by contacting us by phone or e-mail: info@motobirds.com.
To make a payment via the website:
Click the "BOOK" button in the table with the transport schedule – you can decide whether you only pay the deposit or the entire amount. Click "GO TO PAYMENT" to go to "CART".
On a "CART" page you can choose the currency of the transaction – EUR, PLN or USD and choose the form of payment (payment by electronic transfer, card, traditional transfer). Pay for the order, fill in your details, after receiving the payment, we will contact you to provide details about the order.
DOWNLOAD DOCUMENTS
you can download files by clicking into links that you can find below