Motorcycle Camping: What You Need to Know
A two-wheeled adventure wouldn't be complete without motorcycle camping. There's nothing like pitching your tent, cooking yourself dinner on your camping stove, and admiring the starry skies at night, unpolluted by city lights. Motorcycle camping can make your trip more authentic, adventurous, and exciting. You may not know where you'll lay your head next, but you know you've got your little mobile home with you.
However, motorcycle camping needs a little planning and preparation, just like packing for a motorbike trip or planning the journey.  Depending on where you're headed, you may get away with a very simple set up like a basic tent, sleeping bag, and a sleeping bag. On the other hand, if you know you'll be facing harsh temperatures, you may need some additional gear. Next comes the question of wild camping versus organized campsites, packing and carrying your gear on a motorcycle, and some do's and don't's of motorcycle camping abroad.
Let's take a closer look.
Motorcycle Camping Gear
What camping gear you choose will largely depend on where you're going, for how long, and how often you plan to camp. If you know the climate is mostly going to be mild, you won't be camping often, and your trip won't take longer than two weeks, you should be more than fine with some very basic camping equipment. Mid-range tent, sleeping bag, sleeping pad, and perhaps a small inflatable pillow plus a gas camping stove, a pot and a cup, and a few basic cooking utensils should do it. When shopping for camping equipment, however, always make sure that it packs as small as possible and weighs as little as possible. These are both important factors when packing your motorcycle.
However, if you're planning to go somewhere where the temperatures may be quite harsh, like Iceland, you may want to invest in gear that will withstand colder weather and rain. Make sure your sleeping bag is capable of withstanding temperatures up to -5 C, get a thick inflatable sleeping pad for extra warmth, and make sure your tent is fully waterproof. Consider getting some additional thermals to keep you warm.
Finally, you may be riding somewhere where you'll face both hot and cold temperatures and where you'll be camping a lot. Georgia is a good example – in the mountains, the nights can get chilly, but at the sea level, it's hot. For a varied weather and terrain trip, pick three or four-season camping gear that is versatile and reliable in any conditions.
Wild Camping vs Organized Campsites
Now that you have your camping gear ready, it's time to think about where you'll be camping. In most countries, wild camping is allowed with the exceptions of national parks and reserves. However, do your research and make sure you're legally allowed to camp. When picking your wild camping spot, see that you aren't intruding on private land.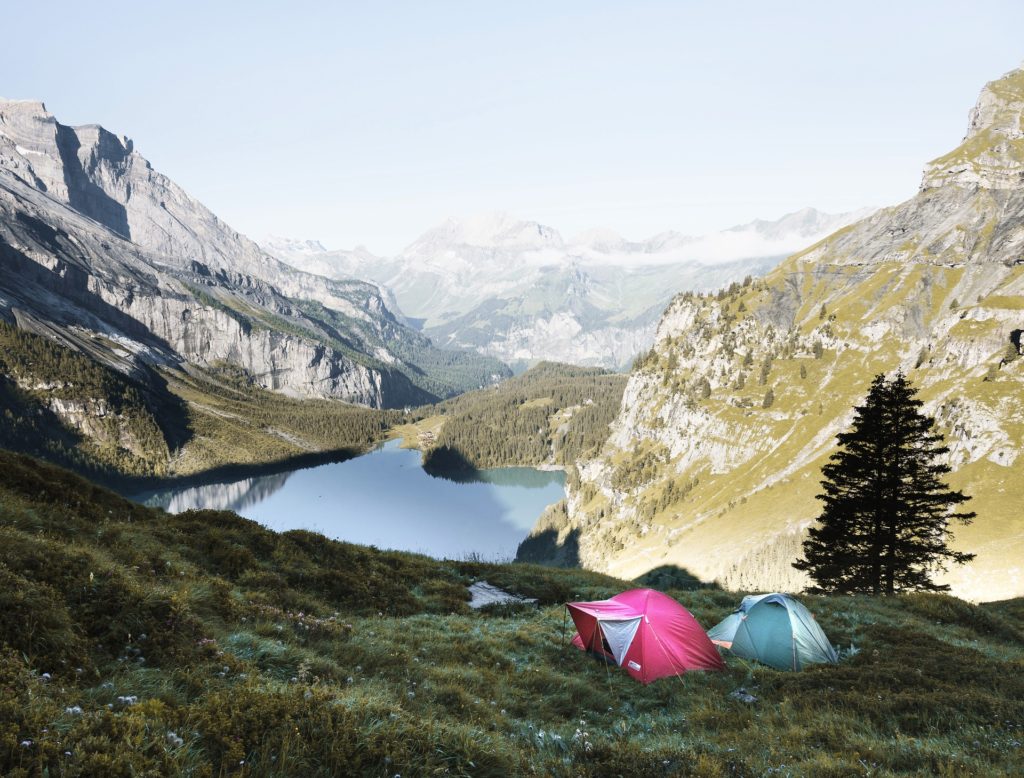 Organized campsites are usually the best solution if you don't know whether wild camping is permitted in the area. Sure, you'll be sharing the campsite with other travelers, but that can be a great way to meet people and exchange stories and route information. Another bonus is access to bathroom and kitchen facilities, which a lot of organized campsites will offer.
To help you figure out where you can camp wild and where you can find organized campsites, we highly recommend the iOverlander app. Just download the app, zoom in on the area you'll be riding through, and get all the information you need – as an open source app, it gets updated very often, and the information remains relevant.
Packing and Carrying Your Camping Gear
We already touched on the fact that the smaller and lighter your camping gear is, the better. When shopping for your camping equipment, try to be as minimalist as you can to save space in your panniers and to spare your suspension. Before you buy anything, think of the items you already own. Do you really need that camping chair, or can you sit on your pannier? Is that mallet for tent pegs really a must-have, or can you get away with securing the pegs using a piece of rock or your motorcycle boots? Are you sure the mini espresso maker is something you cannot live without, or can you simply use ground coffee and paper filters?
To avoid packing too much, just consider what is truly a necessity and what could you go without. After all, you're into motorcycle camping because of the adventure, not the comfort.
Motorcycle Camping Do's and Don'ts Abroad
When riding abroad, some travelers tend to forget that the rules still apply. Don't be one of them. Respect the local laws, stick to legal roads and off-road routes, and make sure you aren't wild-camping in a national reserve, in the indigenous lands, or on private property. Nowadays, with so much information readily available, there's no excuse not to do your research.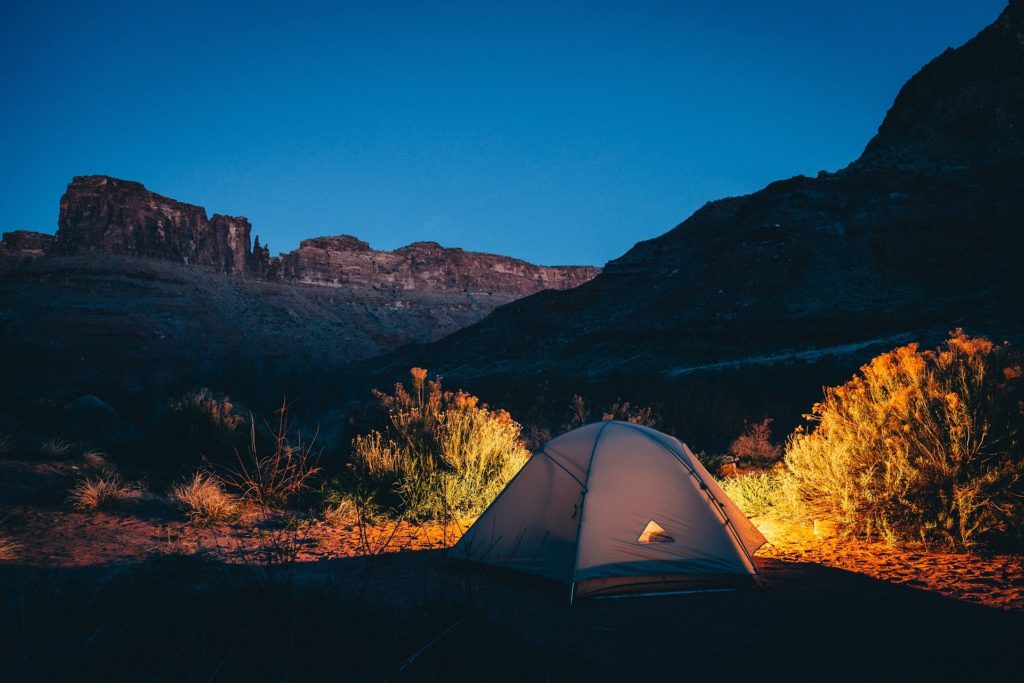 At the same time, keep in mind that the locals are usually happy to help, so if you're not sure about camping in a certain area, just ask. You never know – you might just get yourself invited to dinner!
What are your favorite motorcycle camping tips and hacks? Let us know in the comments below!
Images: Pixabay