Packing for a Motorcycle Trip: Tips from a Motorcycle Tour Guide
Packing for a motorcycle trip, especially if you aren't an experienced adventure rider, can be confusing. On the one hand, you want to have all the essentials with you. On the other hand, you don't want to overload your motorcycle. So what's the ideal solution? At Motobirds, we have guided hundreds of motorcycle tours around the world and shipped hundreds of travelers' own motorcycles to several destinations around the globe. Our tour guides are masters at packing, because they aren't just looking after themselves during the trips. They are also responsible for the entire group, which means they must be prepared for all eventualities. At the same time, they must travel light.
To help you make the best decisions when it comes to packing for a motorcycle trip, we compiled two comprehensive packing lists recommended by our guides to make it easier. The first one is aimed at riders going on a motorcycle tour, whereas the second one is meant for independent travelers.So if you're planning to hit the road soon, here's what you will need.
Packing for a Guided Motorcycle Tour
If you're going on a guided motorcycle tour, you will need significantly less luggage than if you travel on your own. This is because most guided tours have a support vehicle which carries the luggage. Even if there is no support truck available, you will still need less stuff because all the accommodation will be arranged for you and you won't need your camping gear.
With that in mind, here is what we recommend you bring on your guided motorcycle tour.
Your Docs
We know, we know: you hardly need reminding to take your passport, driver's license, and bike registration (if you're riding on your own bike) with you – but we'll do it anyway. Make sure all your travel documents such as passport, driver's license, bike reg, plane tickets or boarding passes, and your travel insurance is packed and ready. Double-check before you leave, just in case!
Pro tip: pack all your important documents in a waterproof case or a Ziploc bag. You never know what sort of weather you might encounter on the road.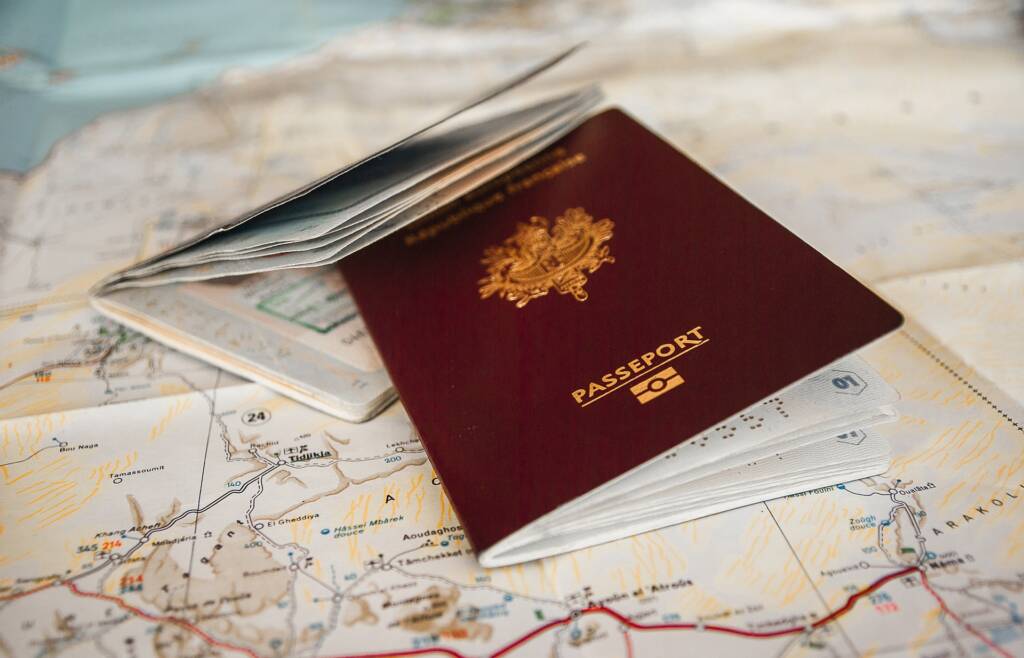 Your Essentials
A change of clothes and underwear, tennis shoes, a swimsuit, a light jacket, and your toiletries is all you need for a short, 10 to 14-day motorcycle tour. When you're packing your clothes, make sure they are light and pack small: instead of carrying a big woolly jumper, for example, consider getting a smaller fleece or a tactical base layer shirt. Pack extra underwear and socks as laundry services aren't always readily available, but just like with your clothes, make sure everything is light and functional. Take only what you really need as opposed to everything that you want: remember, you're going on an adventure, not a luxury holiday.
When it comes to toiletries, again, small and light is key. Choose small, travel-sized products, and, just like with clothes, think "need" versus "want".
Pro tip: Things like toothpaste, shampoo, sunscreen, or deodorant can be purchased locally, so pack smart and avoid paying for extra weight at the airport.
First Aid Kit
If you're going on a guided motorcycle tour, your guides and support truck drivers will be carrying first aid kits. However, do pack a few essentials like band-aid, painkillers, and stomach pills. If you have any allergies or medical conditions, be sure to pack the meds that you might need on the road. Always inform your tour guides about any medical conditions you may have so that they are aware and able to help you in case you need assistance.
Pro tip: if you take any specific medications and think you might run out while abroad, google the generic names of the meds before you go. This way, you will be able to buy them at local pharmacies. If these are prescription medications, be sure to stock up before you leave.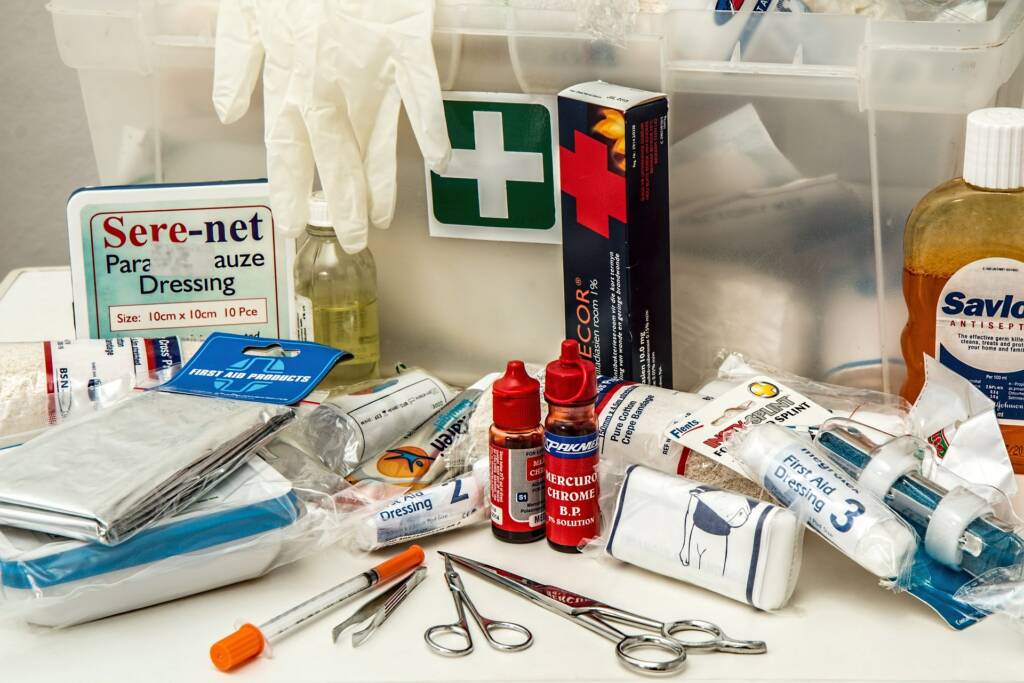 Your Electronics
We know how excited people are to take photos and videos on their journey, and we get it – memories are important. However, when it comes to packing, try not to go overboard. Do you really need your smartphone, camera, an iPad, and your laptop? Unless you're a professional photographer, most of the time, your smartphone or a small point-and-shoot camera is more that enough. Don't pack a variety of drones, lenses, and cameras for your motorcycle tour. After all, you want to be riding and experiencing the adventure instead of obsessing over the perfect shot and the best Instagram filter.
Pro tip: take SD cards instead of your hard drive to store your photos. Ideally, storing your photos on the cloud is the easiest way to avoid stuffing your panniers, but if you want to have a hard copy as well, SD cards are perfect for traveling.
Your Motorcycle Gear
For a 7-14-day guided motorcycle tour, all you need is your helmet, gloves, boots, and a comfortable riding suit. Even if the tour includes some off-road trails, chances are, you won't be doing any Romaniacs-style stunts on the way, so a light but protective adventure riding suit is enough. There's no need to pack all of your motocross gear as well as your riding suit!
Pro tip: to avoid overpacking, choose a riding suit that's made for four seasons. These type of riding suits typically have very good protection and plenty of vents for hot weather riding as well as a waterproof layer and a removable liner for cold conditions. Our tour guides swear by Klim riding gear that's made to last and can withstand any weather.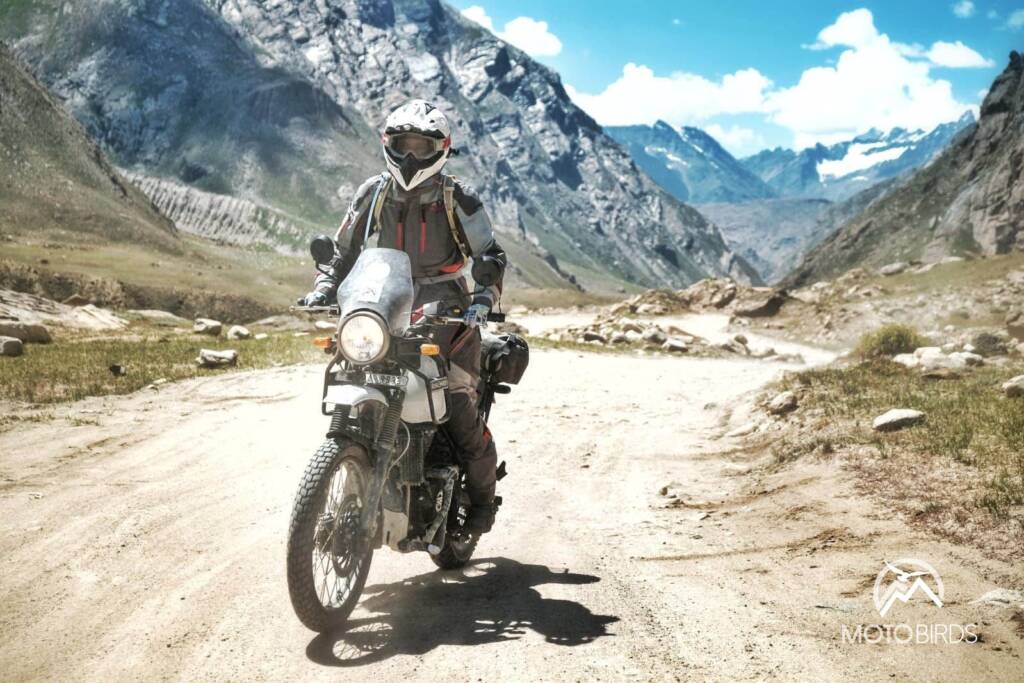 Anything else you want to pack is extra. On a guided motorcycle tour, you won't need much, so stick to the essentials and remember that you don't need to pack for every eventuality: you will have a support vehicle and a team of experienced guides taking care of most of the day-to-day maintenance. Pack light and travel far!
Packing for a Motorcycle Trip Solo
If you're planning your own adventure on two wheels, your packing list will grow. Depending on the type of roads you'll be riding and the accommodation you'll be using, you will need a few extra things like motorcycle maintenance tools and spare parts as well as camping and cooking gear. Here's a list of must-have packing essentials for an independent motorcycle journey, in addition to the things already listed above:
Basic Toolkit
If you're heading out on your own, having at least a basic motorcycle maintenance kit is a must. You don't need to pack half of your garage with you, but do have a bike-specific tool set, tire irons, a spark plug key, a tire repair kit, spare tire tubes unless you're running tubeless tires, and a small portable tire pump. If your bike doesn't have a center stand, pack a small additional stand (something like the Enduro Star Trail Stand will do nicely) to make tire repairs easier.
We also recommend packing duct tape, some Loctite, moudlable glue like Sugru, spare fuses, spare bulb for your headlight, a little bit of talcum powder if you're running tubes, a tire pressure gauge, a small power bank to jump-start your bike, and a Leatherman or a Swiss knife.
If you're going somewhere remote and know you might need extra fuel, we highly recommend taking the Giant Loop 8-liter fuel bladder with you.
Depending on the type of motorcycle you ride, you may also want to pack some extra engine oil.
Pro Tip: If you're planning to ride off-road a lot, we highly recommend packing heavy-duty spare tubes. We like Michelin's Ultra Heavy Duty tubes: they are a little heavy, but when you have a puncture in the middle of nowhere, they're a lifesaver.
Camping Gear
While there are many different camping products out there and it may be tempting to get all the gear you see on offer, all you really need is a tent, a sleeping pad, and a sleeping bag. Anything more than that is luxury, although some of our tour guides love to sneak a small, foldable camping chair into their panniers sometimes.
When it comes to cooking gear, keep it light and small. A tiny foldable cooking stove and some cooking gas is enough to prep roadside meals and morning coffee; you will also need a small pot, foldable plate, a cup, and one knife and spoon. It's always good to carry a little bit of coffee, salt, and pepper with you so you can always spice up your food and have a fresh cup of java in the morning. If you're headed somewhere remote, carry a four-liter water bladder.
Pro tip: instead of carrying several cooking utensils, pack a titanium spork: it works as a knife, fork, and spoon all in one. Consider carrying a Leatherman or a Swiss knife instead of a regular pocket knife to save space.
Hard vs Soft Luggage
Are hard panniers better, or should you go with soft bags? This is an endless debate, but our tour guides recommend soft panniers, especially if you plan to ride off-road. Your chances of falling over are greater on off-road trails, and soft panniers are a safer choice in case of a tumble. We love Mosko Moto soft panniers and duffle bags as they are incredibly sturdy, reliable, and 100% waterproof.
Pro tip: use motorcycle luggage that can also be used as a backpack or rucksack, like Mosko Moto tank bags and duffle bags.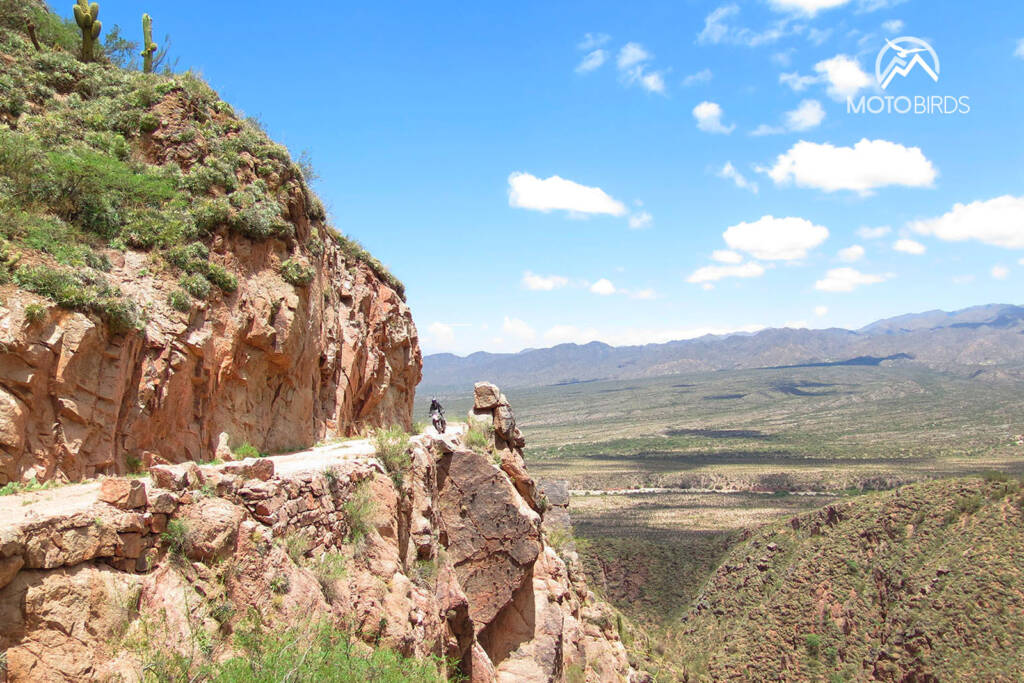 In addition to bike tools, camping gear, and luggage choices, you may also want to pack these miscellaneous items:
Wet wipes
Paper towels
Rok straps
Sunscreen
Lip balm
A long piece of string that can be used as a clothes line
A hat
Ziploc bags
Rubber bands
Zip ties
Ear plugs
A small piece of candle to lubricate zippers
Small pliers
Spare USB 12V plug
Now that you're all packed and ready to go, go through your luggage again and see how much it weighs. Typically, we like to stick to a 16-20 kg weight limit during our motorcycle tours, because heavily laden motorcycles aren't as easy to handle and as nimble as light bikes. If you feel you've overpacked, see if you can reduce the amount of stuff you have, or replace some of the heavy items with lighter ones.
What are your must-have items for a long motorcycle journey? Let us know in the comments below!