TET Poland: A Motorbike Adventure in the Heart of Europe (also for softies)
The MotoBirds crew rode the entire length of the TET Poland. We were curious, had a couple of weeks in front of us and it sounded like a nice challenge. So off we went for our local motorcycle adventure! We set off full of enthusiasm and determination to camp more or less the whole route. With that in mind, we packed our stuff, geared up and away we went. We started from Warsaw and first drove East, along a route we designed ourselves. We connected with the TET track in Mielnik and started riding the TET counter-clockwise.
What Navigation Tools did we Use?
We built that first stretch of road using Gaia and Basecamp (loaded with OpenStreetMaps of Poland). Apart from one incident where a short track no longer existed, it was a great ride to join the Polish TET.
Along the TET Poland we used Garmin GPS and Gaia to navigate. Bear in mind that the standard Garmin GPS maps won't be of much help, unless you have the topo maps. So better get OpenStreetMaps loaded on your GPS before leaving!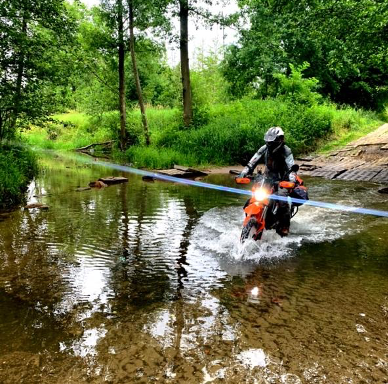 As a side note: there have been some recent problems in downloading OpenStreetMaps from one of most popular sites: http://garmin.openstreetmap.nl
If you need help to find your dream map, let us know!
What you can expect from this ride report
What we're not going to do here is give you a kilometer-by-kilometer trip report. There are tons of blogs dealing with this on the Web, if this is what you are looking for.
We'll rather give you an overview of what to expect and give you our opinion about such a trip. If you have more specific questions, feel free to reach out to us.
Can TET be ridden on big bikes?
There are a couple of very sandy stretches, but they are few and far between. Bear in mind that if it rains, the roads snaking between fields can be seriously slippery! Wet grass mixed with clay is slippery on any bike. At times, even on foot we were struggling not to fall…
Verdict – with suitable tires, big bikes would not have a problem on the TET Poland, provided you have some prior off-road experience. We rode it on BMW 1200 GS, KTM 690 Enduro & KTM 790.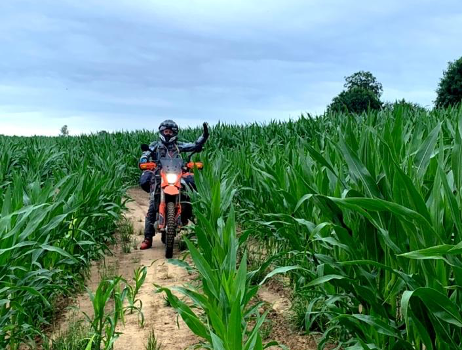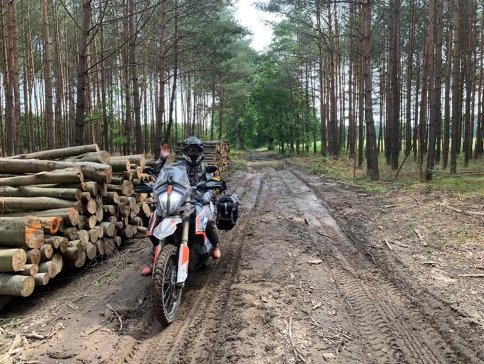 How long does it take?
This entirely depends on you. Some hard-core riding heroes have closed the circle in 7 days.
Realistically, we think about 2 weeks is a good duration for the entire loop. This gives enough time to enjoy the scenery, visit some places along the way, take some rest now and again – and not end each day with a seriously sore butt 😉
Our view is that such a trip is really ideal to discover a region or a country. Racing through the countryside in a cloud of dust won't let you achieve this. It takes time on and out of the saddle to see and experience things. Poland is such a beautiful country that we are convinced it would be a shame to race through it.
One more thing… Poland is a large country: this ride is a good 3,000km 🙂
How much of it is unpaved?
We estimate that 60% of the Polish TET is unpaved and gravel roads. The remainder is mostly on smaller roads through the countryside. Compared to a number of countries in Western Europe where all roads are paved or unpaved sections are closed to motorized traffic, Poland is a dirt road paradise!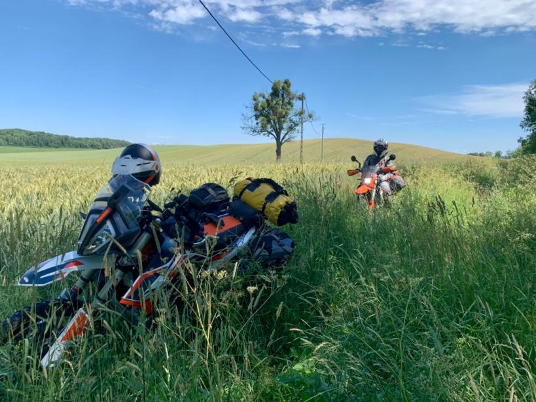 Is it possible to camp the entire route?
Absolutely yes! However, every few days we stayed at hotels or pensions, either to avoid storms or simply to relax in a real bed and take a warm shower. Yes, we might have felt slightly guilty behaving like soft French poodles (the first time only), but a real bed was well worth it, each and every time! Not smelling like wet goats was an added bonus 😉
Staying at pensions and hotels once in a while gave us the opportunity to get to see new towns and villages we would never have seen otherwise. So, it was well worth it.
Don't forget to pack mosquito repellant, there can be lots of bugs in some places close to water!
Is it worth doing this trip?
TET Poland was prepared thanks to the effort and dedication of a few people. TET Poland is a great adventure, period. We've traveled to many countries before, but riding the TET Poland is by no means a lesser adventure. Granted you won't be crossing deserts in Poland, but it is a great motorcycle ride by any measure.
Our view is that some parts of the TET provide a more interesting riding experience, especially off-road. But this is only our own biased opinion, based on our expectations.  For example, some parts of South are more densely populated, with more industry. If we had to do this again, we'd probably skip some of these areas.
This being said, If you are willing to invest a little of your time, it is perfectly possible to use the TET as a base – as we have done. Then the route can be customised to something that matches your expectations. Poland offers countless riding possibilities both on and off-road. In many places it is possible to adapt the track to your riding experience, or to the region you are looking at, without breaking the law.
We did not always religiously followed TET. At times, after big storms, it was too muddy to ride on field roads and we stuck to asphalt. Other times we chose some of our own detours to have more unpaved roads. We also did some significant detours to get to those perfect camping spots we wanted.
What we loved most
We camped on the shores of lakes almost the entire route. Swimming, eating by a campfire and the gorgeous night skies were unforgettable. It took a bit of planning each day to identify suitable camping places, but between Gaia and Google Earth, we never failed to find great locations each and every time. When we were tired, we were also able to find atmospheric guesthouses without any problems. Each had "that something" in them. Off-road, but not too difficult driving, beautiful views and still wild nature – you will definitely find it all on the Polish TET.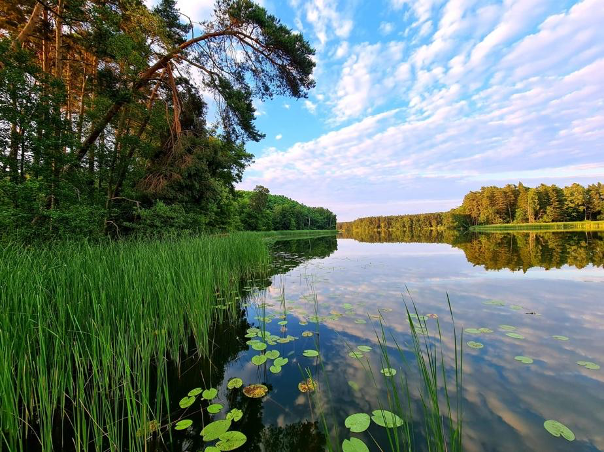 How to get to Poland?
Those that don't live in Poland could certainly come over on wheels. Another option is to give your bike to MotoBirds for a transport within Europe: We'll pick it from your doorstep and deliver it at the starting point of your TET adventure.  It's in many cases cheaper than coming on wheels.
Is it expensive?
As we mostly wild-camped, these nights were free. The biggest expense was fuel: for 2 bikes we burned through 280L of fuel. Away from larger cities accommodation is cheaper for those that want a hot shower and a bed.
Conclusion…
Riding the TET gives motorbike riders a unique opportunity to discover Poland. The diversity in landscapes and regions is especially striking. Some Europeans may think Poland is essentially a big, flat boring country. Anyone having had the chance to ride here will know this is far from reality!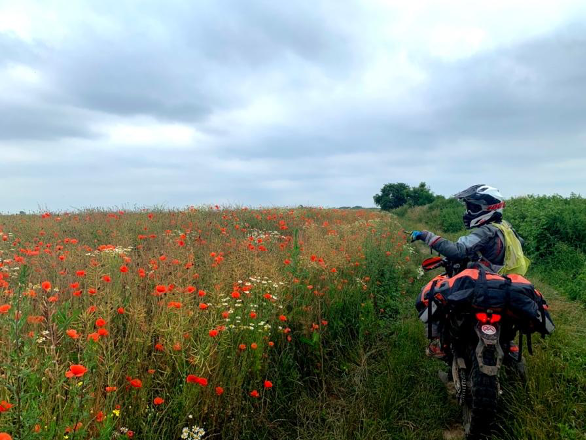 This motorcycle adventure offers riders also the opportunity to touch some of the history that has made Poland what it is today. It is a trip through beautiful landscapes of course, but also to some extent, a time travel experience. Ashes of previous empires are scattered in Poland, as silent witnesses of history. Soviet nuclear missile silos, 11th century castle ruins, nazi bunkers, Molotov line remains, former german settlements, century-old cobblestone roads, Tatar mosques, orthodox churches farming villages with lovely wooden houses untouched by time, pristine nature… it is all accessible in one beautiful motorcycling adventure.
Have done both, this ride is accessible to hard-core camping fanatics as well as softer "poodeling" riders preferring the comfort of pensions or hotels – even if only once in a while.