The best motorcycle routes of Chile, part 2 – North
MotoBirds is going to give you a selection of some of the most incredible motorcycle adventure roads in Chile. Some routes may be known by some riders, others are hidden jewels. We have already written about the green south and the famous Ruta 7 – Carretera Austral. Our second story covers the moonlike altiplano route of North Chile.
Going to the moon on a Motorcycle…
MotoBirds will guide you through some of the most exceptional tracks covering North Chile. This is a true adventure track that will take you from Santiago, all the way to Arica. This ride is for determined adventure riders willing to camp. Although it is possible, it is better not to undertake this journey as a solo rider. We rode this route several times, and it is without a doubt one of our all-time favourite!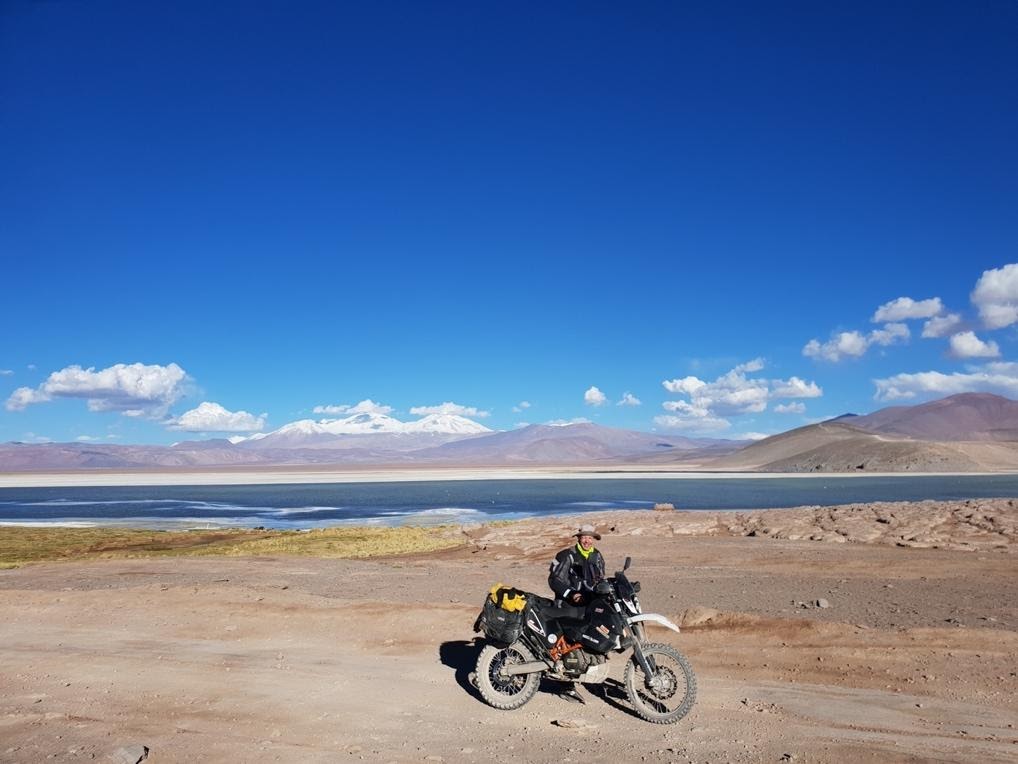 What to choose?
A big trail bike, such a R1200GS is not the first choice. We did this route on a GS once, but believe us, it was way more fun on a KTM690! Everything is doable but it's hard work through the sand and the more technical parts or the route.  
Your best bet is a ride like a modified KTM 690 Enduro R, 710 Long Range, DR650, etc.   
You must be able to fix a tire on your own, and know your bike well enough to resolve small problems along the way. We recommend soft luggage for this trip, your ankles will thank you if you get stuck under your bike in a fall. MotoBirds did a long-term soft luggage test if you're wondering about options.
First we want to share some practical details before we get into the meat of things.
Key information to help plan your trip
Fuel:
You need a fuel autonomy of 650km to undertake this ride. If you are looking for a light, flexible solution to carry extra fuel, a Giant Loop Fuel bag is a great solution. Way lighter than a Rotopax, and certainly easier to pack than a solid container.
In Chile, most fuel stations are called Copec. Google maps or MapsMe will guide you to them.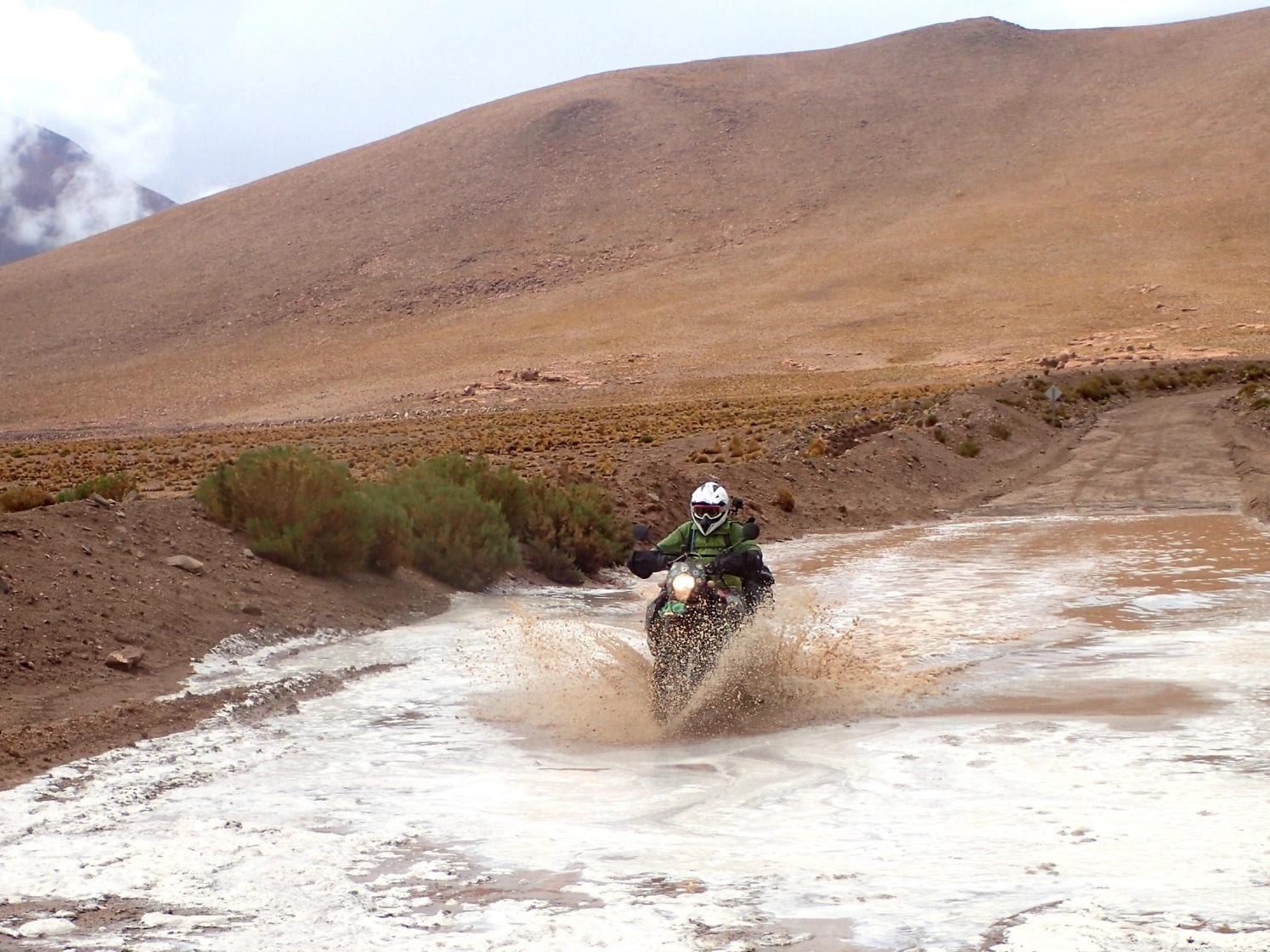 Water:
You should consider a backpack with a 2L water bladder, and a minimum spare water capacity of 4L. Ortlieb makes some good water bags, which are easy to pack and durable.
Food:
Food is available in every village. However, as you will be camping, you should have the equipment to prepare some food along the way. Think as well of some reserve food.
Tooling & small repairs:
As you'll be pretty far from any place with a GSM signal during part of this trip, you must bring along some basic parts and tools. Clutch lever, brake lever, brake pads, spare engine oil, chain lube, fuses, etc.
A portable side stand is a good thing to bring along. If you have a puncture, you'll thank us. You won't have an excuse for not greasing your chain as well…  If you are looking for a field-tested portable side-stand, it soon will be available on the MotoBirds webshop.
In the meantime, if you are interested in such a solution – let us know! We can provide you with it.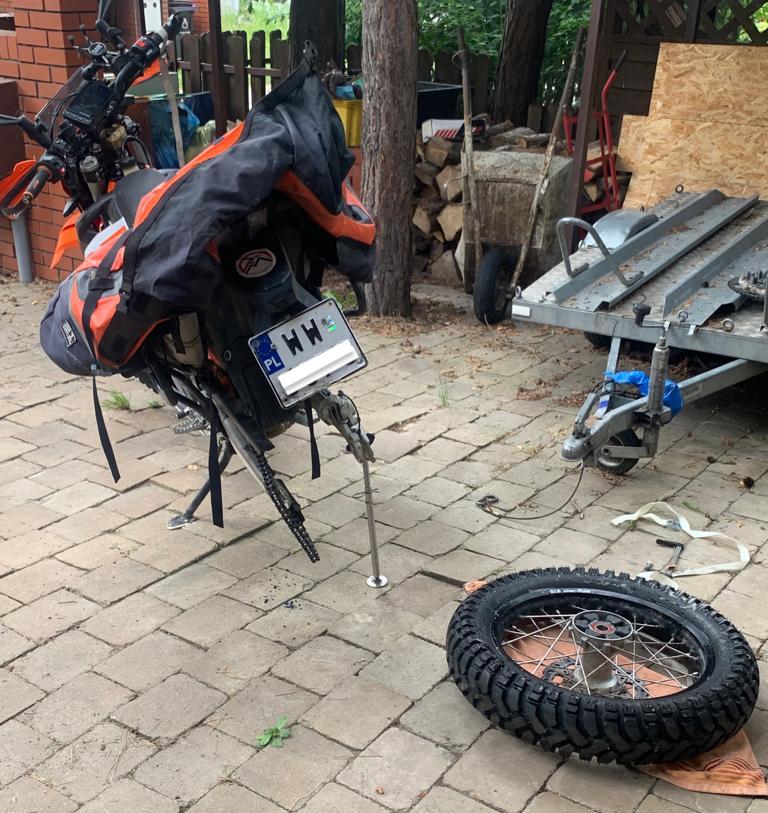 Parts & Service:
In most areas this route will take you through, it is very difficult to get parts or support. You must know your bike, and your bike must be in good condition for this expedition.  
We got stuck once for 10 days waiting for a slave cylinder in San Pedro de Atacama; one of the biggest towns of North Chile. Had it been in the boonies, it would have taken even longer…
Tires & tubes:
Anything like a Michelin Desert Race or Michelin Anakee Wild type tire. We're not sponsored by Michelin, but they make tires we like.
Yes, we know they are heavy and take up a lot of space… you must bring along at least one front and one rear spare tube (unless you have tubeless). We recommend the Ultra Heavy-Duty tubes (4mm thick). Michelin and some others make them. You must also have patches and something that allows you to pump your tire enough to pop the bead in place.
Accommodation:
Tent, hotels and pensions. We'll talk more about this… Your sleeping bag must keep you warm till -5C.
Money:
Change your money in Santiago or Valparaiso when you arrive in Chile. There are ATM's in all bigger cities and fuel stations accept cards. In small villages, you will have to pay for whatever you buy in cash. If you take money for exchange, make sure your dollar bills are not torn or damaged. They must also be of newer design.
Prices:
Chile is not the cheapest destination.  However, on this trip you'll be camping some of the way.  This brings the cost down.  Be prepared for European level prices in bigger cities.
Do phones work?
Around medium and larger cities and all along the coast, the mobile network is working. Away from these areas, there is not network. It is a good idea to consider investing in an InReach device. 
The route:
This itinerary is for advanced motorcycle riders. You must be comfortable riding off-road for several days. There are many long, deep sandy sections. Long technical passages are also on this route. You will for sure drop your bike more than once. If you would like to discuss training opportunities before going on this expedition just get in touch with us. If you need training before the trip – let us know. We work with several schools and we can organize such training for you.
This motorcycle adventure requires a good level of endurance, both on and off road. It does not look like this on the map, but Chile is a seriously big country! Some days will see you ride over 500 km. Scheduling rest days on a regular basis is a good idea. The temperatures, long hours on the bike, the altitude, all take a toll.
Navigation:
You must be familiar with the use of your GPS. Think Garmin Zumo XT or equivalent. You must load OpentreetMaps on your device. It is also advisable to have a backup solution on your smartphone. Gaia GPS is great, as is MapsMe.
The route we show here are screenshots from Google Maps and Basecamp with the Chile OpenStreetMaps.
Your Gear:
We recommend hard-shell motocross boots such as Tech 10 or equivalent. From experience, only motocross boots will truly help reduce the risk of fracture in case of fall.  Thermal layers should keep you comfortable between -5 and +30C.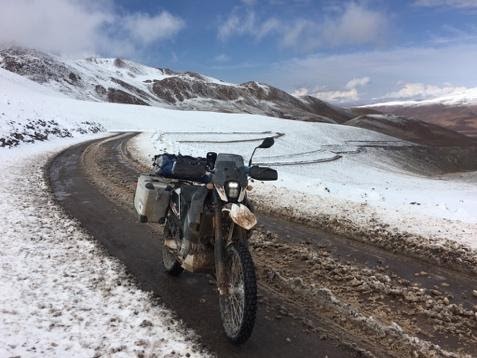 Weather
:
In the altiplano, the weather can change fast. The storms can be deadly. You must be prepared for sudden weather changes, including rain, snow or hail. It happened to us more than once. Being stuck in a storm is a scary experience.
At altitude, the sun is fierce. Remember to pack a hat, sun blocker, sun glasses and a hat. Long sleeves are also better.
Altitude
:
A significant portion of this ride is at altitudes of 3,500m above sea level or higher. You must plan time to acclimatize. From experience we know we need more or less one day acclimatisation per 1,000m. You will still feel it, but for us it is manageable.
How can I get my bike to Chile?
MotoBirds has scheduled shipping from Europe to Chile. Assuming the borders open (we are hoping this will happen before end of the year 2021). You can also read the blog section of our website – it has a ton of information that deals with shipping and packing.
You can read about how we pack and how we care for your motorcycle during transport on our website. We also recorded LIVE of unpacking one of the containers, where we tell and show the whole process of packing motorcycles.
How long does it take?
Shipment of a bike from Europe to Chile takes around 6 weeks.
You need a minimum of three weeks to do the whole route we share with you in this article.
What are my options to get the bike back from Arica?
Ride back to San Antonio.

Hire a transporter to take your bike down, while you fly back – we can do that for you!
Ship your bike back to Europe from Arica. MotoBirds offers this option for those interested.
Can I rent a bike locally?
Yes, but it'll be more expensive than shipping your own bike. Secondly, you won't find a bike suitable for this type of ride. Or the renters will not allow you to go on this type of expedition with their motorcycle.
More questions?
Reach out to the MotoBirds crew!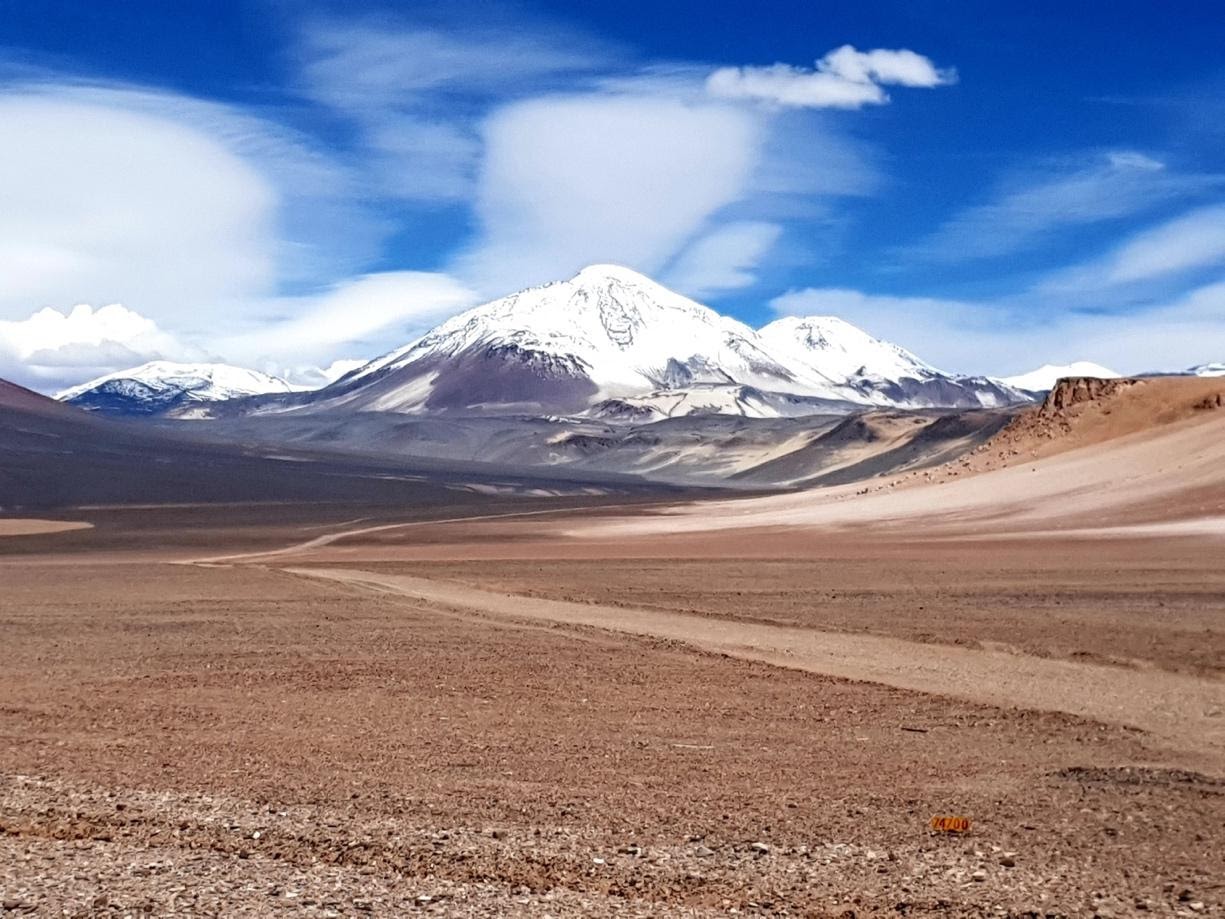 The Motorcycle Adventure Begins…
Your motorcycle adventure will start in San Antonio. This is where we deliver the motorcycles to riders. From San Antonio, you will head North to reach San Pedro de Atacama. It is approximately 2,300km away. 
There are a couple options to get there. The first option is to follow the ocean road (number 5) which follows the ocean. Drive till Antofagasta and follow the signs to San Pedro De Atacama. You don't need our help for this: simply follow Google Maps indications.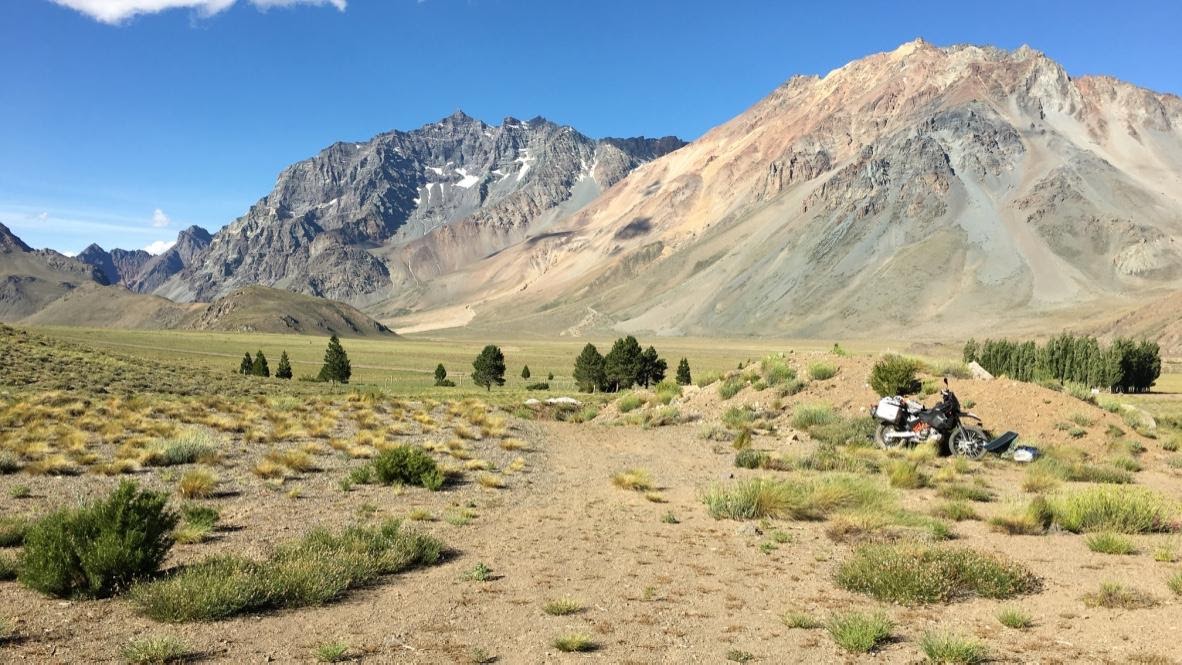 An alternative route takes you through the Parque Nacional Nevado Tres Cruces.  It transforms a good portion of that first ride North into much more of an adventure.  
From San Antonio, head towards Casablanca. Then follow the roads on this screenshot to reach Illapel. From there, head towards Ovalle. Depending on what time you leave San Antonio, you could reach either Illapel or Combarbala or Ovalle on the first day.
This routing option is a lot more scenic than staying on the Pan-American highway (number 5). You can find locations to camp along the way.
Then, from Vicuna, there aren't that many exciting choices. We get back on the Pan-American Highway until Copiapo.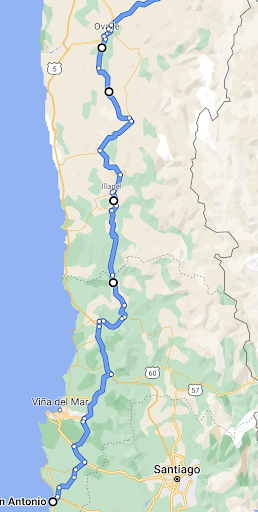 First Test Altiplano Ride!
Although the town is ugly, it is a good idea to go to the supermarkets in Copiapo, before the next stage of our expedition. That next stage will take us to the Parque National Nevado Tres Cruces, and back to Copiapo. This loop could be done in one day, driving hard.  
However, it is a terrific chance to test all the camping equipment by staying overnight at altitude. There are camping opportunities most of the way. Bear in mind that there is no fresh water in the Altiplano!
Tip:  check your tire pressure in the morning when your tires are cold, at altitude.You will see that a 2,200m elevation increase results in about 0.2bar increase in tire pressure, everything else being equal. It is best to always measure tire pressure in a similar condition to have apple-to-apple comparison.  
You will cross a mining area close to Markunga and will have to register and be escorted to the other side. It is no big deal, but may need some patience. There are some pretty sandy areas in some parts of the track, due to truck traffic.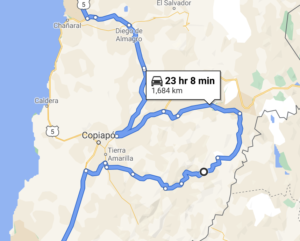 It can be windy during the day, but at night, it is usually quieter. Temperatures at night could be around zero. You will climb to over 3,000 today before returning to sea level the next day.
Coming back into Copiapo, after this loop: you'll have been at higher altitude, tested the equipment & bike off-road, and spent a first amazing night camping in the Altiplano. Any issues that you have to take care of, can be handled on Copiapo.
Off to San Pedro de Atacama!
Now that you've tested your bike and all your gear, we'll set off for San Pedro de Atacama!
As we said before, you can either go via the Ruta 5, and then branch off to Ruta 1, by the Ocean. The ocean road is not bad: the sea breeze is cooler and the scenery is pretty.
If you've come to do desert rides, we've got something special for you…
At Baquedano, branch off onto B-385 and climb all the way up in the direction of Socaire. There you can turn left on B-355 to reach San Pedro de Atacama. This is a non-paved option that will take you across the Salar. There's a nice Flamingo Reserve you can visit.
San Pedro de Atacama is quite a crowded place in the season. It is the heart of the Atacama Desert, where everyone who wants to see the desert, local lagoons, hot springs and volcanoes meet. The town is small and can be crowded at times. However, it has its own unique atmosphere.
We strongly advise reserving your accommodation for San Pedro de Atacama in advance, if you intend to sleep in a hotel or B&B. There are plenty of options, but prices tend to be high. The lowest prices are around 25 EUR per day, but that is only for a bed.
Around San Pedro de Atacama
Go have a ride to Valle de La Luna and Valle de La Muerte (sandy). Both are local must see attractions, but definitely worth it. It's best to go there for sunrise or sunset – the views and the light are beautiful. We're not going to repeat what's already in plenty of guides. Google will tell you all about it.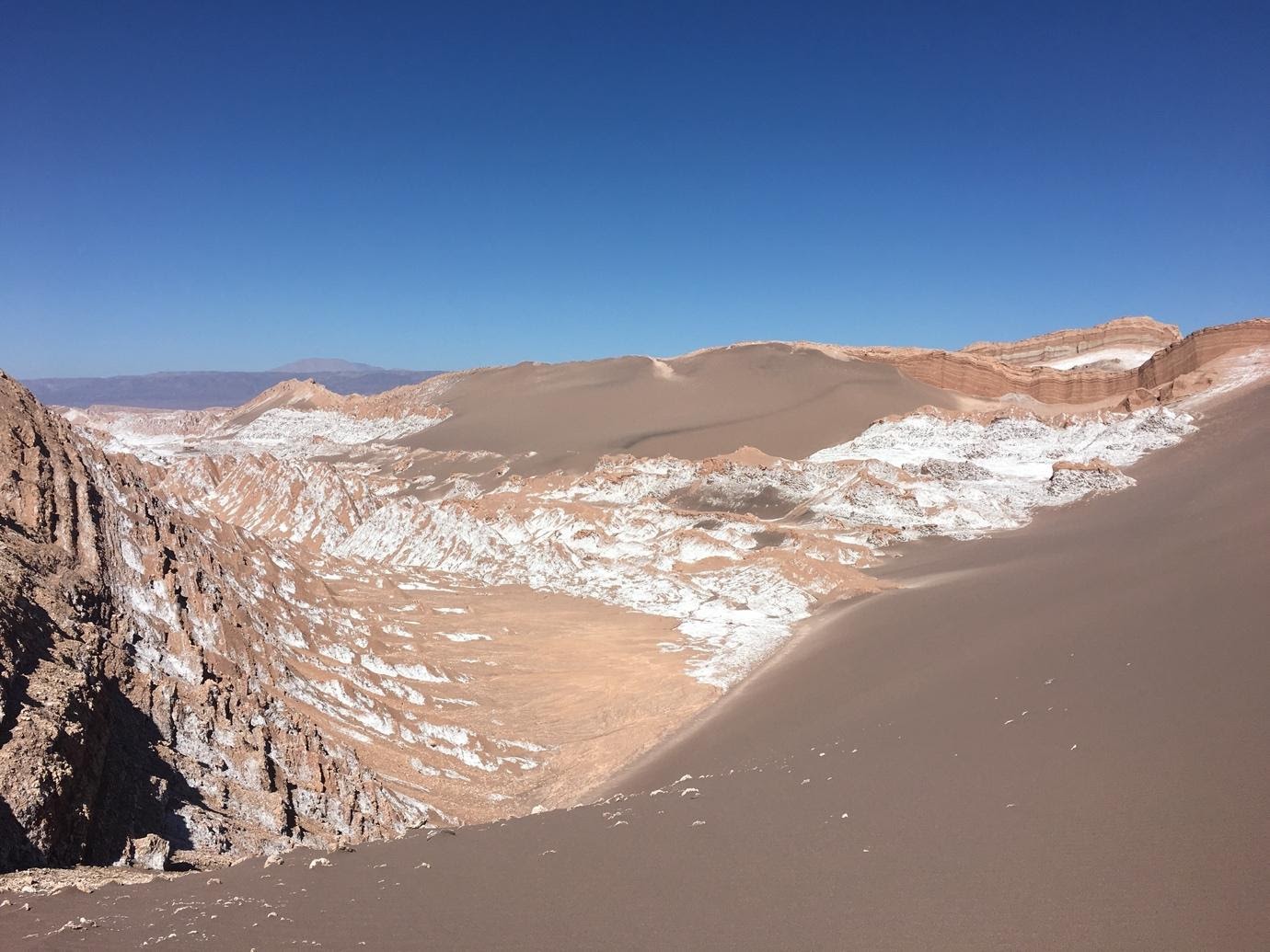 There are plenty of bars, restaurants to have fun at in San Pedro de Atacama. Do try the Pisco Sour and tell us about it 😉 if you're not addicted to it, you'll be soon.
Also have a tour of the local church, it is very pretty!  San Pedro De Atacama was founded as a city by a Belgian Jesuit priest. He was later accused of stealing gold and escaping back to Belgium. We're not sure the story's true, but you can learn more about it in the local museum.
Tatio Geysers
In San Pedro de Atacama, there are many local travel agencies that organize excursions to the Tatio Geysers for sunrise. We prefer to be there later, alone and without the crowds of tourists. It is true that we lose the view of geysers and water vapor in the rays of the rising sun, but we gain perspective without the crowds. Something for something. We leave the decision to you.
Here's a MotoBirds tip for you: leave early in the afternoon. Before arriving at the Tatio Geysers, keep your eyes open. On the right side of the track, you'll see some water vapour coming from some rocks. These geysers are accessible after some little acrobatics. They'll be your very own personal geysers…
Afterwards, go visit the Tatio Geysers, they are worth it. Explain to the guard that you will not go back the same way: rather you will continue! You can swim there. So, it is a good idea to bring something to drink for yourself.
You can camp behind some big rocks, right after getting on the track that departs from the Geysers. Get some sleep and wake up early. You'll be there before anyone arrives and will have seen the geysers in the evening and in the morning hours!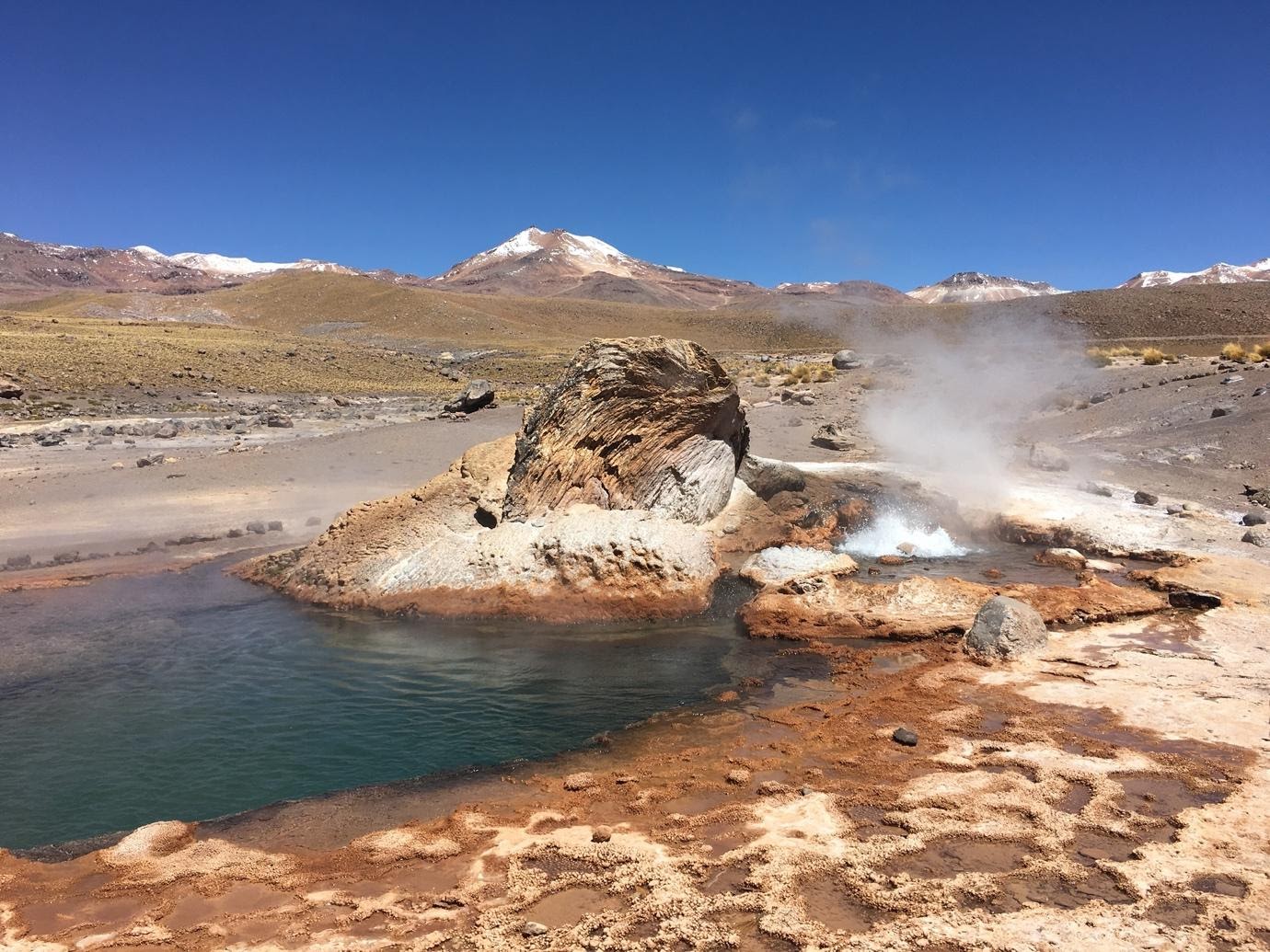 Get ready for more serious stuff…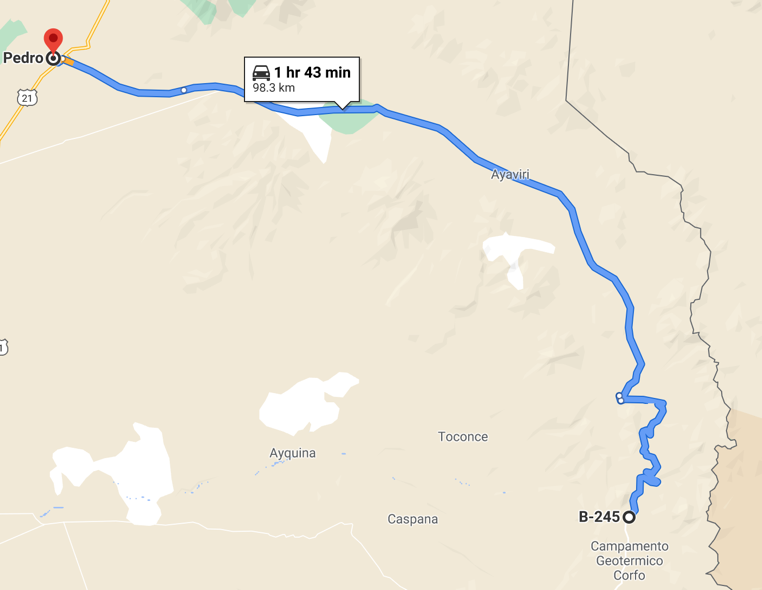 After that, you will be getting on your way on the track B-145. This is going to be pretty hard work… It is very sandy and the track has completely disappeared in places. It only exists on the map! 
When you arrive at the abandoned Yuma train station (like in the western classic), your suffering is behind you. Count about 4 to 6h to cover these 100km that will connect you Ruta 21.   
A word of warning: Do not attempt this section if you are alone and on a big bike. You will not make it – unless you're Chris Birch. There is a passage that requires some pushing alongside the bike to get out of some very sandy dried-out small creek.
We need to talk about fuel and food
You will be going to remote places. You must absolutely take along enough water and food to last for a couple of days longer than what you need. Your bike may break down, or may have to stop because of a bad storm, for example. For fuel, you must ensure to have an extra 100km range at a minimum. This is a safety margin that you should factor in, on top of what you have to reach your next fuel stop. If the track is very sandy, or get lost, you will need that fuel. If you fall, and your bike spills fuel, you will also need this. As there is very little traffic in some areas, you will not be able to get help easily.
Ollague
From there, you'll be on your way to Ollague. There is no fuel station in Ollague. But you will need to buy fuel. So what to do?
Ride towards Bolivia. Take one of the last streets on the right side of the pavement. Then turn left and continue towards Bolivia. Get past a destroyed chicken wire fence and look for ladies with wheelbarrows. They sell fuel. The prices vary depending on your perceived desperation level.
After you're all fueled up, you can proceed to the next stage of this adventure…
You like it Hard – or Easier?
The Hard Way. 
This one shown below will take you up to 5,100m altitude to the top of a volcano. It used to be an old mine. The start of the track is pretty hard and technical due to the erosion. Afterwards it becomes easier. Once you reach the top, the views will reward your courage and determination guaranteed! Same here as earlier, don't try this if you're alone and on a big bike. If you get stuck, there's nobody around to help you out.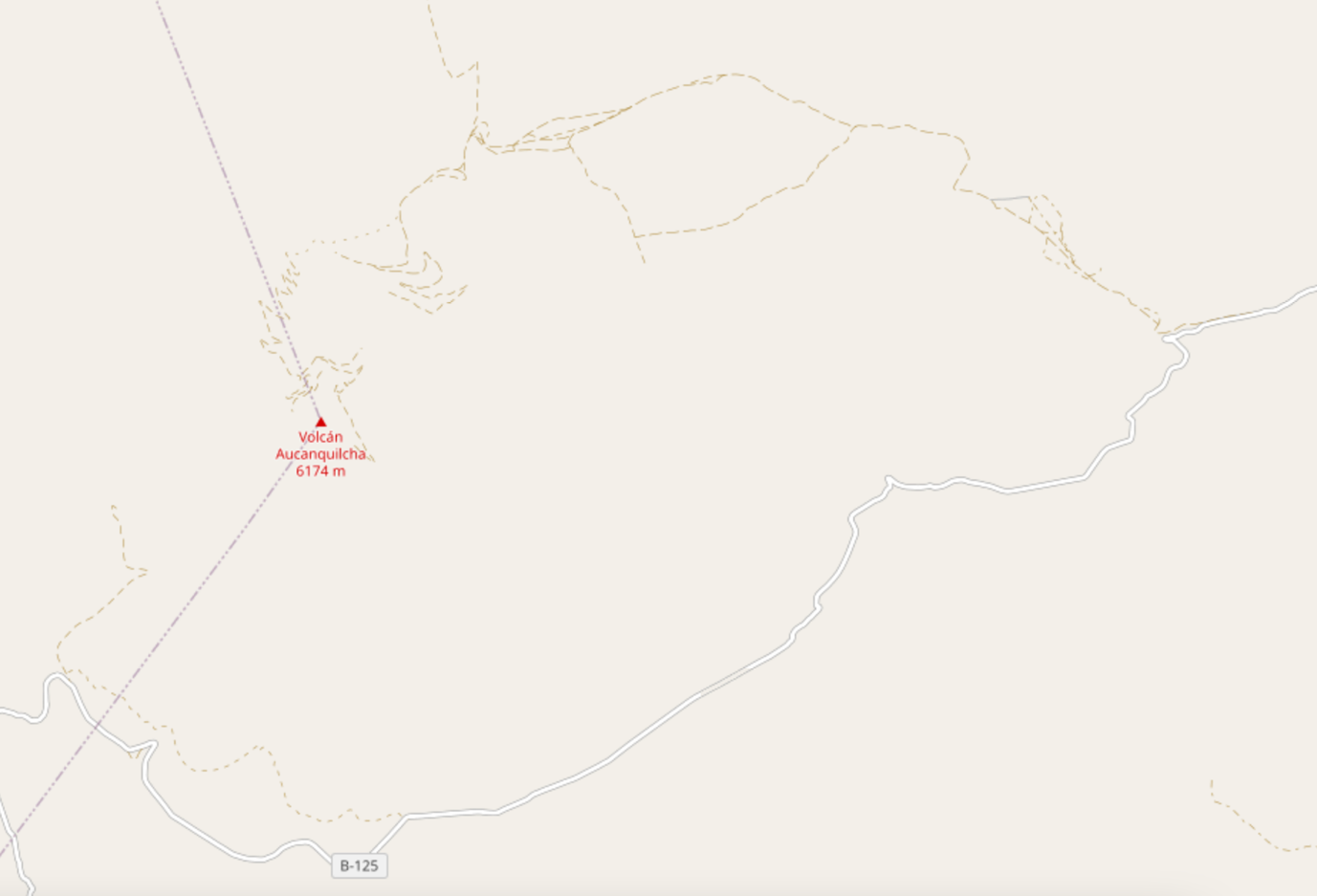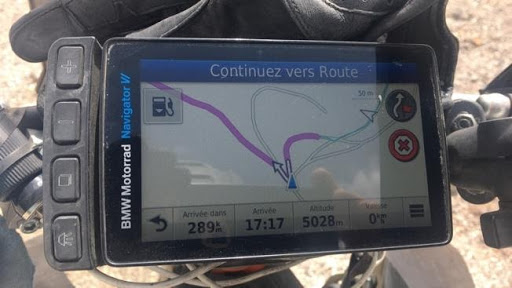 The Easy(ier) Way.
This one presents no major challenges. It is doable on a big bike as well. The track is nice and rideable the whole way.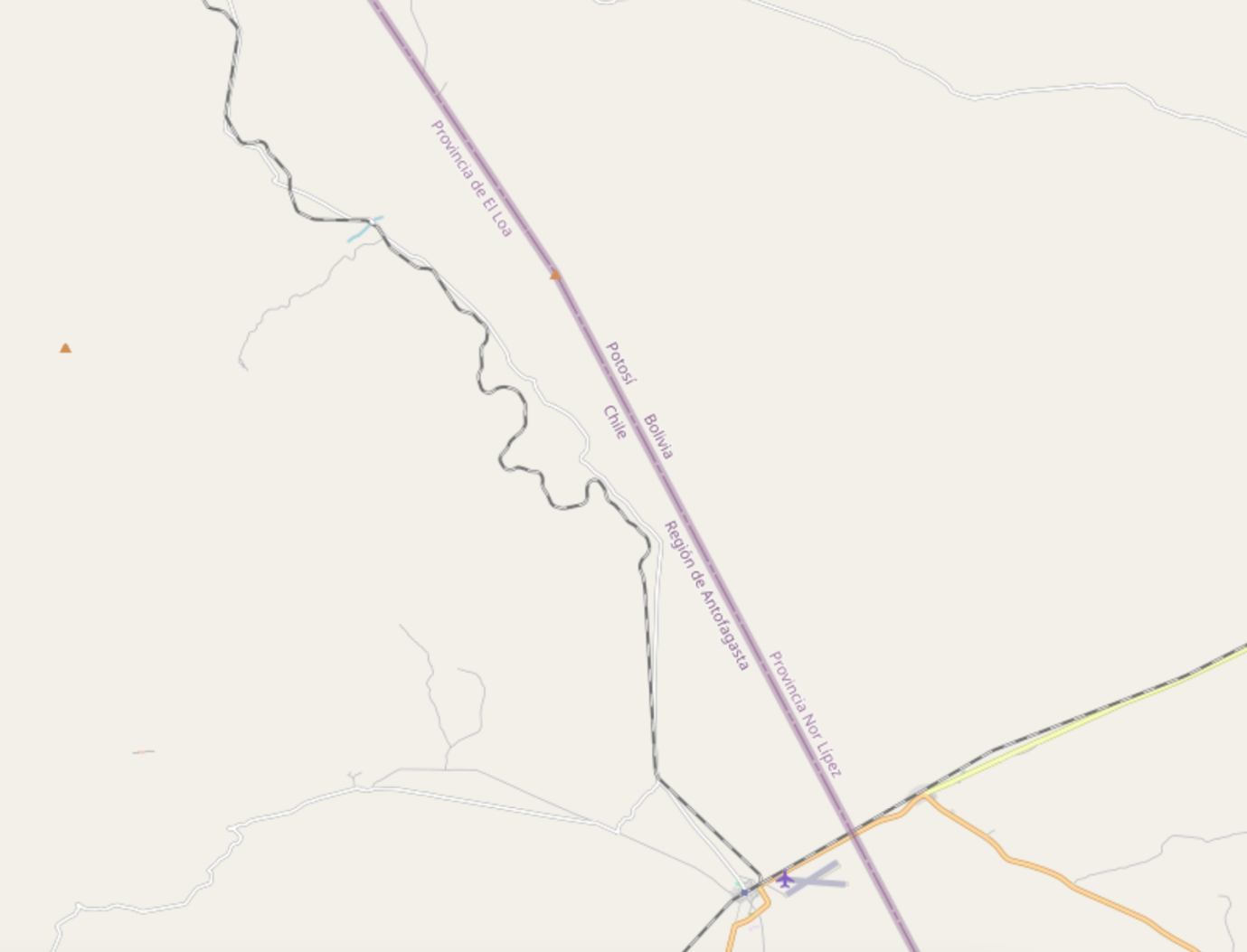 Off to Pica: Sand Dunes & Thermal Baths
Assuming we passed the hard (or easy sections) described in the previous point, we're headed for Pica. There are some stunning sand dunes on the way. Don't miss them.  The track is really beautiful as well. Pica is an oasis and has thermal baths. Don't miss them. Our guess is you'll want to spend a day or two there to rest & relax.
There are a couple of nice restaurants, shops and a general laid-back feel about the place. If you need some small hardware for your bike or want to wash it & inspect it, Pica is a good place for it.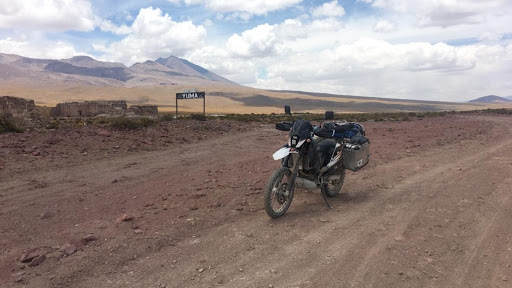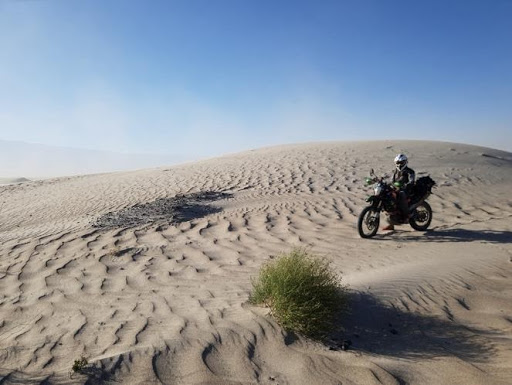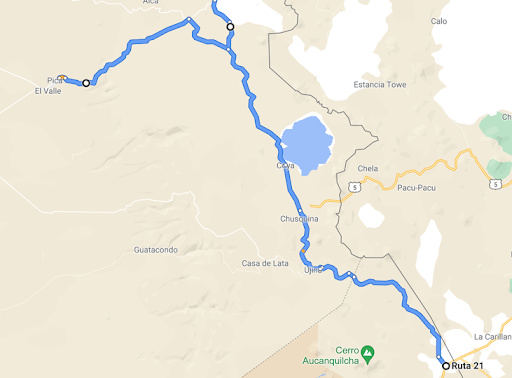 Off to Colchane…
After this welcome rest, back on the bike.  We'll go to Colchane, as shown on this map.
This is a gorgeous ride, most of it on gravel and sandy tracks. You'll never forget this portion of the adventure. Make sure to camp along the way!
You have to get fuel in Colchane. It takes some cleverness, but it's also an interesting experience. There is no station in the town. Drive towards the border with Bolivia. Turn right onto the last street of the town, then left left and continue towards Bolivia. Avoid the barbed wire fence and look for traditionally dressed Bolivian women with … wheelbarrows.

It is the Bolivian women that sell fuel in this "non-standard" way. Prices are unpredictable. But there is no alternative place to shop.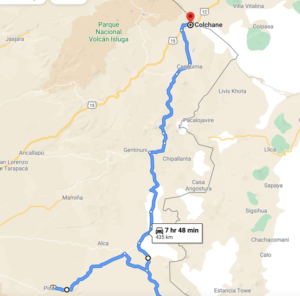 Keep going North!
From Colchane, it gets wilder and more remote (even). In Colchane the best place to stay is a hotel called Camino del Inka. If that one is full, across the square, is another place. But believe us, give first a try to Camino del Inka… 😉
From Colchane, you have two options, both are equally nice.
Go back to Umina and take the track A465 then A487.
Take the track A385 (also called A95) from just before Colchane. Don't miss Isluga church on the way!
You will then stay on that track which changes into A93, all the way to the very North of Chile.
This is an absolutely unforgettable desertic moon-like landscape. Don't stress out if the track branches off several time. What matters is to keep the general direction correct, and try to pick the track that seems to be in the best condition. When a portion gets too destroyed, locals just ride next to it and make a new track.
You will see some abandoned villages with dirt houses and churches on the way. It is all extremely remote and beautiful.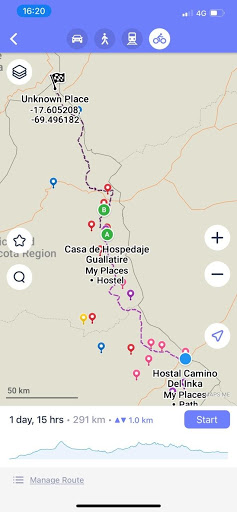 Thermas
Here's another tip from MotoBirds: Don't miss the Termas de Churiguaya on the way. You will be there all alone in all likelihood. It is an amazing feeling to bathe all alone on the Altiplano, under the starry sky. Almost nobody ever bothers to go there. It is an incredible place to camp!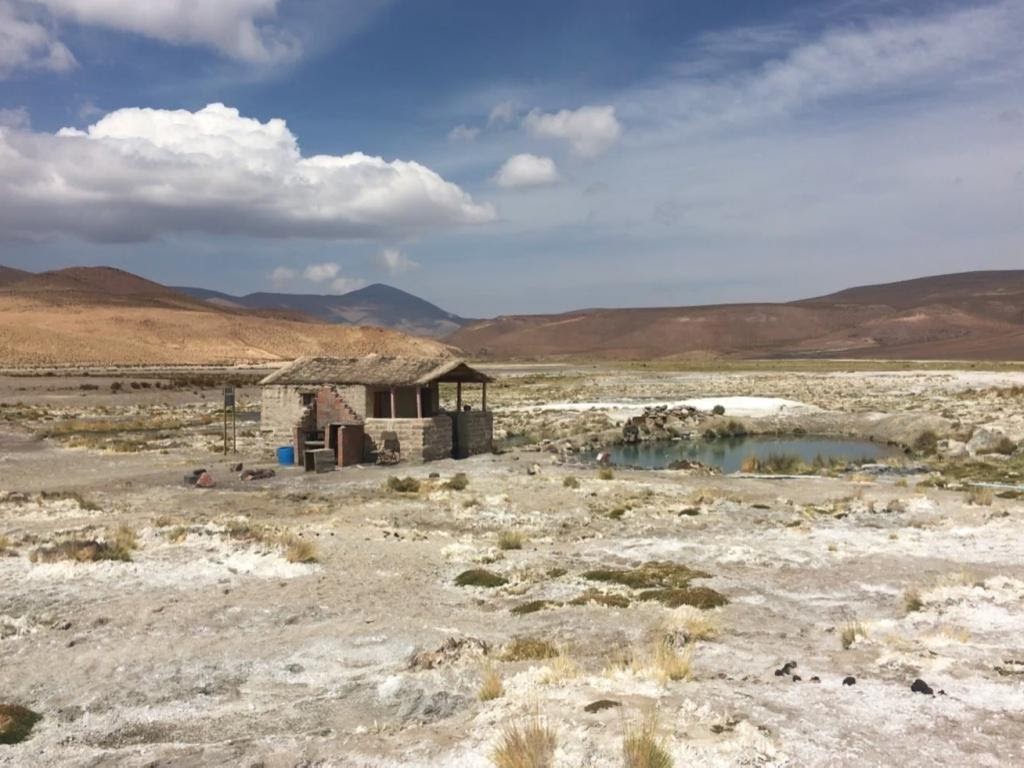 In the Surire Park, you must absolutely also stop over at the Termas de Polloquere. Camping is possible there: there are a couple of dry walls that will protect you from the wind. If you happen to get stuck in really bad weather, there's a village nearby. You could ask for shelter of stop-over in one of the abandoned houses.
Visviri
The last village in our northern adventure is Visviri. To reach there, you will follow the A-93 along the Bolivian border. At one point, the track even takes you into Bolivia for about 5km. If it has rained heavily, it is hard work on a loaded bike. But it is all rideable even on a big bike.
Back to Arica
From Visviri, you will take the A-23 / A-109, that will take you back to the coast. The track will gradually turn into broken asphalt and finally into better pavement. That portion of the road is very scenic, along a canyon. There is almost no traffic. This is the end of what is probably the one of the very best adventure motorcycle routes of North Chile.
In Arica, there are many hotel options to choose from.  It all depends on your budget. A little outside the city is cheaper.  
If you have decided to ship your motorbike back with MotoBirds from Arica, this is where we will collect your motorcycle to ship it back to Europe.  
If you have decided to ride back to Santiago, your best bet is to get on the Pan-American highway and make you way South. Depending on your bike and your endurance, it will take you at least 3 days.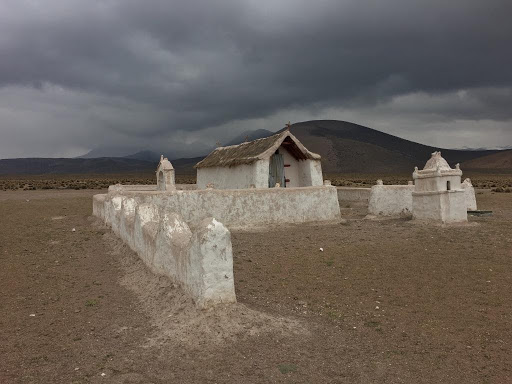 Interested to Go?
Now that we seem to be getting closer to Chile opening borders again, we will soon announce trips and transports. Stay tuned for exciting offers from MotoBirds!
If you want to keep up to date with transport or tour opportunities in South America, including Chile in particular, let us know. We will certainly inform you about our plans!