Namibia – why it's worth going on a motorcycle tour with MotoBirds
Here we go again: MotoBirds opens new travel destinations for 2023. In 2022, we embarked on our first African tours, starting with Tanzania. Riders loved it! That success set the bar pretty high for future destinations… After all, we want to do it at least as well – and even better.
So how?
You might have read about how MotoBirds goes about preparing tours, or what makes our tours truly special.
As they say: if something isn't broken, don't fix it. We followed this same principle to develop our next MotoBirds African motorcycle adventure. We were enchanted by Namibia. Why is it worth going there with us on a tour? Read the article to the end and you will surely find the answer.
Expedition to Africa – MotoBirds goals
Africa is a large continent, but it has some limitations. Some countries may not be interesting for a motorcycle riding (example? do you dream about driving in Sudan for instance? The country is immense but offers little variety in terms of landscapes). In Africa, there are also areas ravaged by war, countries in conflict or simply too unsafe.
We were looking for a safe country, providing endless adventurous scenic riding, with providing the possibility of great relaxation after getting off the motorcycle as well – and a few unique surprises thrown in!
MotoBirds promise
We want our trips to be different and unique. Simply put, motorcycle adventures that you wouldn't be able to experience on your own. Those that have ridden with us before know that MotoBirds will never offer trips to the Alps, for example. Although we like the Alps, there are hundreds of great guides available or Google maps that reveal every nook and cranny of this place. What value could we possibly add to spice that up?
MotoBirds motorcycle tours must have some element of challenge. Our promise is also to take you to places that will remain engraved in your memory and that almost no one knows. We want to help you discover scenic routes that might not even be on the map, while making sure you are always the one at the heart of your very own adventure. In a professional, safe and friendly atmosphere, interspersed with beautiful moments spent with other riders.
Namibia, why is it worth going there?
MotoBirds got interested in Namibia because, at least in theory, it met all the essential criteria for an ideal place for an epic motorcycle adventure.
Here are the facts that – on paper at least – made Namibia a terrific riding place:
It's big: about 2.3 times the size of Germany, 1.5 times the size of France or 2.6 times the size of Poland (maybe it will be easier for you to imagine it when you look at the map. If you connect Germany, Poland and the Czech Republic … they will still be smaller than Namibia).
The population is about 2.8 million people (compared to the smaller Poland, about 37.9 million people), living mainly in cities, towns and villages.
It is stunningly beautiful: the world's oldest desert, wildlife, coastlines, mountainous terrain, unique landscapes, etc.
It is safe: no civil wars, no conflicts, low crime.
It has great driving weather: the climate varies between north and south or coast and land, but is generally good for driving all year round.
Everything looks really good so far. Let us also establish how accessible this potential paradise is for motorcyclists.
Roads and routes in Namibia
Are you still reading? That's beaver, because the information we're going to share now is crucial. So, read to the end so you don't miss anything important!
There are 4 types of roads in Namibia:
Paved roads: connecting major centers and neighboring countries.
Gravel Roads: same as above, but unpaved. These are good quality gravel roads with the occasional patch of sand. Very well maintained.
Unmaintained 4×4 tracks: these can be seriously challenging , a 100 km stretch, in some places, can take you as much as 2 days.
Clean off-road: cutting across the countryside to reach a certain point.
Options 3 and 4 are mostly remote areas, almost always very far from any population centers. On these routes, you may not meet a person for days or even weeks. There is also no fuel and water there. Since these routes are not maintained, the terrain changes all the time and can be a serious challenge even for experienced riders.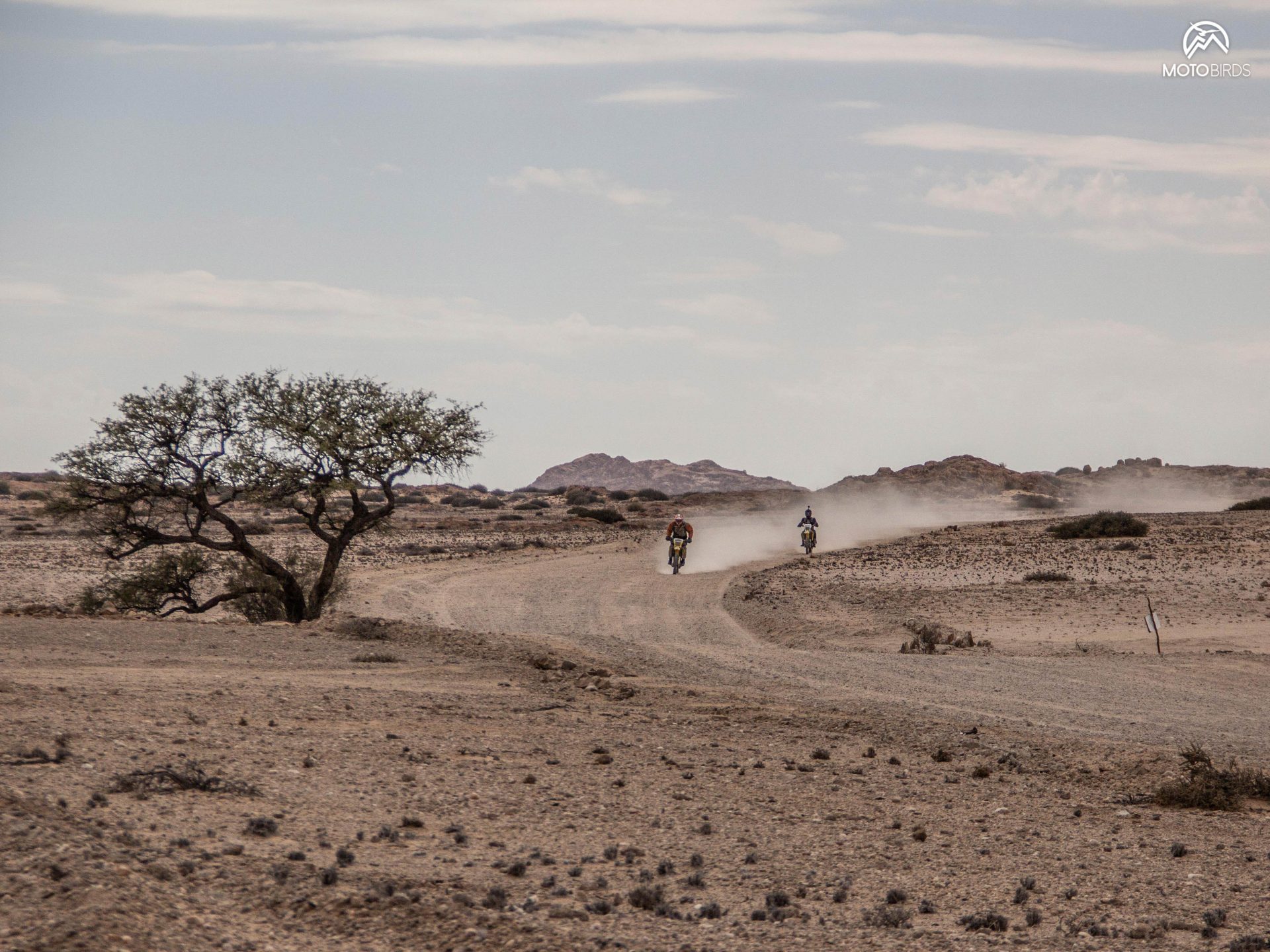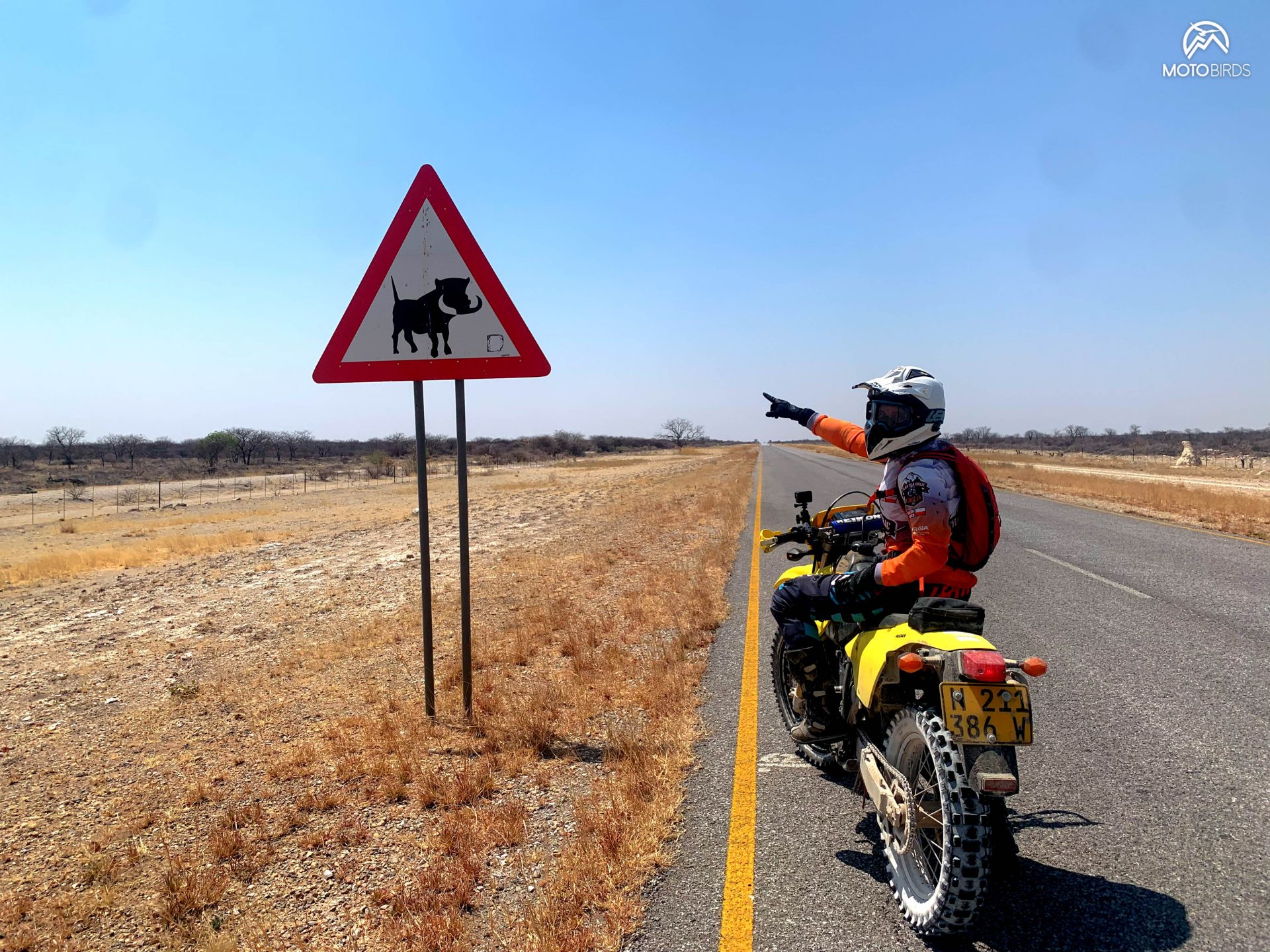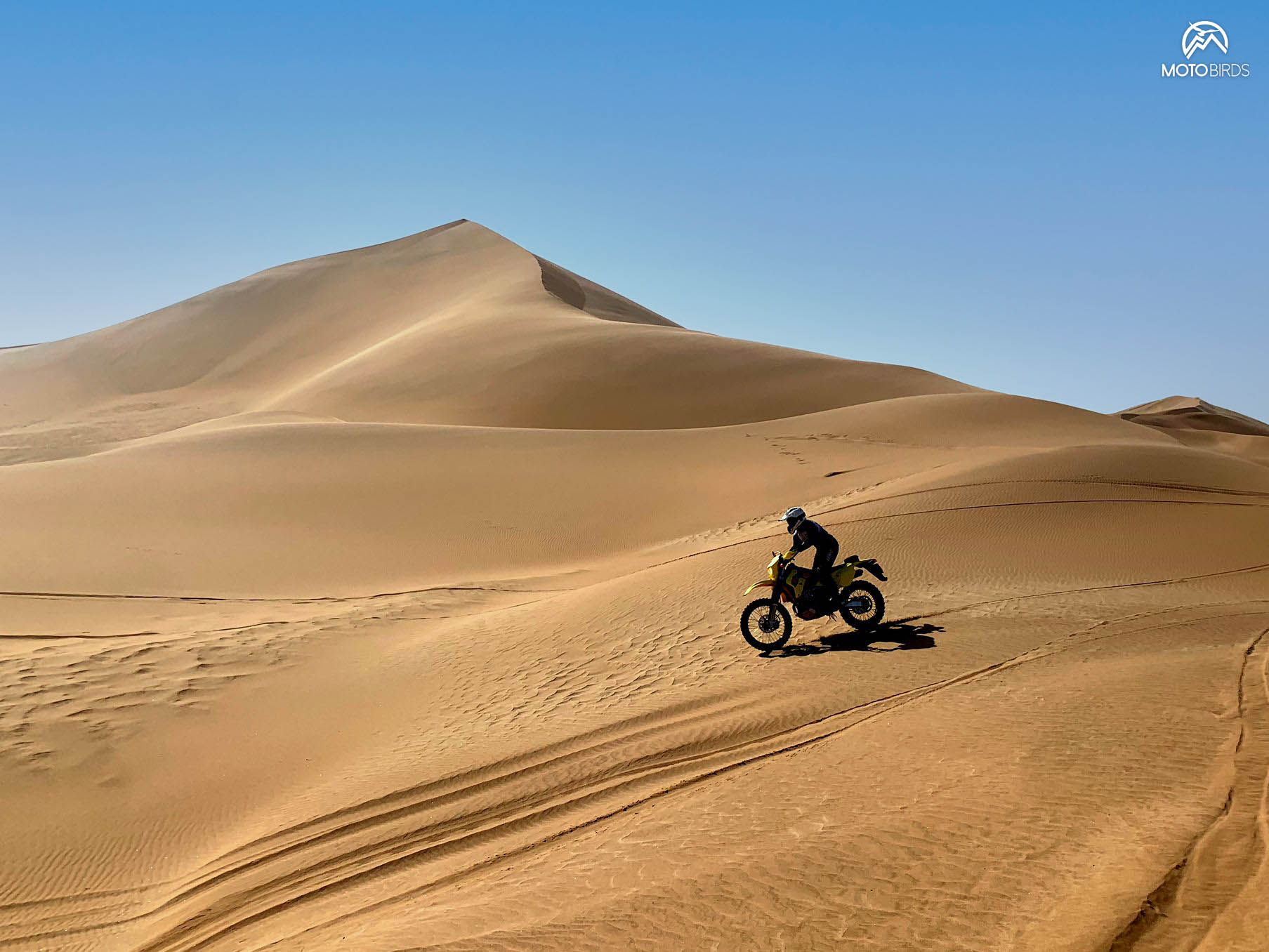 There is one more important thing …
If you happen to search the internet for motorcycle tours in Namibia (as we did) you will find tons of people who offer them. Some self-drive, some guided.
However, in our opinion, upon delving into the subject, it is obvious that all these tours have one thing in common – they are strikingly "ordinary":
One tours segment offers a drive from Cape Town to Windhoek or Swakopmund, with several stops to the top destinations listed by Lonely Planet.
The other offers have loops only on gravel and paved roads in Namibia, with pretty much the same highlights.
By reading the offers, you will quickly realize that these tours, without exception, stick to paved and gravel roads (option 1 and 2 were discussed in the previous paragraph).
Moreover, all of these tours seem to be bouncing the top 3 to 5 hits on the Google search "Namibia highlight".
Does any of this start to look and feel like a commodity? We are after something more.
Therefore, if the type of riding you are looking for is driving on a gravel or paved road that stretches to the horizon. Driving on tracks where the next turn is 189 km away or ticking off your wish list the top three of Google's "Namibia's top attractions" – look no further. Just pick the operator that has the bike brand and model you are interested in and you're good to go.
MotoBirds love adventure, genuine discoveries and varied motorcycle routes full of surprises. Therefore, in our opinion, these tours are nothing more than the canned juice versions of adventure rides – a commodity that promises freshness and naturalness, when in fact these tours will never have the freshness, flavor, authenticity of the real thin. Would any of these tours allow anyone to experience the real Namibia? We think not.
Why is this the case?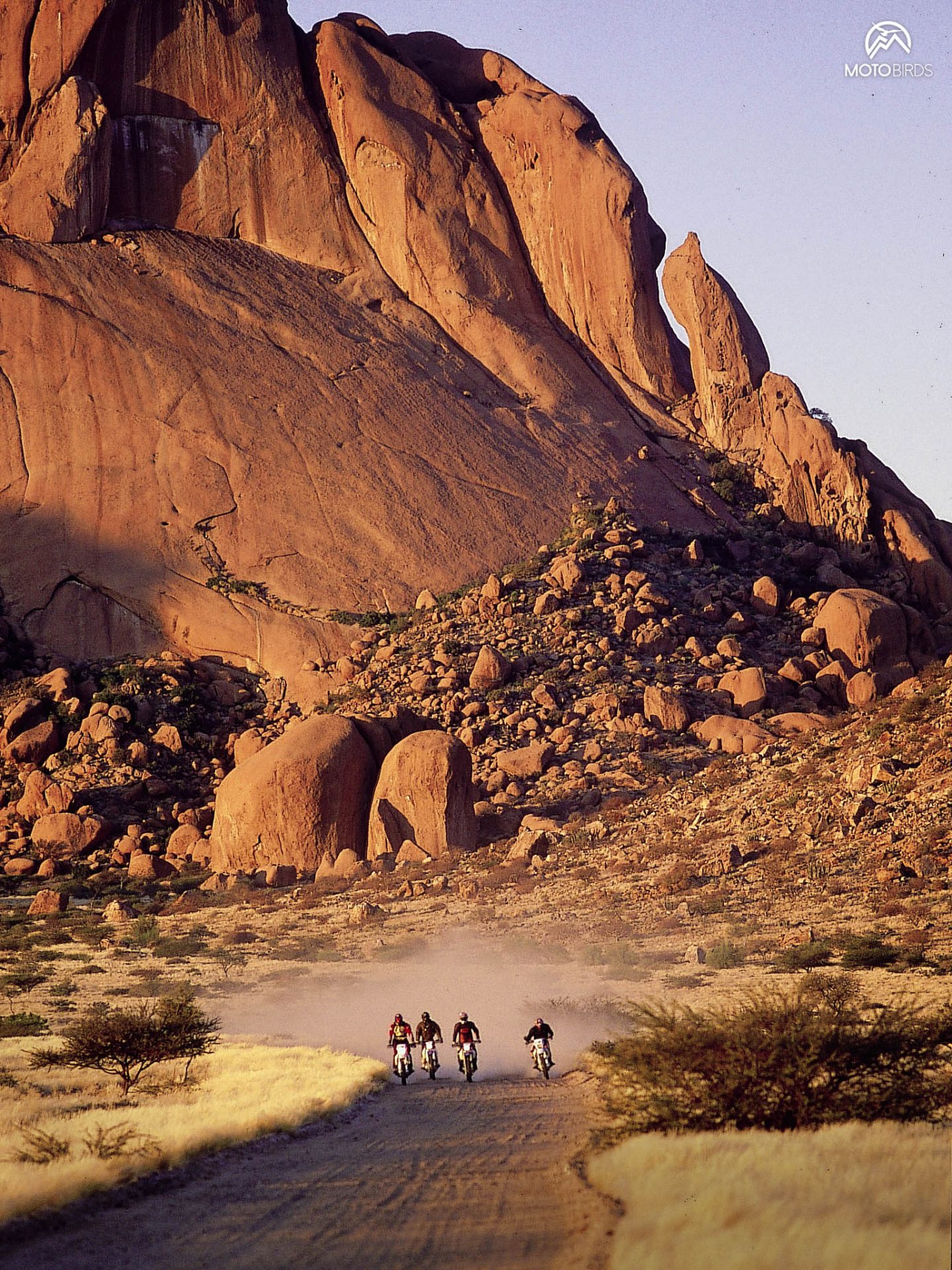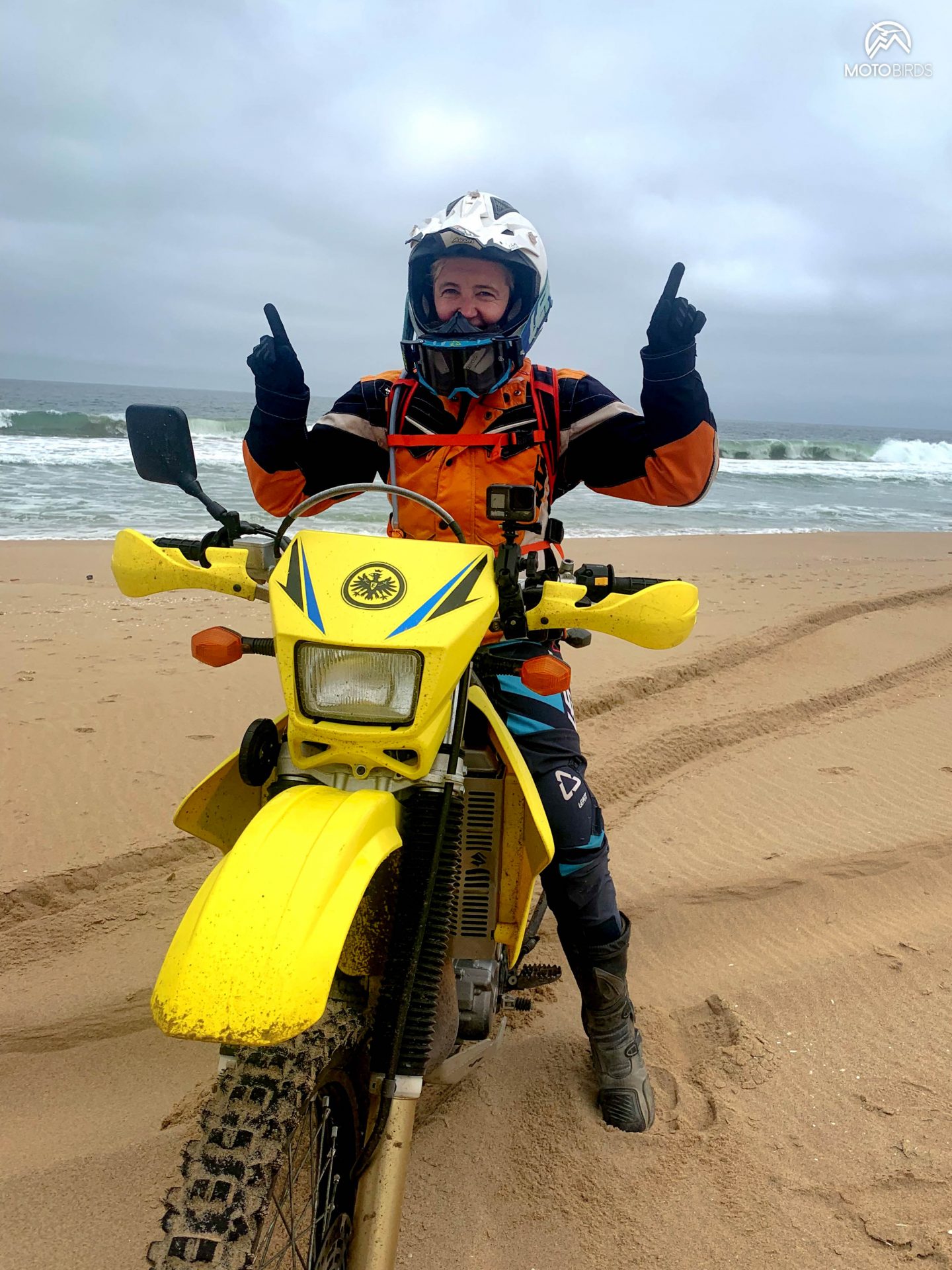 Understand the limitations
Remember when we wrote about the size of Namibia and its population? A huge country and a relatively small number of people make most of the country extremely remote. Motorcyclists using local gear or 4×4 car rentals are typically forbidden to venture beyond main gravel roads. There are two excellent reasons for this.
First of all, if people get stuck, get lost, or have an accident, it would be a serious expedition to get to them and recover their vehicles. Therefore, the risk of losing equipment for the rental company is very high.
Secondly, the terrain off the main paved and gravel roads can be rough and unforgiving, making it easier to abuse or destroy vehicles. Rentals really don't like it. Interestingly, in 2019 (before the pandemia), 450 rented 4×4 vehicles were destroyed by tourists driving on Namibia's gravel roads. In most cases, they were driving too fast and overturning cars, which is why in the fine-print the rental companies forbid leaving the main roads.
Isn't Namibia starting to look like an off-limit riding paradise…
MotoBirds idea for a tour to Namibia
MotoBirds' objective is adventure. We offer genuine adventure motorcycle tours. We enable riders to see, feel and drive around the real Namibia. We give you the chance to risk an adventure far beyond the beaten track. In short: go far and beyond the usual.
We always strive to create expeditions that take you away from the straight gravel roads and the main axis. Routes to places whose authentic beauty and nature exceeds the top 3 searches on Google or the Lonely Planet guide. Diverse, beautiful and sometimes also more demanding, for those who want it.
However, we know that not everyone rides a motorcycle: we wanted to give 4×4 drivers the same opportunity to experience an epic adventure. Were we too ambitious or unreasonable?
The STUDY TOUR
Time for action. So we got on the plane and headed to Windhoek to see if we could achieve our ambitious plans. Under the leadership of an experienced local guide in driving through the wastelands and "unobvious routes", we covered over 2,500 km (the distance from Warsaw to Madrid) in 10 intense days.
One of us took turns sitting in a 4×4 car and the other was riding a motorcycle. We drove a lot of real off-road, but also a few gravel roads to know what they're about… Without our Namibian guide's knowledge, determination and passion for off-roading, we would not discover such routes in our lives. They are not on any maps. And as our friend revealed, to him – a person who was born and lives in Namibia all his life – it took … 15 years to discover and cover these routes.
We toured, discovered, grilled meat on an open fire, camped under a starry sky, rode the dunes and even went on a safari.
And we have some lessons from our study trip in Namibia that we will share with you now. Ready to find out what MotoBirds has in store for you in Namibia?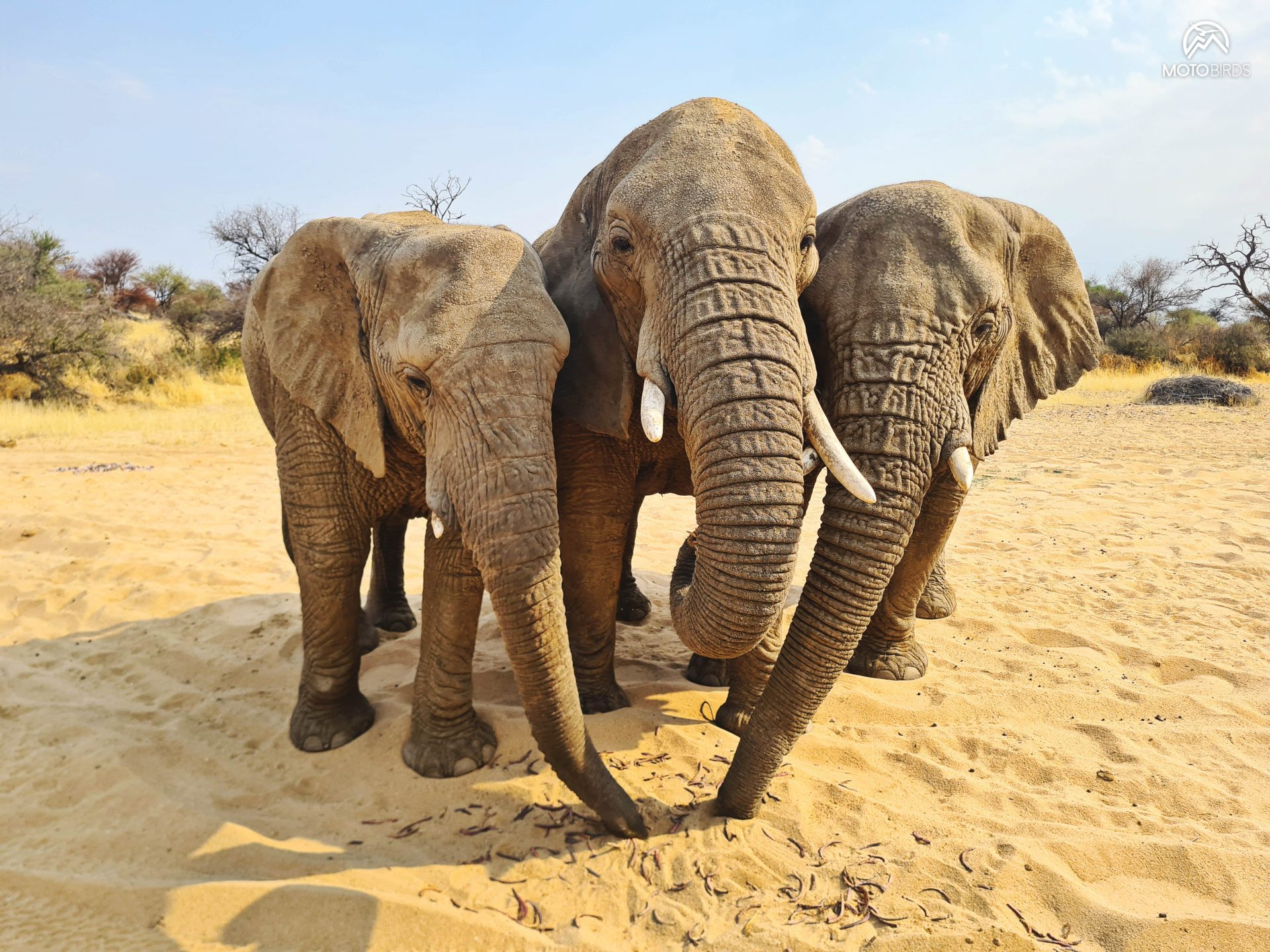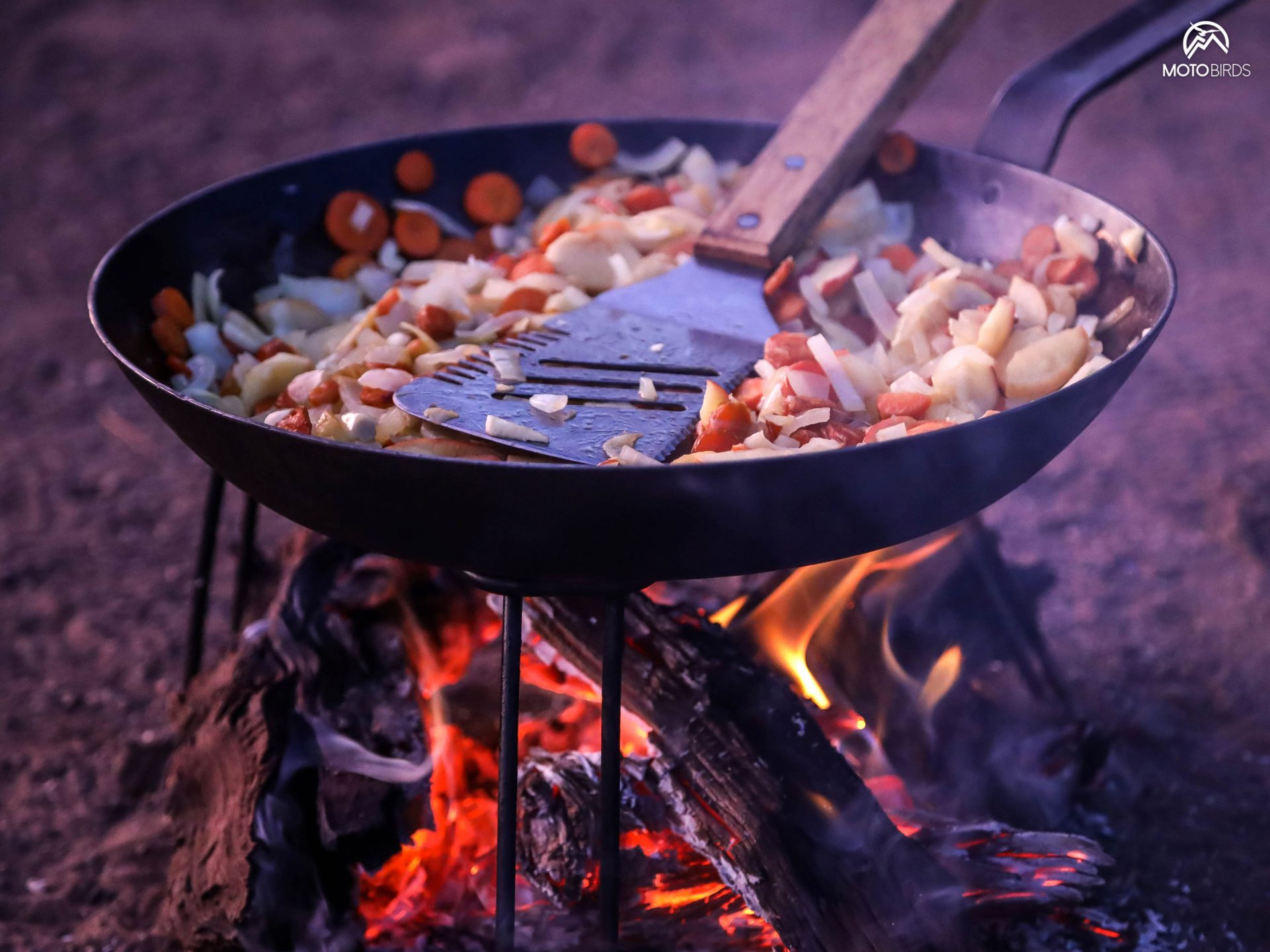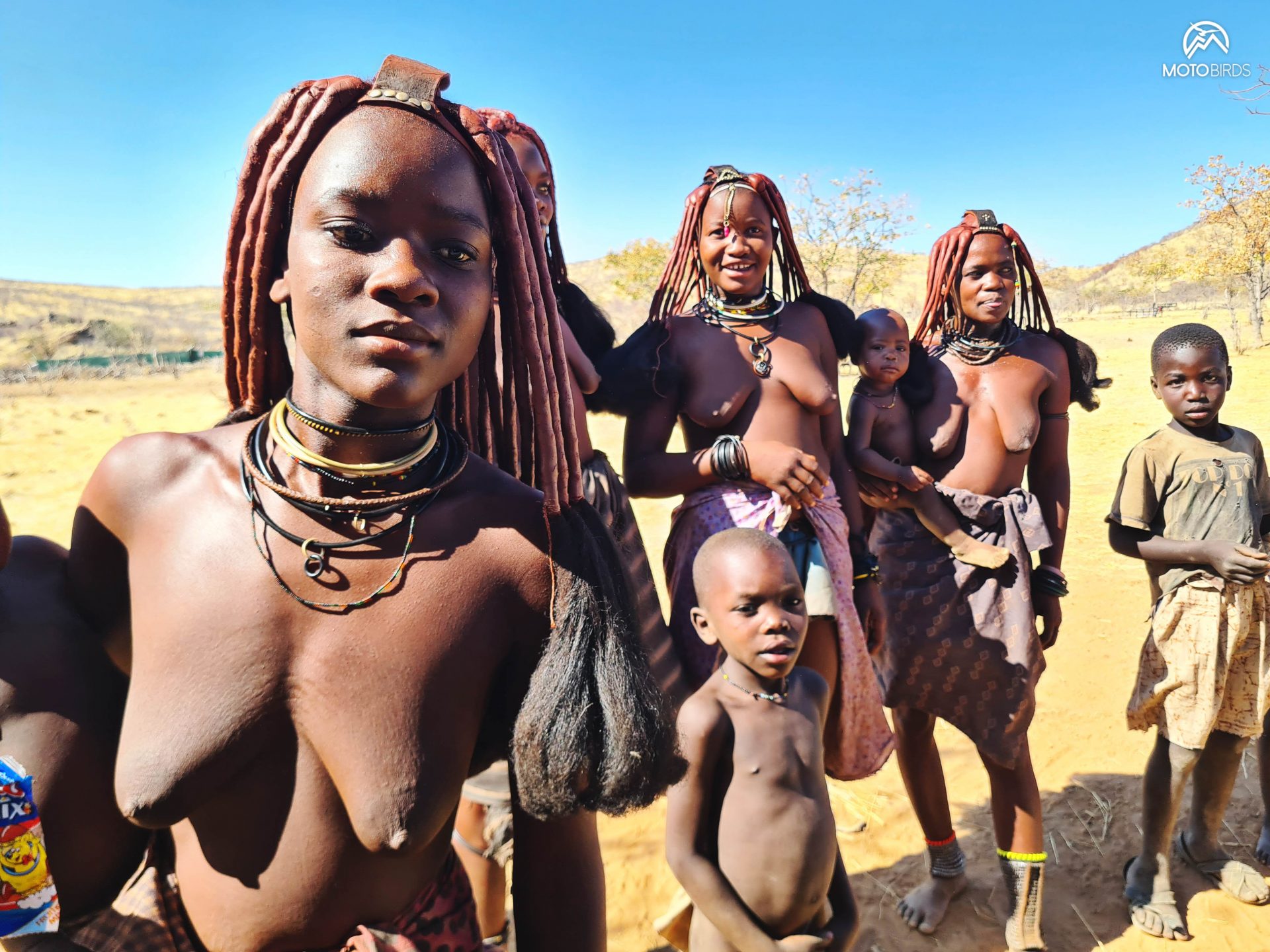 Rides
Our choice of bikes for Namibia is the Suzuki DRZ400 (electric start) and possibly the Husqvarna 701 for those who want a more sporty option. Although in our opinion DRZ is better suited for a Namibian tour, it is a perfect bike for the kind of riding we do in Namibia: it has plenty of torque, it is relatively light, and it is very forgiving.
We also found Toyota Hilux 4x4s for those who want to join but don't want to ride motorcycles. And yes, we can also drive these cars off-road, not only on gravel and main roads!
Support team
We work with a top-class Namibian team that has specially modified vehicles for such expeditions. Thanks to these vehicles and the support team, we have the opportunity to venture deep into the heart of Namibia, away from the main roads. We can camp in the wild in comfortable conditions for several days in a row and truly experience the real, raw, unspoiled tourism of Namibia. We know it and we can talk about it because we did it. We rode these trails and lived it.
Honestly? Here a support team is essential. There is no way around it, and it's not just a matter of convenience.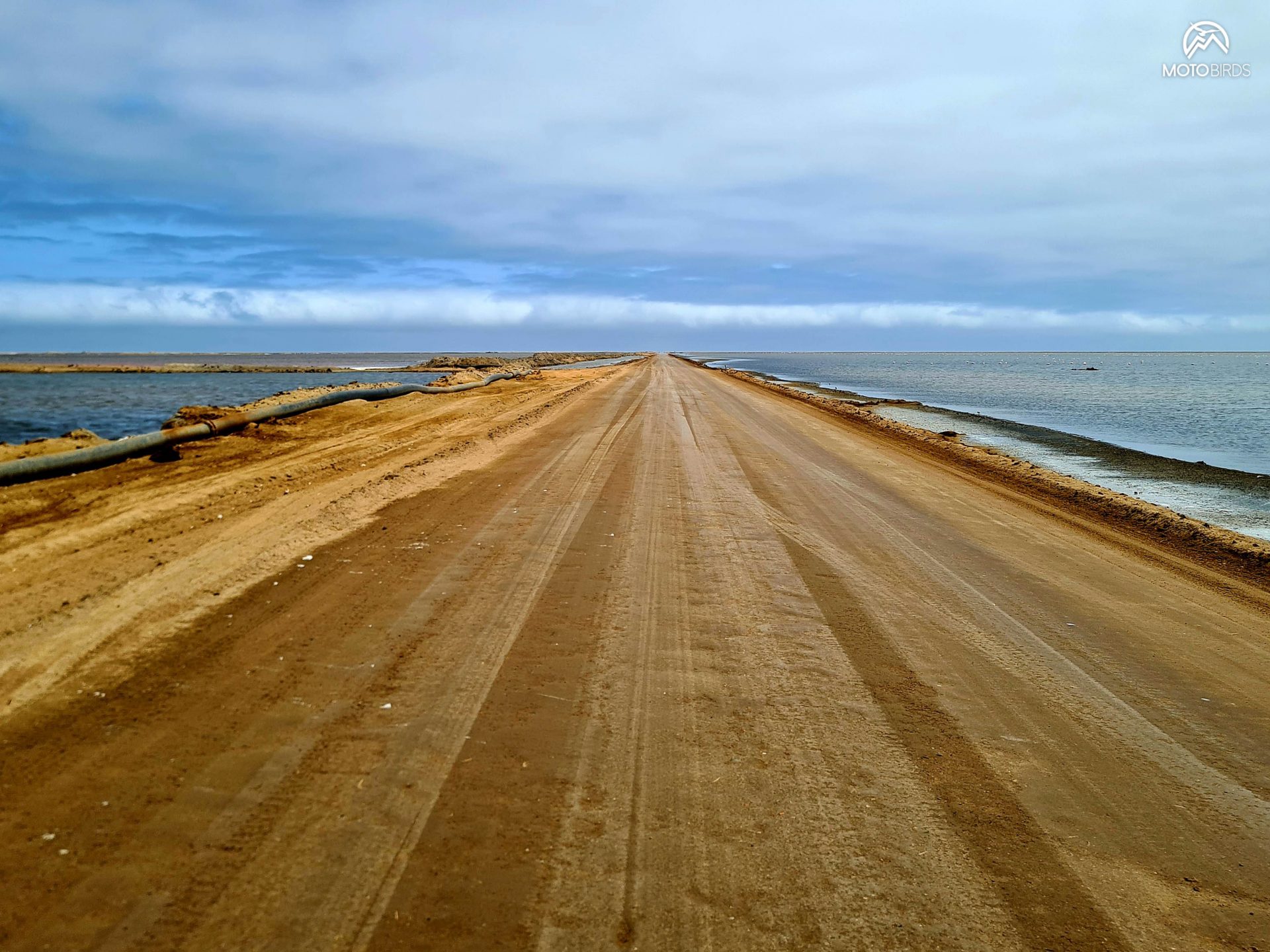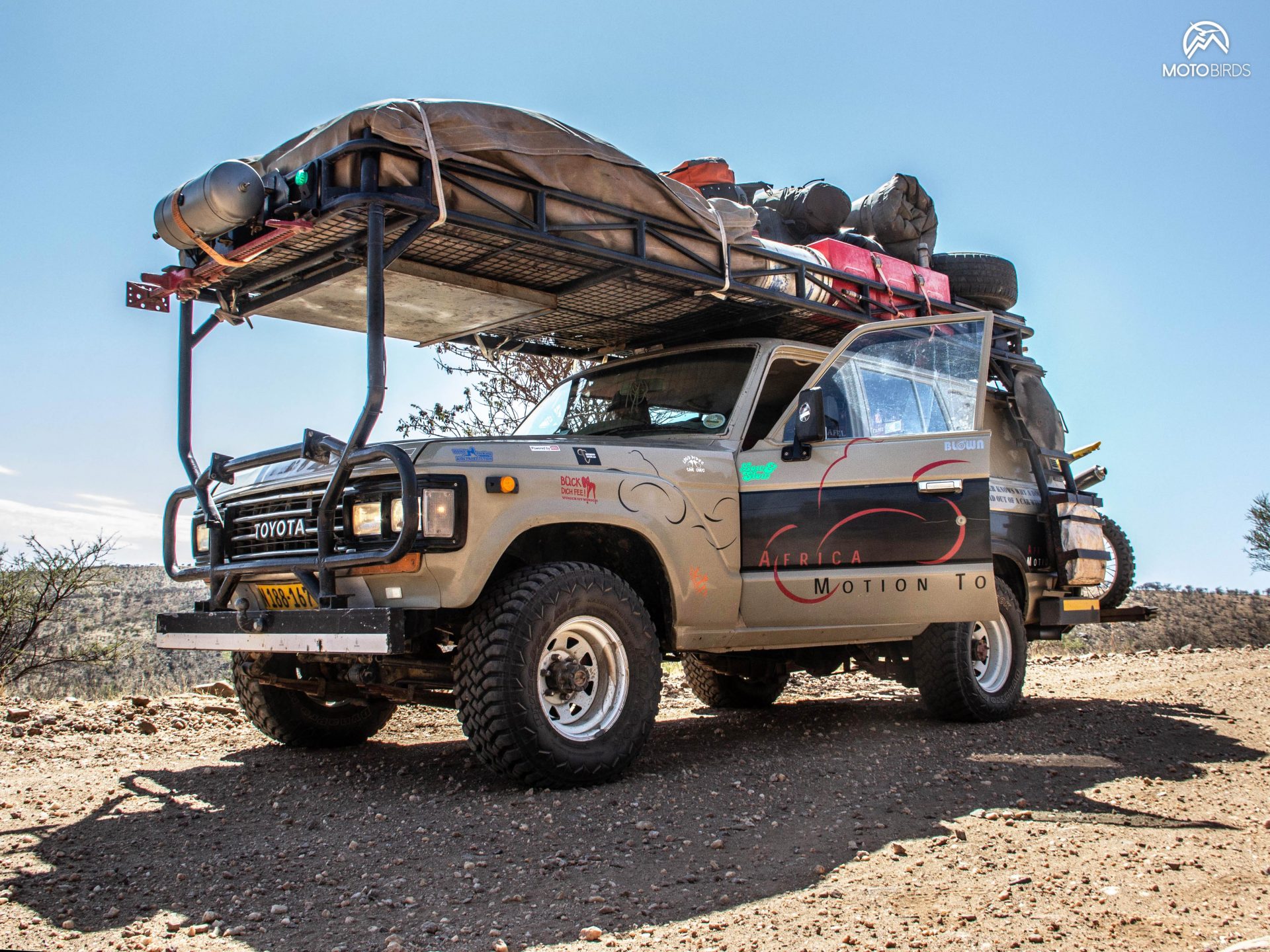 Routes
Faithful to the MotoBirds philosophy, we will cover three different routes:
Explorer – Wild Namibia (in two dates: in May and also in October) (on the difficulty scale of our expeditions 8/10). Characteristics of the route: 50% offroad / 40% gravel roads / 10% asphalt roads. This is our proposal for a diversified route in northern Namibia: off-road, but not extreme. It offers a beautiful mix of gravel as well as some exciting off-road routes. Driving in the dunes is on the agenda! During the tour, you will not only enjoy the ride, but also see some of Namibia's "must see" attractions and our selected "hidden gems".
Gravel Heroes – Namibia Off Road Extreme (on the difficulty scale of our expeditions 10/10 – only for experienced off-road riders). Characteristics of the route – 90% offroad / 10% gravel and asphalt roads. The expedition is intended for riders addicted to off-road, looking for challenges and demanding trails, away from civilization, who are not afraid of inconvenience. This route is 90% off the beaten track in northern Namibia. Most of the overnight stays will be in wild or organized campsites, in tents or, at the choice of participants, directly under a starry sky. Where we are going, there will be no indoor accommodation available.
Lux – Picturesque South Namibia (on the difficulty scale of our expeditions 6/10). Route characteristics: 30% gravel roads / 60% asphalt roads. This is our proposal for a trip to Namibia in autumn 202. Compared to hiking in the north of Namibia, this is an easier route, with less driving and no overnight stays at the campsites (hotels and lodges only). The route is designed for those riders who want to spend a holiday full of adventures on two wheels, but prefer driving on asphalt roads. If you are interested in such an adventure and do not want to miss the details – subscribe today to our [Newsletter]. Be the first to know about what we have prepared.
All the routes we have prepared in Namibia have that particular MotoBirds flavor. With more than a few beautiful surprises and attractions along the way. Rest assured, none of these options will be close to the canned juice version of a motorcycle adventure tours.
We're pretty sure we hit the jackpot with Namibia, which really has everything we dreamed of. Including great food. We have found a way to enable you to experience this amazing adventure. We can't wait to go back there! Feel like joining us?
Do you want to know more?
If you feel an adrenaline rush, goose bumps or even a slight curiosity, you can easily find out more. Check out our website for more details about the expeditions. Some of them are yet to be published, so if you have any questions or need additional information, write to us or call us!
If you are a 4×4 enthusiast or would like to take along someone who does not ride a bike, then there's something for you there as well. You can take part in each of our trips around Namibia by traveling in 4×4 car!
Safe riding!
MotoBirds Team