An ultimate motorcycle tour to Namibia you will never forget
Nowadays it is very difficult to ride extensive ride report and keep the readers' interest. XXI century is definitely the era of short forms. That is why in today's article we will focus on a few selected highlights of Namibia that we liked the most while discovering it during a study tour we did. We'll then close it off with a few practical tips for traveling on motorbikes in this unique country to help you with preparations for such a trip. Because a trip to Namibia requires proper preparation.
Why Namibia is a motorcycle rider's paradise
Namibia is on the West side of South east Africa. Apart from some mining and agriculture, it has few resources. Which is maybe why it was spared to fate or some of its neighbors, like oil-rich Angola for instance. 
There are few inhabitants by any standard and most live in the few towns and cities. You can google for yourself all of the great and unique sights Namibia has to offer. Clearly, if your idea of a dream vacation is two weeks in Paris visiting museums and monuments, Namibia will not score very high. On the other hand, if you're looking for nature, deserts, wildlife, starlit skies, and memorable tracks, you'll fall in love with Namibia.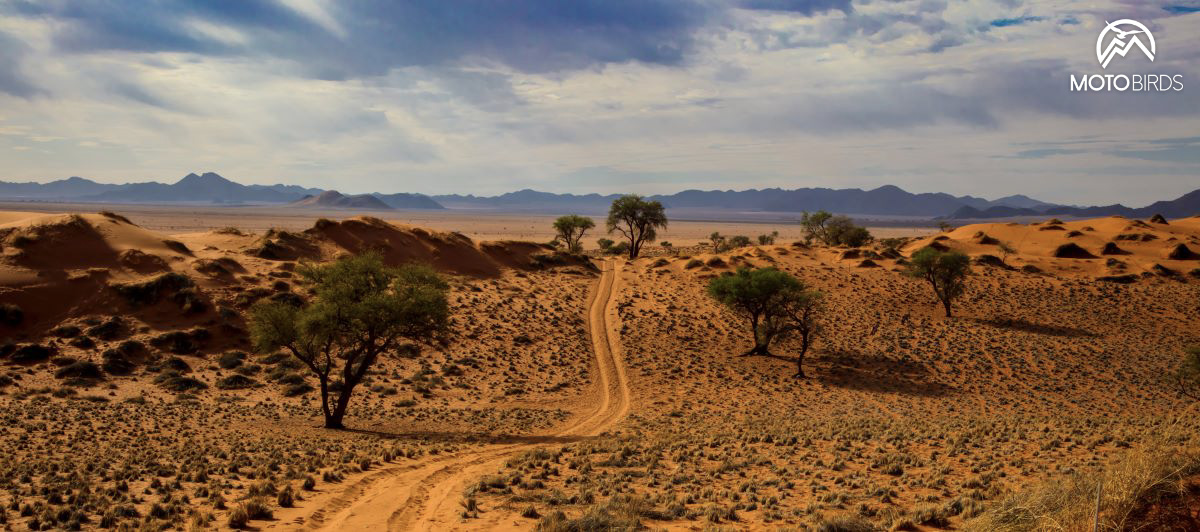 North or South
Namibia is a huge country and although we had time, going on a study tour we had to decide which part to focus on. You can't go around everything at once! In broad terms, the country can be divided in two chunks: North and South. We decided to stick to the North of Namibia. Why? Because the north offers endless spaces, a lot of wild nature and beautiful deserts. The south is largely fenced off and used for agriculture. Of course, the south also offers attractions, but given the limited time on our hands, and the kind of riding we had in mind, the North seemed like a better choice.
All international flights arrive in Windhoek and this is where our Namibian odyssey began. If you decide to take the same step, then from there we suggest you go west to Swakopmund. We wouldn't be ourselves if we didn't choose a "shortcut" road, partly paved and partly gravel. However, if you choose this direction, you must prepare yourself for a shock! The temperature difference upon arrival in Swakopmund is just that – shocking! The breeze from the Ocean makes the perceived temperature a dozen or so degrees lower than in Windhoek! The route between Windhoek and Swakopmund takes you from approximately 1,900 meters above sea level to sea level in approximately 350 km. Along the way, the amazing Bosua Pass (-22.67533, 16.04619) offers stunning views of the surrounding countryside.
Tour to Namibia – dust and sand are part of the adventure
Swakopmund is an ideal starting point for further exploration of the real terrain. Wilderness, sand, dunes, dry riverbeds await you there. We suggest you reach the oasis of Guanikontes. There's a nice restaurant and a place to relax with something cold in a glass. First contact with deep fesh-fesh stretches and a number of rocky patches followed by deep sand. There are established tracks that can lead you there, but we didn't want to "take the easy way". We chose cross-country, lunar landscape of rocks and clay.  Some of the riding was quite sporty to say the least, but also exciting. It was great fun and we strongly encourage you to choose this less obvious route!
If you have not experienced driving on the fesh-fesh before, then you'll tick this one off during a tour to Namibia. Fesh-fesh is an extremely fine sand that is behaving like soft mud or even water. You have no clue what is below the surface or how deep it is. There could be a deep rut, a huge rock or anything else. Some advocate powering your way through it. We favor a more cautious approach, more like a river crossing. If you ride too close to the bike or vehicle in front of you, a crash is pretty much guaranteed.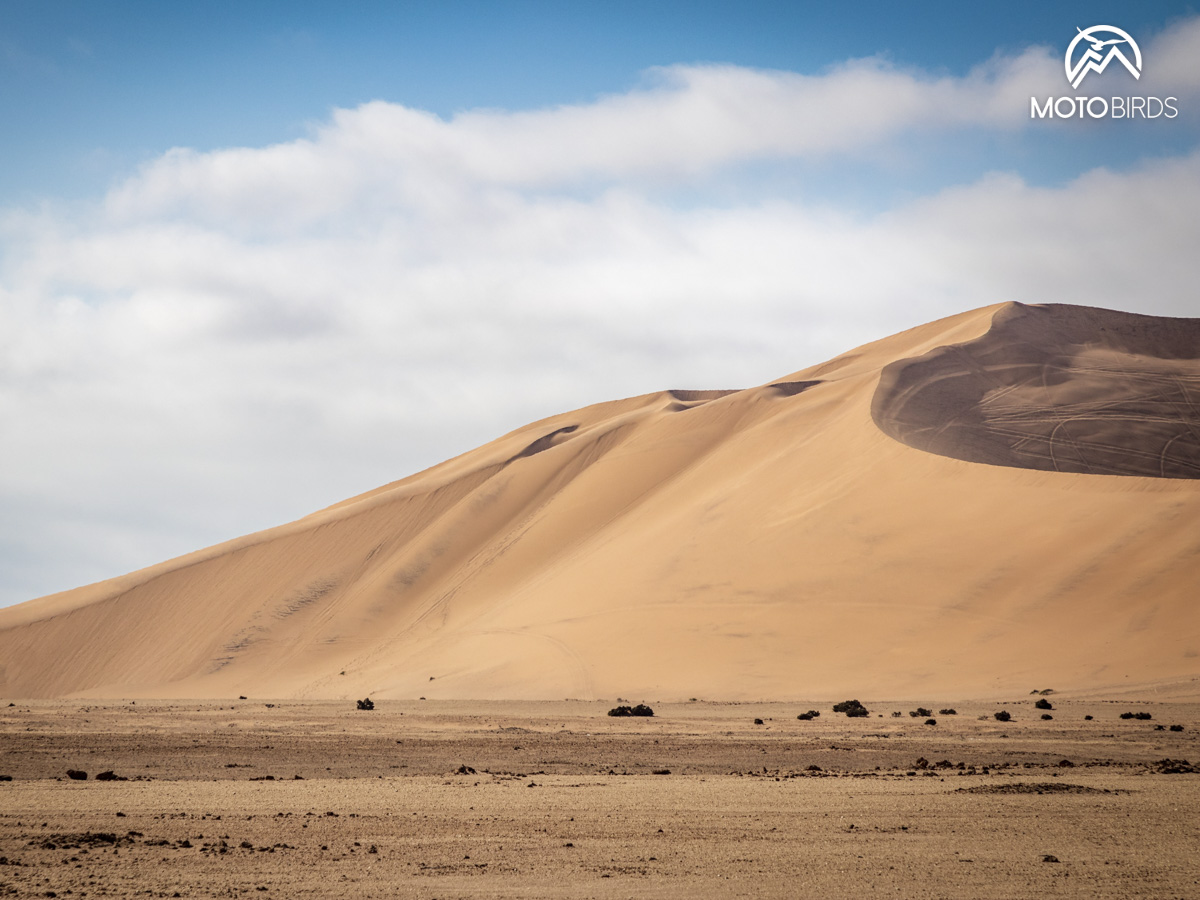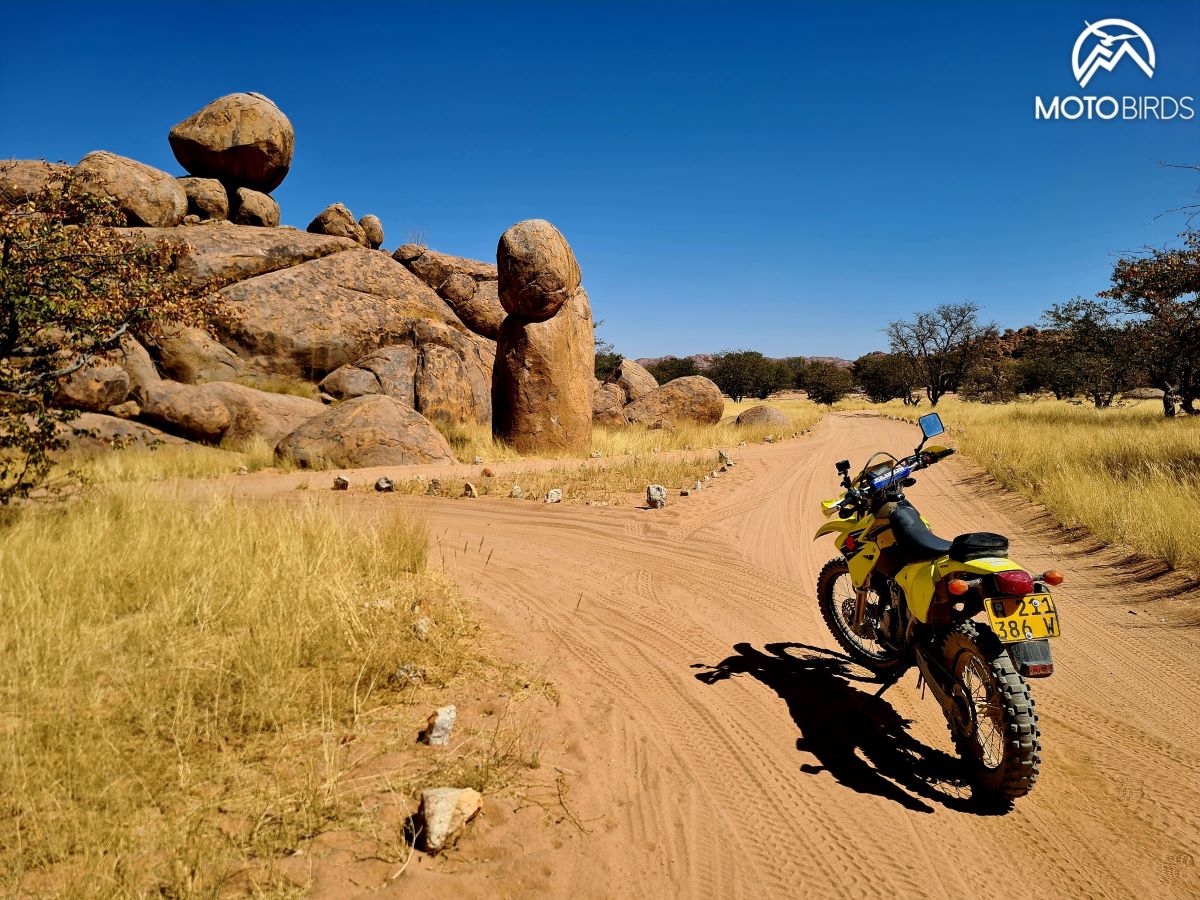 If you like challenges and fun like in an amusement park, you will also find huge dunes nearby. On the way to Walvis Bay to be exact. You can either follow the pavement, or go a bit to the side of the road and ride sand all the way, even over some smaller dunes. Your best bet is to go early in the morning because the sand is still humid. We eventually reached Dune 7. In case you wondered, it is called Dune 7, because it is the 7th large dune after passing the river nearby.  It is not the 7th largest in the world, or in the country.  The area around the dune is protected. However, there are many opportunities to ride the dunes outside of those areas. If you're into this kind of experience, you won't be disappointed!
A trip to Namibia is also seals, desert elephants and rock paintings
A place we highly recommend is Pelican Point. Getting to this place will allow you to see, of course … pelicans, but also large seal colonies. If you've never been close to them, you'll discover that seals have at least two main obvious characteristics: the baby seals really are very cute and seals stink! Their smell is best described as a unique combination of rotten fish mixed with urine and excrement. We rode very close to them, along the ocean to reach the lighthouse at the end of the peninsula. It's called Pelican Point Lighthouse. It doubles as a guesthouse (not the cheapest one, but definitely very cozy). Riding along the ocean was incredible and also a great way to kick the tour off!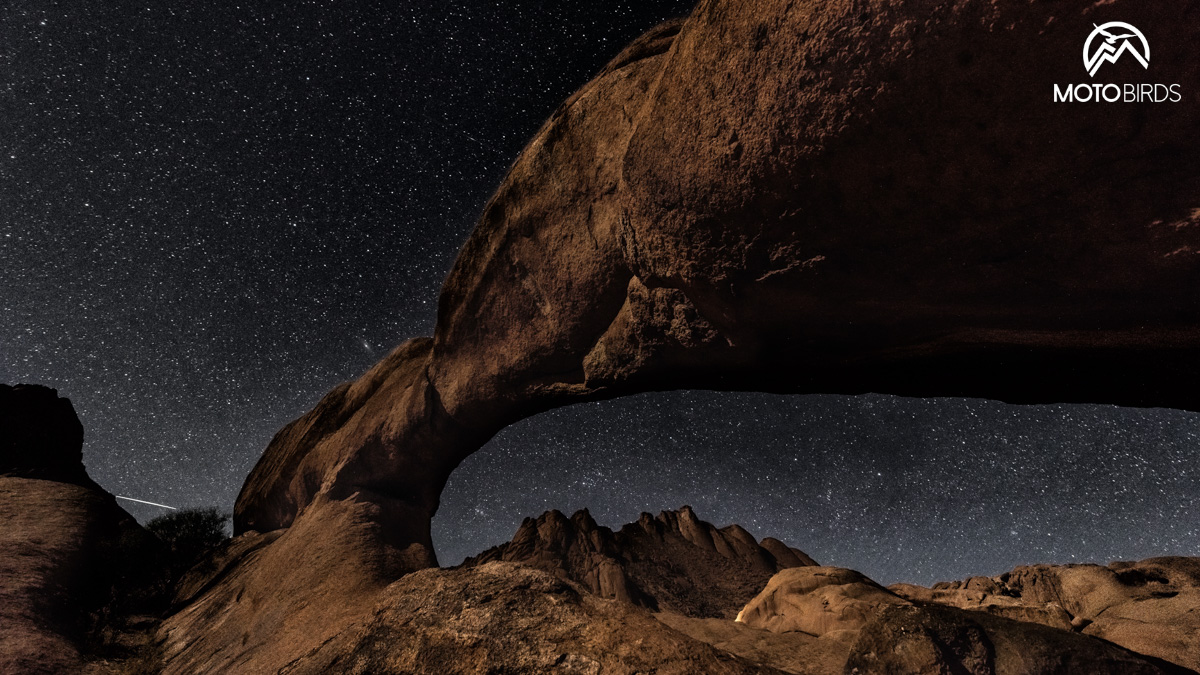 Our next destination is the Spitzkoppe. There are two mountains which tower over the countryside. That place was in the movie "2001 A Space Odyssey" to show the start of mankind. There are some rock paintings to be seen as well (-21.87022, 15.04951). You can get there following the main gravel roads, pretty much on any vehicle.
What we did however, was to ride along unmaintained tracks and go cross-country through the bush towards Uis. It was wild and beautiful! Not exactly a walk through the park, but amazing from every aspect.
From Uis, we continued North towards Konigstein, then through the Sorris Sorris conservation area. We then headed towards the Uibasen Twyfelfonteijn area. There was plenty more off-roading on the way. Some of the tracks had the deepest fesh-fesh stretches we'd seen in a while. If you hate sand, you're in for a miserable time – till you get the knack of it. Fortunately, small enduro motorcycles, such as those used on MotoBirds tour to Namibia, give a lot of fun and make riding in these conditions easier.
Kamajab was next on our route. We then followed a dry river bed with all kinds of sand, looking for desert elephants. We failed to see them there unfortunately, although we saw plenty of tracks. They are not fans of motorcycles and you have to be really careful if you come across them. It was hard work: some 100km of dry river bed riding in all kinds of soft to softer sand. Over 100km of driving through dry riverbeds was a hard but fascinating piece of riding. Being in a river bed, there was no wind and temperatures reached 38. From a riding point of view it was exhilarating. We are sure you would appreciate it too!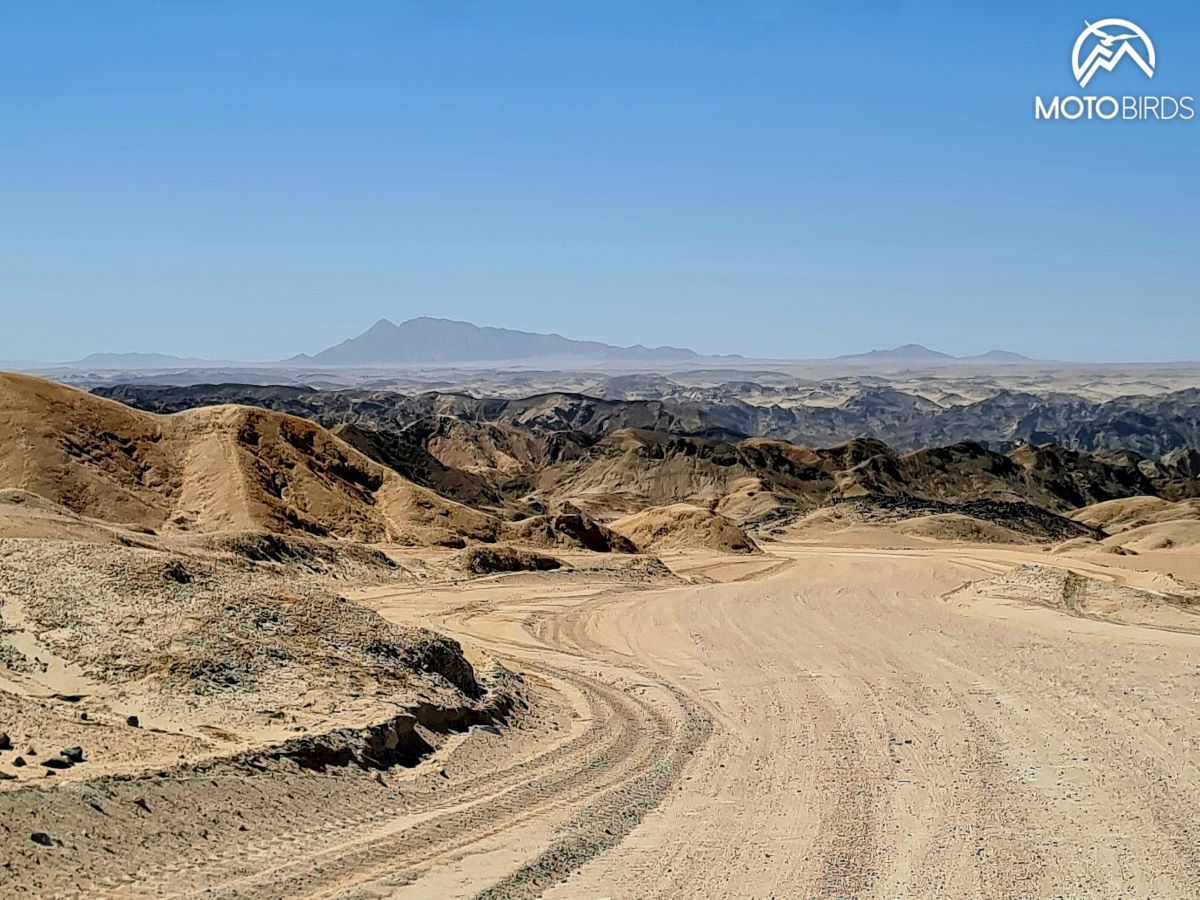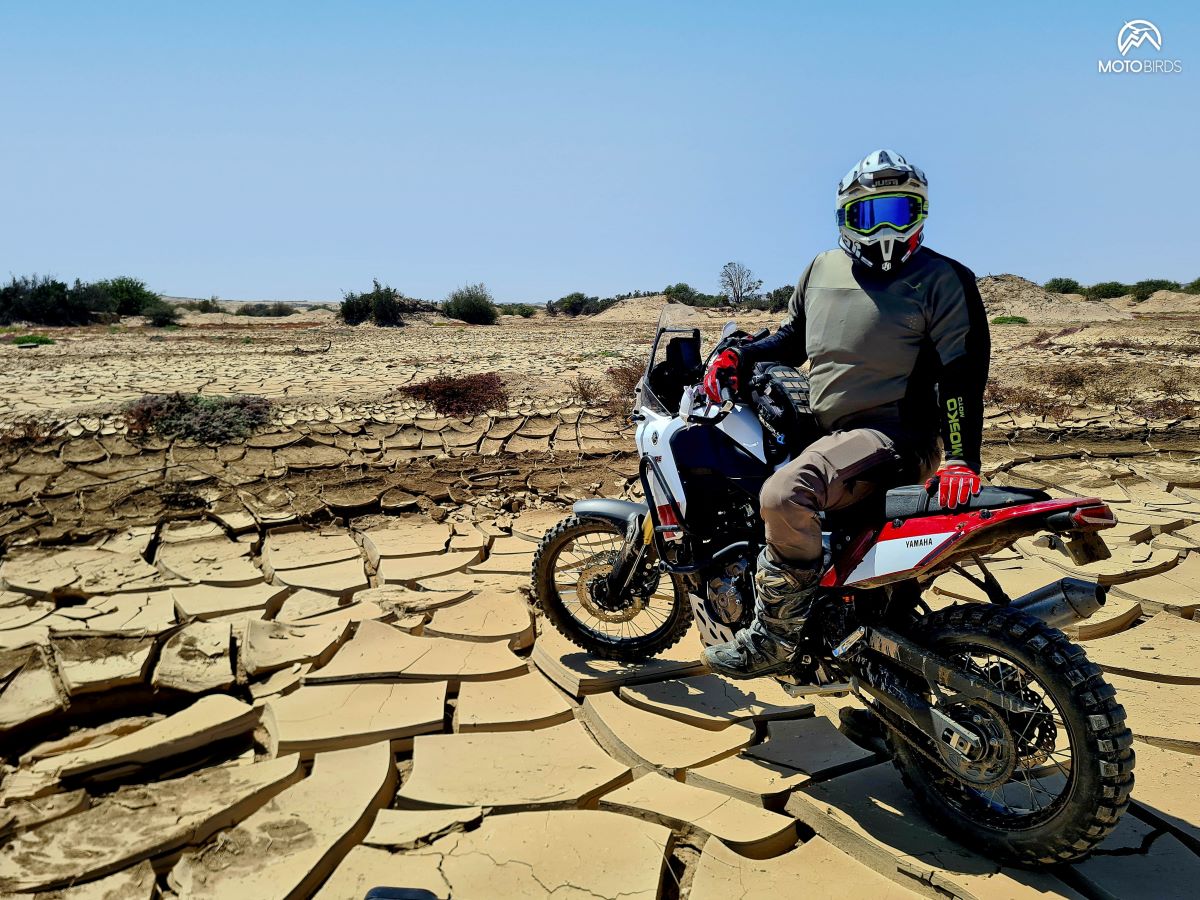 What is not worth missing?
Etosha National Park is one of the most visited places in Namibia. It is a huge area that gives you the opportunity to see various wild animals from a short distance, including e.g. elephants, giraffes and antelopes. You can spend several days there, traveling around the park and observing the wildlife. There are several marked routes through the park, which can be covered on your own or with a guide. However, remember that the park can only be entered by car. For safety reasons, motorcycles are not allowed there.
We went there and we finally saw the desert elephants (!), but we must be honest with you – the whole experience left us with a feeling of "Disneyland". Due to plenty of tourist buses parked all around there is not much charm left to it. Despite the size and long history of the park, we left a bit disappointed. There's an awful lot of driving to see very few animals and a crowd of vehicles following whenever some more interesting animals are spotted.
We then rode around part of the park towards the Waterberg. This is another national park, with stunning views. Although there are not too many animals to see, the landscapes are well worth it.
We experienced many big and small moments during the ride, but we don't want to give away all of them. It's best if you experience it for yourself!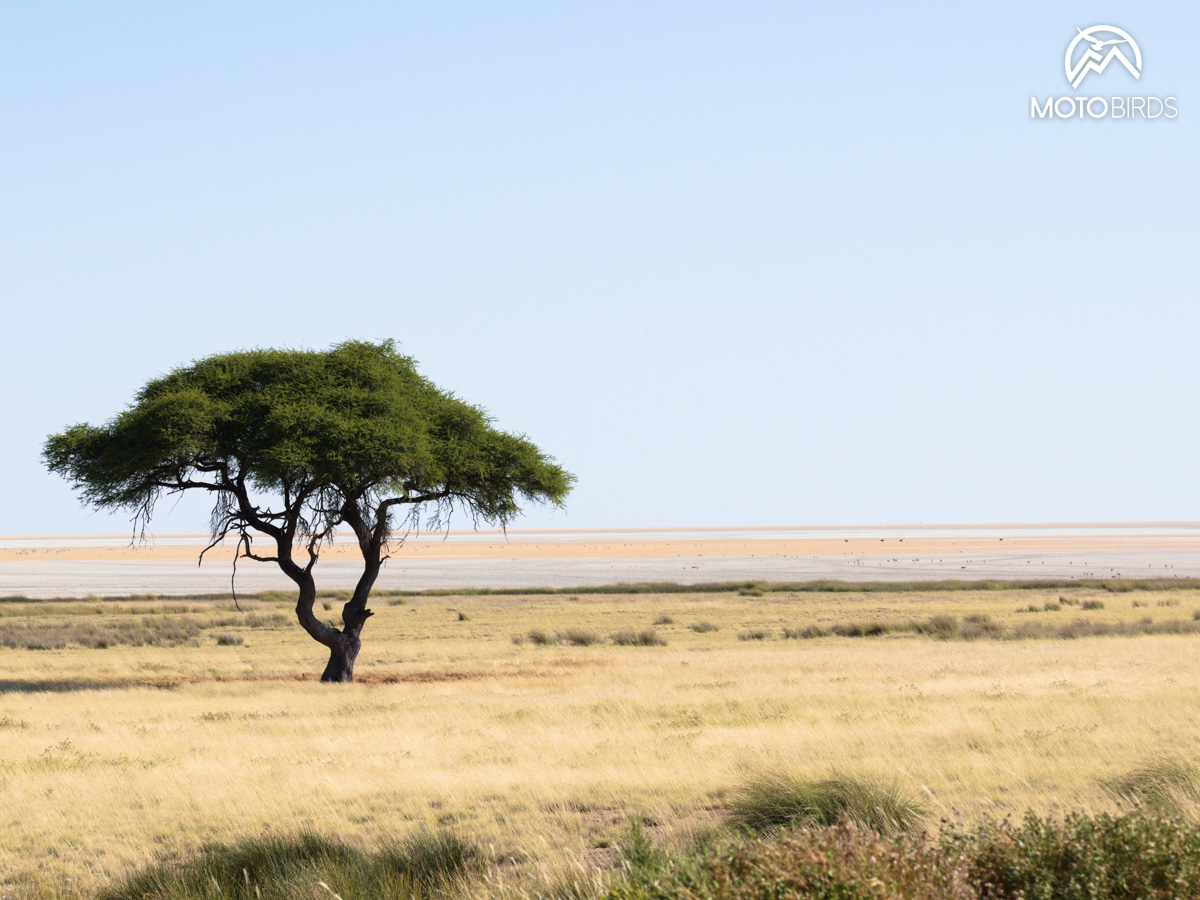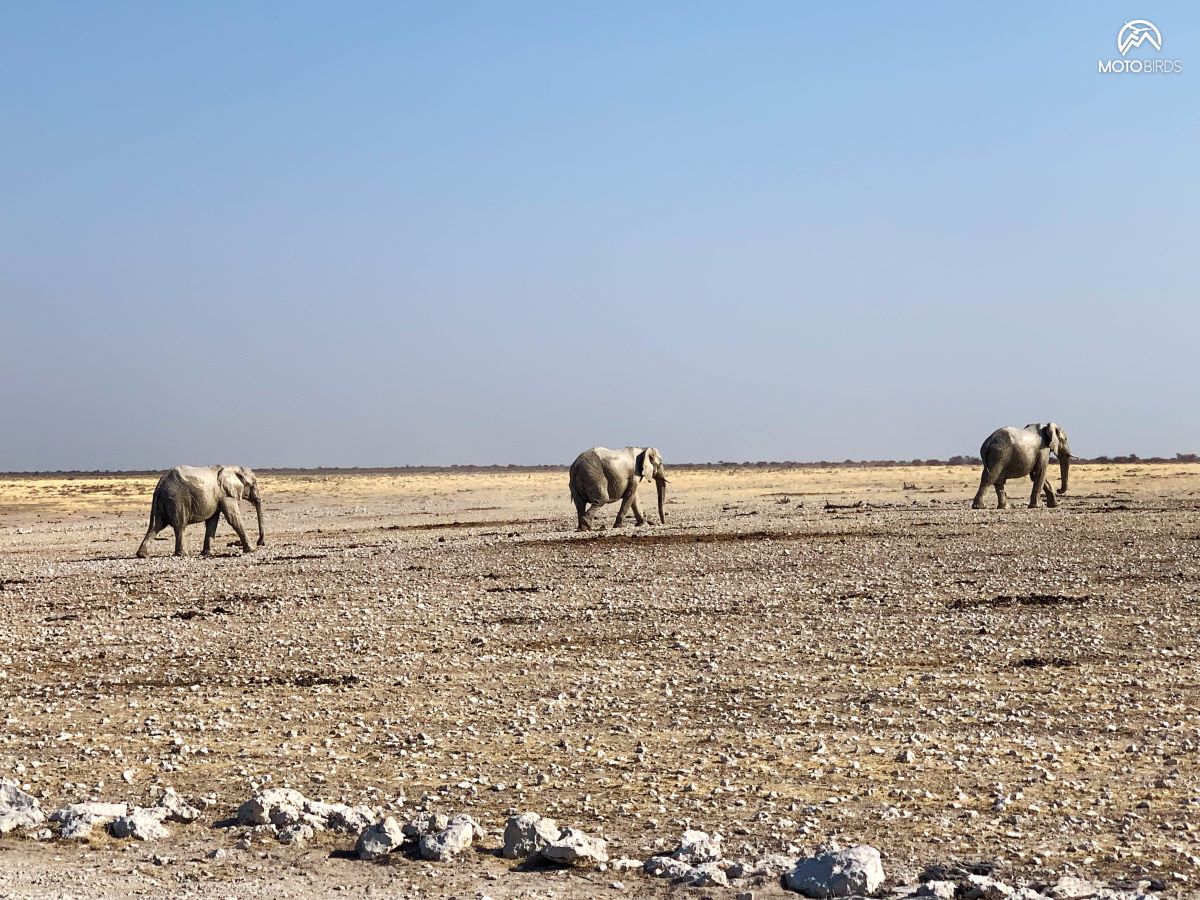 Practical tips
1. Appropriate equipment: for an expedition in the wilds of Namibia, you need the appropriate equipment and an off-road motorcycle. Be prepared for variable conditions including high temperatures, sand, fesh-fesh, rocks. Remember about the appropriate clothing, helmet, protectors. Driving in Namibia can be really demanding.
2. Route planning: plan your route well and pay attention to the terrain conditions. Be prepared to change plans if necessary, for example due to changing weather conditions. We suggest the support of a guide that knows the tracks and knows which are passable and which are not. Otherwise, you'll have to stick to the main roads and this would be a terrible shame!
3. Technical preparation: check the motorcycle technically before the trip. Make sure it is in good condition and suitable for rough terrain.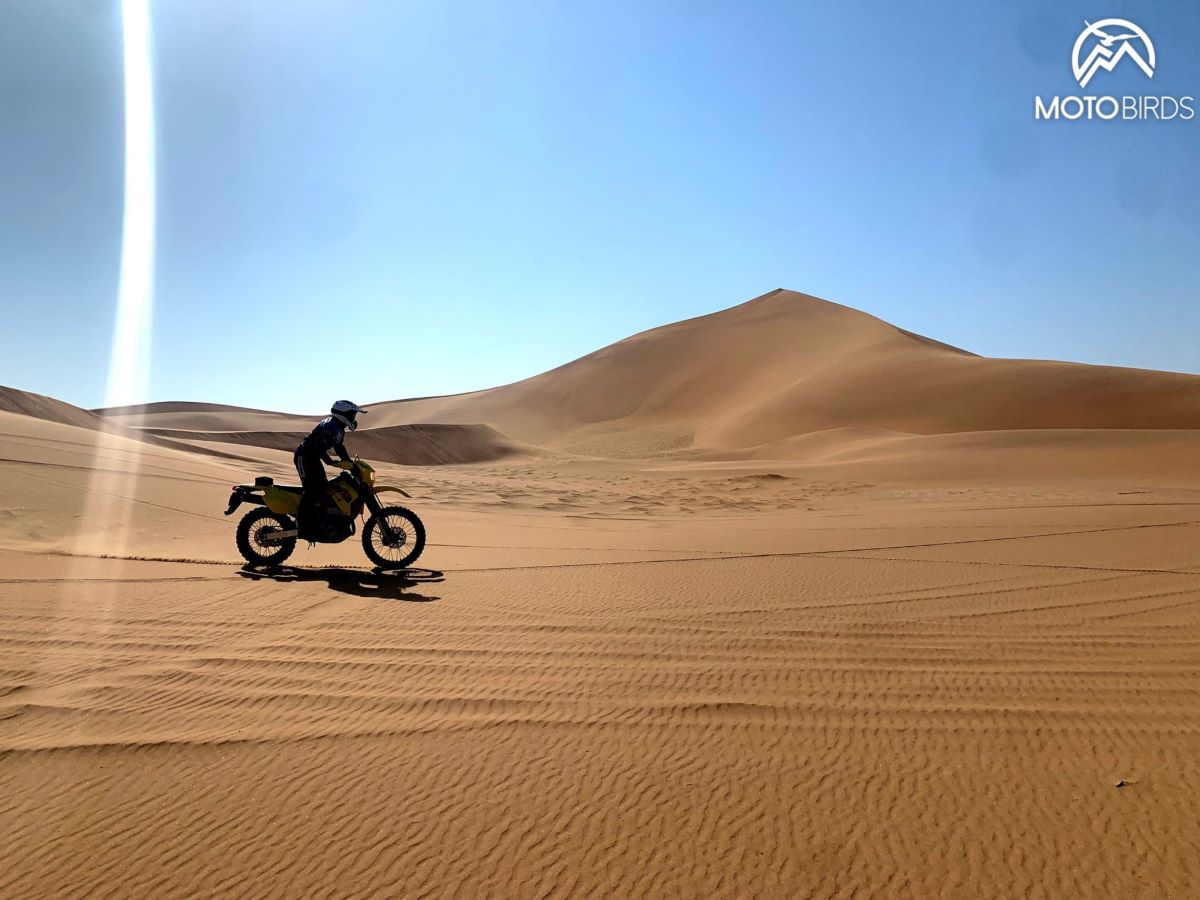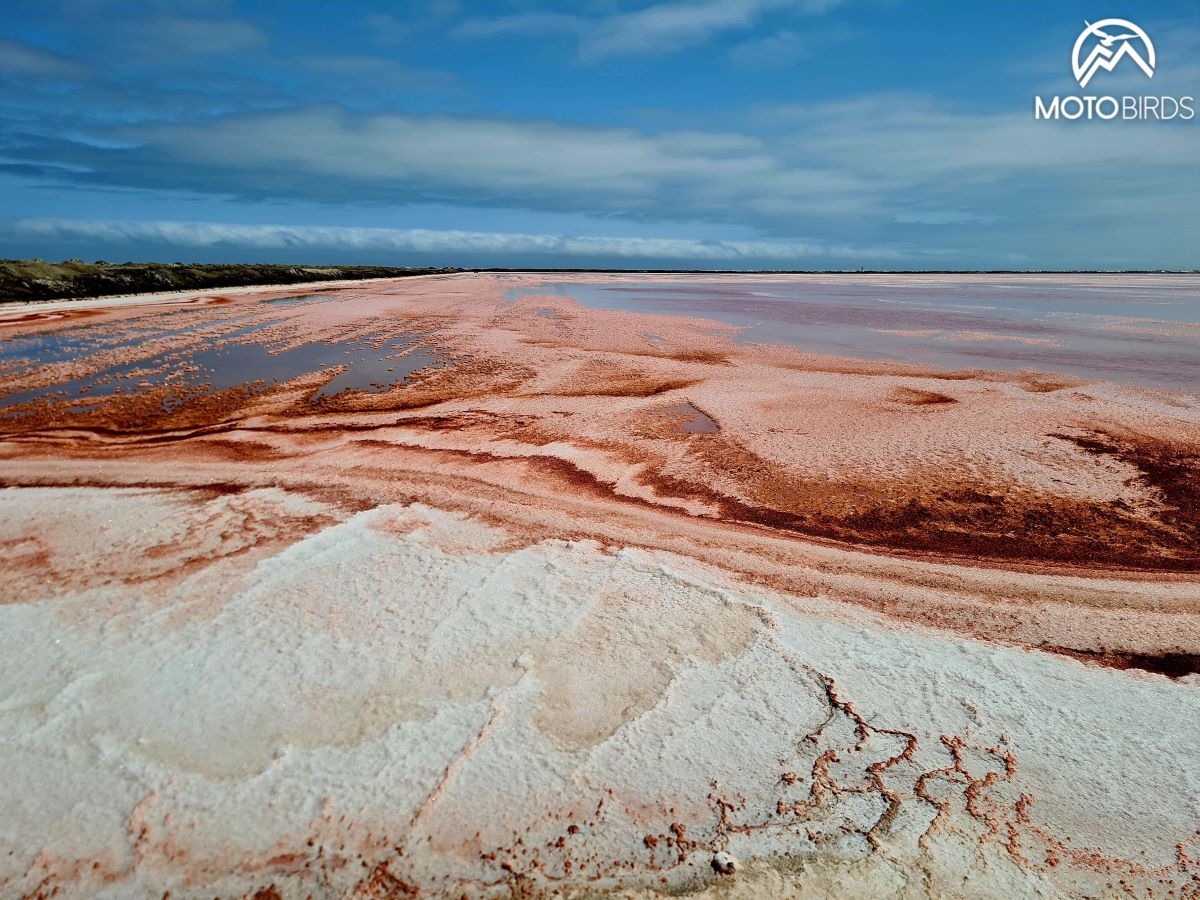 4. Protection and supplies: make sure you have adequate protection in case of an emergency, i.e. tools, spare inner tubes, extra fuel, but also food, water and camping gear. Namibia is an arid country, so having adequate water supplies is essential. In many places it won't be there at all.
5. Safety: be careful and drive defensively. Remember that unfamiliar terrain can hide various dangers, such as deep ruts, rocks or unpredictable sand conditions. If something happens to you in such a place, it will be many hours before you can be in a medical facility. In general Namibia is a safe country and at no time we felt unsafe while there, but as anywhere in the world, you need to follow basic rules to stay safe.
6. Food & accommodation: food is good and Namibians are barbecue masters! There is great beer and the South African wines are available everywhere. You can find plenty of options to stay on the way. Depending on your budget, you can stay overnight in top lodges in many areas. There are also organized camping's. Those fall in two broad categories: government owned and privately owned. Without going too much into details, we strongly suggest you avoid the government run camping's if at all possible – unless you're totally desperate to relieve episodes of "The Road" movie. With proper gear you also have the option to wild-camp which is fantastic!
7. Respect the environment: in Namibia you will find unique but often fragile ecosystems. Be respectful of nature and don't leave litter. Take everything you have brought with you and follow good environmental practice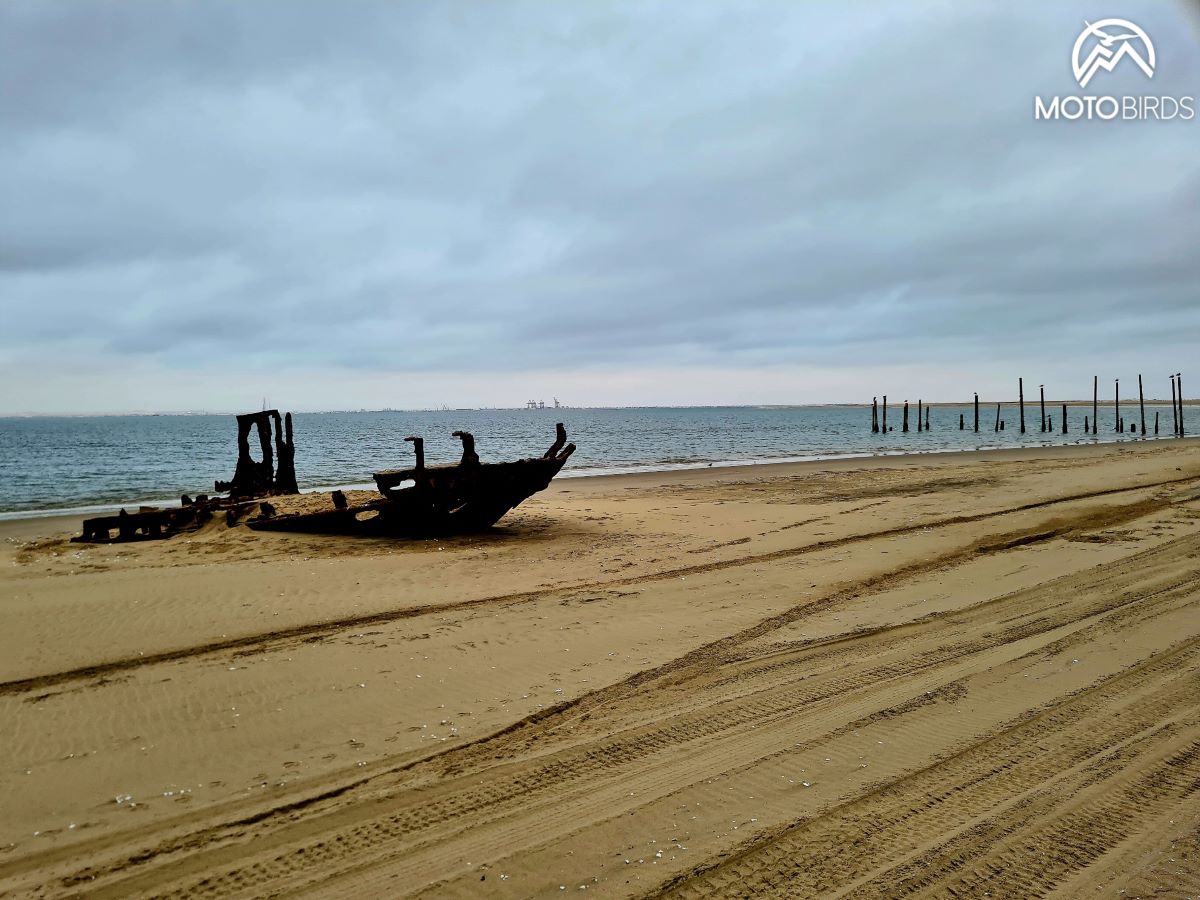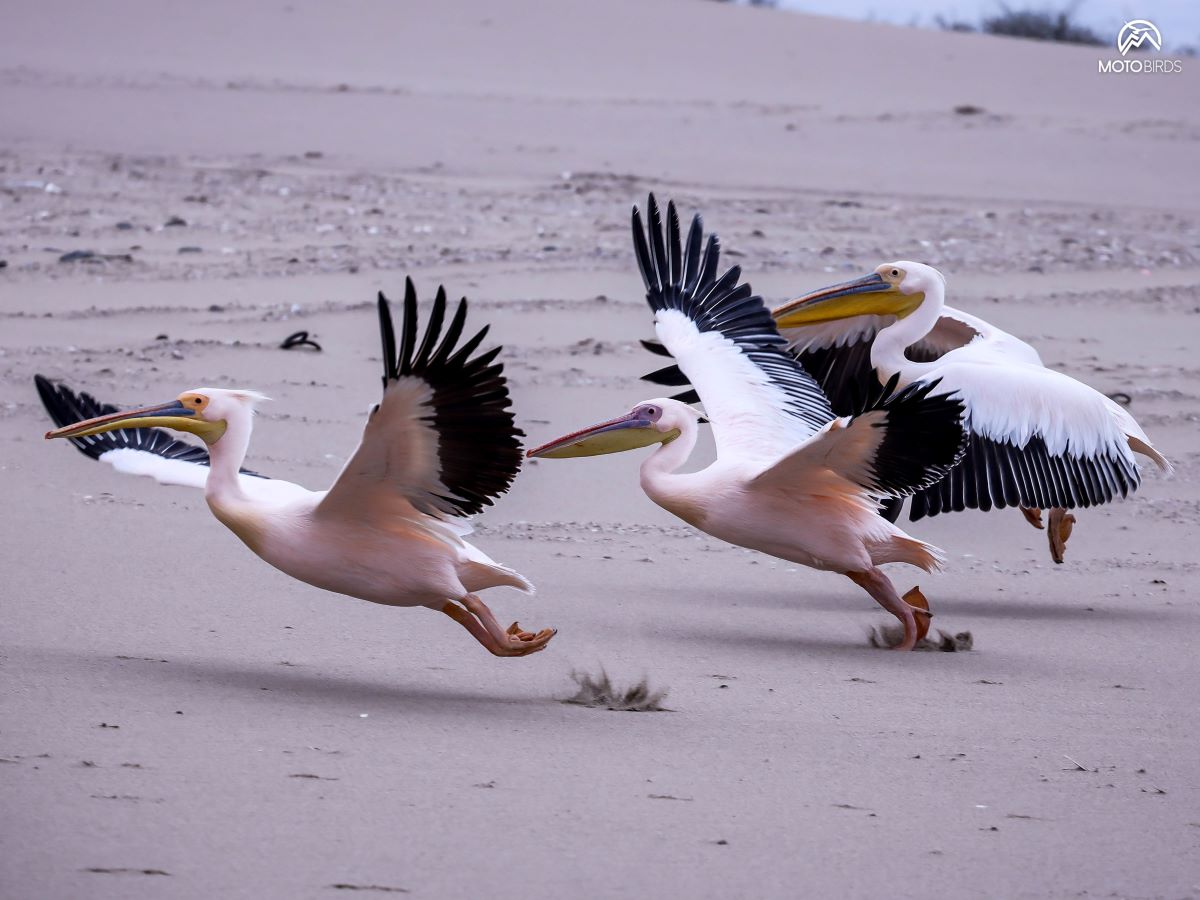 Some parting thoughts
We rode in many countries and landscapes. Namibia no doubt will remain one of the very memorable experiences, both on and off the bike. It's remote, beautiful and has terrific options for riding. It has so many things going for it, that it's hard to point out which is more special. 
It's not a cheap destination though. The support vehicles and support staff don't come for free. If you'd like to go beyond the main touristic routes, these are essential.
Remember that each trip to Namibia can be different and should be tailored to your interests, preferences and riding skills. Whether you are a biker or traveling by other means of transport, Namibia has a lot to offer for all lovers of outdoor adventures. We highly recommend this destination if you are looking for an adventure in nature with a capital "A"!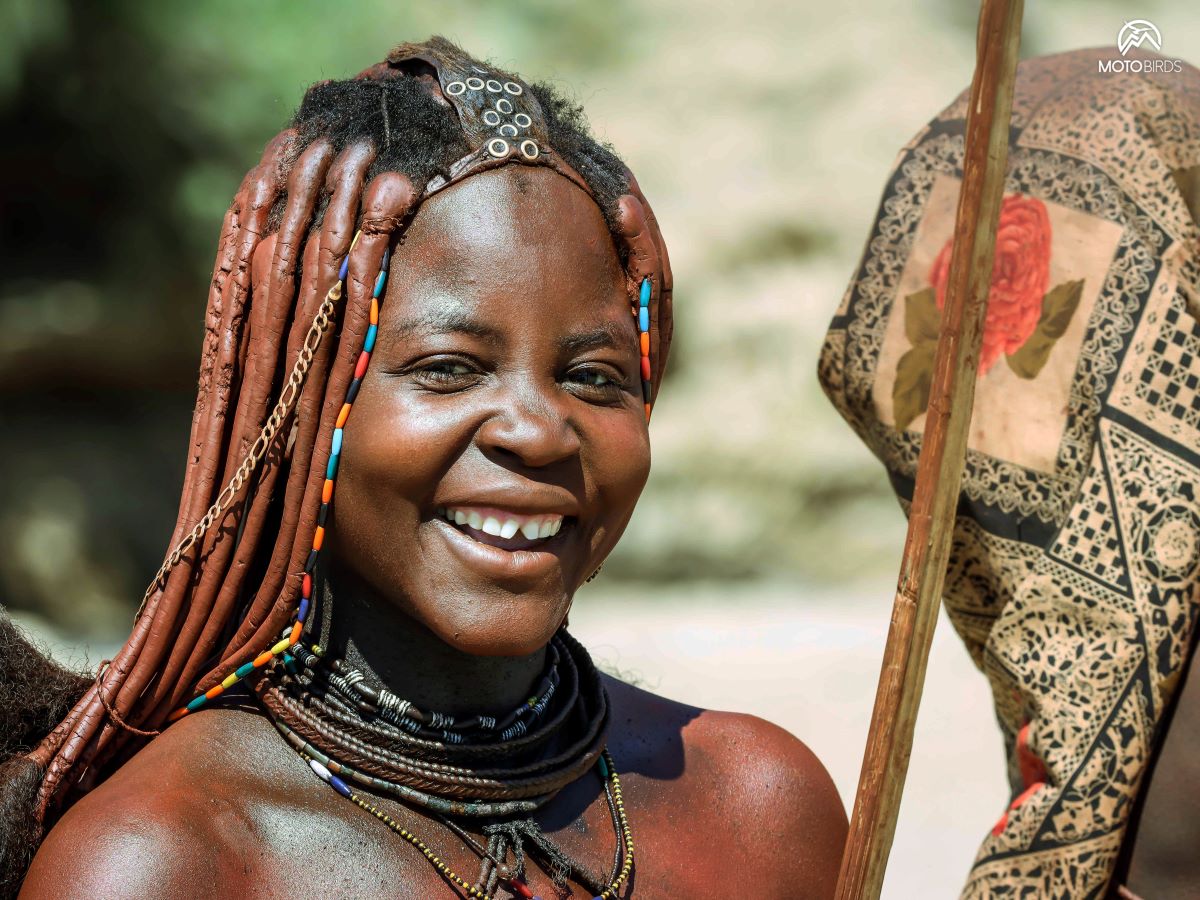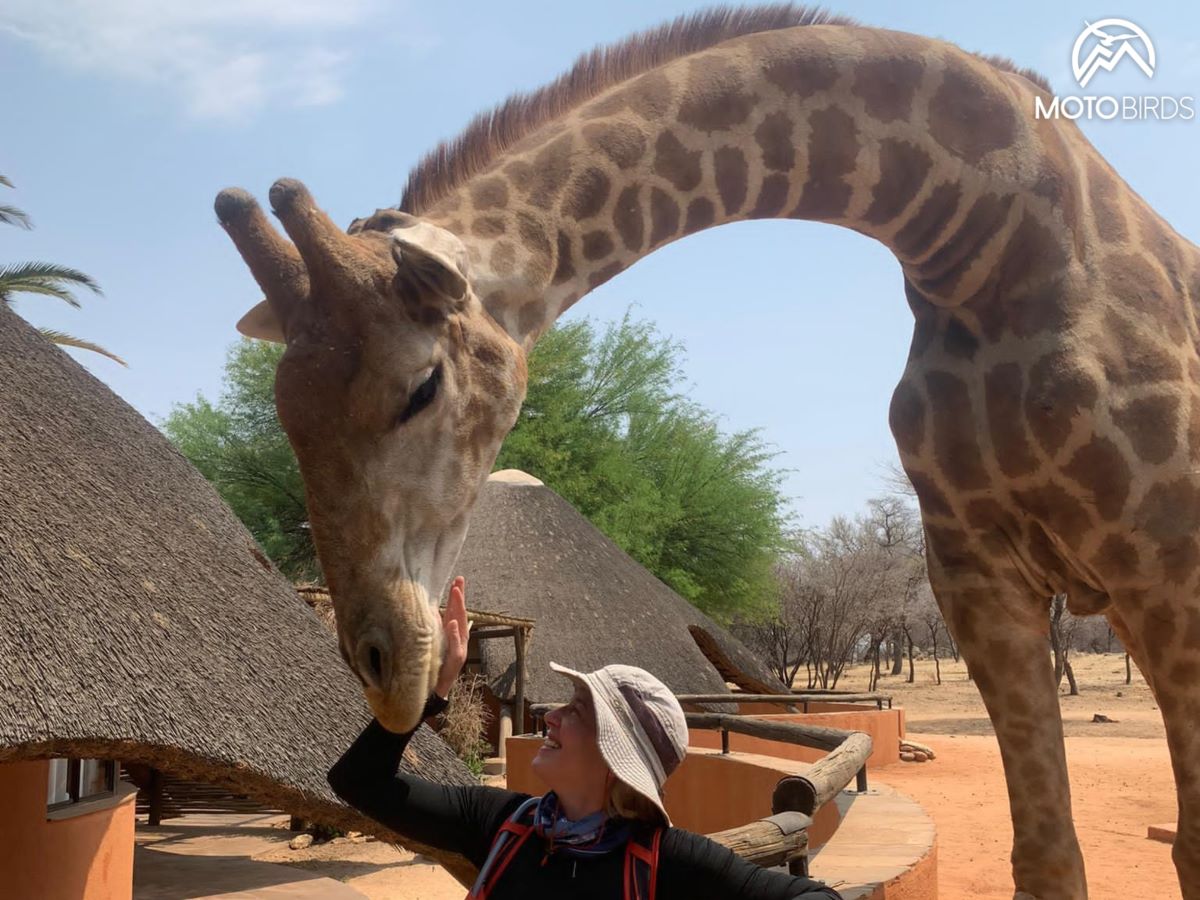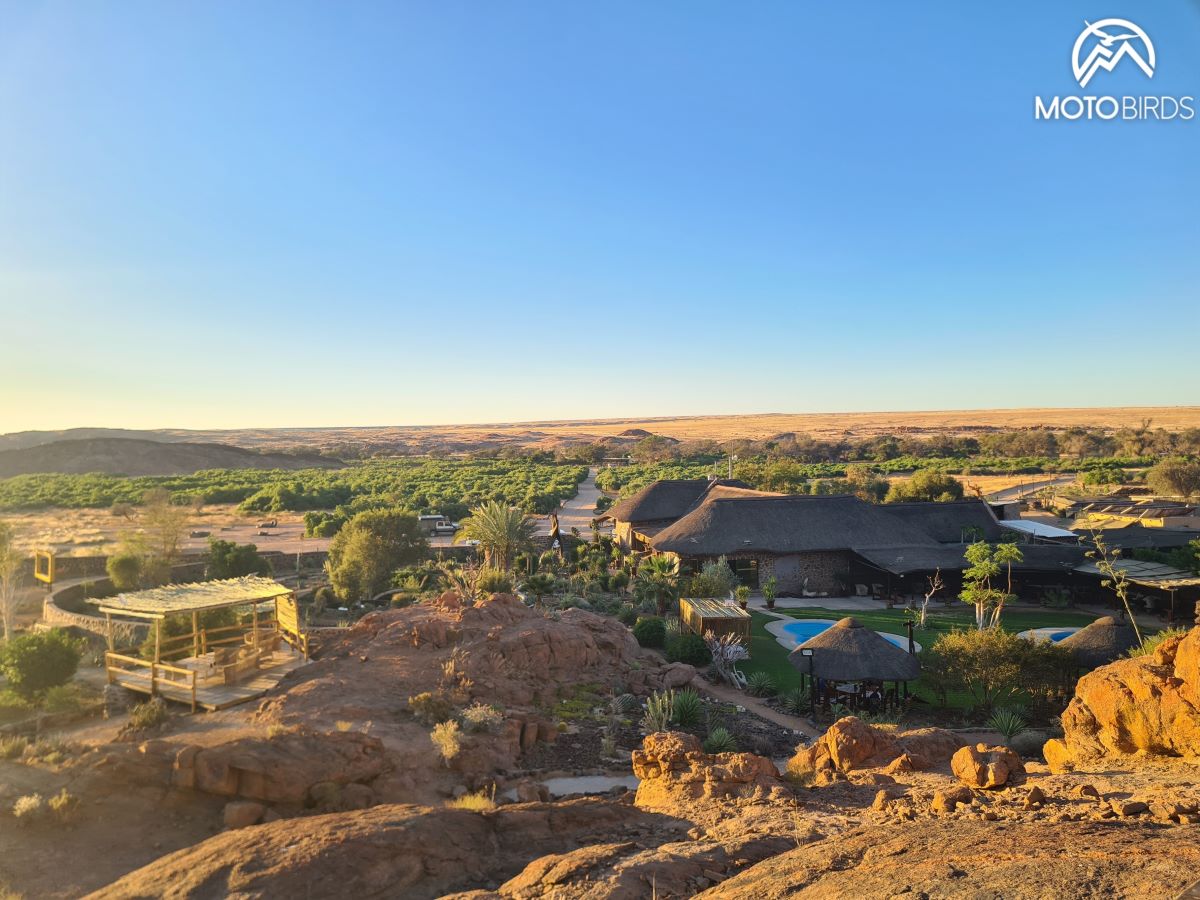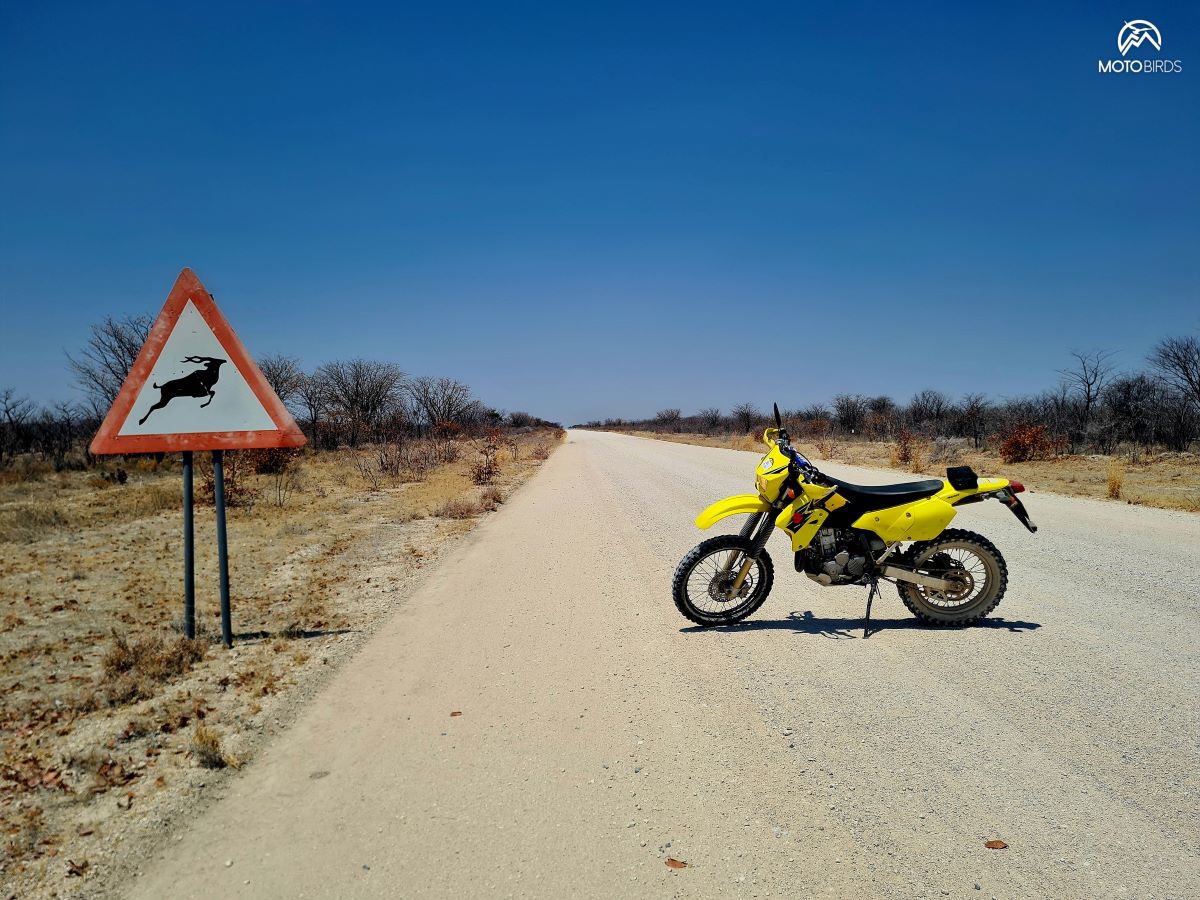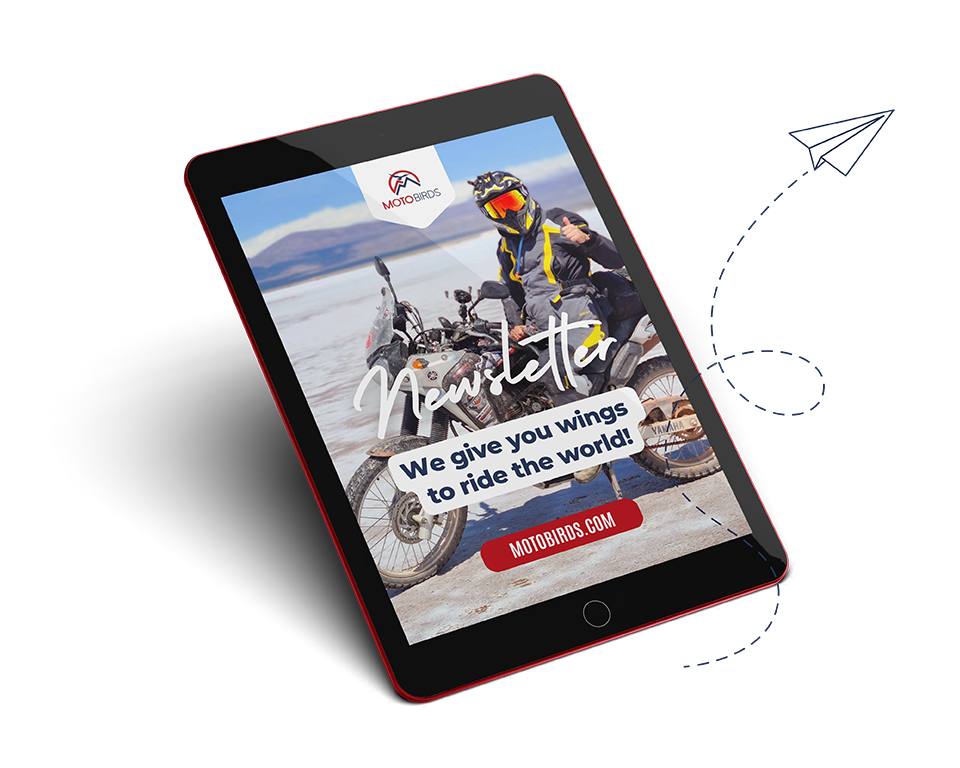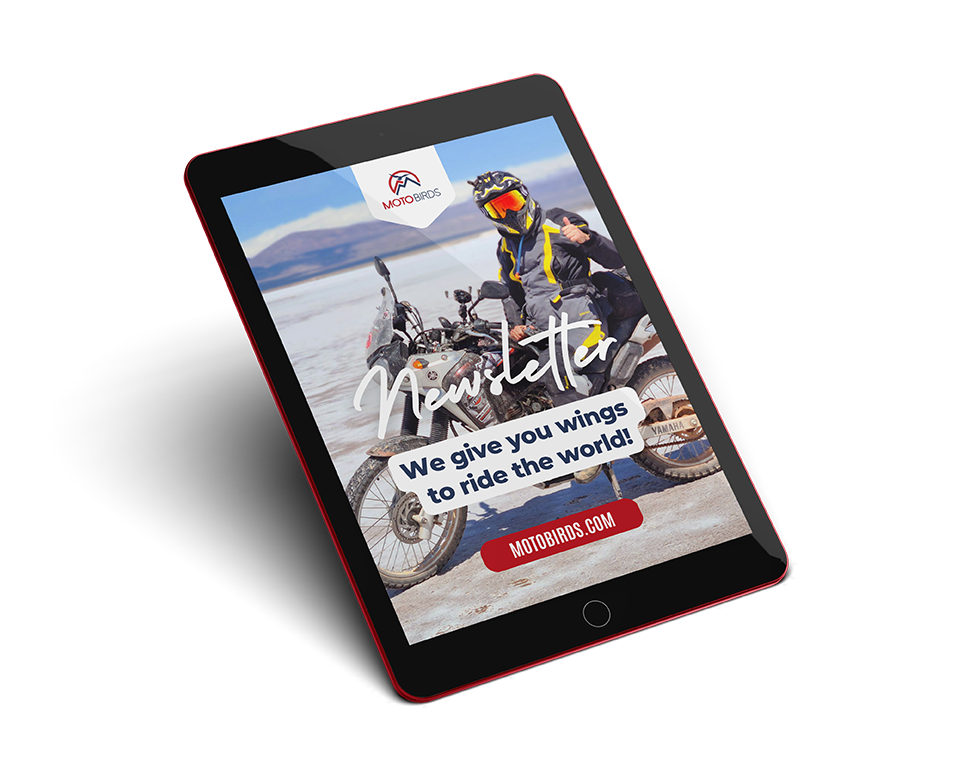 Newsletter subscribers get more!
Join MotoBirds Soaring Newsletter and don't miss any important content, gear tests, travel inspirations and newest offers in the future! We'll also let you know about fresh publications on our blog.