Women Riders' Off-Road Campout: Girls and Their Toys
Motobirds is a female-founded and female-run company, and every once in a while, we love to escape and ride with other women. Why? Because a women riders' off-road campout is a unique event filled with sisterhood vibes, hard riding, mud-splattered bikes, and so much fun it's impossible to peel away once it ends.
This weekend, the Motobirds crew – founder Ola and freelance tour guide Egle – set out on a mission to attend the Baby na Motory women riders' off-road campout in Western Poland. The event is organized by local riders who put some rides together and invite women from all over Poland to join, ride, camp, and hang out. This year's edition saw forty women attending, and it was the biggest gathering of female dirt bike nutcases in the country to date.
We had some 400+ kilometres to go just to get from Warsaw to the Baby na Motory campout location, and we figured we'd hit the dirt on the way. Sticking to backcountry roads and off-road trails, we hauled some serious ass to cover the distance and managed to get to the campsite just before dark.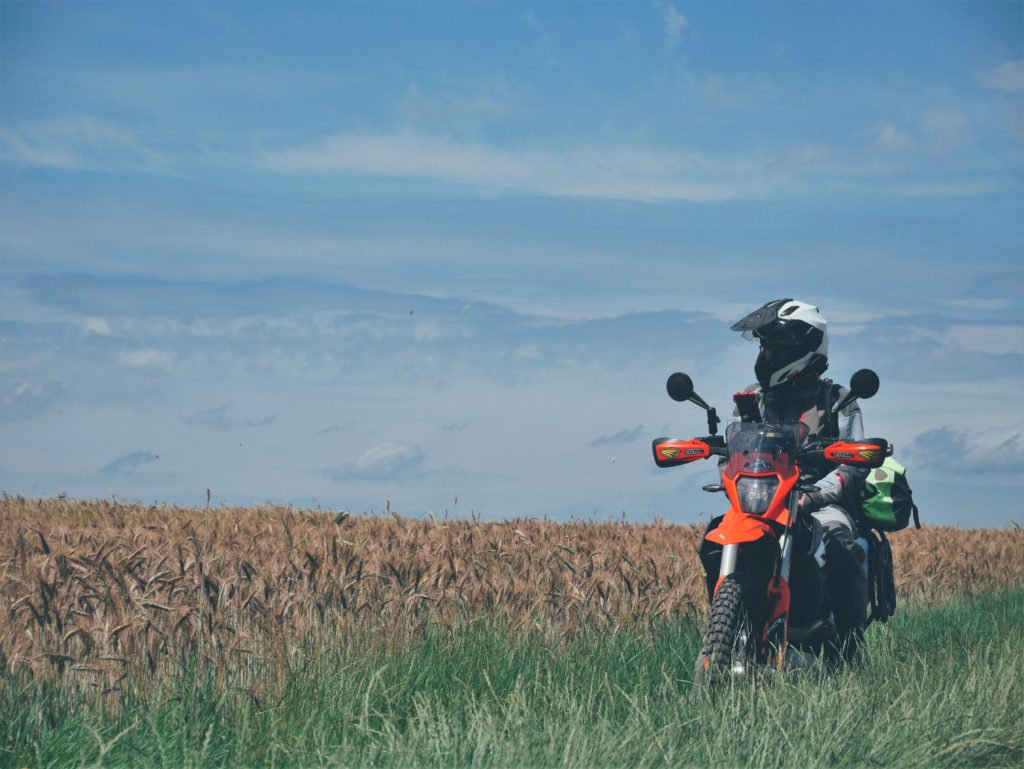 As we rolled up to the camping area, we both got a feeling we'd come… home. It's hard to describe the emotion that hits you when you're greeted by thirty-odd women in bike gear, with tents, motorcycles, and bike trailers scattered all over the place, a few male campers watching the mayhem from the sidelines. Most of the time, women are the odd ones out at any motorcycle event; and while we're mostly treated well, always being the minority sometimes gets old. Here, at the Baby na Motory camp, women were the majority, and all we can say is, being surrounded by a horde of two-wheeled females is a high in itself.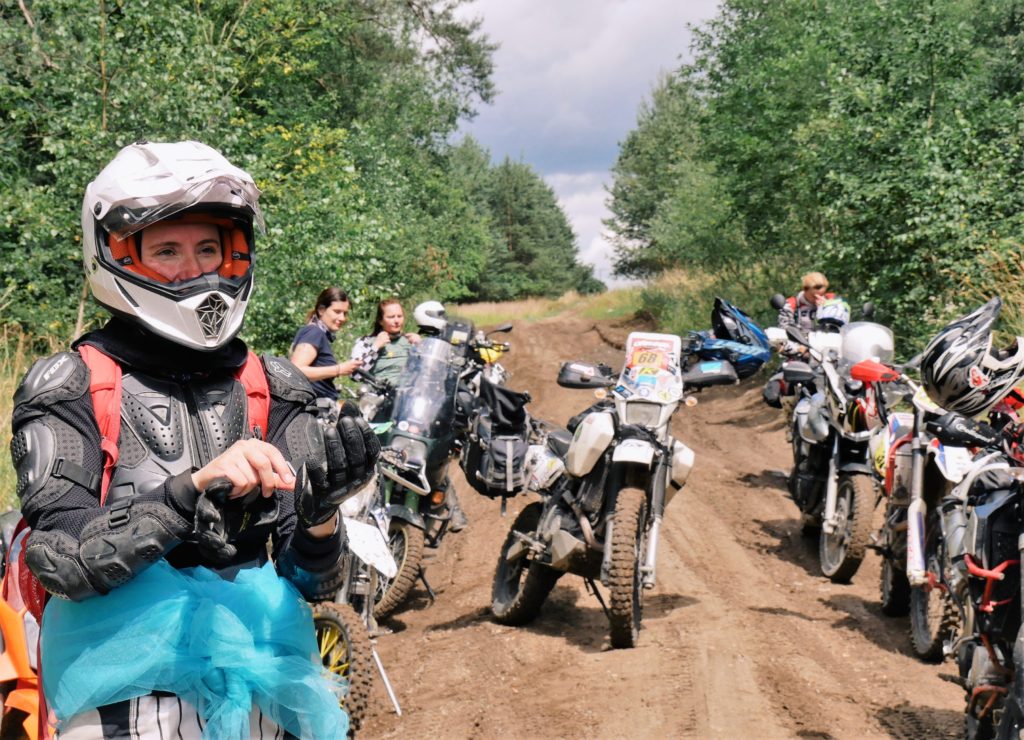 As we were pitching our tents, the gals immediately came to our aid – some helped us with the pegs and the covers, one woman poured some homemade moonshine down our throats, and we soon found ourselves huddled around a huge bonfire exchanging hello's and beers. There were women from all walks of life – insurance experts, finance consultants, dentists, office workers, travel agents – and the ages varied just as wildly, with our youngest rider being just 23, while some of the women were well into their fifties. The ringleaders Asia, Kasiek, Agnieszka, Emilia, and Elsa welcomed us all explaining there were three track versions for tomorrow: a paved route, a soft off-road route, and a hard enduro trail. Being on a KTM690 and a Suzuki DR650, we weren't sure if we should do the hard enduro track, but you won't know unless you try, so we decided to stick the band of hard enduro maniacs. Having demolished some food and beers, we crawled into our tents, hit the hay, and slept like logs.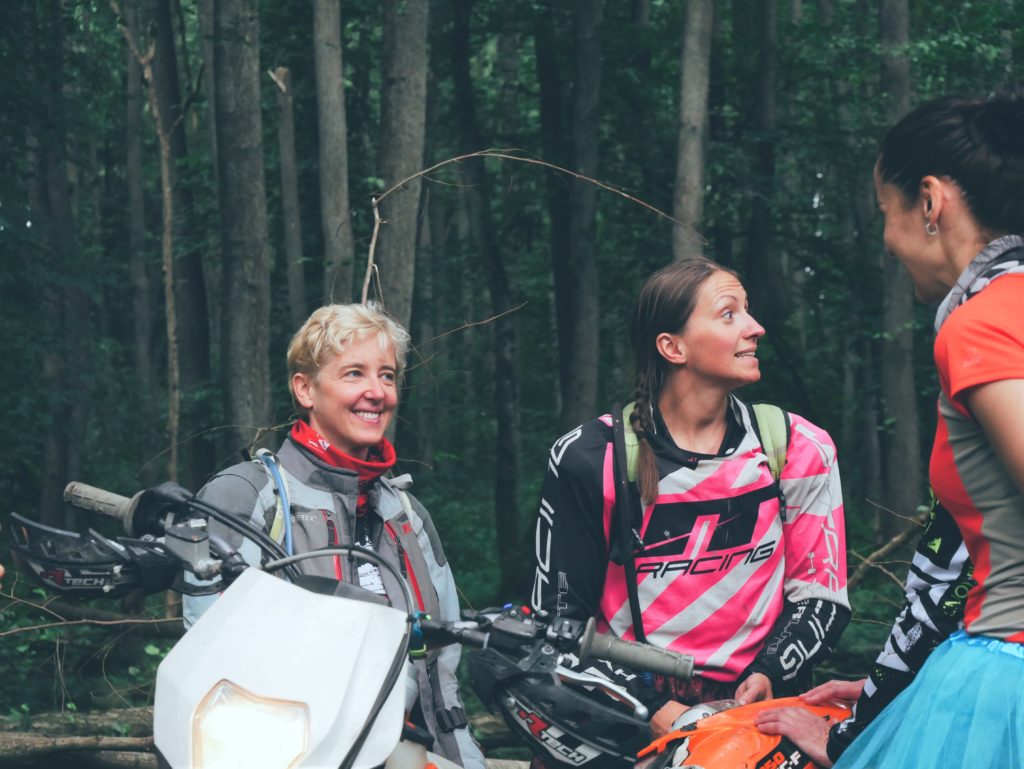 In the morning, after wolfing down some breakfast, we joined a group of twelve-odd women determined to give the hard enduro track a go. While some gals were on small Huskies and KTM's, there were some Honda Transalps, BMW GS 800's, and even an old scrambler with skinny tires in the mix, so we knew our big bikes stood a chance, too. Hitting some local single track, we set off weaving in and out of forest trails, meadows, and muddy tracks. Along the way, we stopped at a NATO tank base – it turns out, tanks make fun, wavy tracks with some cool natural jumps – and chanced upon a group of American soldiers. We must have been a sight to behold, a swarm of women on dirt bikes chasing each other across a mangled, muddy field, because the soldier boys came out to say hi and pose for some photos. We can't say we weren't happy to see them: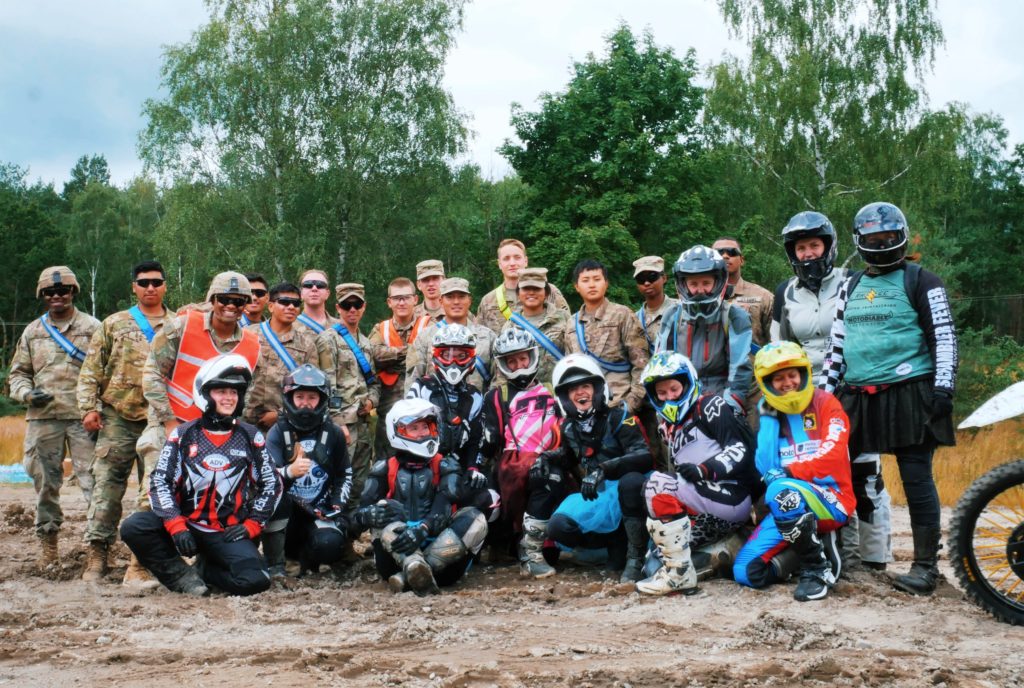 Leaving the boys with their toys, we jumped back on ours and took off on the tank tracks. Here, the first casualty happened – one of the gals' bike had a dead battery – but helping each other out and hooking the quad's battery up to the bike, we soon revived it and hit the trails again. After some fast sand and gravel tracks where our one and only quad girl, Karolina, showed us all how it's done drifting around corners and doing donuts in the sand, we ventured deeper into the forest.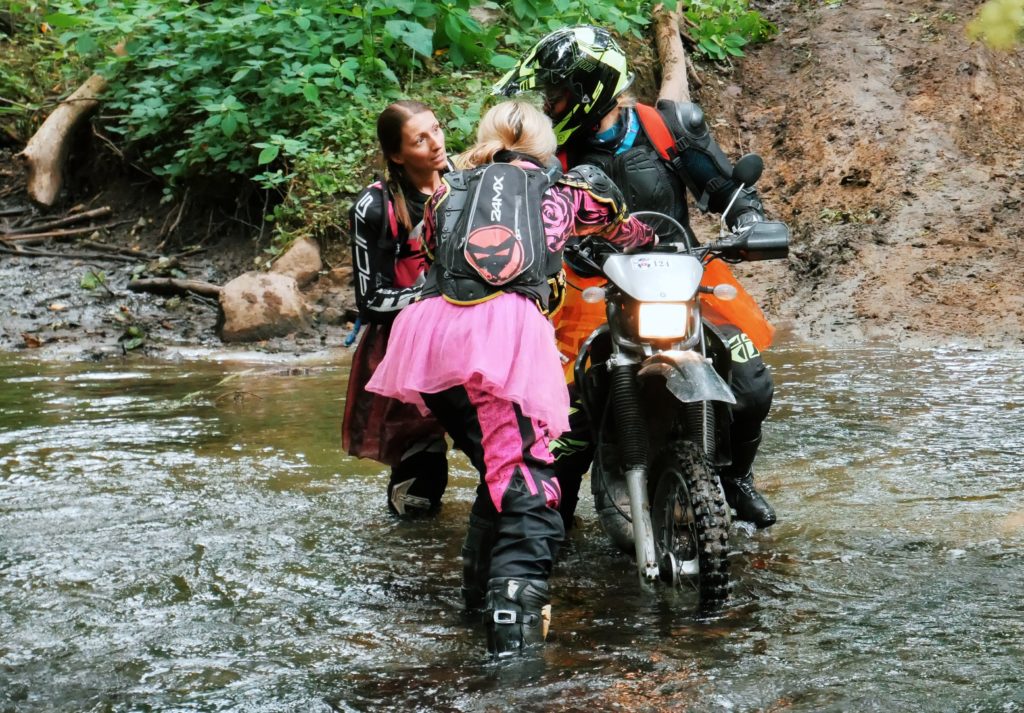 Now came the "hard" in the hard enduro part where we had some deep, slick mud, water crossings, steep climbs, and huge soft ruts filled with slimy, slippery earth. One drowned and rescued KTM and lots of teamwork later, we left the muddy forest behind and finished the day off with more fast tracks, sand, and a glorious dinner at a local pub.
Back at camp, we were sore, soaked, and covered in mud, but the vibes were in an all-time high. Washing the sweat and the dirt off in the lake, we cracked some beers open, cooked some food, and gathered around the bonfire again exchanging stories and laughing like there was no tomorrow. We wished it wasn't just a weekend, and that the women riders' off-road campout would go on for a few more days. Riding with the gals felt nothing short of sublime; we hit some hard trails and got on the gas, but the camaraderie, the sisterhood, and the relaxed atmosphere were just unparalleled.
Still, the next morning, it was time to pack up, hug everyone, and hit the road again. We decided to stick to the off-road track for the first two hundred kilometres keeping a good pace and singing along the music on our helmet speakers, and as we travelled cross country on our filthy bikes, our faces covered in dust and grime, our boots still making squelching sounds and our leg muscles working overtime, we both couldn't help but feel like we'd just taken part in something very special.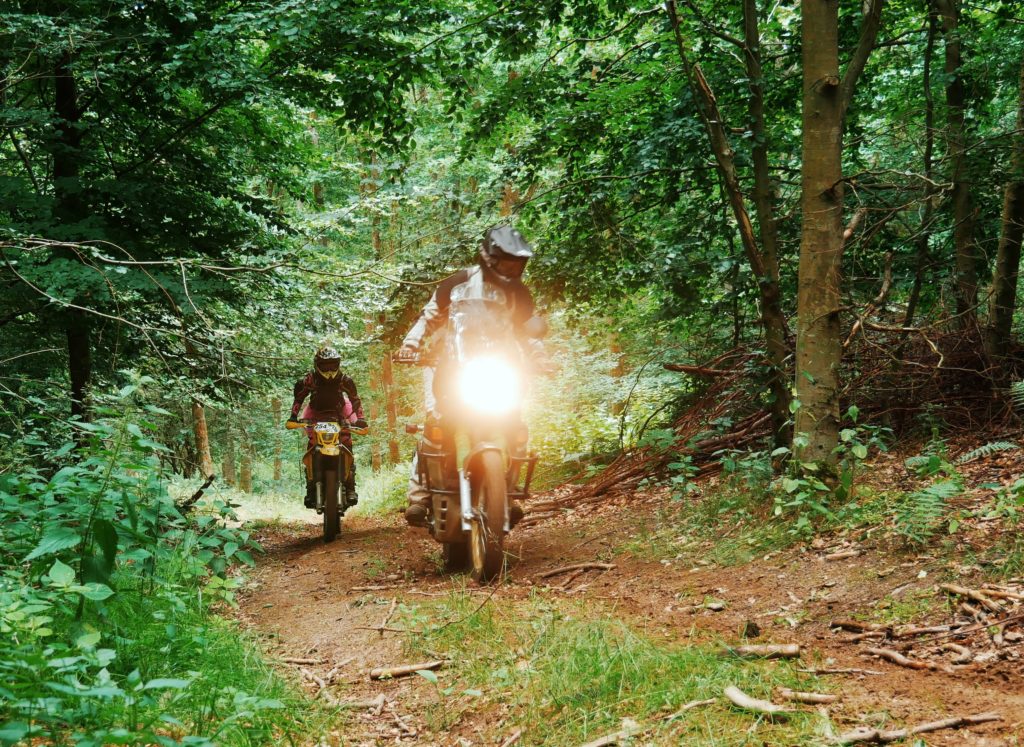 As we're writing this, we're still washing the mud off the bikes and boots, but the one thing we just can't wipe off our faces are the biggest grins. Huge thanks to the Baby na Motory group founders, our track designers and leaders, and all the badass women we got to meet and ride with! See you next year – ride hard and be safe.