Motorcycle touring in South America: best routes
South America is one of our favorite places to ride bikes, and for good reason. Motorcycle touring in South America offers incredible scenery around every corner, diverse local culture, and some of the best motorcycling routes on the planet. Did we also mention it's really special place, the food is to die for, and the local hospitality is unparalleled? Read this article to learn about our subjective selection of the best routes for motorcycle touring in South America.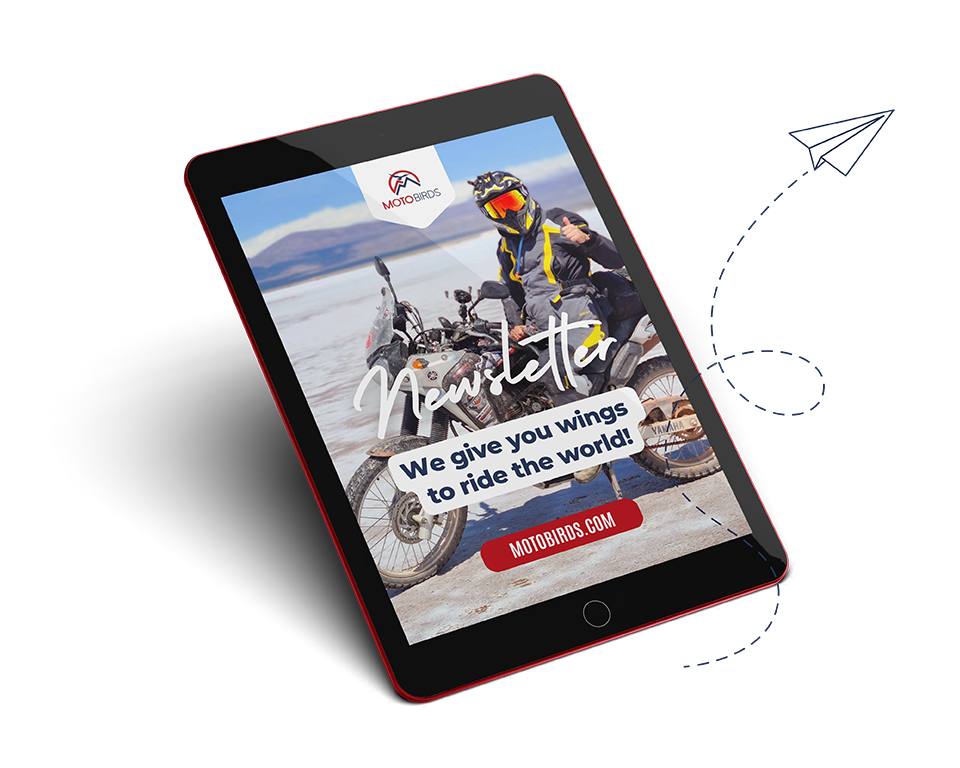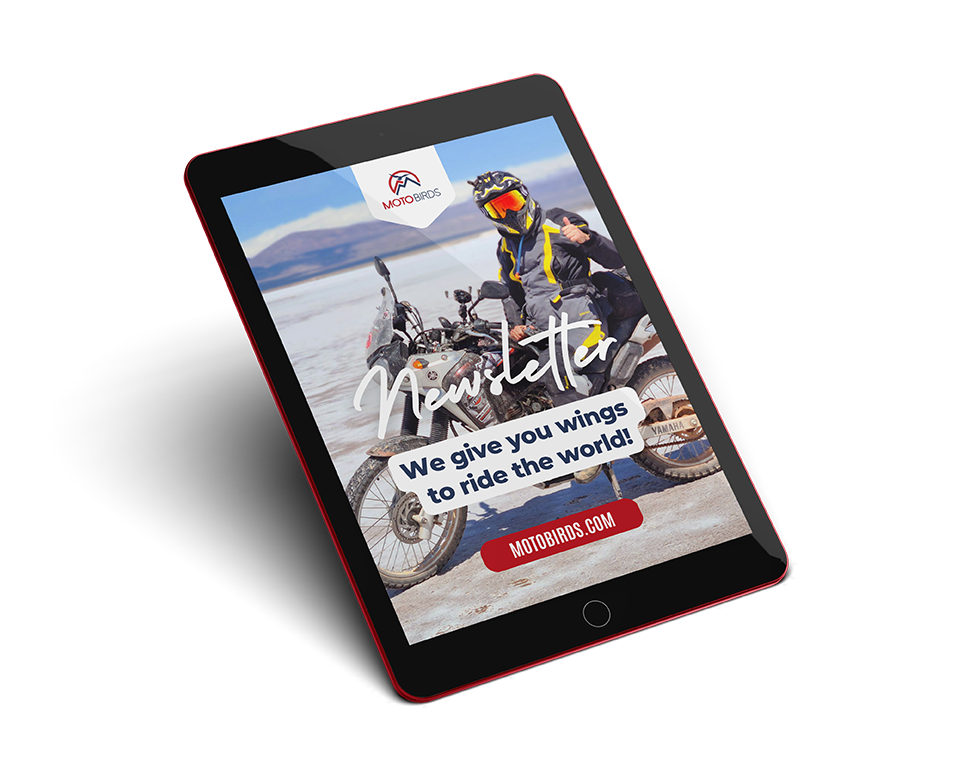 Newsletter subscribers get more!
Join MotoBirds Soaring Newsletter and don't miss any important content, gear tests, travel inspirations and newest offers in the future! We'll also let you know about fresh publications on our blog.
COLOMBIA: THE COFFEE REGION
In recent years, Colombia has been emerging as one of the top destinations for motorcycle touring in South America. Most travelers agree that Colombians are among the friendliest people on the whole continent, and riding Colombia is an unforgettable experience for both on and off-road riders. The turquoise blue waters of the Caribbean, the snow-capped peaks of the Andes, and the lush green rainforests of the Amazon are all at your fingertips – or shall we say, tire treads – as you travel this stunning South American country.
THE COFFEE ROAD: MEDELLIN – GUATAPE – IBAGUE – SALENTO (AROUND 570 KM)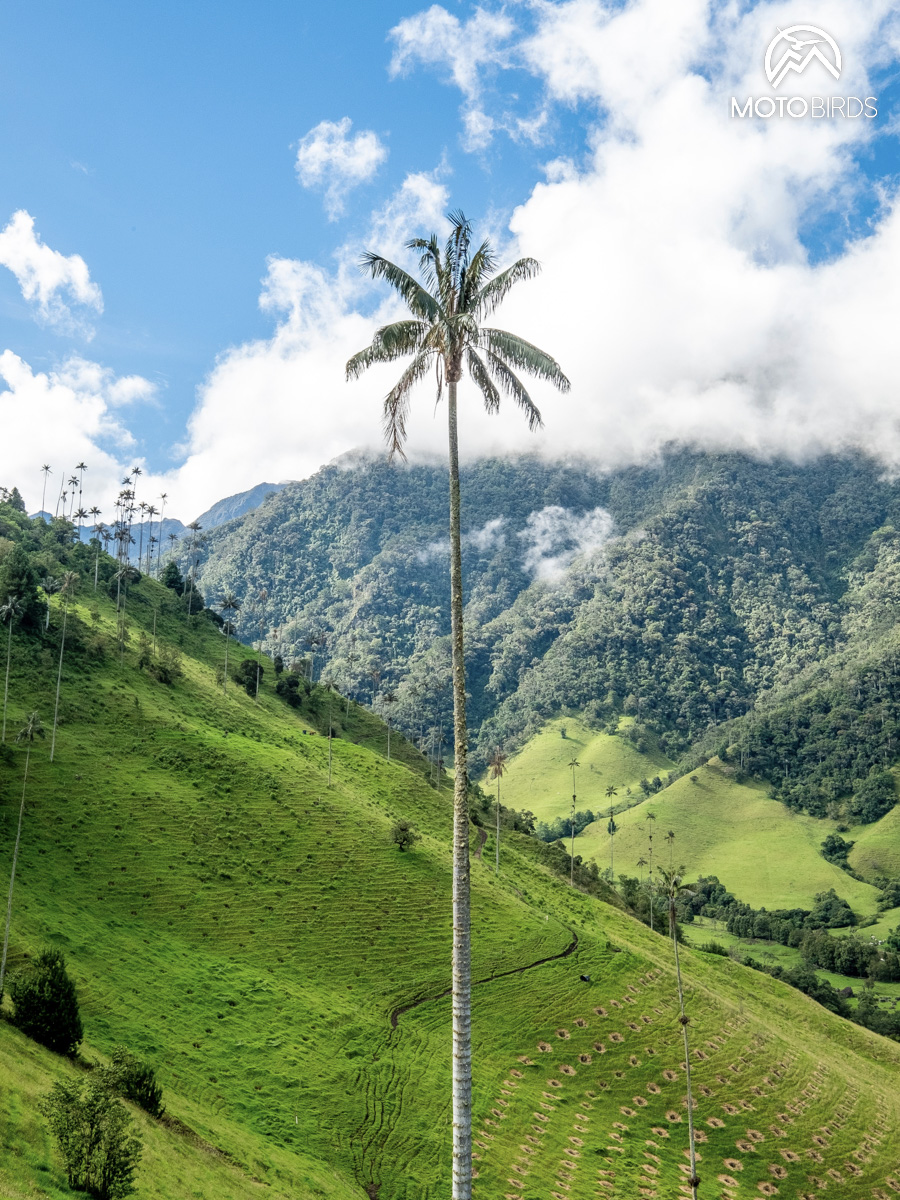 While there are countless breathtaking routes to ride in Colombia, one of our all-time favorites is the Coffee Road. Starting in Medellin, one of Colombia's most vibrant, modern, and friendly cities, the route takes you to a curious little town of Guatape known for its beautifully colorful architecture and El Peñol, a strange standalone rock offering a stunning 360 view of the area. Stay in Guatape for a day to explore local culture and cuisine.
Past Guatape, ride south towards Ibague, then head west towards Salento. This is where Colombia's Zona Cafetera (the Coffee Region) begins, and the road takes you across a vast green country of rolling hills dotted with local coffee plantations and farms. Salento itself is a small colonial town bustling with local shops, restaurants, and cafes, as well as a vibrant nightlife.
Just outside Salento, you can either ride a narrow dirt trail cutting across the Cocora Valley or do a day hike or… horseback tour. Cocora Valley is known for its wax palm trees – some of the highest palm trees in the world.
While in Salento, be sure to visit the local coffee farms, taste local delicacies, and enjoy Colombia's most prized region aboard your motorcycle.
We highly recommend staying at the Steel Horse ranch owned by two expat motorcyclists who love hosting fellow riders. You may meet here other two-wheeled adventurers who have been motorcycle touring in South America!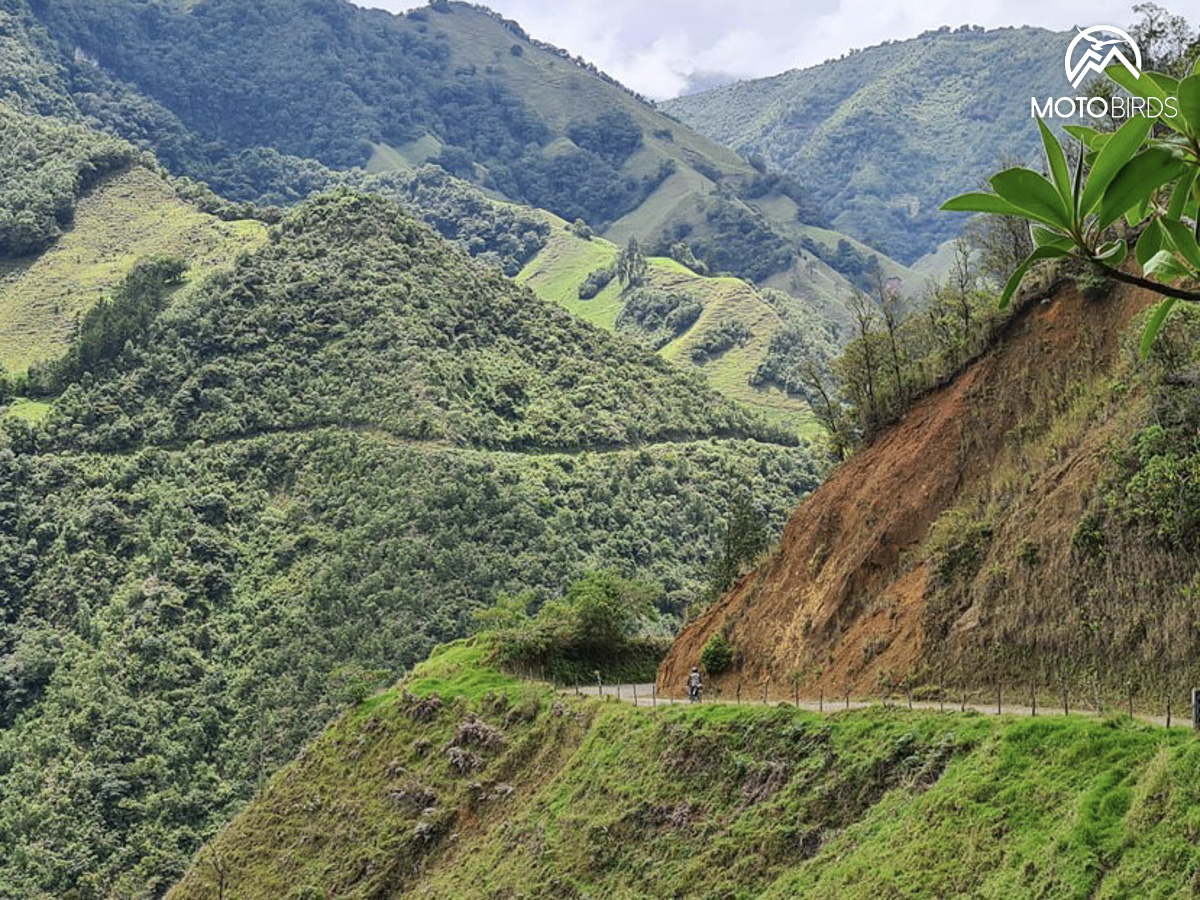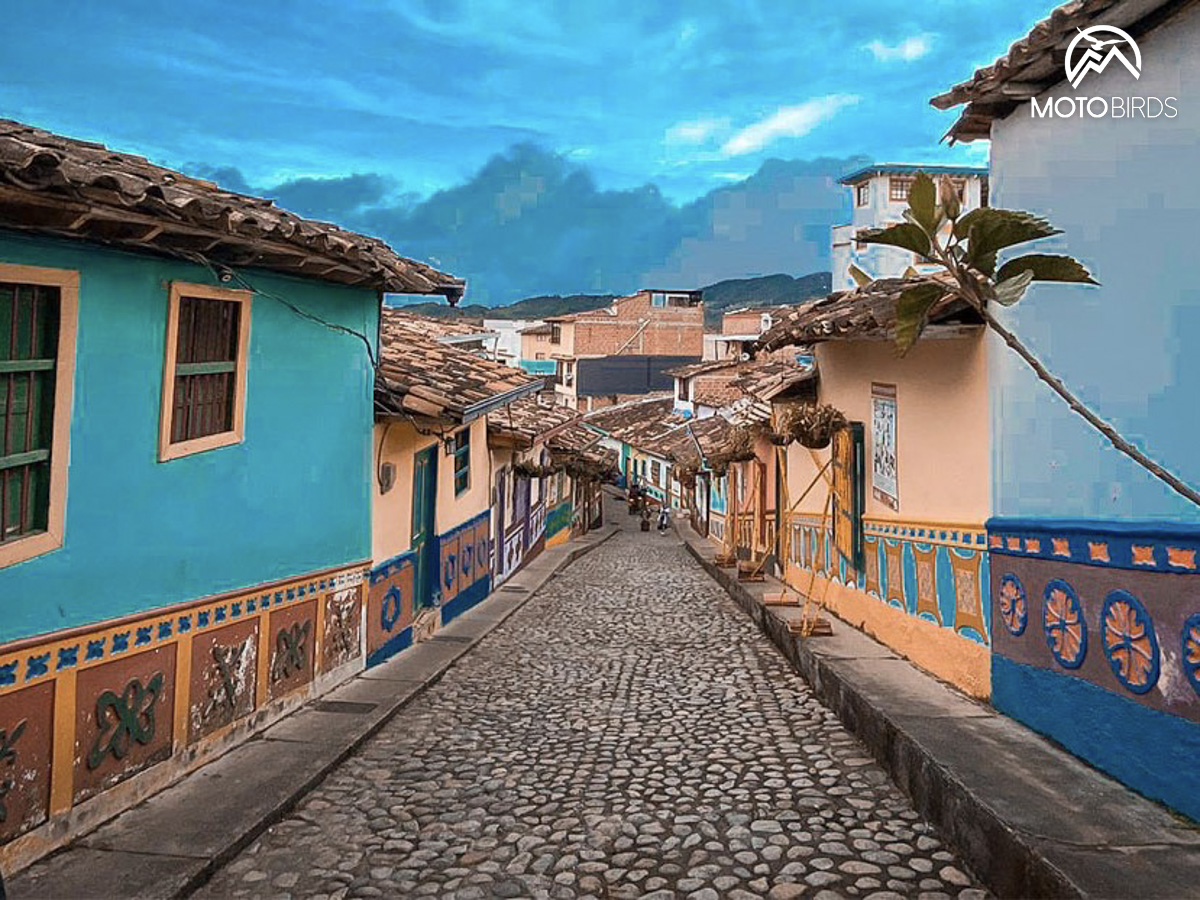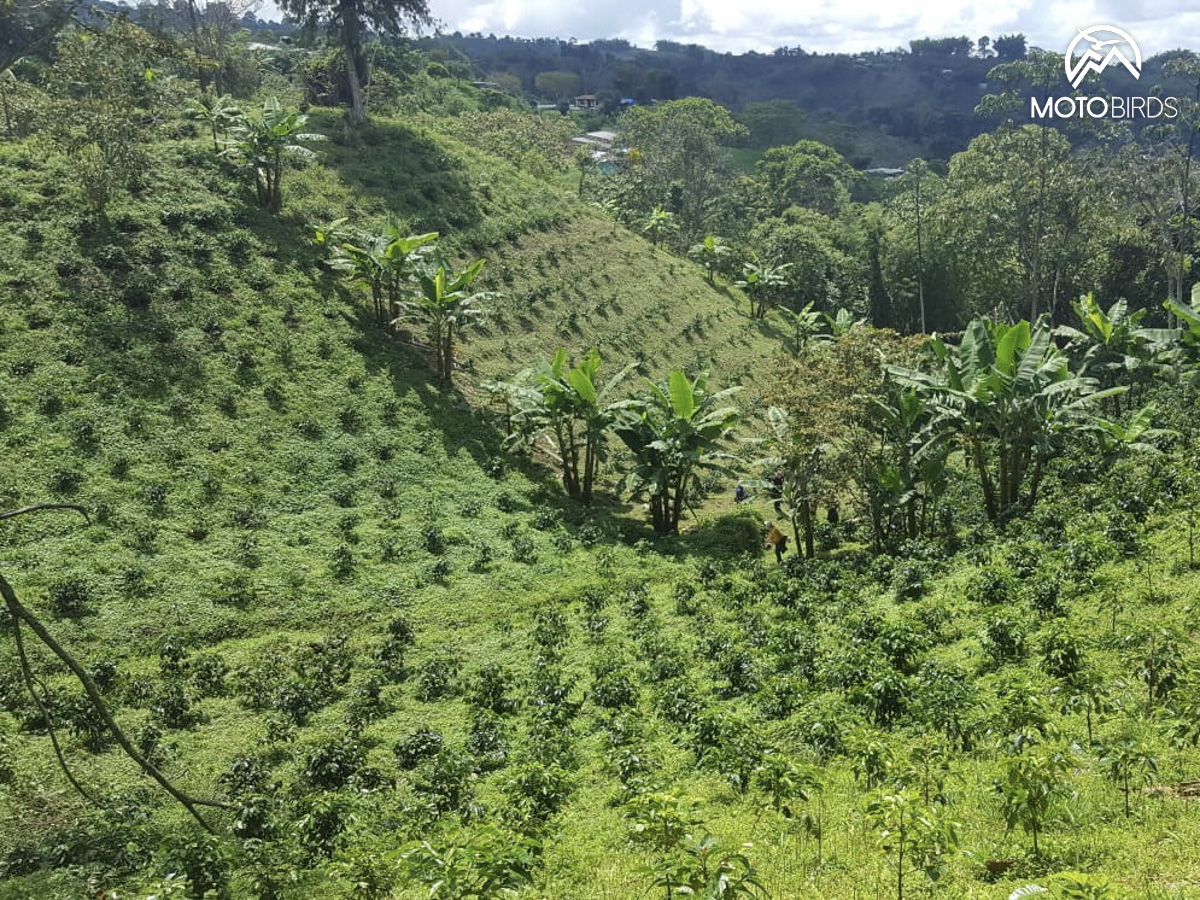 ECUADOR: AVENUE OF THE VOLCANOES
Ecuador may be among the smaller Andean countries, but it packs a punch. The famous Pan American Highway, very popular for motorcycle touring in South America, runs along the spine of the Andes in Ecuador, revealing awe-inspiring vistas of snow-capped volcanoes and crater lakes. While you may choose to explore the Pacific Coast routes or the roads on the Amazonian side, our favorite route in Ecuador is the Avenue of the Volcanoes.
TRAIL QUITO – LOJA (AROUND 682 KM)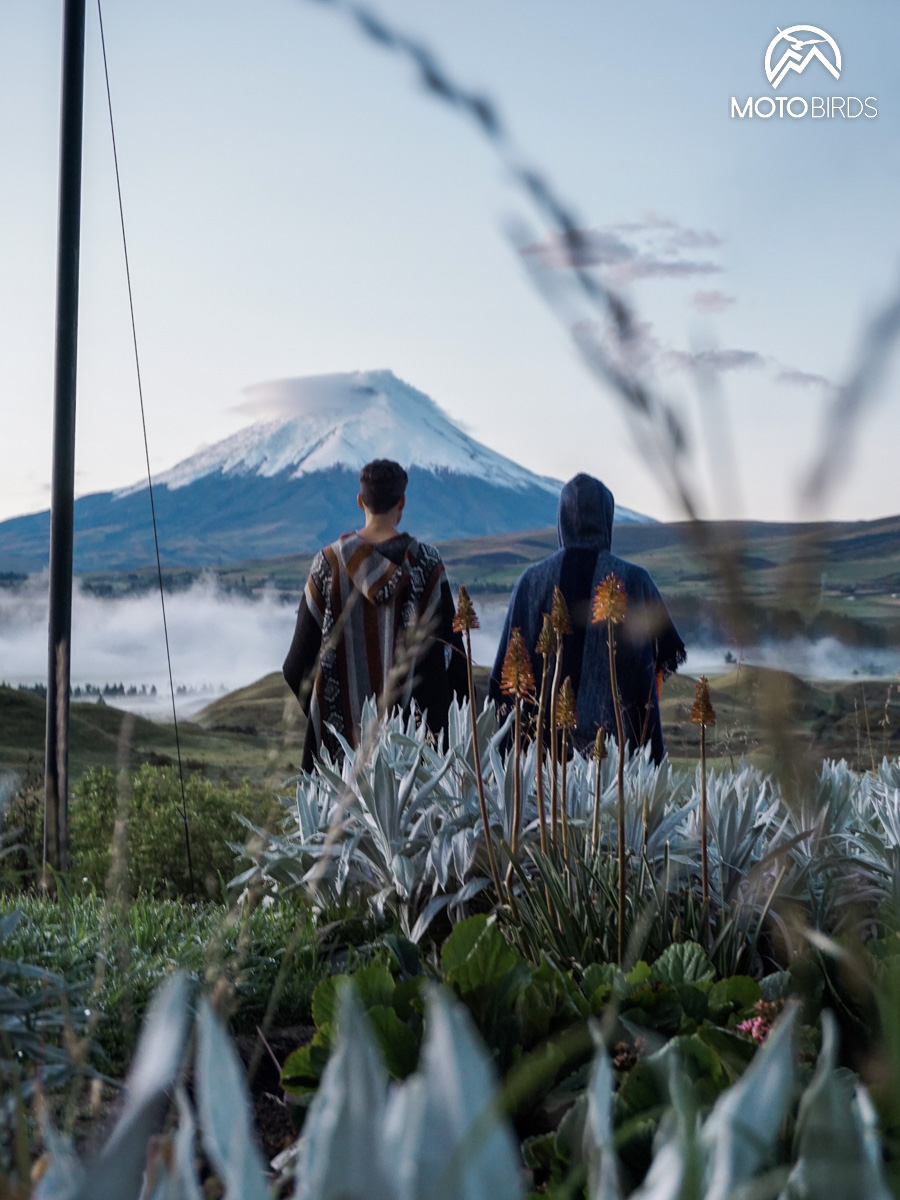 Avenue of the Volcanoes is an unofficial volcano route in Ecuador, starting in Quito and ending in Loja. Traveling this route, you'll see the magnificent Pichincha volcano near the capital Quito, spot the looming peaks of Iliniza and Cotopaxi volcanoes and the Quilotoa crater lake near Ambato, see the mighty Chimborazo volcano a little further south, and explore the Tungurahua volcano near the small town of Baños. You can spot a lot of volcanoes while motorcycle touring in South America, but most of them are inactive. In Ecuador, some of them are still active, and the peak of Chimborazo, while not being the highest in the world, is at the furthest point from the Earth due to the equatorial bulge.
There is plenty of hiking and trekking opportunities near Cotopaxi, Quilotoa, and Chimborazo, and each of these volcanoes and craters have their own love story. That's right – local Kichwa people have several legends about volcanoes falling in love with each other or, in case of the Quilotoa crater lake, heartbreak. According to local folklore, Quilotoa was in love with the beautiful Cotopaxi but, as her parents opposed the marriage, Quilotoa could not bear the pain and erupted leaving a large crater lake.
The bright admiral blue color of the water is said to be Quilotoa's tears of heartbreak.
As you travel the Avenue of the Volcanoes, be sure to spend several days in Baños, Ecuador's adventure capital and the gateway to the Amazon.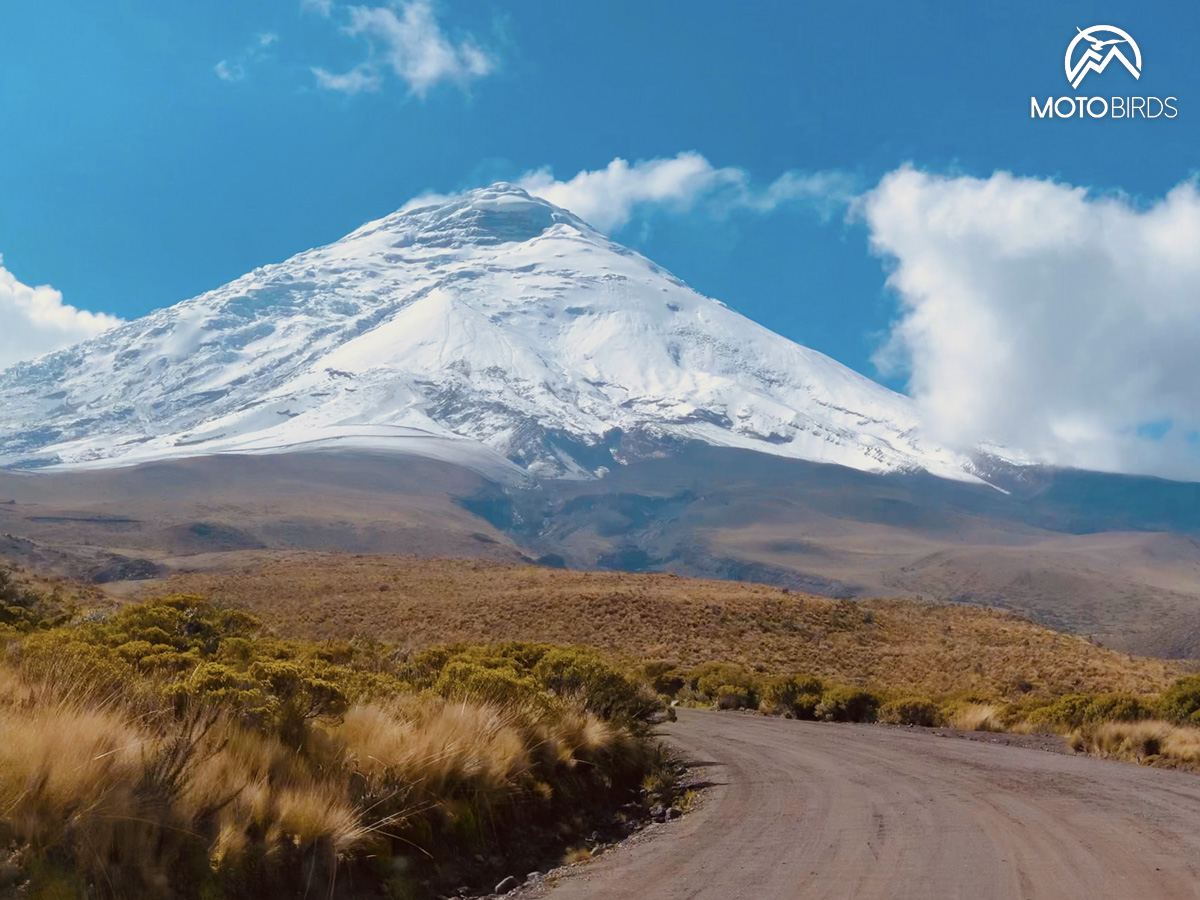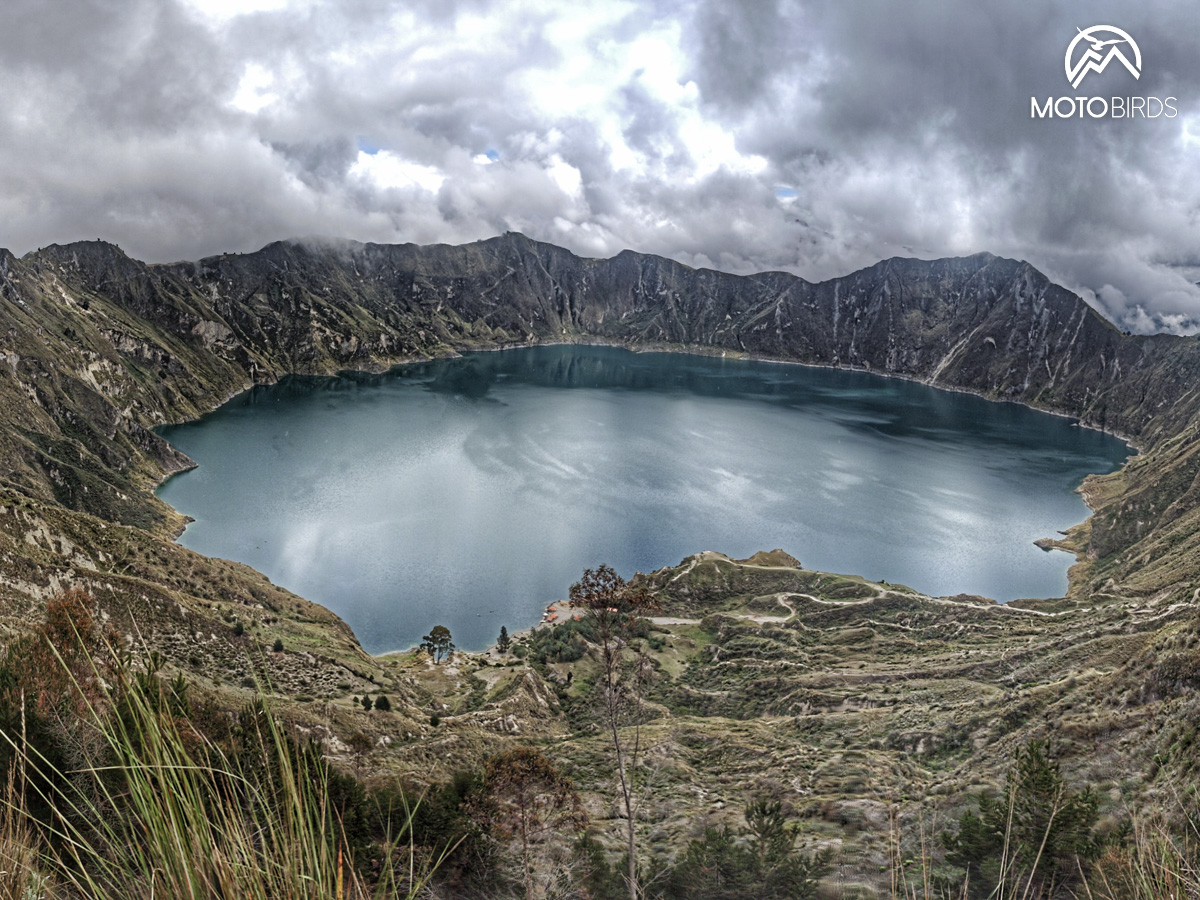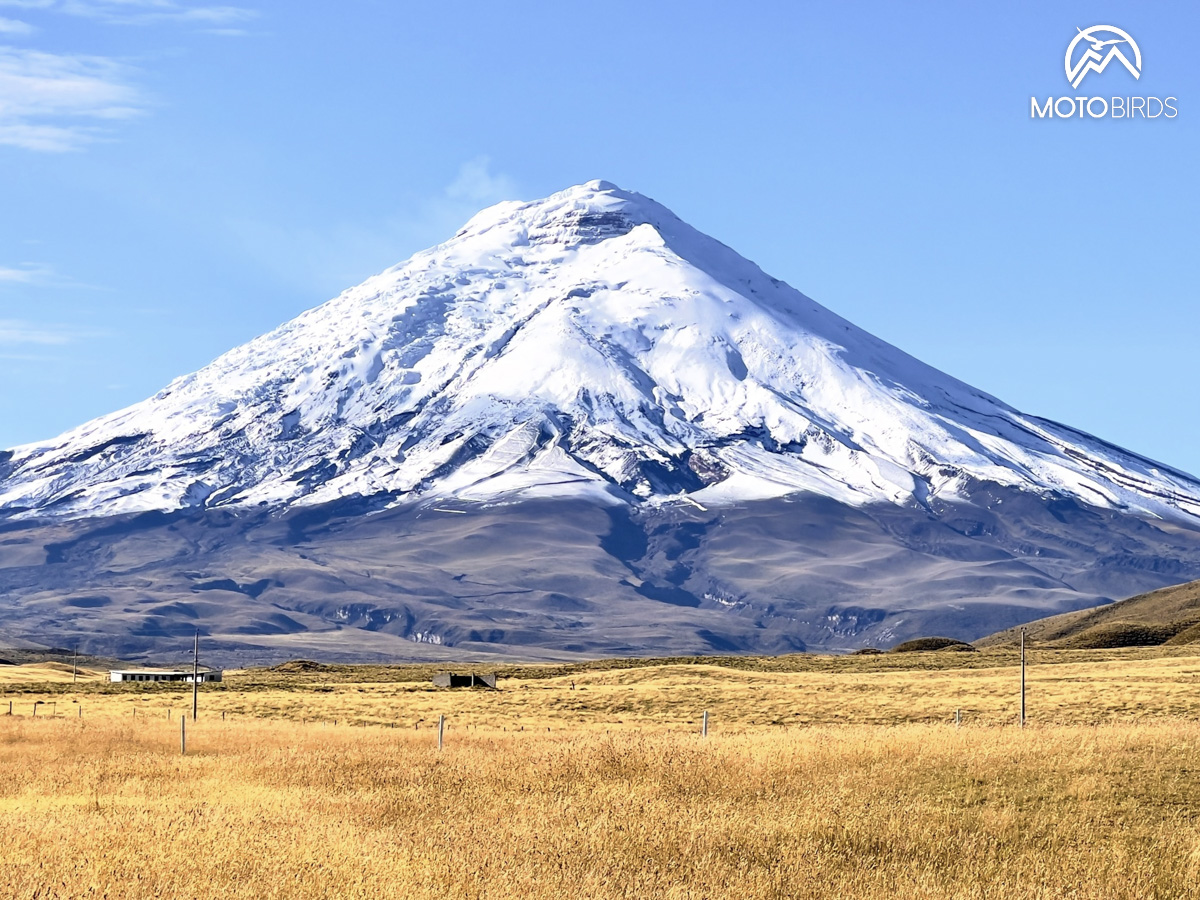 PERU – DISCOVERING NAZCA CULTURE 
A vast, diverse, and truly unique, Peru is easily among our favorite countries for motorcycle touring in South America. There are so many on road and off-road routes to choose from you can spend months traveling Peru and still only see a fraction of what it has to offer, so plan ahead – exploring Peru on your motorcycle is a once-in-a-lifetime experience.
TRAIL CUZCO – ABANCAY – NAZCA (AROUND 655 KM)
Cuzco, a gorgeous colonial city nestled among the Andes mountains, is sometimes called the heart of Peru. From here, you may visit the world-famous Machu Picchu ruins, go on a jungle tour in the Amazon, and visit the surrounding Andean villages and mysterious Inca ruins. From Cuzco, ride west towards Abancay, traveling a breathtaking Andean road offering tremendous mountain views as well as countless hairpin turns and sweeping corners. As you approach Nazca, the road will descend into the edges of the Atacama Desert, revealing an otherworldly landscape and the mysterious Nazca lines carved into the desert thousands of years ago.
You won't be bored in Nazca for sure. During your stay in this town and its surroundings, you can fly over the lines, visit the local Inca ruins and pyramids, go on a desert tour in a buggy, or enjoy a day of sandboarding in the dunes.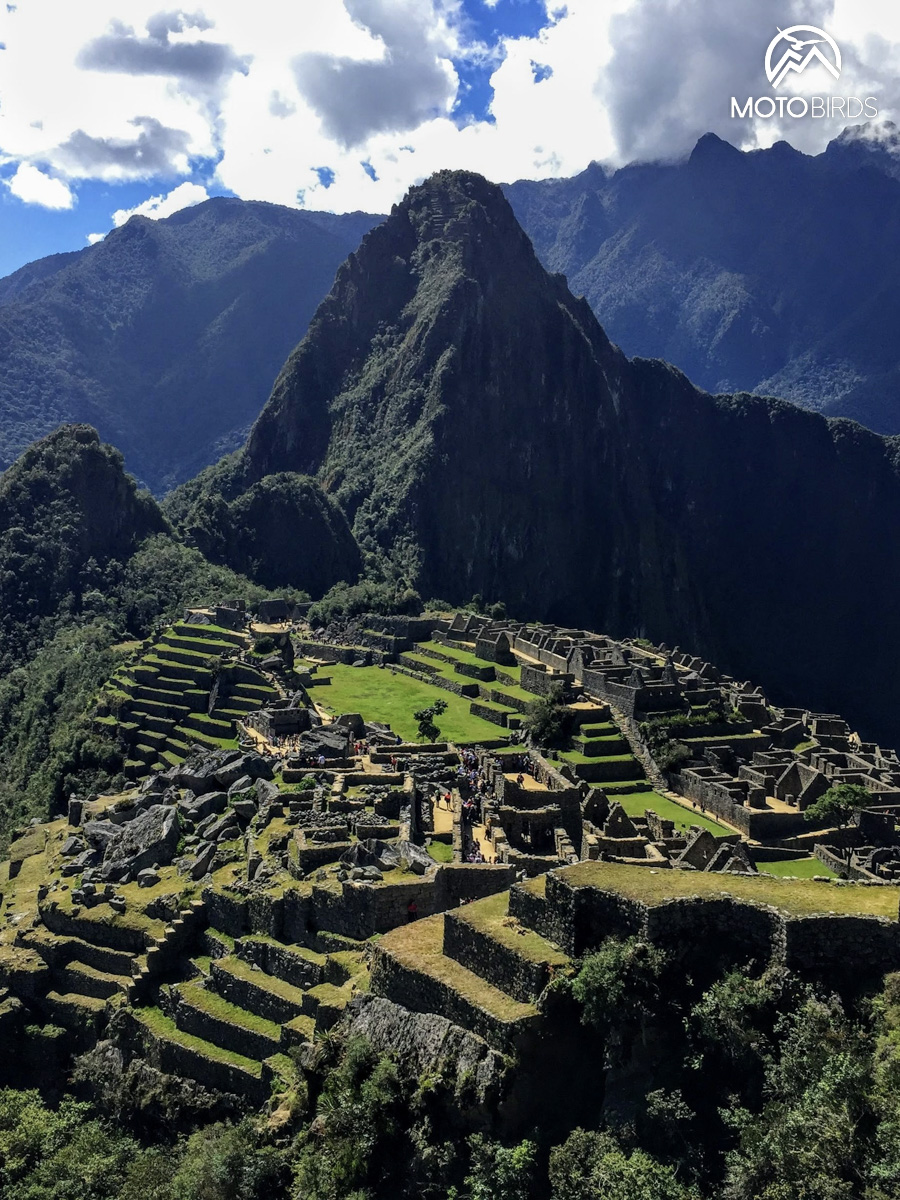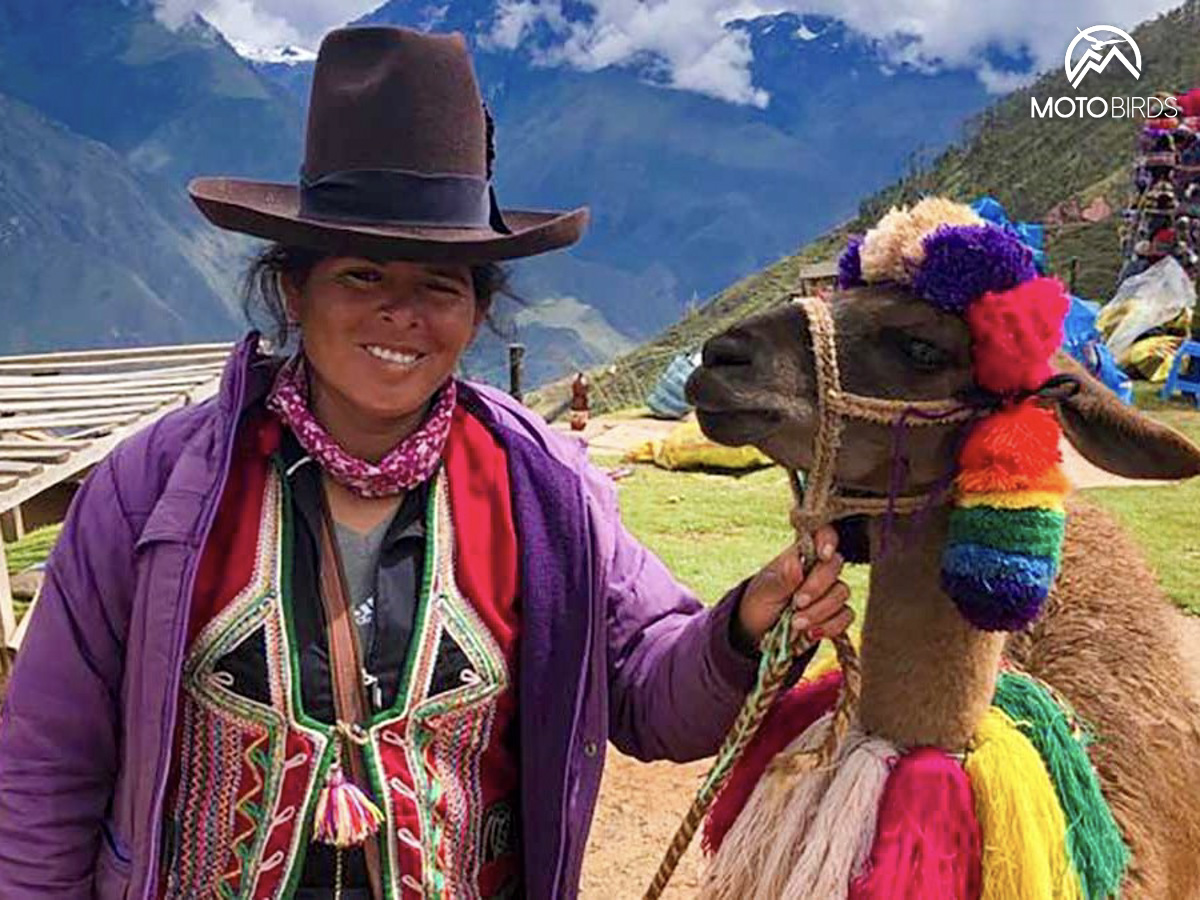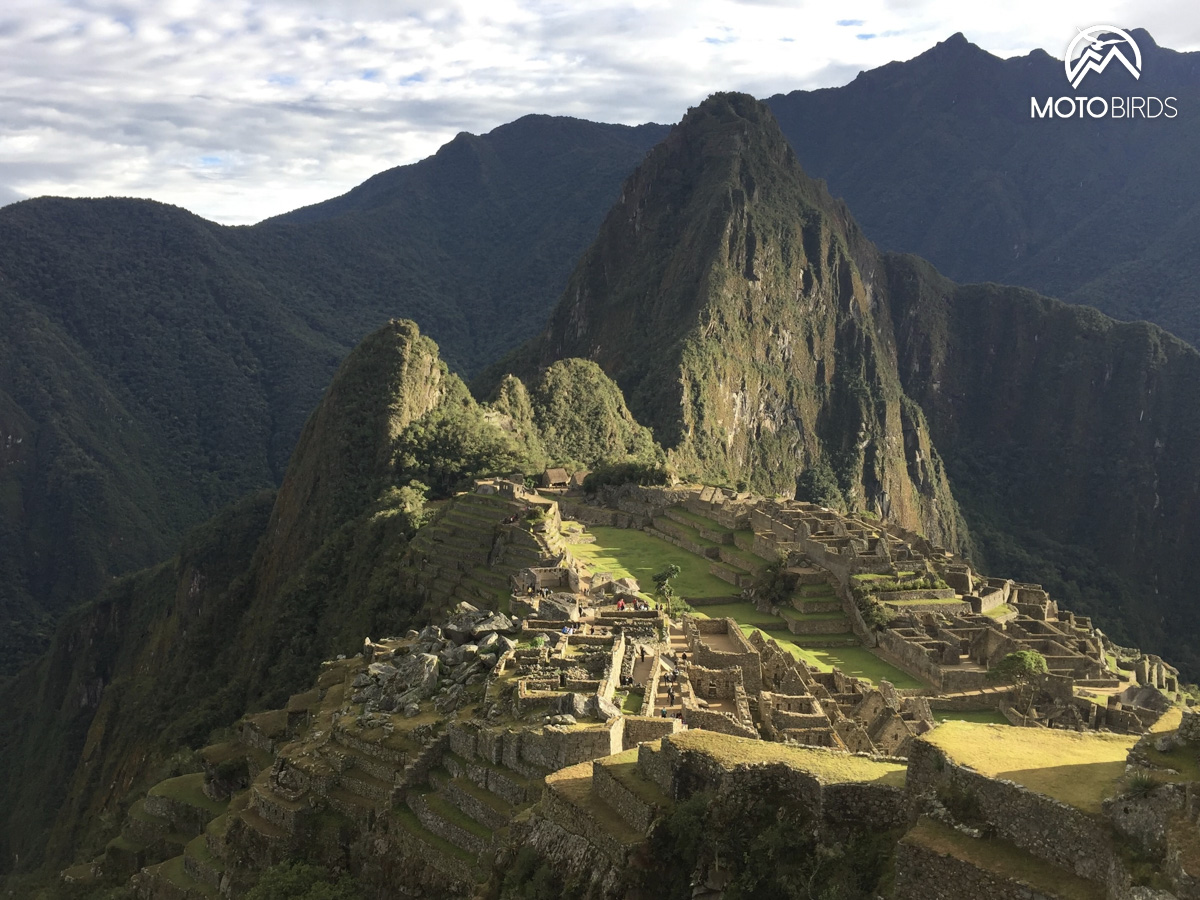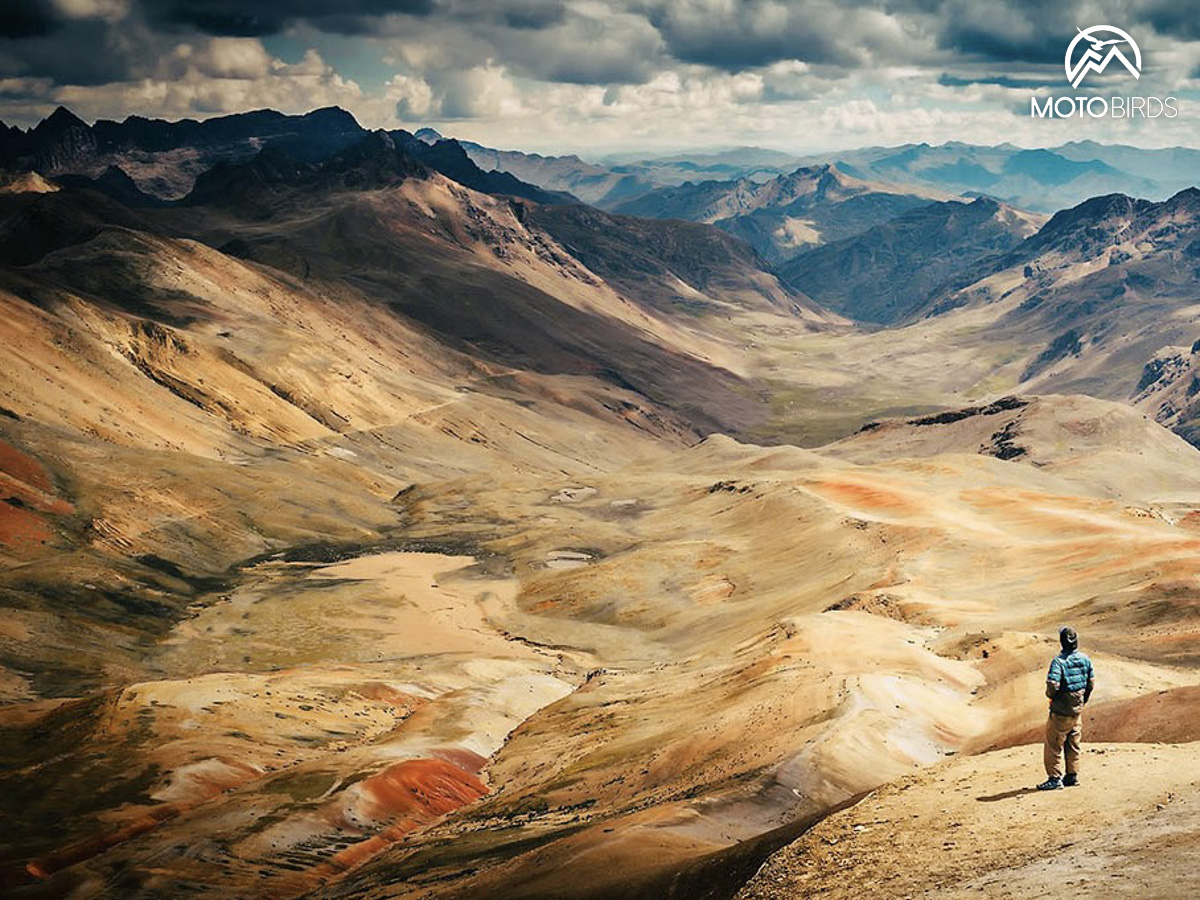 BOLIVIA – MOONLIKE ALTIPLANO
This small landlocked country is a true Andean paradise for motorcycle riders. The looming snow-covered peaks, the high desert, and the high plateaus of the Andes are the reasons why Bolivia is often called the Tibet of South America. Unique local culture, incredible scenery, and out-of-this-world mountain landscapes make Bolivia a must-see destination while motorcycle touring in South America.
THE LAGUNAS ROUTE: SAN PEDRO DE ATACAMA, CHILE – UYUNI, BOLIVIA (AROUND  442 KM) – TOUGH ONE!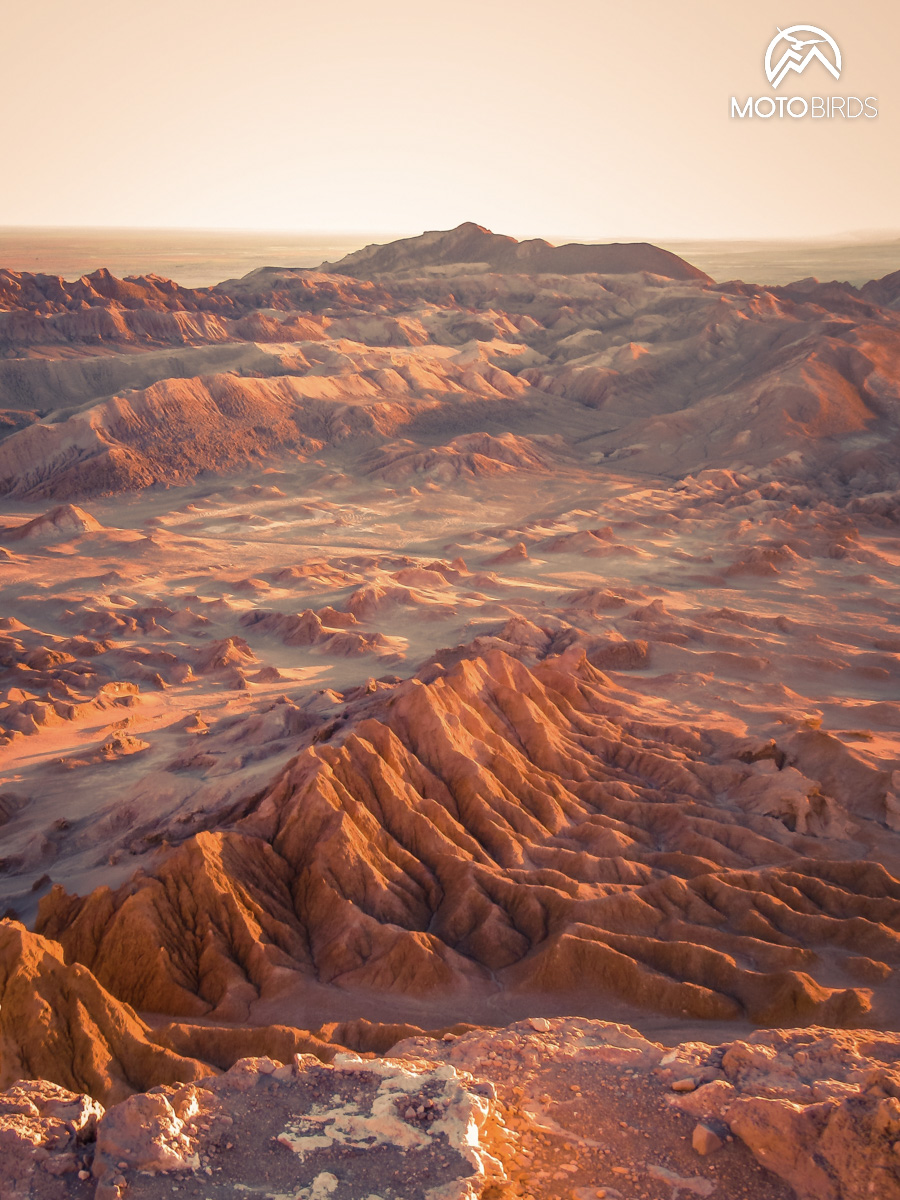 Although Bolivia has several noteworthy paved routes, the Lagunas Route is easily our top choice. Pure off-road, this route starts in San Pedro de Atacama, Chile, and ends in Uyuni, Bolivia. The route takes you across the otherworldly Dali Desert, named after Salvador Dali for its surreal landscape, and along the beautifully colored high desert lakes inhabited by pink flamingos.
Once you reach Uyuni, be sure to visit the Salt Flats, locally known as Salar Celeste – the Desert of Heaven. The largest salt flats in the world, Uyuni's heavenly white desert reflects the sky above so perfectly the contours of the horizon blur creating an optical illusion of riding on clouds.  Also, make sure not to miss the train cemetery (located at 20°28′49.82″S 66°50′08.29″W).
If during motorcycle touring in South America you love camping, you may try one of the islands on the salt flats for an unforgettable night.
After being on the salt flats, make sure to pressure wash your bike, however may washing stations in Uyuni have saline water: taste the water first!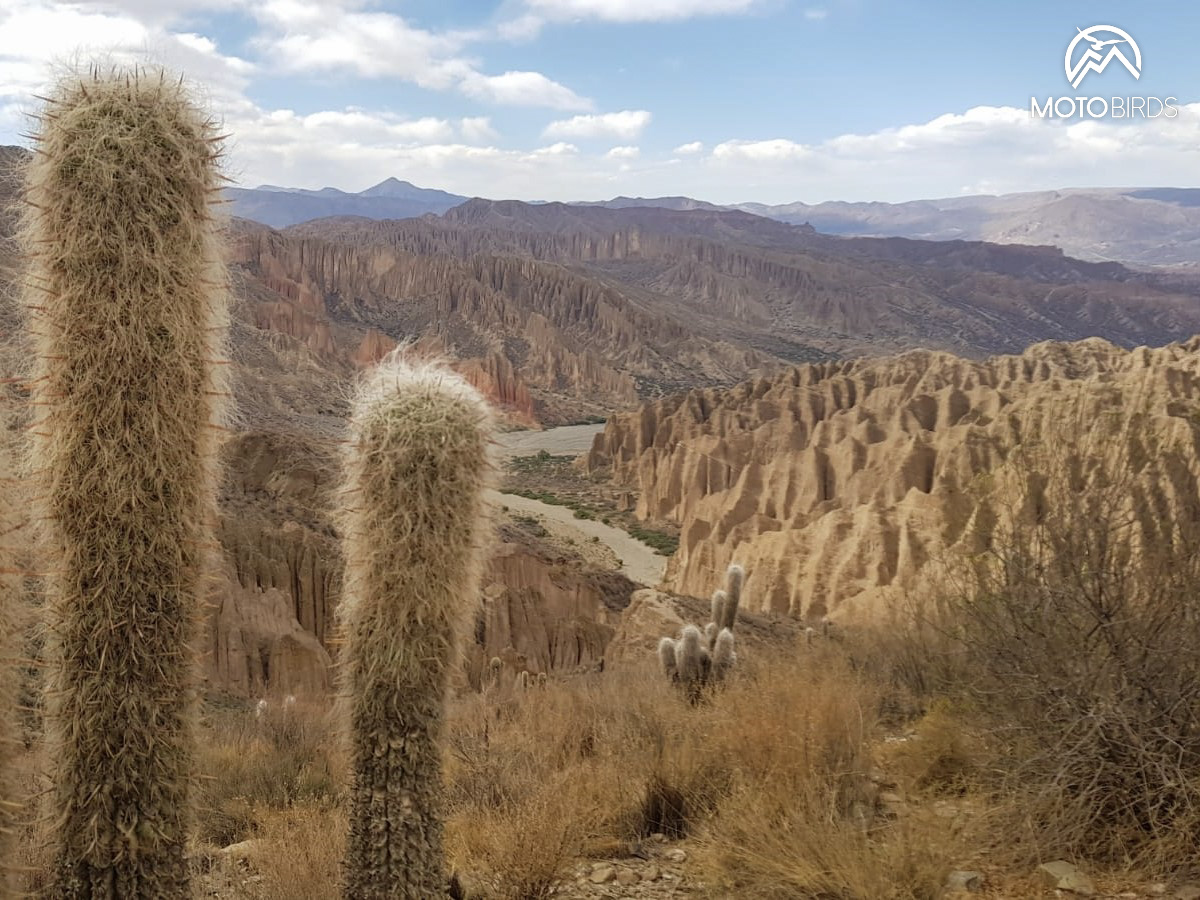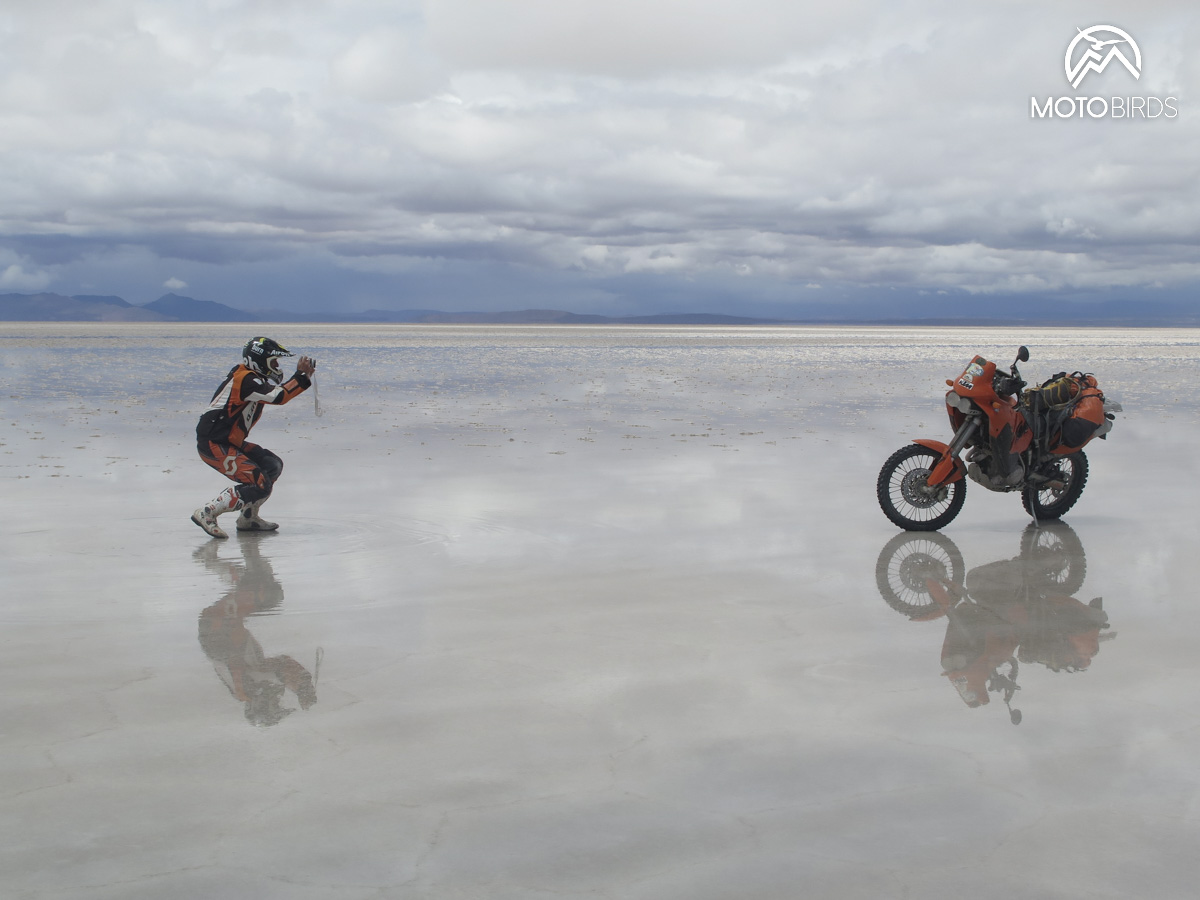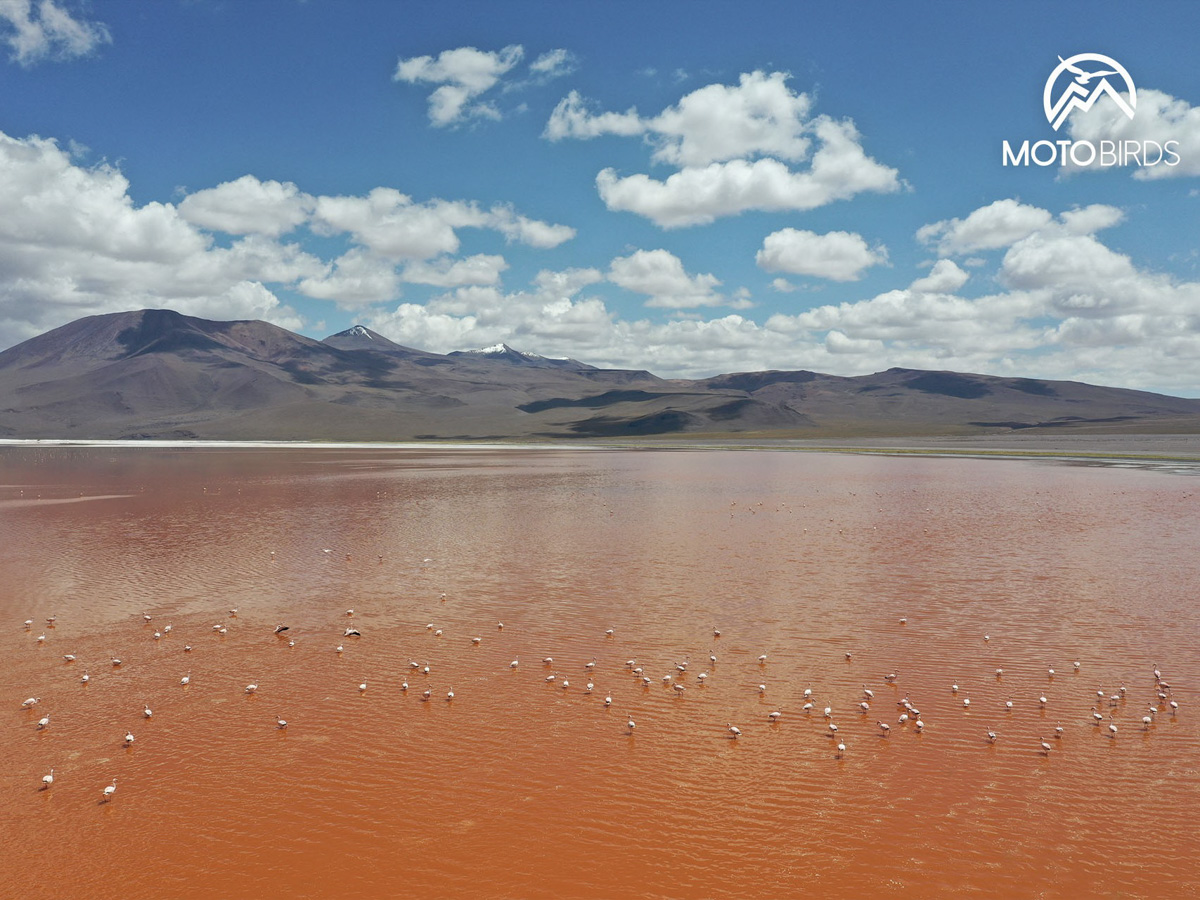 CHILE: UNFORGETTABLE CARRETERA AUSTRAL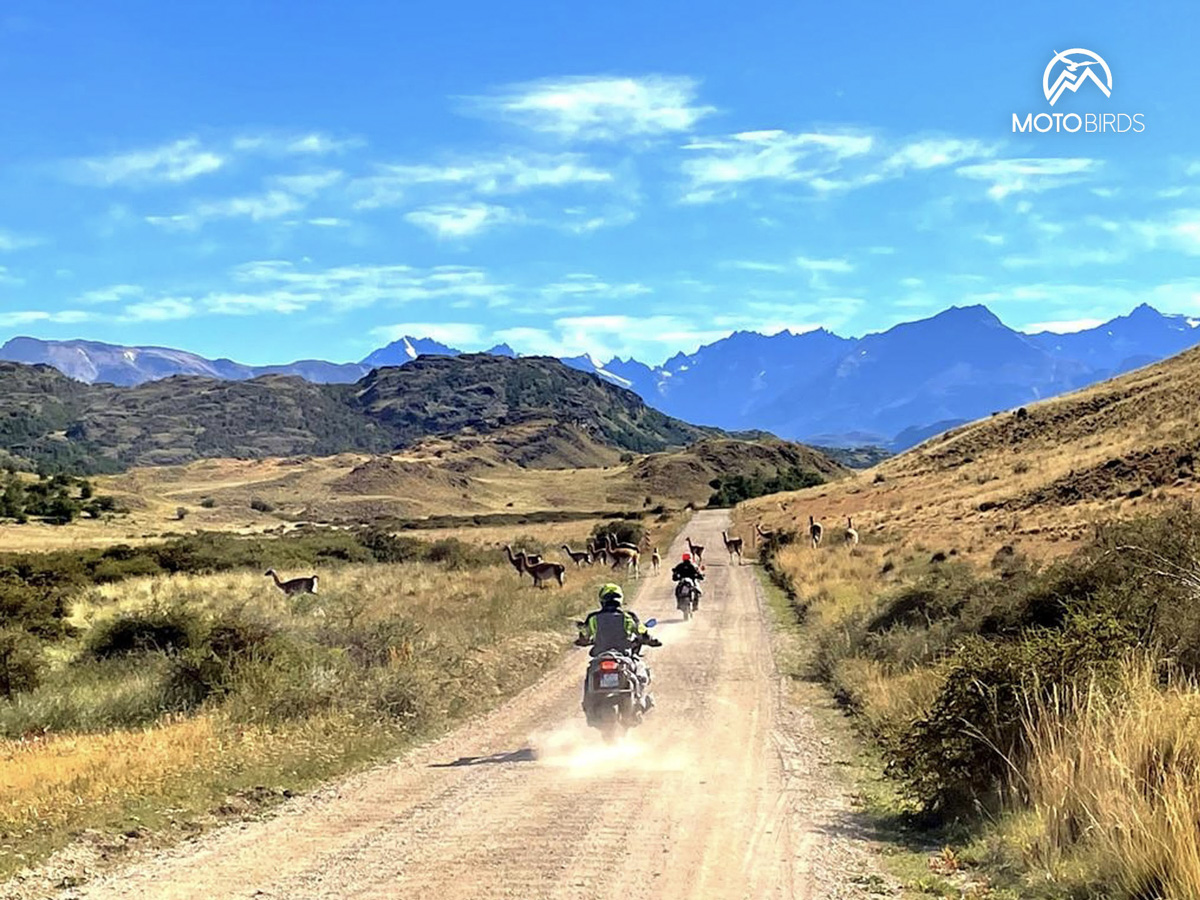 We love riding in Chile so much we keep coming back here motorcycle touring in South America several times a year. The eerie Atacama Desert, the stunning Andean passes, and the unspoiled beauty of Patagonia are what draws us here time and again. As with Peru, this country is huge, and there are so many incredible routes here it can be hard to pick just one. However, Carretera Austral wins our vote.
CARRETERA AUSTRAL (AROUND 1,000 KM)
Stretching for over a thousand kilometers between Puerto Montt and Villa O'Higgins, Carretera Austral is the loneliest and the most beautiful route in Chilean Patagonia. Partly paved and partly off-road, Austral cuts across the untamed, pristine country between the Pacific Ocean and the foothills of the Andes. Turquoise blue glacier lakes, untouched Andean scenery, and the wild Pacific Coast make you feel like you're the first human on Earth. In some stretches the only people you'll meet on this route will be Chilean gauchos astride their fierce Patagonian horses – and perhaps, other motorcycle adventurers.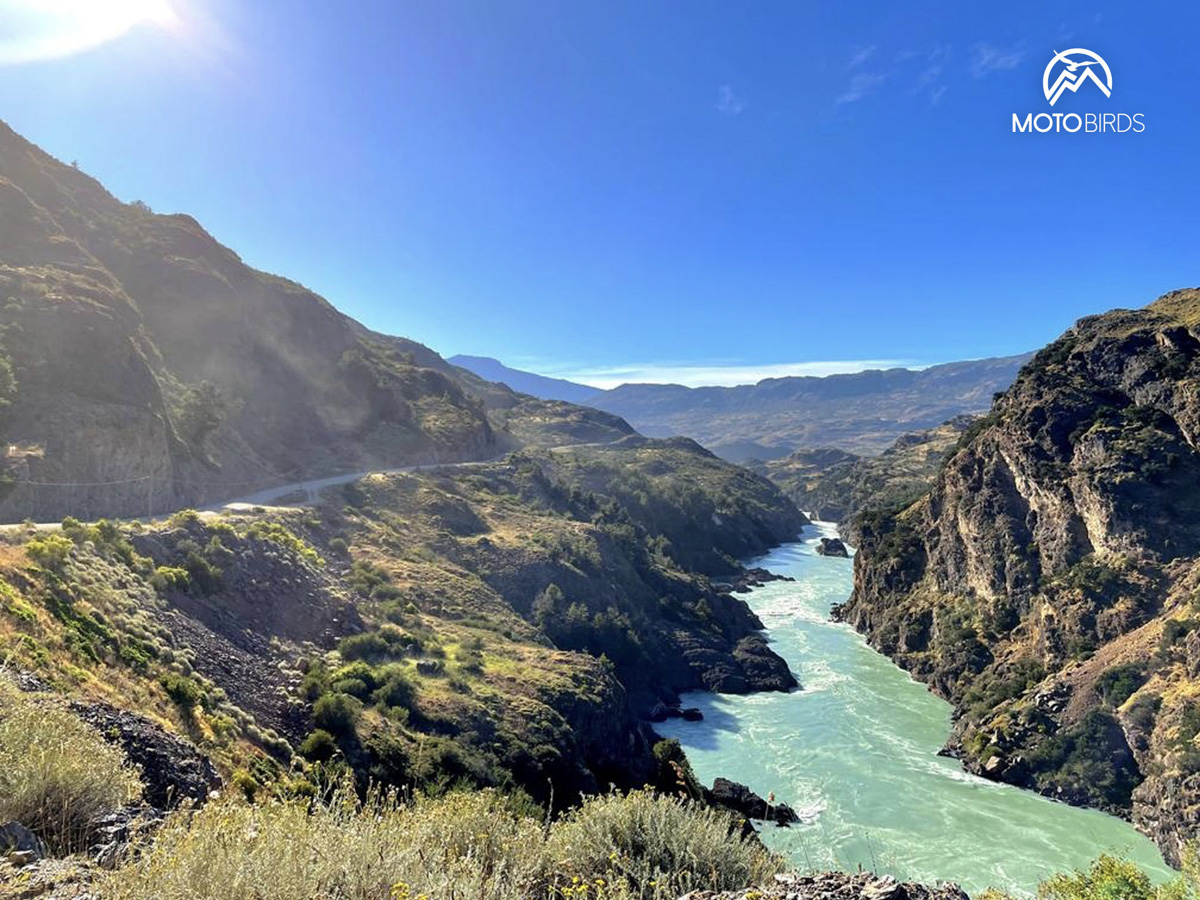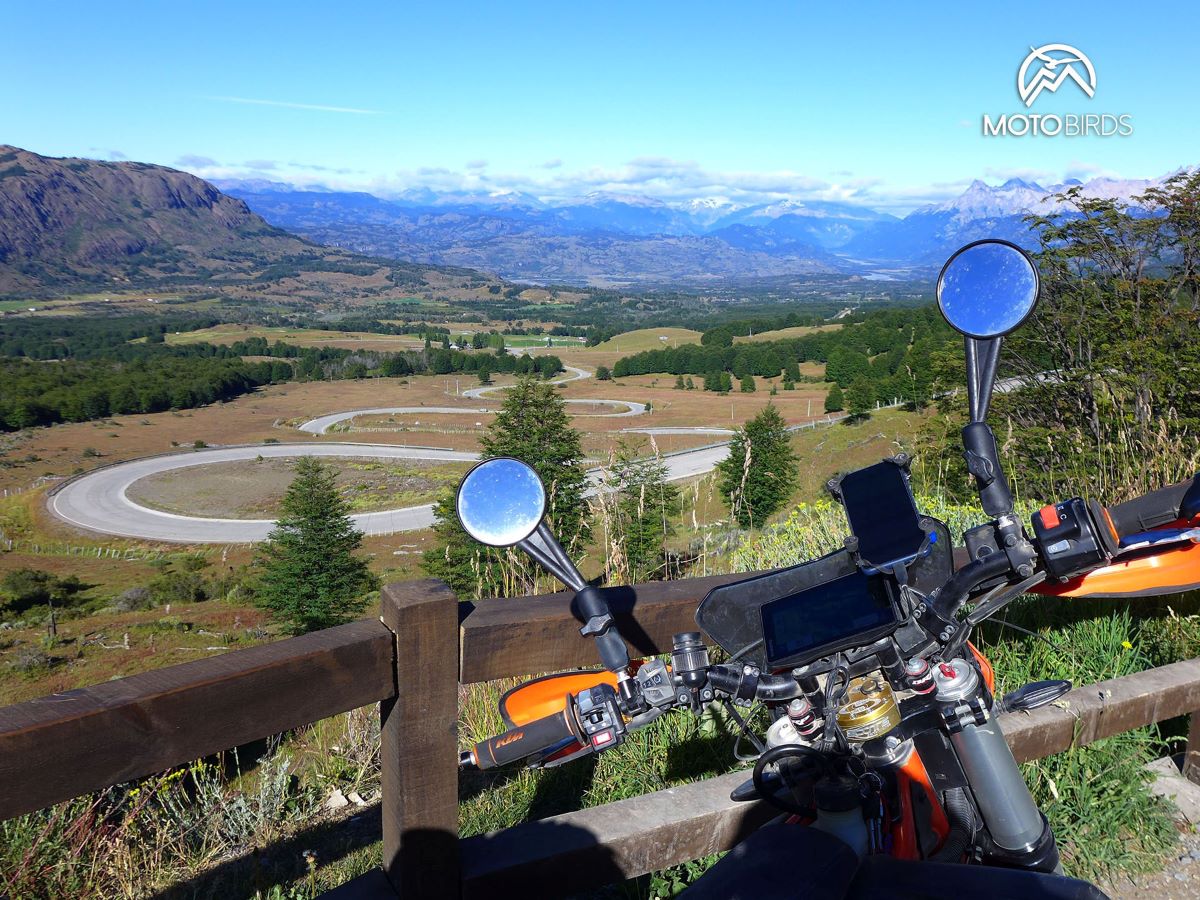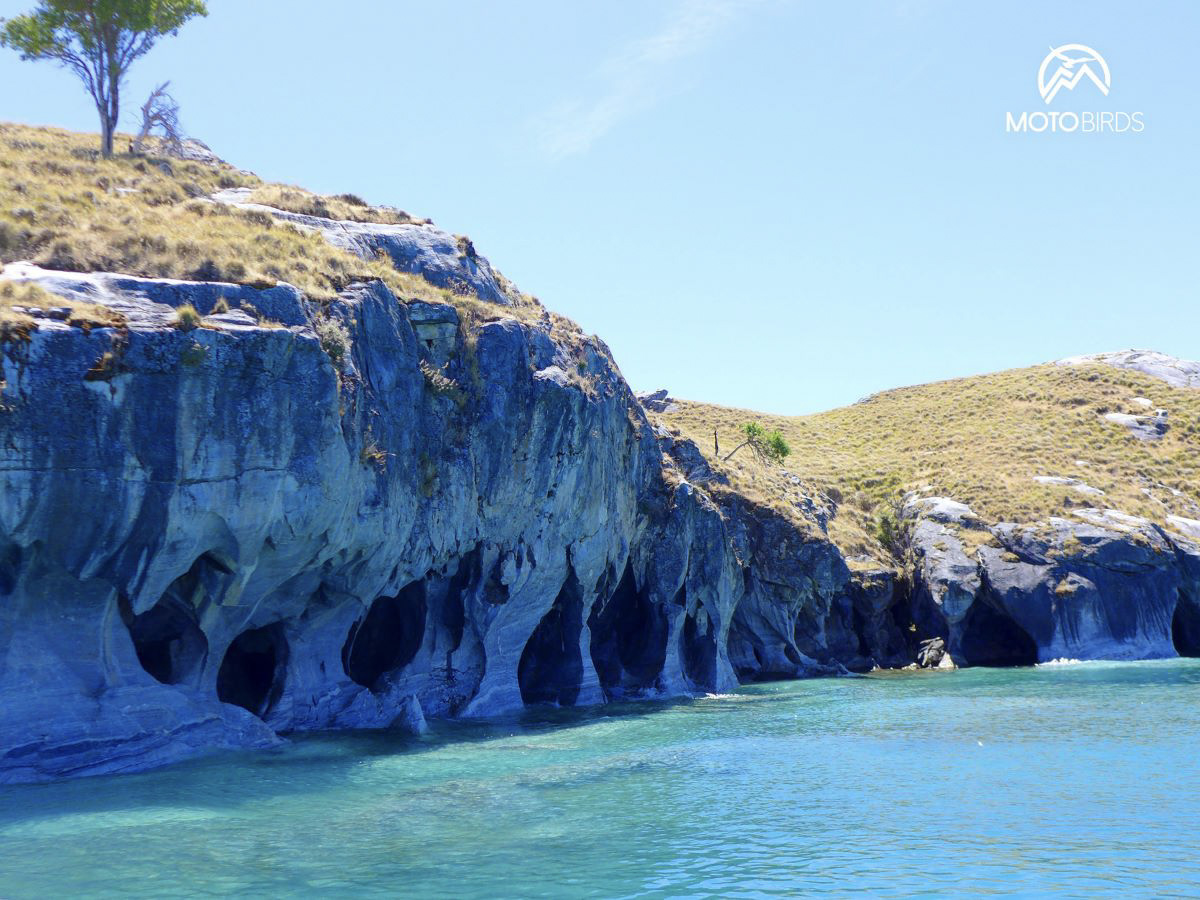 ARGENTINA: PATAGONIA AND RUTA 40
Another one of our favorites for motorcycle touring in South America, Argentina is a motorcycling El Dorado. From the hot, arid plains of the North to the high Andean passes, the glacier parks, and the wilderness of Tierra del Fuego in the South, Argentina offers awe-inspiring scenery around every corner. Both on and off-road routes in Argentina are worth exploring, but if you have limited time to ride, stick to Argentina's most famous road – the Ruta 40.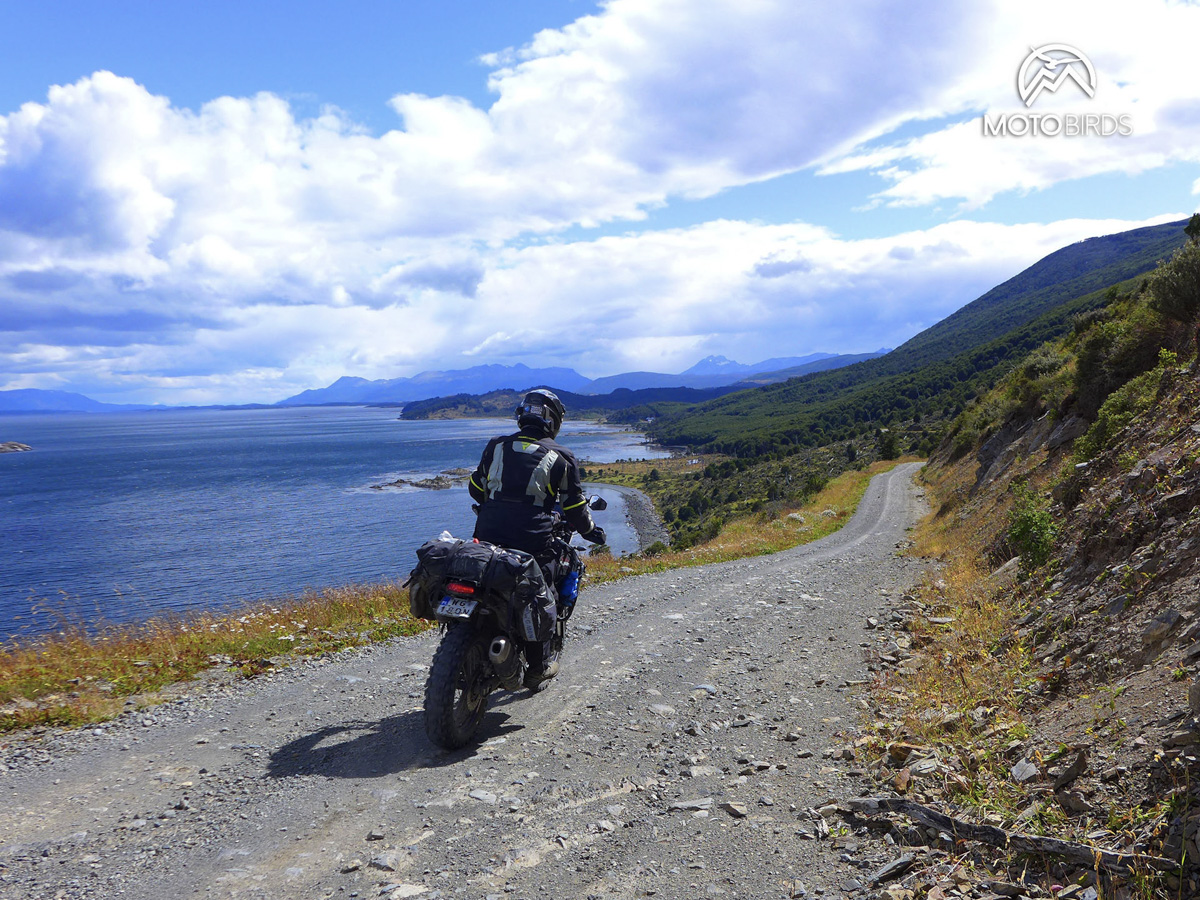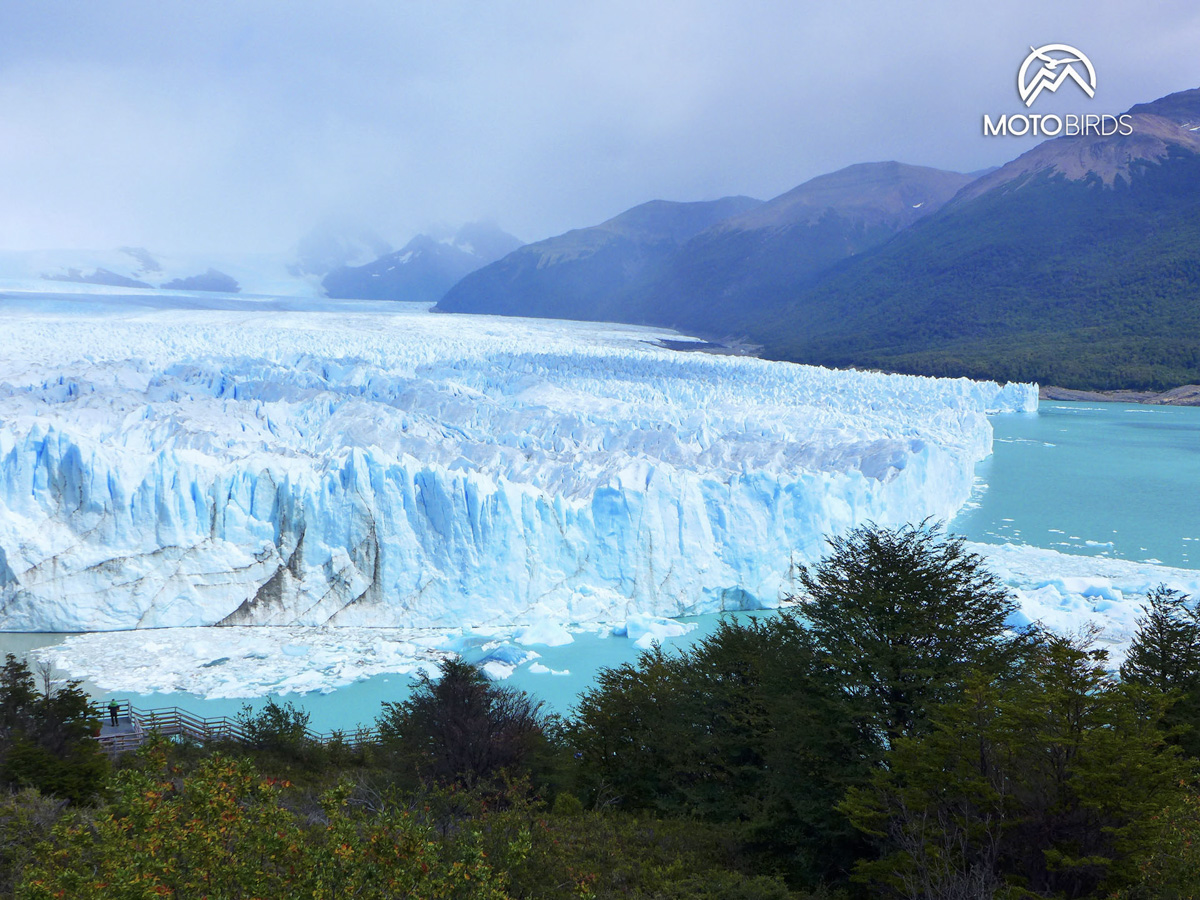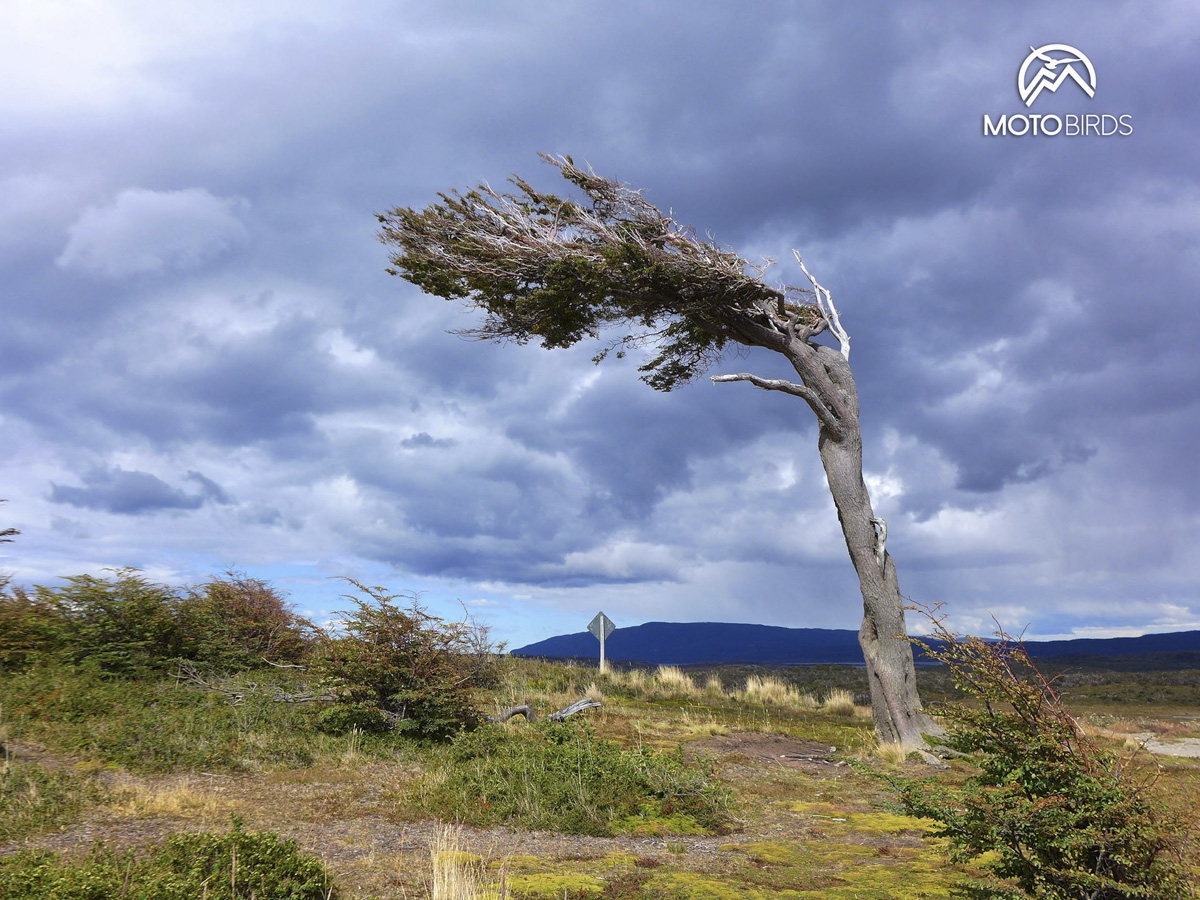 RUTA 40, STRETCH SAN CARLOS DE BARILOCHE – RIO GALLEGOS (AROUND 1450 KM)
This world-famous route covers over 5,000 km running along the entire length of Argentina. Beginning in the Salta province and ending in Rio Gallegos, Patagonia, Ruta 40 has long become a rite of passage for adventure motorcyclists touring in South America. This route crosses 18 rivers and 21 national parks, and connects 27 mountain passes and climbs.
If you can't do the entire length of Ruta 40, the most scenic section of the road is between San Carlos de Bariloche and El Calafate. The Perito Moreno Glacier and the edge of the Torres del Paine National Park are both must-see on the way.  One of our all times favorite pass is Paso Roballos.
From Rio Gallegos, you can ride south and take a ferry to the island of Tierra del Fuego and visit Ushuaia, the southernmost city on planet Earth.