HOW MOTOBIRDS PACKS YOUR MOTORBIKE FOR SHIPPING
Borders are gradually reopening, step by step the entry rules become understandable – finally. We all dream of traveling again with our motorbikes! Getting to your dream destination could very well involve shipping your motorbike. We all love our motorbikes. When we ship your motorbike, you want to find it at destination in the exact same conditions as when you gave it to us. There are few more annoying things than your tent gone missing or finding your bike with a cracked windshield on the day you want to start your dream motorbike trip. At MotoBirds, we ship motorbikes for riders coming to our tours, but as well for independent travelers. You can find details of our shipments and trips at www.motobirds.com
MOTOBIRDS KNOW MOTORBIKE SHIPPING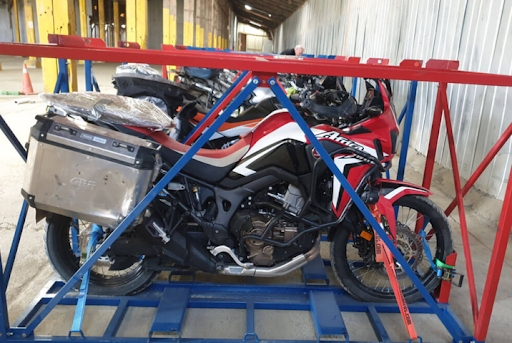 We not only ride bikes for a living, we ship them as well!
From the start, we invested in the right tooling and equipment. But we also worked on the processes. We designed instructions manuals, procedures and process-flows. It does not matter if you cook spaghetti Bolognese or pack a motorbike: getting the same delicious pasta means you must follow a process. The more robust the process, the more predictable the desired outcome.
IT'S ALL ABOUT PROCESSES
Leaving the pasta aside, for now, our desired outcome is to deliver your motorbike:
with all the items in our care,
without wasting your time with questions about documents, customs, etc.,
at the price we agreed upon: without surcharges or hidden costs.
In this post, we're going to share with you all the different process steps we follow when we ship your motorbike.
WE RECEIVE YOUR MOTORBIKE
When your bike arrives at our warehouse, we check it carefully. We photograph the equipment from all sides, and we also shoot a short clip with your motorcycle in the lead role. We do this to record its condition and have appropriate documentation. We then have a point of reference in relation to what you will receive "on the other side". Then we complete the motorcycle shipping checklist. In this list, we document its condition, and also note what additional elements you provided with the motorcycle for transport, e.g. panniers, tank-bag, helmet, etc.
The checklist will later be attached to your motorcycle and will "travel" with it. It is important to us and to you that we keep this detailed information: then we know at the destination what was done with the motorcycle, what items were shipped and what the condition of each item was.
Despite all the care we have put into practice, sometimes – though luckily rarely – problems do happen… For example, you discover a scratched seat. We then go back to the checklist and photos to find out if we're responsible for it and if that's how we fix the damage, and we fix the problem right away. Each such incident is a lesson for us and we improve our processes, adapt methods or improve instrumentation.
HOW DO WE PACK YOUR MOTORBIKE
Each "operation" of packing a motorcycle into our special cage or onto the platform is documented on our packing checklist. Thanks to this, we know exactly what has been done with your motorcycle, who has done what and at what stage, etc. The list "travels" with your motorcycle.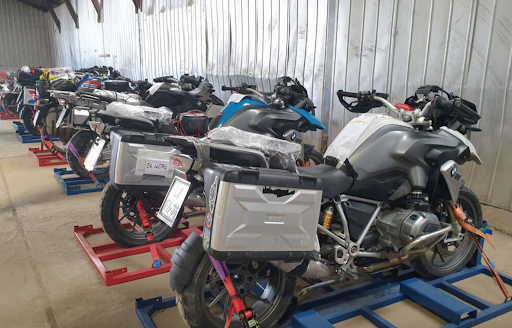 We verify that the battery is disconnected. If not, we disconnect it and protect the loose cable with insulating tape. It's a regulation of course. But your bike will also start at destination.
We remove the windshield & mirrors. If we remove screws or there is any loose hardware, we store all that in a zip-lock bag. We write the registration of your motorbike on this bag to make sure we know what belongs to what motorbike. We of course attach that bag to your motorbike. At destination it's then easy to know what goes where and nothing is lost or misplaced.
We verify that the ignition key is properly attached to your motorbike.
We remove the bags and panniers. If your bike is too wide to fit inside our cage with the panniers.
Your motorbike is rolled onto our platform. We do NOT remove the front wheel. This is a great advantage. There is no risk the ABS wheel or that one of the brake rotors are damaged. We do not mess with the torque of the bolts and screws of your motorbike. This is important for your safety. And of course, it speeds up the packing process.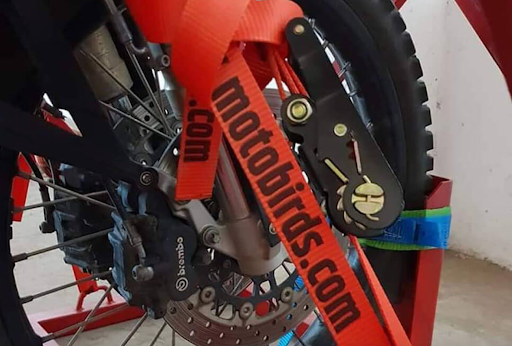 We strap your motorbike from the front fork, to the top of the rear wheel and to the front wheel. We always carefully check that the straps don't interfere with any other part of your motorbike: brake line, cable, fairing, etc.
We bolt a metallic cage around your motorbike. We then verify that there is no contact between any parts of your motorbike and the metal of the cage. If there is a contact point that we cannot remove, we place protective material at that contact point. We want to make sure your motorbike will not be scratched.
We wrap the windshield and mirrors separately. They are attached to a safe and secure location on your motorbike. We of course also write the registration number of your bike on each item.
We wrap separately the bags, panniers, and other items you've handed over to ship with your motorbike. All these things are considered "luggage". The luggage is stored on a dedicated pallet. We place rubber mats between all the bags and panniers. These mats are there to make sure there is no contact between the different luggage pieces. Finally, all the luggage is wrapped together with plastic foil. The foil keeps it all together and also adds a final protection.

We're sometimes surprised by the quantity of luggage some riders want to bring along. Too much luggage is a problem: we can run out of space! 
This is why we ask riders to restrict themselves to 4 items of luggage per motorbike. For example: two panniers, one tank bag, one roll bag. Now, if you absolutely want to ship more stuff along with your motorbike, we'll ship it of course. But just like on a plane, you'll be asked to pay a small fee for each extra luggage piece.
We visually inspect once again that each bike is securely strapped. We also check for any contact points.
The cage that contains the motorbikes are stuffed in our shipping container. The luggage pallet goes in last.
BEFORE YOU COLLECT YOUR MOTORBIKE
At destination, the checklist guides us to put your motorbike back together. We reunite it with your luggage. We also check the tire pressure and start the engine.  
If we discover your bike won't start, we'll let you know right away. Same with low tire pressure – or any other problem we spot.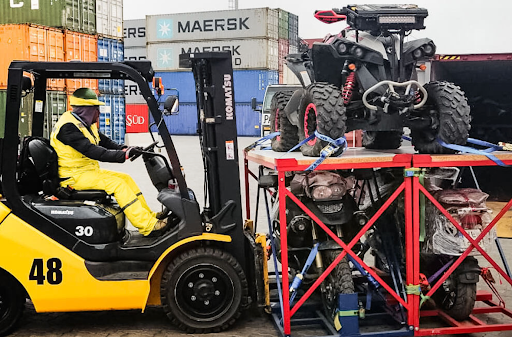 Before you ride away, you have to inspect your motorbike. If there's anything you feel is a problem, this is the time to inform us. It is also your responsibility to make sure your motorbike operates safely: brakes, etc. We never test-ride any motorbike!
You now know, not only how to make delicious spaghetti Bolognese we hope. You also know the MOTOBIRDS recipe to ship motorbikes. We look forward to see you soon, on one of our motorbike tours, or on the road.