PRICE INCLUDES / NOT INCLUDES
OFF-ROAD MOTORCYCLE ADVENTURE: NORTH VIETNAM 14 – 25.04.2024
MOTORCYCLE:
Kawasaki KLX230 or 250. Motorcycle rental is included in the tour price.
TOUR DESCRIPTION:
Northwest Vietnam is absolutely remarkable because of its rugged mountain ranges, green valleys and famous rice terraces, that together provide a unique backdrop for our tour. The mountains can reach up to 3000 m above sea level, and the valleys are extremely steep and deep. This motorcycle ride is especially designed for off-road lovers! But it is not only about riding: rich cultural diversity and many ethnic minorities living in the area enables visitors to experience a totally different Vietnam. This tour is far from the beaten touristic routes but absolutely spectacular!
We will spend part of our journey on single tracks, going in and out of valleys, following rice terraces and rivers. It will be steep and narrow at times, but an absolute thrill! Prior off-road experience and good bike control will help riders make the most of this tour. Expect steep climbs, descents, sometimes mud, rocky passages, technical sections and of course river crossings!
After the tour, there is the option to enjoy a well deserved break: one of the most iconic cruises of Asia aboard a 5 star boat in the famous HaLong Bay. Even for those more into motorcycling than cruising, it is an unforgettable experience and a terrific way to cap off the North Vietnam off-road tour.
START:
14 April 2024 / Hanoi, Vietnam
END:
25 April 2024 / Hanoi, Vietnam
NUMBER OF DAYS AND NIGHTS:
12 days / 11 nights
NUMBER OF RIDING DAYS:
9 riding days
TYPE OF ROADS:
20% paved / 80% gravel
MIN./ MAX. NUMBER OF BIKES:
Min. 6 / Max .12

HIGHLIGHTS:
Nature and landscape
Rice terraces
Cultural minorities & mountain villages
Off the beaten track itinerary and single tracks
Traditional boat / ferry crossing
Hoan Lien Son mountain range
O Ouy Ho Pass
Mai Chau
Hanoi old quarter
Ha Giang
Pho Bang
Ba Be Lake
local Vietnamese cuisine
Optional 5* cruise in Halong Bay

WEATHER:
The weather at this time of year is generally good and sunny – it is the period with the least amount of rainfall during the whole year. It is still not very hot and the temperatures in the mountains. However, be also prepared for the rain. North Vietnam weather can be capricious because of the mountains.

MOTORCYCLE GEAR:
Wearing adequate riding gear is an individual responsibility. We strongly recommend "adventure" type boots or even better, motocross boots for this ride. Bring your own gear.

LUGGAGE:
We will be traveling light. Try not to take more than one 20kg luggage piece. It should be dust & water proof. For riding days take with you a small backpack or waterproof bag, with straps.
Each participant must organize an entry visa for Vietnam, if required. We will provide you with necessary guidelines.
You must have an international driving license.
2500m
meters above seal level
DAY 1: 14.04
Arrival to Hanoi. Transfer to Lao Cai by bus with private cabins, arrival around 22:00 & transfer to hotel.
DAY 2: 15.04 (140km)
Lao Cai – Bac Ha – Xin Man
DAY 3: 16.04 (160km)
Xin Man – Ho Thau
DAY 4: 17.04 (150km)
Ho Thau – Quan Ba
DAY 5: 18.04 (160km)
Quan Ba – Bao Lac
DAY 6: 19.04 (160km)
Bao Lac – Ba Be
DAY 7: 20.04 (200km)
Ba Be – Nui Thung
DAY 8: 21.04 (160km)
Nui Thung – Cao Bang
DAY 9: 22.04 (150km)
Cao bang – Bac Son
DAY 10: 23.04 (160km)
Bac Son – Bai Chay (Halong)
DAY 11: 24.04
Transfer to Hanoi by private minibus or optional luxury cruise in Halong bay.
DAY 12: 25.04
Those that do not go on cruise: fly out
The itinerary may be subject to change due to political or social reasons or weather conditions.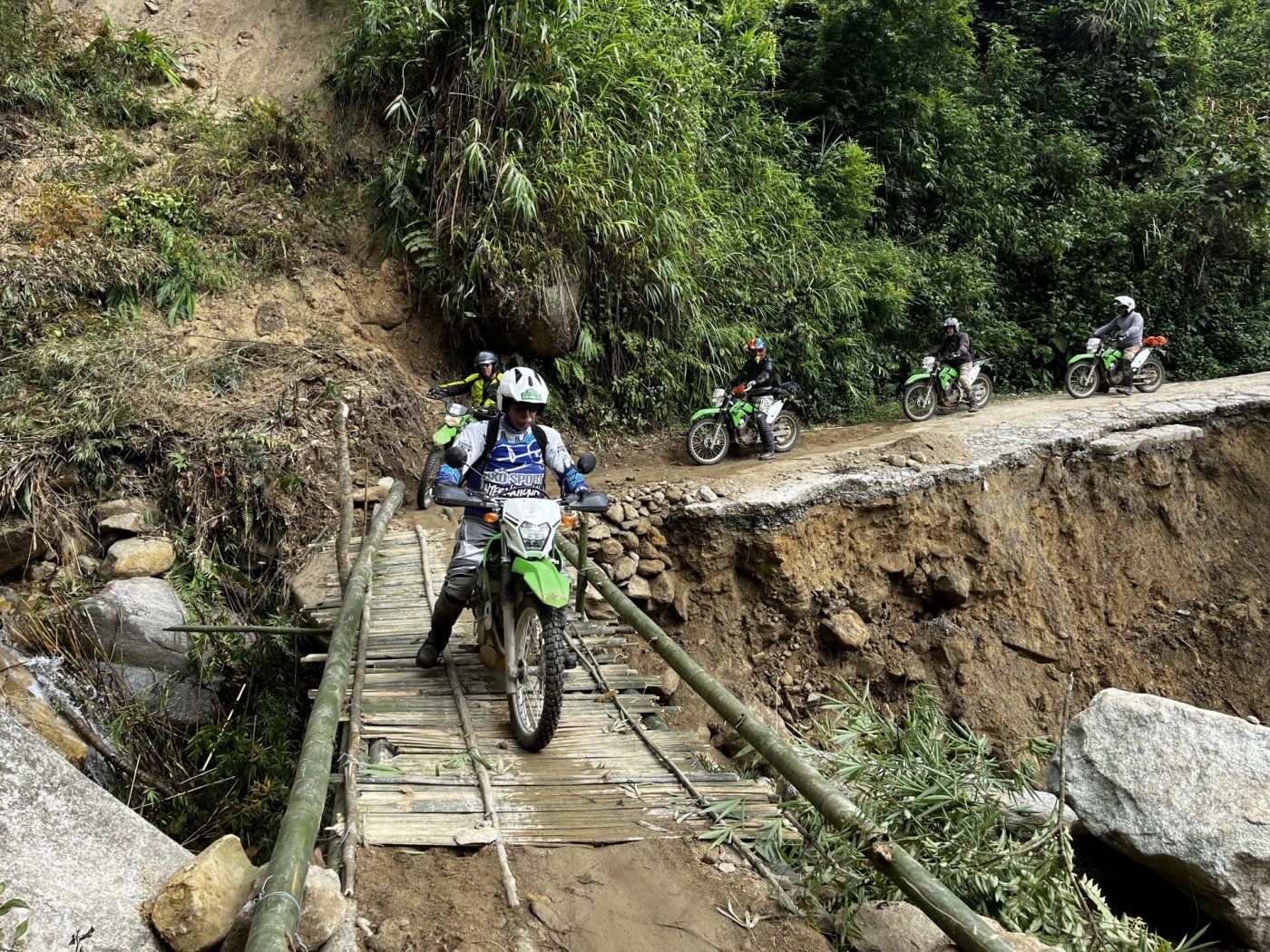 MOTORCYCLE
KLX230 -250 Kawasaki

GUIDE
Assistance of a MotoBirds guide on a motorbike, local guide and a mechanic, both on motorbikes.

SUPPORT CAR
A support car will assist us during the tour. Our luggage will be loaded in the car. The price includes fuel for the support car and driver expenses.

MOTORBIKE MAINTENANCE
Daily maintenance and periodic service are included in the tour price.

ACCOMMODATION & FOOD
Accommodation in 2* and 3* hotels, guesthouses or villas, in double or triple rooms. All meals are included (except lunch and dinner in Hanoi). On request, subject to availability, it is possible to stay in a single room: EUR 550 total (excluding optional cruise).

TRANSPORT TO/FROM THE HOTEL
Airport transfers, transfer from Halong to Hanoi and the transfer from Hanoi to Lao Cai are included in the tour price, provided your arrival date is on the tour program dates. Individual transfer can be organized on different dates, but is not included in the tour price (60 EUR / transfer).

PERMITS
Permit for Ha Giang bordering area.

ACTIVITIES
Rice field landscapes, terraced rice fields, mountains, off-road itinerary designed for adventure lovers, remote china border area.

INSURANCE
Basic travel insurance.
Tourist Guarantee Fund fee.
Tourist Support Fund fee.
IMPORTANT:
Upon request for an additional fee, it is possible to extend the insurance under Allianz Travel or purchase the recommended Global Rescue package. The price of the tour includes only basic travel insurance.

PICTURES & GPX TRACKS FROM THE TOUR
After the tour participants will receive photos of the tour, GPX tracks of the route.

WELCOME PACK
Each Participant will receive a welcome pack, which includes, among other items: MotoBirds stickers, tour stickers, a detailed program, the list of hotels and a tour souvenir.
Airline tickets (tickets should not be bought until the organizer confirms the completion of the minimum group size).
Tourist entry visa, if required ($40).
Covid tests and / or vaccinations, if required.
Medical expenses not covered by standard MotoBirds insurance.
Costs related to the transport of a participant to the nearest medical center, in case of injury, illness, inability or unwillingness to continue the tour.
Costs related to the transport of the participant's motorcycle to the finish point of the tour, in case the motorcycle or the participant cannot continue the tour due to the fault of the participant.
Additional, recommended Global Rescue coverage.
Motorcycle fuel (200 EUR to be paid at the start of tour).
Motorcycle refundable security deposit OR non-refundable damage waiver.
Lunches and dinners in Hanoi.
Drinks.
Tips.
Entrance tickets to optional tourist attractions: optional 1 nights, 2 days HaLong Bay cruise on the 5* ship and group transfer from HaLong Bay to Hanoi, and to the airport: 450 EUR / person, in twin or double room or 550 EUR in single room.
Local SIM card (20 EUR) upon request.
DEPOSIT FOR THE MOTORCYCLE:
$500 refundable security deposit. Cash payment on site. If the damage to the motorcycle exceeds the amount of the deposit, the driver must pay the difference.
OR
$180 non-refundable damage waiver covering all damages to the motorcycle, including total loss.