PRICE INCLUDES / NOT INCLUDES
FALL IN LOVE WITH VIETNAM – WOMEN ONLY 14 – 24.04.2024
CAR PASSENGER PRICE: 3000 €
MOTORCYCLE:
Kawasaki KLX150. Motorcycle rental is included in the tour price. KLX230 (EUR150 supplement) or Versys 300 (EUR200 supplement) are possible. Contact us to confirm availability.
TOUR DESCRIPTION:
This beautiful motorcycle tour especially prepared for ladies is also accessible to newer riders! This 10 day tour will bring you close to the real Vietnam, which charmed us so much. The tour is made special by lush vegetation, impressive landscapes, winding mountain roads, very comfortable hotels and the visit of historical sites.
We will start our Vietnamese adventure in Hanoi, in a comfortable hotel located in the heart of the old quarter. Also the clothing shopping heaven!  We'll then head towards the incredible Mai Chau viewpoint. The Nam Son and Phmng Nah caves with their giant stalactites are next. It is the largest cave system in the world! The Doong, the Phong Nha Dark Cave and the Paradise Cave can also be visited! We'll certainly make a stop to see the ancient water wheels, originally created by ethnic Thai people, but still in use today to irrigate the rice fields. Back to motorcycling, we'll have a chance to test our cornering skills too, along beautiful mountain roads surrounded by jungle. We'll then slowly make our way South towards the jewel of central Vietnam: Hue and Hoi An. The Vinh Moc Tunnel complex will take you back to the Vietnam war era. After riding in the jungle of the A Shau valley, seeing the mountains and the tunnels, one wonders what led Americans to think they could win. One of the last stops will be Hue, famous for the Vietnamese emperors' tombs. We end our motorcycle journey in Hoi An (Unesco site), known for its unique french colonial touch, but also for the gorgeous A Bang beach!
Traveling through different regions of the country we will also have a chance to try different types of Vietnamese cuisine – no comparison with the fast-food joints back home! Those who think Vietnamese food is essentially Pho soup and spring rolls are in for a pleasant surprise! Vietnam food is varied, always fresh and delicious.
If you want to see Vietnam at a pace which allows you to visit and also take in the moment: feel, taste and experience. If you want a tour that goes beyond just riding but has also relaxing moments just for you in some of the best hotels. A motorcycle adventure during which you feel you reconnect with yourself and have the chance to bond with other like-minded female riders. If you want all this mixed with some beautiful motorcycling moments along scenic routes, this tour is for you: Join us!
Those who wish could extend their stay with a 5-star cruise (1 night/2 days) in the world-famous Ha Long bay.
We chose the KLX150 for this tour: it is light and predictable, has low seat height and has enough power to make it enjoyable on Vietnamese roads.
START:
14 April 2024 / Hanoi, Vietnam
END:
24 April 2024 / Da Nang, Vietnam
NUMBER OF DAYS AND NIGHTS:
11 days / 10 nights
NUMBER OF RIDING DAYS:
8 riding days
TOUR TYPE:
Lux, Women-Only
TYPE OF ROADS:
90% asphalt / 10% gravel
MIN./ MAX. NUMBER OF BIKES:
Min. 6 / Max .12
CAR PASSENGER PRICE: 3000 €

HIGHLIGHTS:
Beautiful landscapes
Off the beaten track tour
Hoi An – UNESCO site
Hue
Hanoi
Mai Chau
Ninh Binh
Ke Bang caves
Terrace Rice fields
Vinh Moc Tunnel
Local Vietnamese cuisine
Ethnic populations
Superior hotels & lodges

WEATHER:
The weather at this time of year is generally good and sunny – it is the period with the least amount of rainfall during the whole year. It can be very hot, especially in the central part of the country. Be also prepared for a few rainfalls. Vietnam has three distinct climatic areas.

MOTORCYCLE GEAR:
Wearing adequate riding gear is an individual responsibility. We strongly recommend "adventure" type boots for this ride. Bring your own gear.

LUGGAGE:
We will be traveling light. Try not to take more than one 20kg luggage piece. It should be dust & water proof. For riding days take with you a small backpack or waterproof bag, to strap it to your motorbike.
Each participant must organize an entry visa for Vietnam, if required. We will provide you with necessary guidelines.
You need an international driving license.
1200 m
meters above seal level
DAY 1 (14.04)
ARRIVE IN HANOI. OVERNIGHT IN OLD QUARTER.
DAY 2 (15.04 / 170 KM)
HANOI – MAI CHAU
DAY 3 (16.04 / 130 KM)
MAI CHAU – PU LUONG
DAY 4 (17.04 / 170 KM)
PU LUONG – NINH BINH
DAY 5 (18.04 / 230 KM)
NINH BINH – VINH
DAY 6 (19.04 / 200 KM)
VINH – PHONG NAH
DAY 7 (20.04 / 0 KM)
PHONG NAH: REST AND KE BANG CAVES EXPLORATION DAY
DAY 8 (21.04 / 200 KM)
PHONG NAH – KEH SAN
DAY 9 (22.04 / 200 KM)
KEH SAN – HUE
DAY 10 (23.04 / 150 KM)
HUE – HOI AN
DAY 11 (24.04)
TRANSFER TO DA NANG AIRPORT & FLY OUT OR OPTIONAL CRUISE IN HALONG BAY.
THE ITINERARY MAY BE SUBJECT TO CHANGE DUE TO POLITICAL, SOCIAL REASONS, OR WEATHER CONDITIONS.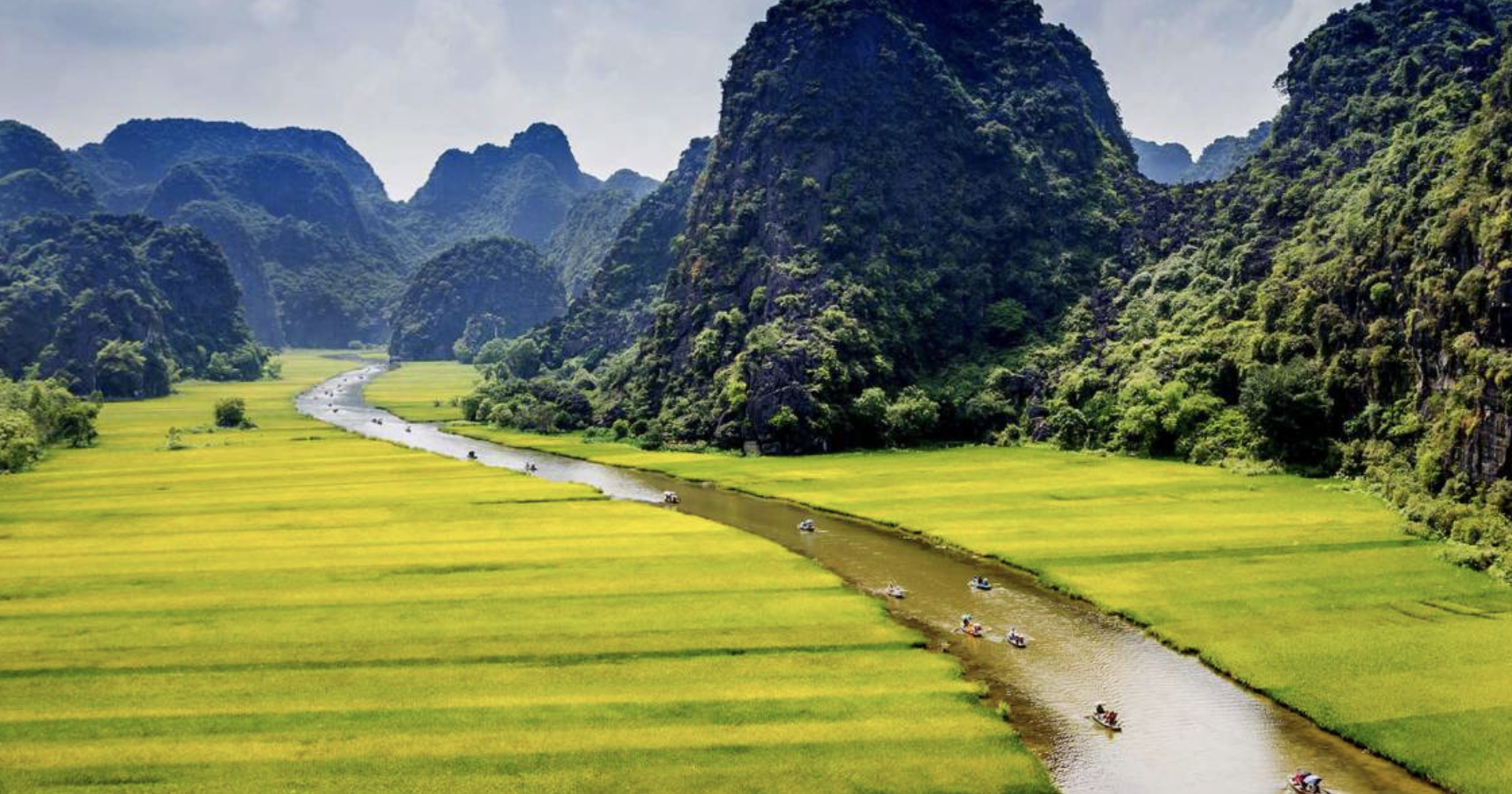 MOTORCYCLE
Kawasaki KLX150. Motorcycle rental is included in the tour price. KLX230 (EUR150 supplement) or Versys 300 (EUR200 supplement) are possible. Contact us to confirm availability.

4X4 CAR
Participants choosing the car option will travel in 4x4 car with a driver.

GUIDE
Assistance of a MotoBirds guide and local guide.

SUPPORT CAR
A support car will assist us during the tour. Our luggage will be loaded in the car. The price includes fuel for the support car and driver expenses.A mechanic will also assist the group.

MOTORBIKE MAINTENANCE
Mechanic support, daily maintenance and periodic service are included in the tour price.

ACCOMMODATION & FOOD
Accommodation in superior category hotels and lodges, in twin rooms. Breakfast is included in the price. Upon request, subject to availability, it is possible to organize a single room - against an additional fee of EUR70/night.

TRANSPORT TO/FROM THE HOTEL
Group airport transfers are included in the tour price, provided your arrival date is on the tour program dates. Individual transfer can be organized on different dates, but is not included in the tour price.

INSURANCE
Basic travel insurance.
Tourist Guarantee Fund fee.
Tourist Support Fund fee.
IMPORTANT:
Upon request for an additional fee, it is possible to extend the insurance under Allianz Travel or purchase the recommended Global Rescue package. The price of the tour includes only basic travel insurance.

PICTURES & GPX TRACKS FROM THE TOUR
After the tour participants will receive photos of the tour, GPX tracks of the route.

WELCOME PACK
Each Participant will receive a welcome pack, which includes, among other items: MotoBirds stickers, tour stickers, a detailed program, the list of hotels and a tour souvenir.
Airplane tickets to Hanoi and from Da Nang (please don't buy the plane tickets until the minimum number of participants joining the tour is confirmed).

Lunches & dinners in Hanoi

Motorcycle fuel (EUR200/person to be paid at the start of the tour)

Items or activities not in the "Price includes" section.

Visa ($40).

Tests and / or vaccinations, if required.

Medical expenses not covered by MotoBirds insurance.

Global Rescue medevac coverage. Contact us to subscribe.

Drinks

Tips

Motorcycle refundable security deposit or damage waiver coverage for the motorbike.

Optional visit in the Ke Bang caves on the day of in Phong Nha – Tien Cave ($100).

Local SIM card with 5GB/day, valid for 14 days (EUR20)
Optional Ha Long luxury cruise at the end of the tour: EUR550/person in double cabin or EUR650 in single cabin. This includes all transfers to/from Hanoi in a comfortable private transport.
Security deposit for the motorbike or non-refundable damage waiver, as per client choice.
$500 Refundable security deposit
OR
$180 Non-refundable damage waiver covering all damages, including total loss.
To be paid in cash on the first day of the tour in Vietnam