The years of our activity mean thousands of wonderful meetings and hundreds of satisfied customers. On this page you will find opinions about our activities.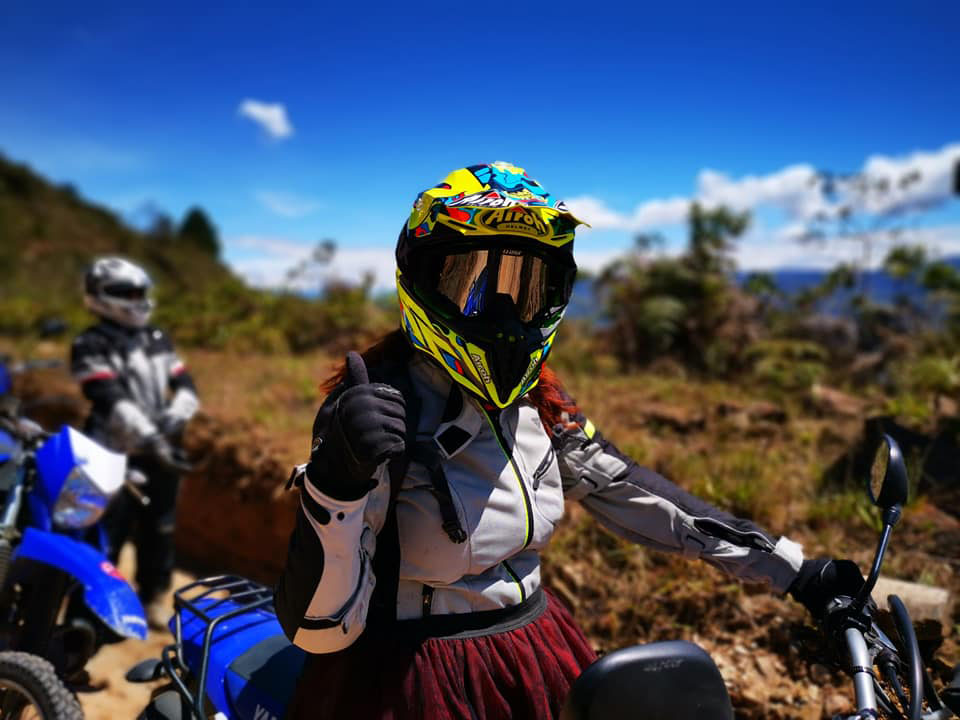 INFORMATION YOU CAN FIND ON THIS PAGE
click the link to scroll down to the section
MOTOBIRDS
TYLKO DLA ORLIC
Francesco Pascolini
27.01.2020
Appena rientrato dal viaggio in Patagonia . Un viaggio, IL VIAGGIO, che si è rivelato impegnativo per uomini e mezzi. Ma grazie alla ottima organizzazione e alla professionalità di Aleksandra e Guy si è superato ogni difficoltà e si è potuto apprezzare ogni scorcio che questo tour ha riservato ai suoi partecipanti. Pur avendo utilizzato una moto (debitamente aggiornata) di quasi quarant'anni di età ho respirato a pieno le emozioni che sono derivate dai panorami mozzafiato che questa terra riserva ai suoi visitatori. Questo è derivato anche dalla serenità di aver una organizzazione alle spalle che si è sempre resa disponibile nelle situazioni più difficili e nei passaggi più complicati, grazie alla grande esperienza dei suoi responsabili e di tutto lo staff sempre a nostra disposizione.
(Właśnie wróciłem z podróży do Patagonii. Podróż, PODRÓŻ, która okazała się wyzwaniem dla ludzi i środków. Ale dzięki doskonałej organizacji i profesjonalizmowi Aleksandry i Guya pokonaliśmy każdą trudność i można było docenić każdy widok, który ta wycieczka zarezerwowała dla jej uczestników. Mimo, że korzystałem z prawie czterdziestoletniego (należycie zaktualizowanego) motocykla, odetchnąłem w pełni emocjami, jakie płynęły z zapierających dech w piersiach widoków, jakie ta kraina rezerwuje dla swoich gości. Wynika to również ze spokoju posiadania za sobą organizacji, która zawsze stawała się dostępna w najtrudniejszych sytuacjach i najbardziej skomplikowanych fragmentach, dzięki dużemu doświadczeniu jej menadżerów i całego personelu, który jest zawsze do naszej dyspozycji.)
Riccardo Caruso
31.07.2019
Ho partecipato a viaggi organizzati da Moto Birds in diverse occasioni. Ottima organizzazione, percorsi preparati con cura, un'azienda professionale. Lo consiglio vivamente! 
Parokrotnie brałem udział w wyjazdach organizowanych przez firmę Moto Birds. Świetna organizacja, przygotowane trasy, profesjonalna firma. Bardzo polecam!
Grzegorz Matusik
11.04.2019
Gorąco polecam. Miałem przyjemność być na takiej wyprawie z Aleksandra Trzaskowska. Doskonała organizacja, świetnie dobrana trasa i atrakcje, super koleżanka w podróży
Jackie Parker
23.09.2019 
Motobirds Himalayas 2019 with the terrific company and energy of round the world explorer Kinga "on her bike " Tanajewska. Extremely well planned trip of a lifetime. Aleksandras "ola" knowledge and experience got us under the skin and into the heart of this incredible region. When trips run this smoothly they have been very well researched and planned. Great "mind,body and bike " support crew, the wonderful Dr Mat and his engineers – sounds like a band!- never far away. Embrace this journey as someone who lives there and you will be well rewarded with everything a Himalayas adventure ride has to give. I rode a once in a lifetime experience with incredible new friends, made life long memories. I saw things that photos just can not show but here's some to show the spirit of our adventures ,not all mine. Thanks for all the photo sharing. Thank you Ola. I can not wait for the next time I get to put on a Motobirds T and ride with you.
Justyna Szczygielska
17.04.2019
No to od początku…
Cudowna organizacja, elastyczna, dopasowana do zmieniającej się rzeczywistości…
Umiejętność odczytywania pragnień i zachcianek uczestników….
Bezpiecznie…
Bez nadęcia… okresowo luksusowo…
Idealnie…
Polecam….
Czekam na Sri Lankę…
Renata Carusco
17.03.2019
Bylam dwa razy na wyjazdach organizowanych przez Aleksandre Trzaskowska.Bardzo profesjonalnie i dokladnie przygotowane trasy i wszystko dopiete na ostatni guzik.Bardzo polecam!!!! Ja napewno jeszcze skorzystam.
SHIPPING REVIEWS
MOTOBIRDS
---
Riccardo Dezulian
14.05.2020
Hi MOTOBIRDS! I picked up my motorbike one week ago, in Trento (Italy) after a long trip across Chile, Argentina and Bolivia. I've used Motobirds services only for the bike transport from Italy to Chile and back; and not for the group ride across South America (I've drived indipendently, with a friend of mine, with two bikes, deciding the route on our own). The transport service has been perfect! And the price is good, in comparison with other agencies offering a similar service. The bike has been handled carefully and has not suffered any demage. The most important note I want to point out is the bureaucracy aspect: Motobirds takes care of all the customs procedures and the customer has only to sign some papers. This is a huge aid for the traveler (the biker). Thank you MOTOBIRS!! Bye, Riccardo.
Kosmita Andrzej
10.04.2020
Bardzo serdecznie polecam, najlepszy transport quadów!!
Martin Špirko
3.04.2020
Ďakujem za bezpečný transport moto zo Slovenska do Južnej Ameriky a späť. Skvelá spolupráca!
(Dziękujemy za bezpieczny transport moto ze Słowacji do Ameryki Południowej i z powrotem. Świetna współpraca! )
Matteo Finocchi
27.01.2020
Ottimo,professionali e attenti ad ogni particolare,siamo molto contenti di aver spedito la nostra moto con loro!
(Znakomici, profesjonalni i dbający o każdy szczegół, jesteśmy bardzo szczęśliwi, że wysłaliśmy z nimi nasz motocykl!)
Eglė Gerulaitytė
29.04.2019 
I have recently shipped my bike from South America to Europe, and MotoBirds took care of absolutely everything. All I had to do was show up, hand the bike over, and wait for it to arrive in Europe – MotoBirds dealt with everything from prepping and packing the bike to customs and port paperwork on both Chilean and EU sides. Everything was done extremely efficiently and on time, and when I came to pick my bike up in Warsaw, all it needed was a little bit of chain oil – it started immediately and I could simply ride off. I can't recommend MotoBirds enough – thank you so much for making international motorcycle shipping easy.
Ireneusz Frackowiak
1.04.2019 
Pełen profesjonalizm!!! Polecam wszystkim miłośnikom motocyklowych podróży
Raymond Feraud
1.02.2019 
Merci Motobirds, merci à toute l'équipe ! Un service de qualité, fiable et économiquement raisonnable. J'ai déposé ma moto à Valparaiso le 11 février dans l'entrepôt de Sititrans, le 3 mai elle était livrée à mon domicile, à l'heure précise que m'avait communiquée Motobirds, clés sur le contact, valises ouvertes, comme au départ. Tout y était, la moto dans l'état dans lequel je l'avais laissée trois mois plus tôt. Bravo Motobirds, pour mon prochain voyage je compte sur vous !!
Piero Bertazzoli
22.04.2020
Ditta molto seria che cura molto i dettagli della spedizione. finalmente la moto è arrivata sana e salva.grazie Aleksandra, Agata, MotoBirds. sicuramente quando dovrò spedire lì farò con voi. ciao.
(Bardzo poważna firma dbająca o szczegóły wyprawy. W końcu motocykl dotarł bezpiecznie. Dzięki Aleksandra, Agata, MotoBirds. Zdecydowanie jak będę musiał znów wysłać to zrobię to z Tobą. Do zobaczenia.)
Benedict Stalder
7.04.2020
Our bikes are back from Chile ! Thank you Motobirds Aleksandra, Guy, Agata for your fantastic service. We appreciated the professionalism, the precision, the knowledge in shipping and motorcycling in the countries you are shipping to. We appreciated your care and how you handled our requests. You are the best !
Simone Vallieri
17.02.2020
Hello Motobirds, I have just returned from Chile and I want to thank you and congratulate you for the transport service of my motorbike from Europe. Everything was perfect: punctuality, always prompt and fast communication, quick and smooth customs clearance. I don't know when and where my next trip will be, but we will surely hear again. Thank you!
Marcin Suchoń
1.01.2019
Korzystałem z kumplami z transportu do Ameryki Południowej. Wszystko przebiegło sprawnie i terminowo. Ola to osoba w pełni profesjonalna i chętna do pomocy, więc wpłaca przebiegła wzorowo. Korzystaliśmy tylko z transportu, mimo to dostaliśmy sporo cennych rad, dotyczących, różnych ciekawych miejsc i tras motocyklowych. Polecam.
George Thoms
19.04.2019
I shipped my bike twice to South America and each time Aleksandra proved to be very professional and reliable. Excellent service, friendly staff and on time delivery. I definetly recommand MotoBirds!
Anna Zk
9.03.2019
MotoBirds to wspaniała obsługa od początku do końca. Motocykl dotarł do celu w ustalonym terminie i co bardzo mi się podobało to ciągły kontakt i informacje, gdzie jest statek itd. Taka komunikacja sprawia, że nie musisz się zastanawiać co się dzieje z Twoim motocyklem i wiesz, że jest w dobrych rękach. Polecam jak najbardziej 
Guy Letens
1.07.2018 
I shipped my bike with Motobirds and saw first-hand how they pack the bikes. First, all the bikes are photographed to document the condition they arrived in the warehouse. If there are any questions, they call the owner immediately to clarify things. Then, they are put into metal cages. This is done by Motobirds staff who know the bikes, not warehouse people which might not be familiar with motorbikes. What I especially liked is that they never dismantle the front wheel: therefore there are no chances of damaging any of the sensors or disks in the front during packing. The bikes are strapped around the wheels and there are no chances the bikes will be damaged or scuffed in transport. The extra luggage pieces which might not fit inside the cage was all wrapped individually and stored separately before being wrapped again. So overall, a very good experience. Clearly, they care about details, know how to ship bikes & make sure the bikes are treated with a lot of care. They are truly passionate about what they do.
INDIVIDUAL SHIPPING REVIEWS
MOTOBIRDS
---
Ozan Tuğcu
03.2021
I was looking for a company to transport my motorbike from Krakow to Ostrołęka and I found them. They are very professional and helpful, language is not a problem, they update you every step of the way and overall, the transport happened smoothly.
Alessio Paesano Vittozzi
13.10.2020
My experiences with MotoBirds were quite nice, they provide a great customer service, and are always up to their task. Polecam 
Lauri-Beth Egerton
18.07.2020
Moto Birds were life savers for us! After riding over 43,000 miles across The Americas, our rear shock snapped on the border between Chile and Argentina in Tierra Del Fuego. Moto Birds had put on an extra shipping container from Chile to Poland, and emailed us about it with a great price. We had to leave due to coronavirus but Moto Birds managed to move our immobile bike from Punta Arenas to Santiago to ensure it could get home. We were given the details to track the bike when it was on the containership, and Moto Birds kept us updated with progress. In Poland customs asked for another piece of documentation we hadn't provided, and Agata helped me through finding it and fixed the problem. The bike was then delivered from Poland to the UK where it arrived exactly how we had left it, including all our bags. They are a friendly team, always there for guidance and information. And the price was unbeatable for us! Thank you again, we are so glad to have our bike home and it wouldn't have been possible without Moto Birds.
women only tours reviews
TYLKO DLA ORLIC
---
Lina Cha Leila
17.11.2019
Ir was the best what I ever had, seen and feel!!! Looking forward to join Moto Birds again and again .
Ewa Szymczak
20.11.2018  
Można wiele powiedzieć na temat MOTO BIRDS ale jedno jest najważniejsze, PASJA z jaką Aleksandra Trzaskowska podchodzi do organizowanych przez siebie wypraw. Z zaangażowaniem i poświęceniem przygotowuje każdy wyjazd dlatego zasługuje najwyższą ocenę. Ja bynajmniej cenię Moto Birds za piękne przeżycia, za wspaniałe koleżanki i kolegów, za wspomnienia i przygody, za pot, siniaki i łzy oraz za niezliczone chwile radości i uśmiechu. Jeżeli kiedykolwiek myślałaś o wspaniałej przygodzie i pasjonujesz się motocyklami to dołącz do Orlicowego Teamu 
Anna Turguła
7.01.2019 
Byłam juz kilka razy z MotoBirds na wyjeździe. Polecam wszystkim niezdecydowanym, wyjazdy zorganizowane są profesjonalnie, każdy znajdzie coś dla siebie. Żadnych spinek ,pełne zrozumienie ze strony uczestników i organizatorki. Gwarancja pełnego chilautu. Ja już w swój kalendarz wpisuje kolejne wyprawy z Olą i resztą Orlic. Zapraszam do grupy odjazdowych dziewczyn.
WOMEN ONLY TRAININGS REVIEWS
TYLKO DLA ORLIC
---
Sylwia Barto
16.11.2020
Jazda motocyklem to fantastyczna przygoda, ale trzeba zadbać o to by każda wyprawa poza asfalt zakończyła się nie tylko fantastycznymi wspomnieniami, oraz ładnymi ujęciami w postaci pamiątkowych zdjęć. Najważniejsze jest nasze bezpieczeństwo i nasze umiejętności, które zapewnią nam komfortową i bezpieczną jazdę. Takie umiejętności możemy nabyć pod czujnym okiem Aleksandry Trzaskowskiej z Moto Birds, indywidualne podejście w przyjaznej atmosferze powoduje,ze chce się więcej. Dziękuję Ola za motywację
Agnieszka Radzymińska
19.08.2020 
Dziewuchy/ Chłopaki, jeśli macie jakiekolwiek wątpliwości, walcie na szkolenia organizowane przez Aleksandra Trzaskowska jak w dym. Przygotowanie merytoryczne i metodyczne na najwyższym poziomie. Że o organizacji już nawet nie wspomnę, bo wsio zapięte na ostatni guzik. Świetne tereny do jazdy. Pełen profesjonalizm. Nie żałuję ani jednej złotówki tam wydanej. I chętnie uzbieram i wydam jeszcze. Ola, "Maleńka jesteś Wielka", jak mawiał Cezary Żak.
Jolanta Łuszczyńska
23.05.2020
I Orlicowy trening i rajd adventure – to moja pierwsza impreza z MotoBirds. Wydarzenia tworzą ludzie a Ci, których miałam okazje poznać to, prawdziwi profesjonaliści. Aleksandra Trzaskowska – mistrzyni logistyki – najpierw zorganizowała szkolenie enduro ze świetnymi trenerami a potem tak poprowadziła rajd, aby wszystko można było przetrenować w trasie. Zadbała o cudne szutry, piach, urokliwe leśne i polne dukty Warmii, nawet o dobrą pogodę a to wszystko w bardzo przyjaznej atmosferze pełnych energii Orlic. Polecam wszystkim niezdecydowanym i do zobaczenia
Beata Dutkiewicz
19.08.2020
Bardzo bardzo bardzo na tak. Ola ma dużo cierpliwości, sporo wiedzy i co mnie urzekło: masę samozaparcia, którym zaraża innych. Zagrzewa do podjęcia wyzwania, ale nie naciska. Wszystko wywarzone i bardzo pro. Dzięki za towarzystwo przy pierwszych próbach i do zobaczenia!
Anna Gawlik
17.08.2020
Parę dni temu miałam ogromną przyjemność dołączyć do szkolenia organizowanego przez Aleksandra Trzaskowska i jej Moto Birds Z jeszcze większą przyjemnością chciałam napisać słów parę i nieco się podzielić. Bo warto bardzo. Profesjonalizm. To słowo, kiedy poczytacie pozostałe recenzje, przewija się bardzo często. I nie bez kozery! Dodam jeszcze, że to profesjonalizm w każdym calu i na każdej płaszczyźnie. Ci co mnie znają, wiedzą, że dość ostrożnie podchodzę do nowości, do ludzi, których nie znam, a którym w jakiś sposób mam zaufać. Zwłaszcza powierzyć siebie i swój motocykl. Wiem… wiem … motocykle to szaleństwo, zabawa, spontan, szybkość… itp itd. I wszystko się zgadza, tylko u mnie najpierw musi pojawić się poczucie bezpieczeństwa, a potem dopiero zaczyna się powolny proces zdobywania umiejętności, na które na prawdę jestem oporna. Ola… już od pierwszych chwil sprawiłaś, że tak właśnie się poczułam. Bezpiecznie. Więc i na szaleństwo potem przyszedł czas Mogłam sobie pozwolić, bo wiedziałam, że gdzieś tam jesteś, podpowiesz w razie czego, zasugerujesz, albo i odradzisz, jeśli jeszcze nie pora Albo jak trzeba to biegniesz obok motocykla, po wodzie … żeby tylko zapewnić, że nic się nie stanie. I taka jest Ola. Opanowana, siła spokoju, szuka rozwiązań, motywuje. W 100% racjonalnie ocenia sytuacje – co akurat dla mnie jest bezcenne. No i przy tym jest czas też na spontan, na zabawę i na ból brzucha ze śmiechu Takie połączenie dla organizatora wcale nie jest łatwe.
Bardzo się cieszę, że poznałam Ola zarówno Ciebie jak i Twoje dziewczyny. Mam nadzieję, że jeszcze nie raz się zobaczymy, ale już te parę dni znalazło się w mojej szufladzie ze wspomnieniami. Takimi co to już zawsze ze mną będą Niektórych rzeczy nie da się odzapomnieć Jeśli ktoś nie ma jeszcze takiej szuflady z motocyklowymi marzeniami, polecam zajrzeć na stronę Oli Coś wymyśli