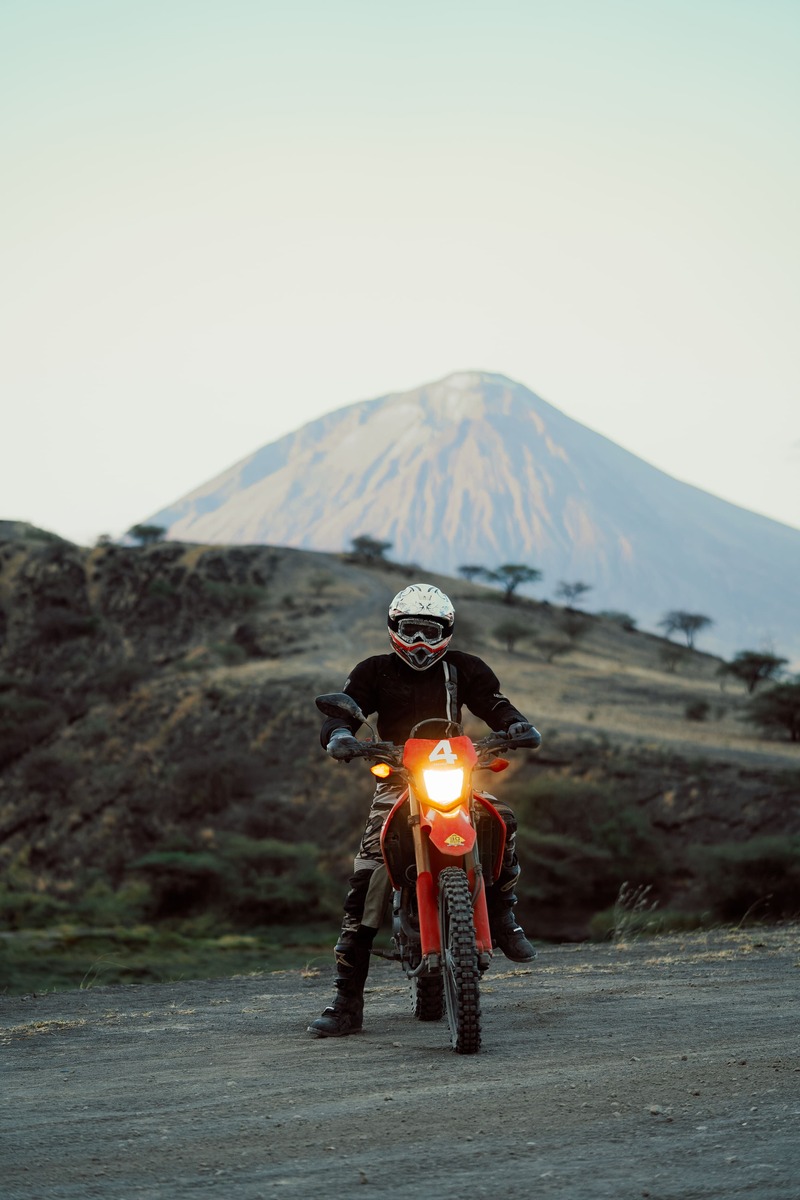 START:
20 March 2022 / KILIMANJARO INTERNATIONAL AIRPORT, TANZANIA
META:
3 April 2022 / KILIMANJARO INTERNATIONAL AIRPORT, TANZANIA
TYPE OF ROADS:
90% off road + 10% on road
LEVEL OF DIFICULTY:
7 / 10
MOTORCYCLE:
Motorbikes available in Tanzania – Honda CRF 250. Renting motorcycles is included in the price of the tour.
ABOUT THE TRIP:
This custom-made expedition is a must for bikers and nature lovers. The MotoBirds itinerary will take us along a loop across all of Northern Tanzania. First, circling the world-famous Kilimanjaro. Then heading towards lake Chala where we can swim to confirm crocodiles were indeed eradicated from it! Then the gorgeous Lushoto highlands await is – this is where Pumba lives! Those interested will get a chance to even join a hunt with tribesmen! Our well-deserved rest day will be on the beach relaxing in the warm waters of the Indian Ocean – and getting massages. We'll then cross several national parks, including the world-famous Ngorongoro crater conservation area, home of the lion king, the last remaining black rhinos and of course the other "big 3". We'll close our expedition after seeing not only one of the largest african flamingo colonies - but also petrified animals, frozen in salt for eternity!
COVID-19 FLEXIBLE BOOKING AND GUARANTEED REFUND
If due to Covid-19 restrictions we were forced to cancel a tour or a transport, the choice is yours: either get a full cash refund, or we can transfer your deposit to any other tour or service that we provide.
Book your next Tour or Transport with confidence!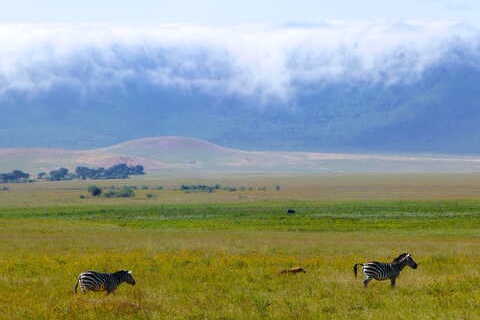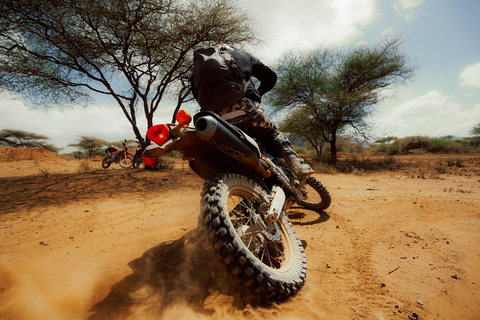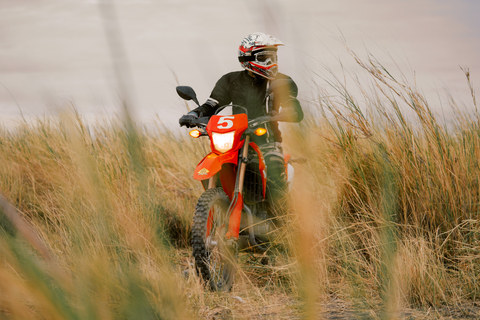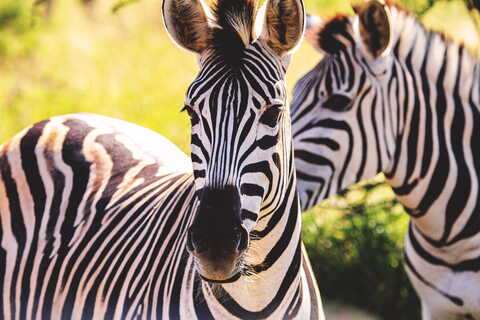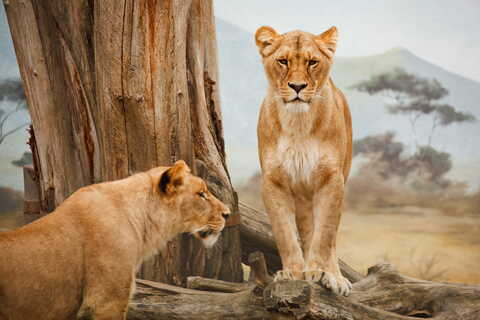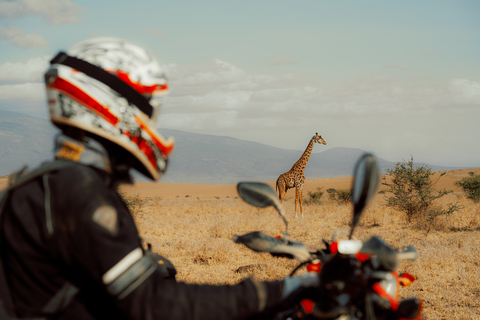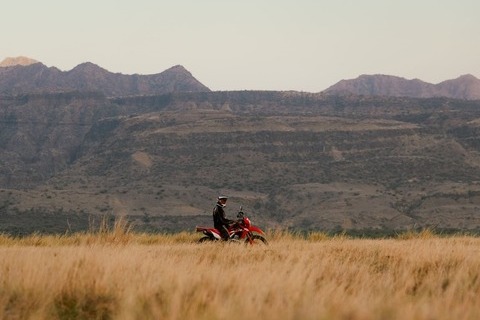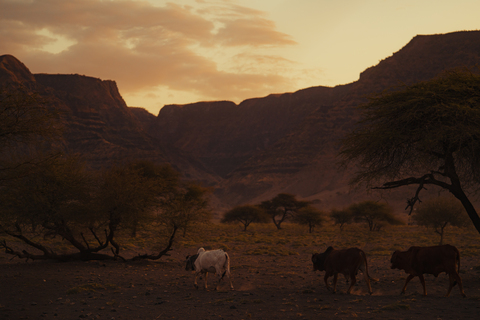 HIGHLIGHTS:
Lake Chala

Kilimanjaro

Indian Ocean beaches

Masai and Hadza tribes

Local hunt with Hadza tribe

Tarangire National Parks, Ngorongoro National Park

Lushoto highlands

Masai steppes

Lake Natron and petrified animals

Rift valley

Nursery for orphan rhinos

ABOUT THE TRIP:
There will be some sandy sections, but no serious technical challenges. As most of the route is unpaved, and there are a couple of longer riding days, this trip is rated 7.

speed:
It is not a race, and we care about safety. We will be going at our own pace and make sure all participants reach the destination safely. In the more technical sections team-work is guaranteed! There are a couple of longer riding days, for which some endurance is needed.

WEATHER CONDITIONS:
Temperatures will range from a possible 16 degrees at night to 35 during the day. Our ride will be between 1,850m above sea level to the ocean. Some rain is possible but unlikely.

REMEMBER:
Yellow fever vaccination is compulsory: no exceptions! Take with you: mosquito repellent, sun screen & hat, swimming costume. Try not to take more than one 20kg luggage piece. It should be dust & water proof.
ITINERARY:
DAY 1:
Arrival at Kilimanjaro airport. Transfer to hotel at Arusha. Discover our motorcycles. Formalities.
DAY 2:
Arusha – Lake Chala: 220km
DAY 3:
Lake Chala – Same: 120km
DAY 4: 
Same – Lushoto: 200km
DAY 5:
Lushoto – Indian Ocean: 200km
DAY 6:
Day off by the Indian Ocean in Pangani
DAY 7:
Pangani to Masai Steppe: 300km
DAY 8:
Masai Steppe – Tarangire: 150km (National Park)
DAY 9:
Visiting Park Tarangire
DAY 10:
Visiting Park Manayara
DAY 11:
Tarangire – Karatu 250km
DAY 12:
Ngorongoro crater. Safari
DAY 13:
Ngorongoro – Natron Lake: 240km.
DAY 14:
Natron Lake – Arusha: 240km.
DAY 15:
Flight to Europe
THE ITINERARY MAY BE SUBJECT TO CHANGE DUE TO POLITICAL OR SOCIAL REASONS OR WEATHER CONDITIONS.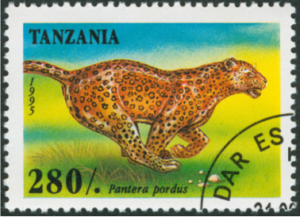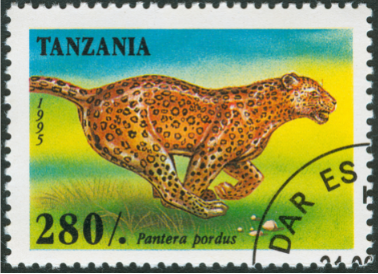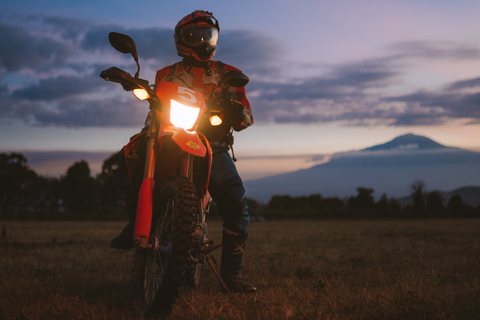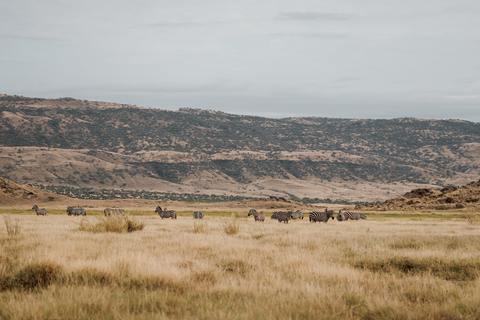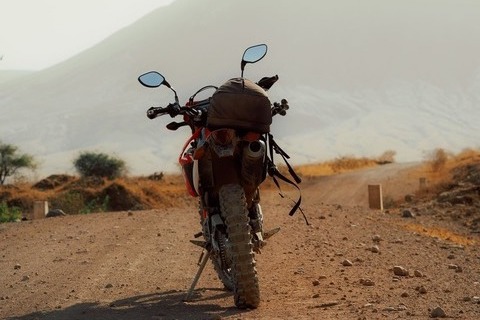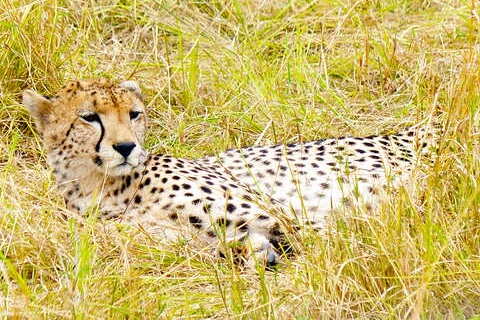 motorcycle
Motorbikes available in Tanzania – Honda CRF 250.

guide
Assistance of a MotoBirds guide on a motorbike, in addition to a local guide. All support staff will be equipped with 2-way radios.

SUPPORT CAR
A support car with a trailer and a mechanic with spare parts will follow the group. 
The luggage goes into the support car. 
We travel light! 
Fuel for the support car and motorcycle service, including fixing punctures is also included.

FOOD AND ACCOMODATION
Accommodation in double rooms, in 3-star hotels, safari lodges and luxury camping. The whole trip is half-board: breakfasts and the evening dinners are included in all hotels. Bottled water will be provided free of charge to all participants.

TRANSPORT TO/FROM HOTEL
You will be met at the airport in Africa and transfers to and from that airport will be organised for everyone.

INSURANCE
Travel insurance. 
Tourist Guarantee Fund fee. 
Civil liability insurance for the bikes. 
Government fees in Tanzania.

PERMITS AND ENTRY TICKETS
Night hunting with Hadza tribe. Entry tickets to national parks other than Ngorongoro and Tarangire.

PHOTOS AND TRACKS
After the trip we will send you all the pictures from the trip and tracks of our route.
Airplane tickets (please don't buy the plane tickets until the minimum number of participants is confirmed).

Fuel for the motorbike.

Lunches.

Ngorongoro and Tarangire National Parks fees (approximately 250 EUR for both).

All drinks except bottled water.

Tanzania tourist visa (50 USD).

Compulsory yellow fever vaccination.

Any COVID tests / vaccinations that may be required at time of travel. Yellow fever and tetanus vaccinations are obligatory.

Refundable security deposit for the motorbike – or damage insurance for the motorbike (you can choose between: non refundable deposit of 100 USD which covers damages up to 300 USD or refundable deposit after the trip of 500 USD which covers damages up to 500 USD).

Any medical expenses not covered by insurance provided by us.

Optional activities, eg. massage, snorkeling.
4x4 VEHICLE PASSENGER 2400 EUR
Book a place on this tour by paying reservation fee - 500 EUR or pay the full amount. After selecting the "BOOK" option, you can choose whether you pay only the reservation fee or the entire amount, on the "CART" page you can choose the transaction currency - EUR, PLN or USD.
SIGN IN TO THE INTERESTED LIST OF THIS TOUR
Not sure yet? Subscribe to the interested list and receive notifications about this trip.