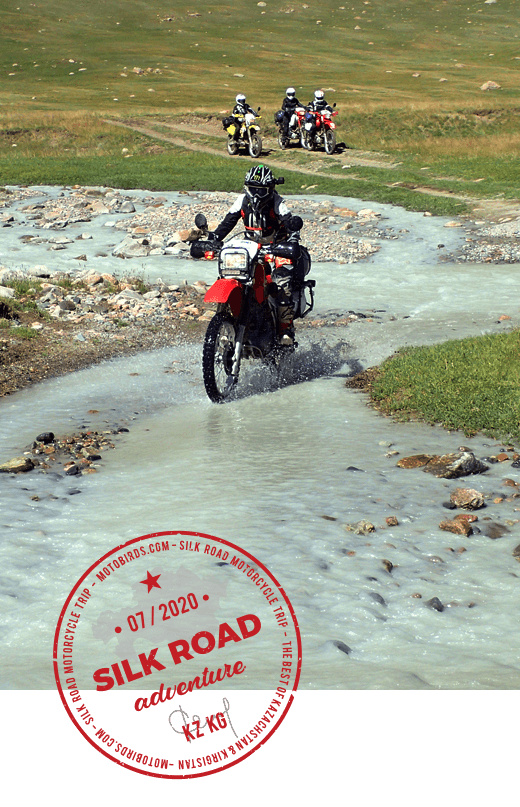 START:
6 July 2020 / ALMA ATY, KAZACHSTAN
META:
20 July 2020 / ALMA ATY, KAZACHSTAN
TYPE OF ROADS:
gravel roads 25% + asphalt roads 75%
LEVEL OF DIFICULTY:
6 / 10
MOTORCYCLE:
Participants' motorcycles - shipping from Europe for additional fee. The route is prepared for large enduro motorcycles (BMW 1200, Honda Africa Twin etc.)
ABOUT THE TRIP:
The famous Silk Road. The best places of Kazachstan and Kyrgyzstan. Spectacular mountains. Precious mausoleums. Caravanserai. Breathtaking roads. Yurts. Horses. Local culture and food. Esmerald lakes and desert dunes. You can see all of these during our tailored made Silk Road adventure!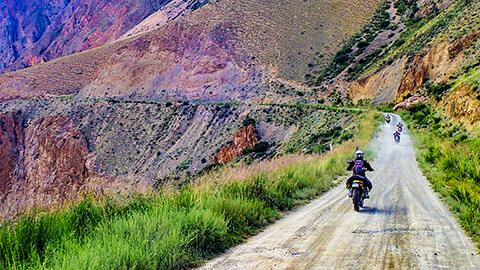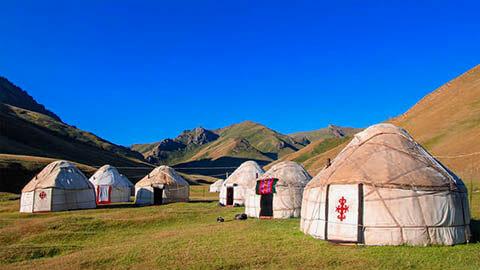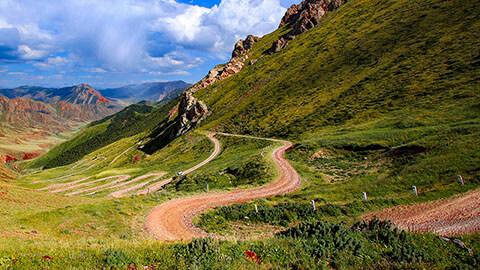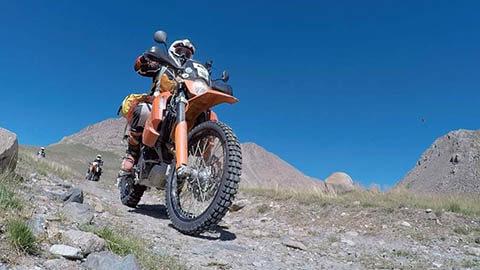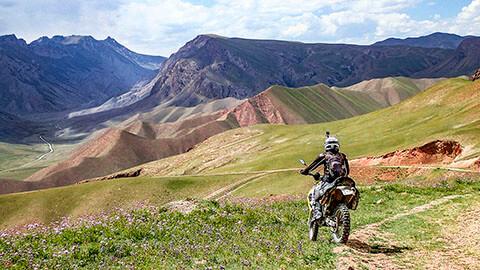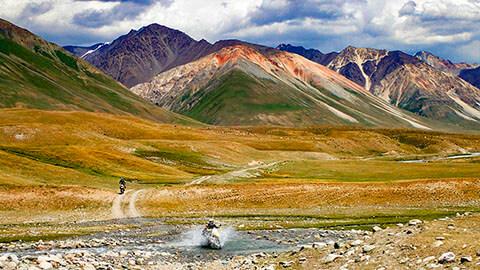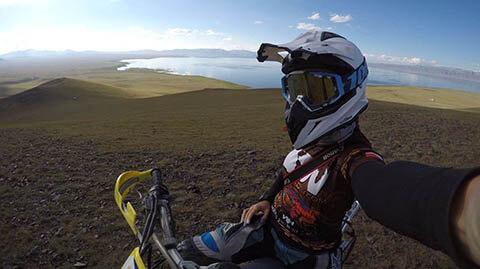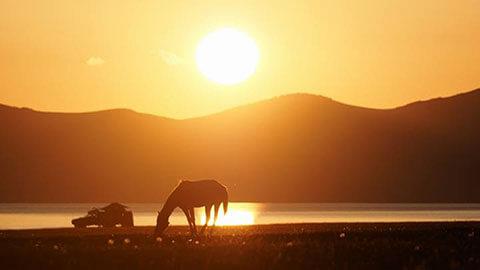 HIGHLIGHTS:
Silk Road;
mauzoleums;
caravanserai Tash Rabat;
Song Kul;
Issyk Kul;
Charyn Canyon;

about the road:
The ride itself is not technically difficult. We will be riding mostly paved roads or gravel roads in generally good conditions, but there is a couple of long riding days.

speed:
It is not a race, and we care about safety: We will be going at our own pace and make sure all participants reach the destination safely.

weather conditions:
The weather at this time of the year is generally dry and sunny but also subject to radical changes, as it happens in the high mountains. It is advisable to have rain gear. High altitude may contribute to tiredness.

REMEMBER:
Wearing suitable riding gear and protective equipment is the responsibility of each participant. Remember that we will be going to high altitudes, therefore bringing suitable clothing, sunglasses, hat and sun-blocker is important.
ITINERARY:
DAY 1 – 6.07
Alma Aty
DAY 2 – 7.07
Almaty – Kapchagi Lake – Saryozek (265 km)
DAY 3 – 8.07
Altynemel National Park (100km)
DAY 4 – 9.07
Altynemel National Park – Zharkent Mosque – Charyn Canyon (325km)
DAY – 10.07
Kanion Czaryński (100 km)
DAY – 11.07
Kanion Czaryński – Issyk Kul Lake – Petroglify Cholpon Ata (280 km)
DAY – 12.08
Cholpèon Ata – Fairytell Valley – 7 rocks bulls (304 km)
DAY – 13.07
Jety Oguz – Tash Rabat (410km)
DAY – 14.07
Tash Rabat – Songkul Lake (180km)
DAY – 15.07
Songkul Lake – Tokmok (300km)
DAY 11 – 16.07
Tokmok – Symkent (506 km)
DAY 12 – 17.07
Symkent – Turkiestan (200km)
DAY 13 – 18.07
Turkiestan – Akkol – Taraz (330 km)
DAY 14 – 19.07
Taraz – Alm Aty (500 km)
DAY 15 – 20.07
Alm Aty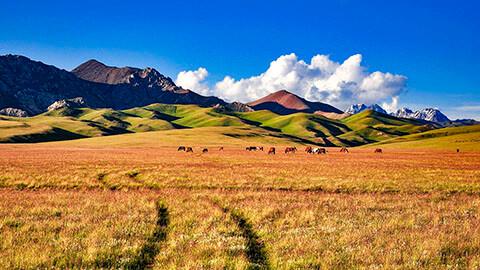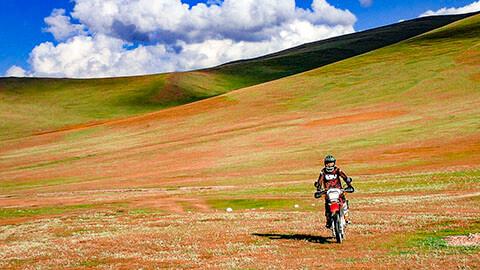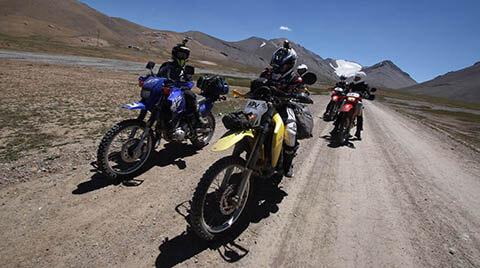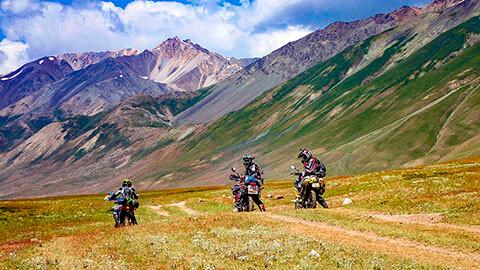 guide
Assistance of a Polish-speaking guide on a motorcycle. The guide also speaks English.

SUPPORT CAR AND SERVICE
In the support car, our luggage will go. We travel lightly! An experienced mechanic is coming with us. If necessary, we provide spare parts.

FOOD AND ACCOMODATION
Accomodation in three stars hotels or b&b, in twin / double rooms or yurts where hotels are not available. Breakfast in every place of accommodation.

PHOTOS AND TRACS
After the trip we will send you photos from the trip and tracks from the road.
Airplane tickets to and from Alma Aty (please don't buy the plane tickets until the minimum amount of participant joining the trip is confirmed).
Motorbike fuel.
Travel insurance.
Meals other than breakfasts.
Entry tickets to the other sightseeing spots.
Lift from / to the airport from / to the hotel.
Motorbike transport cost to Alma Atyk and back (all-inclusive motorbike transport and custom clearance cost for the trip participants is 1100EUR)
ASK ABOUT DETAILS
With plesure we will answer all your questions.
MAKE RESERVATION
Book a place on the trip by paying 30% deposit.
START ADVENTURE
Come with us for an unforgettable motorcycle trip.