South Patagonia and Tierra del Fuego 27.12.24 – 7.01.2025
FIN DEL MUNDO - IN THE LAND OF PINGUINS AND GLACIERS
PRICE INCLUDES / NOT INCLUDES
South Patagonia and Tierra del Fuego 27.12.24 – 7.01.2025
CAR PASSENGER PRICE: 3300 €
MOTORCYCLE:
Yamaha 250 XTZ Tenere.
Motorcycle rental is included in the tour price.
TOUR DESCRIPTION:
This is a motorbike expedition of a lifetime. Tierra del Fuego is known as the "end of the world", where the road literally ends. Getting there means riding hundreds of kilometers of roads and dirt tracks, in all kinds of weather, through some of the most stunning and harsh landscapes in the world. The picturesque Andean passes and small border crossings will take us four times from Argentina to Chile and back. The mythical roads: Ruta 40, Ruta 9 and Ruta 3 will lead us between Perito Moreno Glacier, National Park Torres Del Paine, National Park Pali Aike and National Park Tierra del Fuego. On the way we will cross the iconic Magellan Stretch. We will see emerald-colored lakes and stunning glaciers, including the most famous one – Perito Moreno.
During this unforgettable tour we will have a chance to visit and experience the most exceptional places in the South America: walk in the shadow of the mytic Torres del Paine, have a boat ride on the Beagle Canal, visit exceptional Pali Aike National Park, experience from the close distance the Perito Moreno glacier and see the penguins, sea lions, seals and guanacos in their natural environment.
Although this expedition requires endurance due to the distances – and sometimes the weather- there is nothing to worry about: we know where to find the best steaks, seafood and wines on the way – to make sure we have the energy to reach the penguin colonies of Ushuaia.
START:
27 December 2024 / El Calafate, Argentina
END:
7 January 2025 / Rio Gallegos, Argentina
NUMBER OF DAYS AND NIGHTS:
12 days, 11 nights
NUMBER OF RIDING DAYS:
8 days
TYPE OF ROADS:
60% paved / 40% gravel
MIN./ MAX. NUMBER OF BIKES:
Min. 6 / Max .12
CAR PASSENGER PRICE: 3300 €

HIGHLIGHTS:
nature
glaciers
fauna and flora
lakes
Ruta 40, Ruta 9, Ruta 3
Perito Moreno glacier
Torres del Paine National Park
Pali Aike National Park
Tierra del Fuego National Park
Magellan Stretch
Beagle Canal (boat ride)
Ushuaia
El Calafate
Pinguineras

WEATHER:
We will visit Patagonia and Tierra del Fuego in spring. You have to be aware that Patagonia is famous for its capricious weather, changing many times per day and in some parts strong winds. You have to be prepared for all types of weather conditions.

MOTORCYCLE GEAR:
Wearing adequate riding gear is an individual responsibility. We strongly recommend "adventure" or hard-shell type boots for this ride. Bring your own gear.

LUGGAGE:
We will be riding light. Try not to take more than one 20kg luggage piece. It should be dust & water proof. For riding days take with you a small backpack or waterproof bag, with straps, to enable you to attach it to your motorbike.
Argentina has been struggling with an economic crisis for years. Credit cards outside of big cities often don't work. When exchanging USD to pesos, there are two rates: the less favorable official rate. The so-called blue rate (unofficial). Carry some cash with you, preferably in USD.
We will travel far from civilization. We'll not always have telephone coverage. There may not be internet either.
400 meters
meters above seal level
DAY 1 (27.12)
ARRIVAL TO EL CALAFATE
DAY 2 (28.12)
EL CALAFATE – PERITO MORENO GLACIER SIGHTSEEING.
DAY 3 (29.12 / 270 KM)
EL CALAFATE – PUERTO NATALES
DAY 4 (30.12 / 200 KM)
PUERTO NATALES – TORRES DEL PAINE – PUERTO NATALES
DAY 5 (31.12 / 250 KM)
PUERTO NATALES – PUNTA ARENAS. NEW YEARS EVE BY MAGELLAN STARIGHT!
DAY 6 (1.01 / 280 KM)
PUNTA ARENAS – RIO GRANDE
DAY 7 (2.01 / 215 kM)
RIO GRANDE – USHUAIA
DAY 8 (3.01)
USHUAIA DAY OFF. BEAGLE CANAL BOAT RIDE. TIERRA DEL FUEGO NATIONAL PARK VISIT.
DAY 9 (4.01 / 280 KM)
USHUAIA – ESTANCIA MOAT – TOLHUIN
DAY 10 (5.01 / 315 KM)
TOLHUIN – CERRO SOMBRERO
DAY 11 (6.01 / 240 KM)
CERRO SOMBRERO – PALI AIKE – RIO GALLEGOS
DAY 12 (7.01)
FLY OUT FROM RIO GALLEGOS
THE ROUTE MAY CHANGE WITHOUT NOTICE DUE TO POLITICAL, SOCIAL OR WEATHER FACTORS.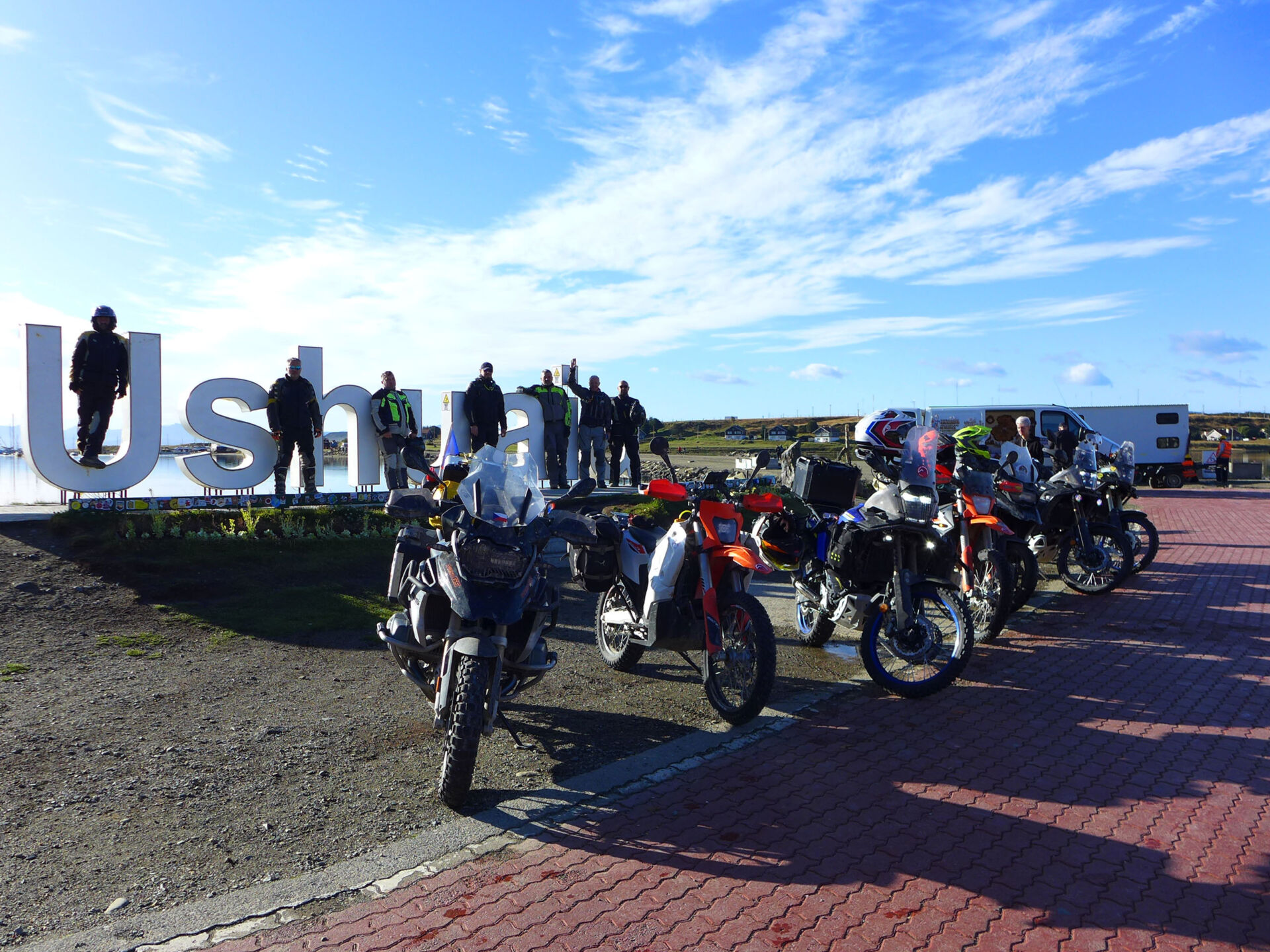 MOTORCYCLE
Yamaha 250 XTZ Tenere. Motorcycle rental is included in the tour price.

4X4 CAR
For participants traveling in the 4x4 car - local driver option.

GUIDE
Assistance of a guide on a motorbike.

SUPPORT CAR
A support car will assist us during the tour. Our luggage will be loaded in the car. The price includes fuel for the support car and driver expenses.

MOTORBIKE MAINTENANCE
Basic maintenance of the motorbikes.

ACCOMMODATION & FOOD
Accommodation in 2* and 3 * hotels, guesthouses or villas, in twin or triple rooms. Breakfast is included in the price. Upon request, subject to availability, it is possible to organize a single room - against an additional fee of EUR 70 / night.

TRANSPORT TO/FROM THE HOTEL
Group airport transfers are included in the tour price, provided your arrival date is on the tour program dates. Individual transfer can be organized on different dates, but is not included in the tour price (50 EUR / transfer).

ACTIVITIES
Entry tickets to Tierra del Fuego National Park.
Entry tickets to Pali Aike National Park.
Entry tickets to Los Glacaires National Park.
Entry tickets to Torres del Paine National Park.

INSURANCE
Basic travel insurance.
Tourist Guarantee Fund fee.
Tourist Support Fund fee.
IMPORTANT:
Upon request for an additional fee, it is possible to extend the insurance under Allianz Travel or purchase the recommended Global Rescue package. The price of the tour includes only basic travel insurance.

PICTURES & GPX TRACKS FROM THE TOUR
After the tour participants will receive photos of the tour, GPX tracks of the route.

WELCOME PACK
Each Participant will receive a welcome pack, which includes, among other items: MotoBirds stickers, tour stickers, a detailed program, the list of hotels and a tour souvenir.
Airline tickets (tickets should not be bought until the organizer confirms the completion of the minimum group size).
Tourist entry visa, if required.
Covid tests and / or vaccinations, if required.
Medical expenses not covered by standard MotoBirds insurance.
Costs related to the transport of a participant to the nearest medical center, in case of injury, illness, inability or unwillingness to continue the tour.
Costs related to the transport of the participant's motorcycle to the finish point of the tour, in case the motorcycle or the participant cannot continue the tour due to the fault of the participant.
Additional, recommended Global Rescue coverage.
Motorcycle fuel.
Motorcycle refundable security deposit of US$500, payable in cash on the first day after arrival.
Meals other than breakfasts.
Drinks.
Tips.
Entrance tickets to optional tourist attractions:
guided tour to Los Glaciares National Park and Perito Moreno glacier visit by boat (150 EUR / person), boat trip on Beagle Canal (150 EUR / person).
DEPOSIT FOR THE MOTORCYCLE:
Refundable motorcycle deposit of US$500. Cash payment on site. If the damage to the motorcycle exceeds the amount of the deposit, the driver must pay the difference.