PRICE INCLUDES / NOT INCLUDES
Costa Rica 23.11 – 3.12.2024
CAR PASSENGER PRICE: From 3050 €
MOTORCYCLE:
Honda CRF250L. Motorcycle rental is included in the tour price.
Upon request and additional fee of 30 EUR per day we can arrange Kawasaki KLR 650 or Honda CRF 300 Rally, Depending on availability.
TOUR DESCRIPTION:
Costa Rica means "rich coast" and is also called the Switzerland of Central America. It is a country for people who love nature and adrenaline. Breathtaking Pacific Ocean coast and amazing Caribbean Sea coast, together with magnificent mountain range located between them crate perfect combination for motorcycle trips. Winding asphalt and gravel mountain trails amidst wild nature is a paradise for motorcyclists. But this is not! Discovering the coast of each ocean is equally fascinating because each of them has a different character.
In Costa Rica we will find volcanoes, misty forest, mountains, waterfalls, rivers… There is no time for boredom! We will combine motorbike riding with great rafting, swimming in emerald waterfalls, zipline rides, horse riding and snorkeling. After each day of riding, we will rest in the cozy and comfortable boutique hotels. Is it possible to dream of a more beautiful motorcycle holiday, especially during the rainy autumn in Europe? With us you can get to know this country really "inside out"! We will lead you through off the beaten track places. Join us for an adventure of the lifetime!
START:
23 November 2024 / San Jose, Costa Rica
END:
3 December 2024 / San Jose, Costa Rica
NUMBER OF DAYS AND NIGHTS:
11 days, 10 nights
NUMBER OF RIDING DAYS:
7 days
TYPE OF ROADS:
40% paved / 60% gravel
MIN./ MAX. NUMBER OF BIKES:
Min. 6 / Max .12
CAR PASSENGER PRICE: From 3050 €

HIGHLIGHTS:
Rafting on Pacuare river
Adventure Park, including ziplines
Horse riding
Boat tour in the jungle
Snorkling
Volcan Arenal
Turquoise waterfalls
Eco coffee plantation
Exotic fauna: crocodiles, kaymans, sloths, different species of birds
River crossings
Pacific and Atlantic Coast
Rainforest
National Park Manuel Antonio and Cano Negro
Hot springs

WEATHER:
The weather at this time of year is generally good. It is cooler at night and in the higher mountains. We can expect sporadic rains in some areas, but nothing too serious.

MOTORCYCLE GEAR:
Wearing adequate riding gear is an individual responsibility. We strongly recommend "adventure". Bring your own gear.

LUGGAGE:
We will be riding light. Try not to take more than one 20kg luggage piece. It should be dust & water proof. For riding days take with you a small backpack or waterproof bag, with straps, to enable you to attach it to your motorbike.
Costa Rica a is a very friendly country with hospitable people. A lot of local places accept not only local currency, but also USD. ATMs are available in bigger towns or touristic places.. For this ride, we recommend considering "adventure" type boots. There might be short rains: a waterproof layer could be helpful.
3430 m n.p.m.
meters above seal level
DAY 1 (23.11)
ARRIVAL TO SAN JOSE
DAY 2 (24.11 / 125 KM)
SAN JOSE – LA FORTUNA
DAY 3 (25.11 / 185 KM)
LA FORTUNA – BUENA VISTA DEL RINCON
DAY 4 (26.11)
BUENA VISTA DEL RINCON – ADVENTURE DAY OFF
DAY 5 (27.11 / 180 KM)
BUENA VISTA DEL RINCON – PUERTO CARRILLO
DAY 6 (28.11 / 120 KM)
PUERTO CARILLO – MONTEZUMA
DAY 7 (29.11 / 200 KM)
MONTEZUMA – QUEPOS – AFTERNOON VISIT IN PARQUE MANUEL ANTONIO
DAY 8 (30.11 / 170 KM)
QUEPOS – TURRIALBA
DAY 9 (1.12)
RAFTING TURRIALBA
DAY 10 (2.12 / 140 KM)
TURRIALBA – VOLCAN IRAZU – SAN JOSE
DAY 11 (3.12)
FLY OUT
THE ROUTE MAY CHANGE WITHOUT NOTICE DUE TO POLITICAL, SOCIAL OR WEATHER FACTORS.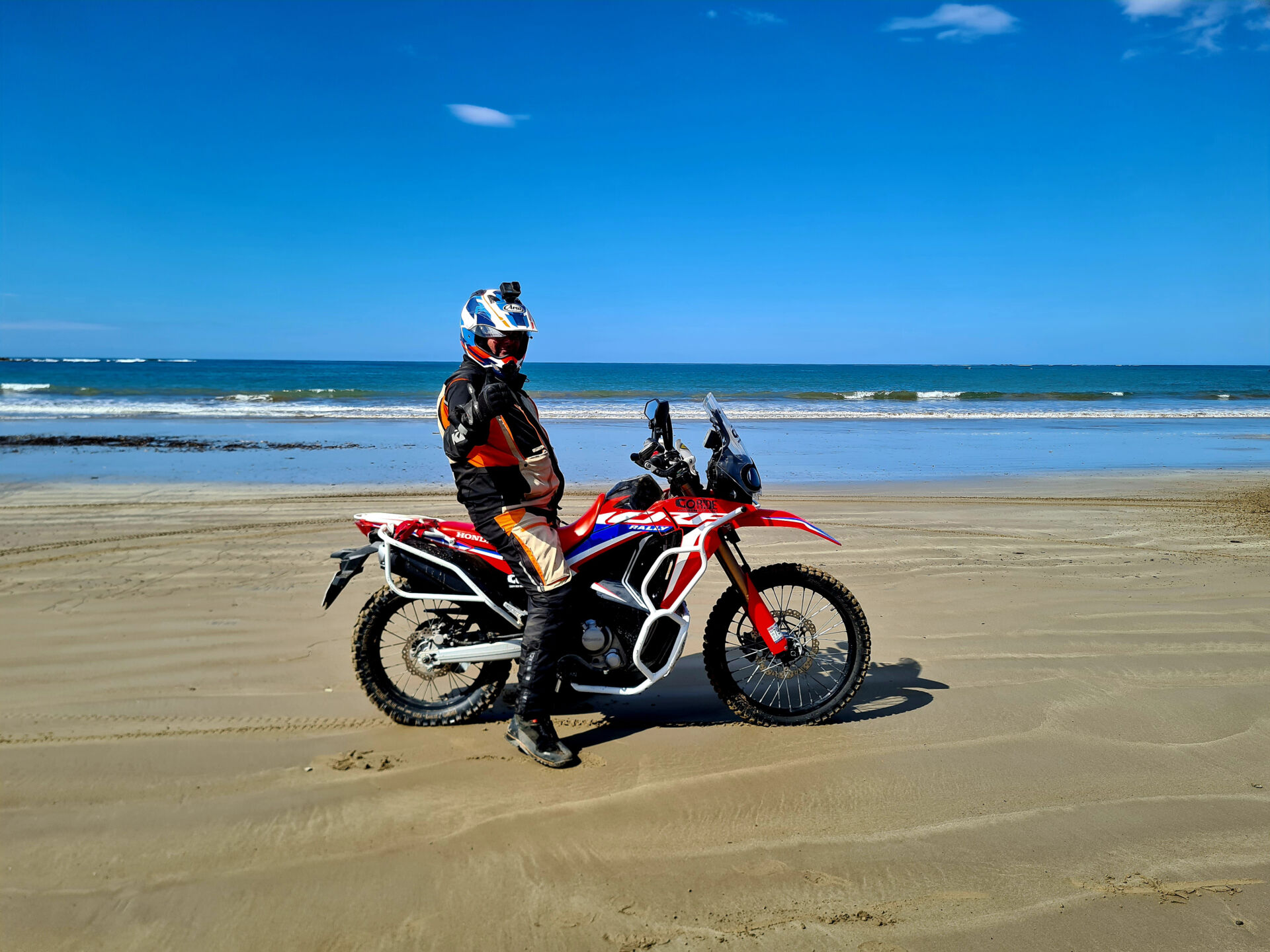 MOTORCYCLE
Honda CRF250L. Motorcycle rental is included in the tour price. Upon request and additional fee of 30 EUR per day we can arrange Kawasaki KLR 650 or Honda CRF 300 Rally.

4X4 CAR
For participants traveling in the 4x4 car - self drive option. Upon request and additional payment there is an option of local driver.

GUIDE
Assistance of a guide on a motorbike.

SUPPORT CAR
A support car will assist us during the tour. Our luggage will be loaded in the car. The price includes fuel for the support car and driver expenses.

MOTORBIKE MAINTENANCE
Basic maintenance of the motorbikes.

ACCOMMODATION & FOOD
Accommodation in 3 * hotels, guesthouses or villas, in twin or triple rooms. Breakfast is included in the price. Upon request, subject to availability, it is possible to organize a single room - against an additional fee of EUR 70 / night.

TRANSPORT TO/FROM THE HOTEL
Group airport transfers are included in the tour price, provided your arrival date is on the tour program dates. Individual transfer can be organized on different dates, but is not included in the tour price (60 EUR / transfer)

INSURANCE
Basic travel insurance.
Tourist Guarantee Fund fee.
Tourist Support Fund fee.
IMPORTANT:
Upon request for an additional fee, it is possible to extend the insurance under Allianz Travel or purchase the recommended Global Rescue package. The price of the tour includes only basic travel insurance.

PICTURES & GPX TRACKS FROM THE TOUR
After the tour participants will receive photos of the tour, GPX tracks of the route and a commemorative poster.

WELCOME PACK
Each Participant will receive a welcome pack, which includes, among other items: MotoBirds stickers, tour stickers, a detailed program, the list of hotels and a tour souvenir.
Motorcycle fuel.
Airline tickets (tickets should not be bought until the organizer confirms the completion of the minimum group size).
Tourist entry visa (not required for EU citizens).
Covid tests and / or vaccinations, if required.
Medical expenses not covered by MotoBirds insurance.
Drinks.
Costs related to the transport of a participant to the nearest medical center, in case of injury or illness or inability to continue the tour.
Costs related to the transport of the participant's motorcycle to the finish point of the tour, in case the motorcycle or the participant cannot continue the tour.
Meals other than breakfasts.
Entry tickets to the optional tourist attractions: Manuel Antonio National Park entry ticket (18 USG, guided visit 60 USD), jungle boat visit (60 USD), rafting on Pacuare river (100 USD), Adventure Park Activities (price depends on the chosen activities), coffee plantation visit (40 USD).
Motorcycle refundable security deposit: USD 800 (payable by card or in cash in San Jose).
For car passengers: local driver is not included.