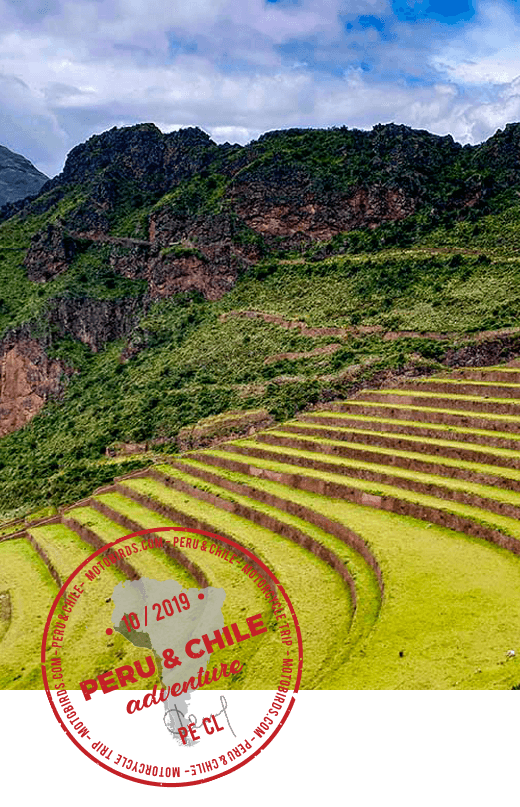 START:
13 October 2019 / VALPARAISO, CHILE
META:
2 November 2019 / ARICA, CHILE
TYPE OF ROADS:
gravel roads 10% + asphalt roads 90%
LEVEL OF DIFICULTY:
5 / 10
MOTORCYCLE:
The expedition is intended for large tourist motorcycles. We can arrange transport of your motorcycle - the cost of transport and custom clearance cost is 1800 EUR.
ABOUT THE TRIP:
During this expedition, we'll visit the most spectacular spots in Peru. We're going to ride the unforgettable winding Andean roads through the mountains covered by lush jungle. We will have a chance to spend time in ghost mining towns and get a feel for the Incas culture, as we visit incredible Macchu Picchu and the Sacred Valley. We'll take some time off in Cuzco to take in the colonial flavor of the town. We won't miss the highest lake in the world – Titicaca, where we'll spend some time to meet the Indians on Uros island. From a small airplane we are going to admire the world-famous mysterious Nazca lines. We will also venture to Colca Canyon, the deepest in the world. Then, we will wander through the historical alleys of Santa Catalina Monastery in Arequipa. For a touch of the Dakar, we will see the oasis near Ica and wonder at the huge sand dunes near Paracas. From the boat we'll observe the National Reserve of the Ballestas Islands where various protected animals are living: sea lions, albatrosses and penguins, are inhabiting this natural reserve. Last but not least, Peru has one of the most famous cuisine of South America:. The best ceviche in the world is awaiting us!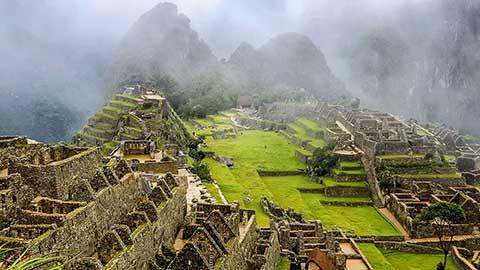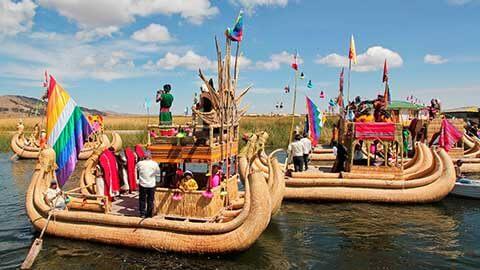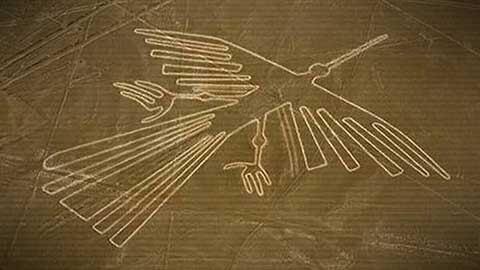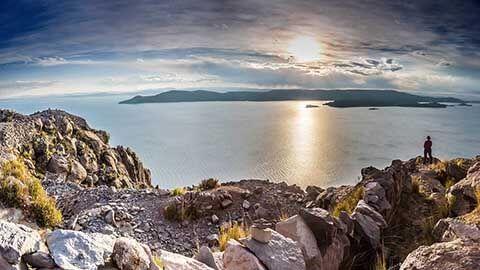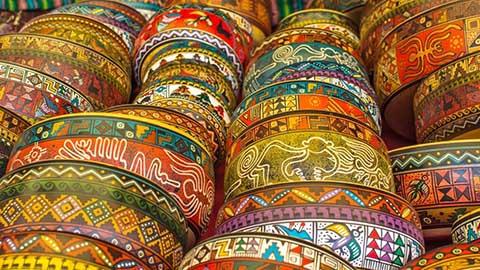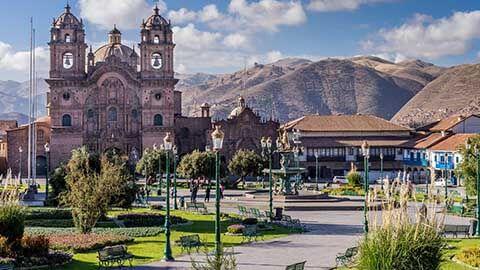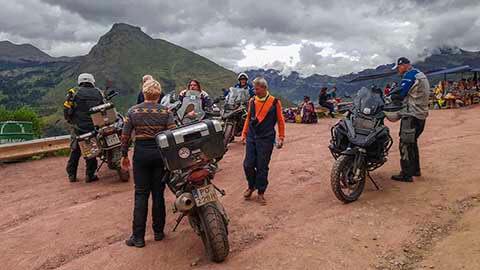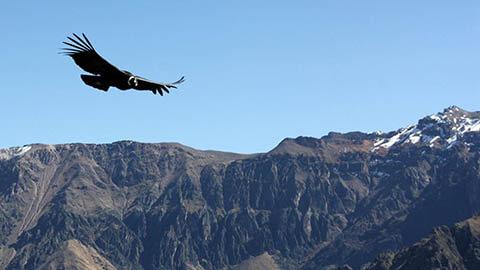 HIGHLIGHTS:
the itinerary includes the most spectacular natural and cultural attractions of Peru – we ride through the breathtaking winding Andean roads, but we also see the Pacific coast, Atacama Desert with extremely high dunes and a few rare oases;
National Park Islas Ballestas, inhabited by sea lions, albatrosses and penguins;
we also see the highest lake in the world Titicaca;
we visit Indians living on the Uros islands;
we have a look into the deepest canyon in the world – Colca Canyon;
we also visit the most important sacred Inca cultural highlights: Machu Picchu, Sacred Valley and Cuzco;
we stop over in Arequipa, and wonder through the cozy alleys of the Santa Catalina Monastery;
from the plane we have a look at the famous Nazca lines;

ABOUT THE TRIP:
he ride itself is not technically difficult. We will be riding mostly paved roads or gravel roads in generally good conditions, but there is a couple of long riding days. High altitude may contribute to tiredness.

speed:
It is not a race, and we care about safety: We will be going at our own pace and make sure all participants reach the destination safely.

WEATHER CONDITIONS:
The weather at this time of the year is generally dry and sunny but also subject to radical changes, as it happens in the high mountains. It is advisable to have rain gear.

REMEMBER ABOUT:
Wearing suitable riding gear and protective equipment is the responsibility of each participant. Remember that we will be going to very high altitudes (over 5,000m), therefore bringing suitable clothing, sunglasses, hat and sun-blocker is important.
ITINERARY:
DAY 1 – 13.10
ARRIVAL Santiago de Chile.
DAY 2 – 14.10
Valpraiso – Ovalle (360 km)
DAY 3 – 15.10
Ovalle – Copiapo (420 km)
DAY 4 – 16.10
Copiapo – Antofagasta (520 km)
DAY 5 – 17.10
Antofagasta – Iquique (420 km)
DAY 6 – 18.10
Iquique – Arica (315 km)
DAY 7 – 19.10
Arica – Arequipa (430 km)
DAY 8 – 20.10
Arequipa – Chivay (165 km)
DAY 9 – 21.10
Chivay – Puno (270 km)
DAY 10 – 22.10
Puno – Cusco (388 km)
DAY 11 – 23.10
Cusco DAY OFF
DAY 12 – 24.10
Cusco – Pisac – Urubamba – Ollayntaytambo – Aguas Calientes (80 km)
DAY 13 – 25.10
Macchu Picchu – Aguas Calientes – Urubamba
DAY 14 – 26.10
Urubamba – Abancay (207 km)
DAY 15 – 27.09
Abancay – Ayacucho (380 km)
DAY 16 – 28.10
Ayacucho – Paracas (361 km)
DAY 17 – 29.10
Paracas – Ica – Nasca (218 km)
DAY 18 – 30.10
Nasca – Chala (165 km)
DAY 19 – 31.10
Chala – Moquegua (490 km)
DAY 20 – 1.11
Moquegua – Arica (215 km)
DAY 21 – 2.11
DEPARTURE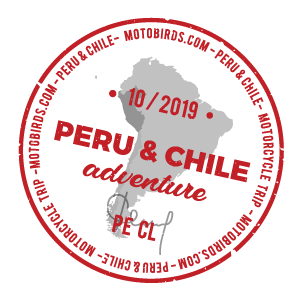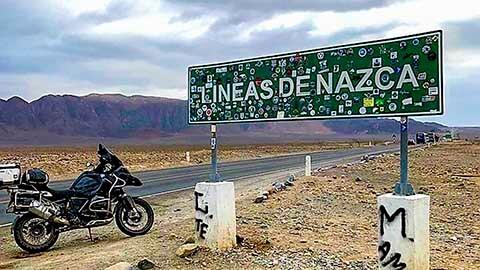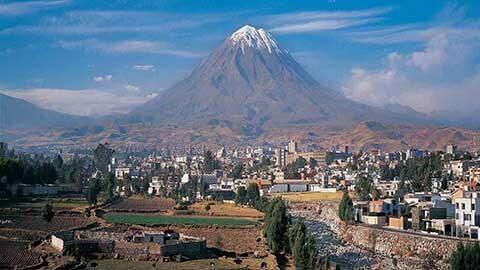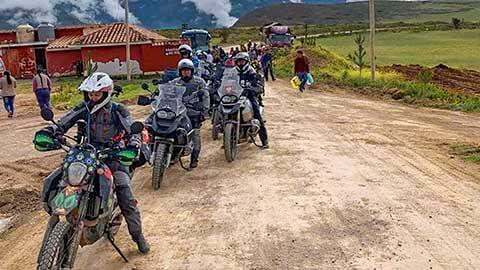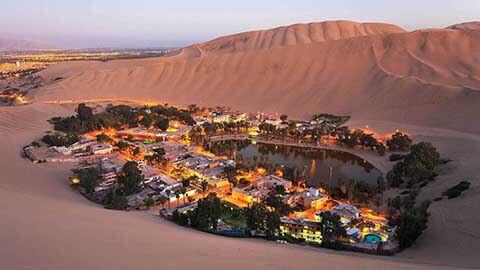 GUIDE
We provide Spanish (multilingual) speaking guide on motorcycle.

SUPPORT CAR AND SERVICE
In the support car, our luggage will go. We travel lightly! An experienced mechanic is coming with us. If necessary, we provide spare parts.

food and accomodation
Accomodation in three or four stars hotels, n twin / double rooms (in b&b where hotels are not available). Breakfast in every place of accommodation.

DOCUMENTS
Civil liability insurance of the motorbike.

TICKETS:
Half-day boat trip Titicaca Lake to Uros, visit in Saint Valley.

PHOTOS AND TRACS
After the trip we will send you photos from the trip and tracks from the road.
Airplane tickets to and from Arica (please don't buy the plane tickets until the minimum amount of participant joining the trip is confirmed)
Motorbike fuel
Travel insurance
Meals other than breakfasts
Entry tickets to the other sightseeing spots than mentioned above, in particular Machu Picchu Nazca flight
Lift from / to the airport from / to the hotel
Motorbike transport cost to Chile and back (all-inclusive motorbike transport and custom clearance cost is 1800EUR)
ASK ABOUT DETAILS
With plesure we will answer all your questions.
MAKE RESERVATION
Book a place on the trip by paying 30% deposit.
START ADVENTURE
Come with us for an unforgettable motorcycle trip.