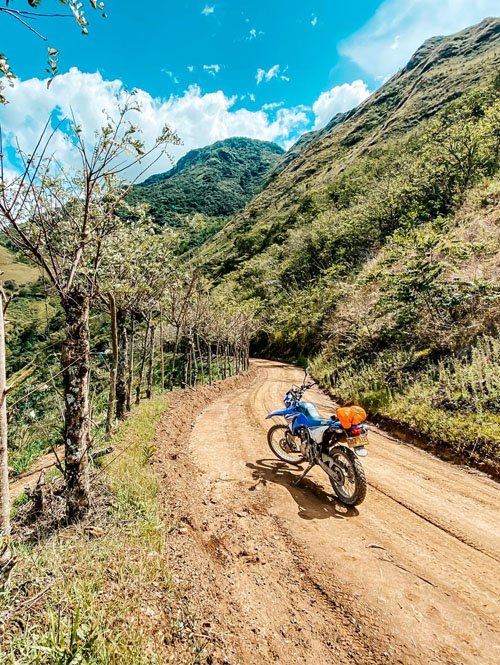 START:
5 February 2023 / MEDELLIN, COLOMBIA
FINISH:
17 February 2023 / MEDELLIN, COLOMBIA
TYPE OF ROADS:
gravel roads 50% + asphalt roads 50%
MOTORCYCLE:
Motorcycles available in Colombia - Honda XRE300 / Kawasaki Versys 300. Motorcycle rental is included in the price of the tour.
ABOUT THE TRIP:
Colombia, one of the most beautiful, diverse, and scenic countries in South America, is a real paradise for adventure riding – so get your riding buddies packing and come ride with us! On this tour, we'll explore the remote Andean roads, visit stunning glacier parks, sample the Colombian cuisine, hang out with the locals, and of course, shop for the heavenly locally grown coffee. This trip is a serious mix of adventure, culture, cuisine, and nature – and of course, some kickass motorcycling in great company! Thanks to our relationship with the local riders, we know some of the best Colombian dirt roads, paved mountain twisties, and places off the beaten path that tourists rarely get to see. We promise you'll be in good hands and experience the hidden gems of this incredible corner of the Earth. Book your spot now and let's go explore Colombia on motorcycles!
COVID-19 FLEXIBLE BOOKING AND GUARANTEED REFUND
If due to Covid-19 restrictions we were forced to cancel a tour or a transport, the choice is yours: either get a full cash refund, or we can transfer your deposit to any other tour or service that we provide.
Book your next Tour or Transport with confidence!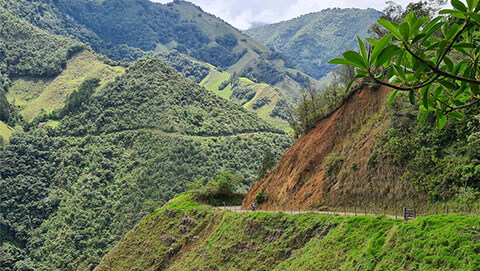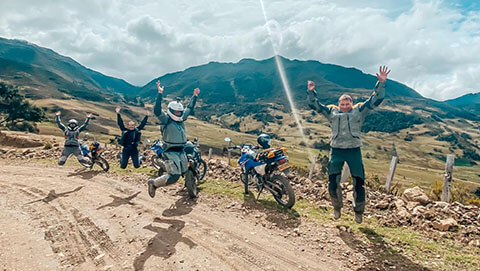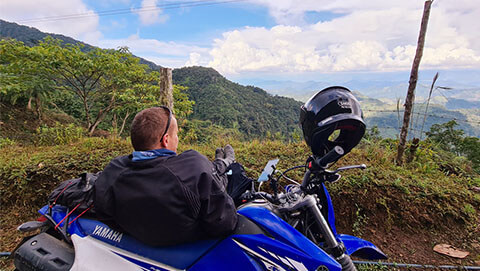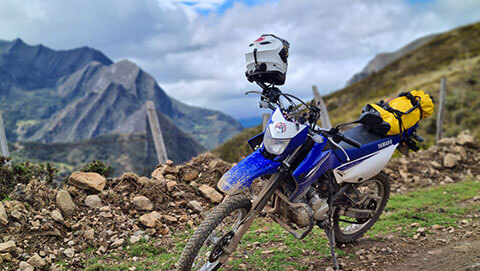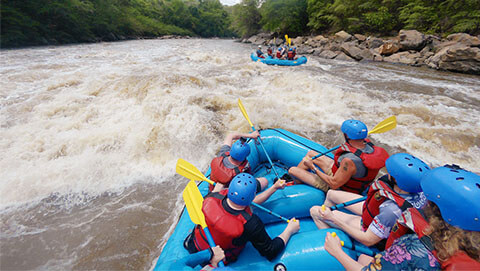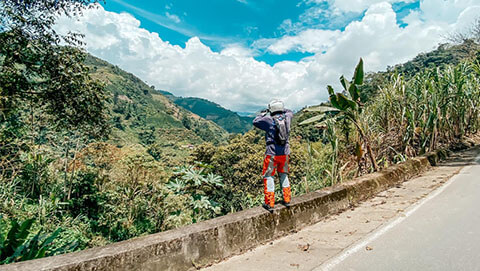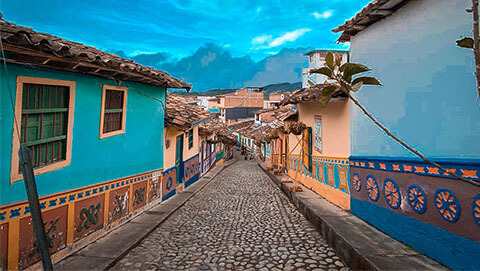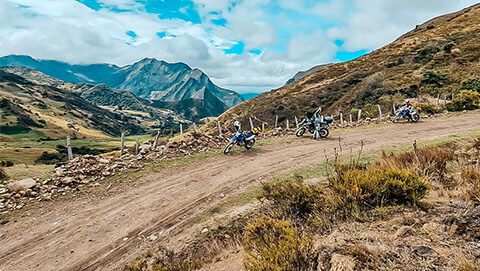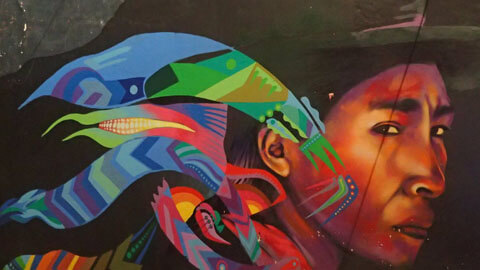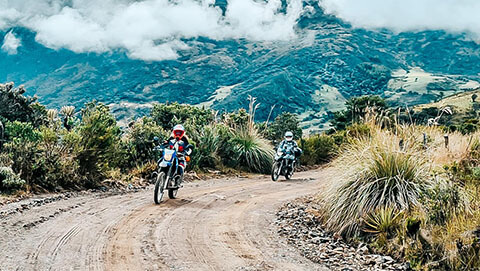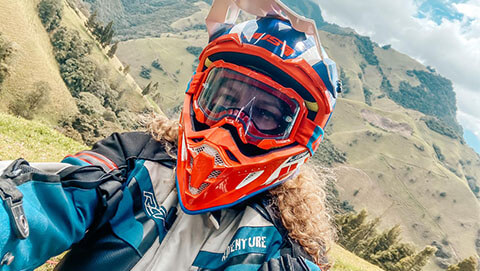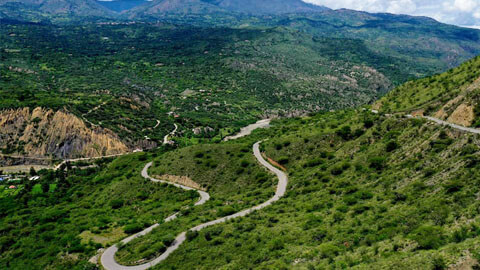 HIGHLIGHTS:
Medellin
Guatape
SonSon
Salamina
Villa de Lleyva
Andes mountain range
Coffee region
Nevado Ruiz Volcano
Paramo
Wax palm forest
Hot springs

about the road:
The ride itself is not difficult or technical – but we promise it will be absolutely stunning! We will be riding mostly paved roads and a few gravel roads in generally good conditions.

speed:
It is not a race, and we care about safety: We will be going at our own pace and make sure all participants reach the destination safely.

WEATHER CONDITIONS:
The weather at this time of year is generally dry and sunny but also subject to changes as the area is mountainous. We shouldn't get any rain but pack your waterproofs just in case!

remember:
Wearing appropriate gear is an individual responsibility. For this ride, we recommend considering "adventure" type boots. We will drive through very diversified areas, including high altitude roads (up to 4,000m), so you must be prepared for changing weather conditions.
ITINERARY:
DAY 1:
ARRIVAL MEDELLIN
DAY 2:
MEDELLIN – GUATAPE
DAY 3:
GUATAPE – SON SON
DAY 4:
SON SON – SALAMINA
DAY 5:
SALAMINA – MANIZALES (NEVADO DE RUIZ)
DAY 6:
MANIZALES – PENSILVANIA
DAY 7:
PENSILVANIA – NORCASIA
DAY 8:
DAY OFF
DAY 9:
NORCASIA – MUZO
DAY 10:
MUZO – VILLA DE LLEYVA
DAY 11:
VILLA DE LLEYVA – LANDAZURI
DAY 12:
LANDAZURI – MEDELLIN
DAY 13:
DEPARTURE
The itinerary may be subject to change due to political or social reasons or weather conditions.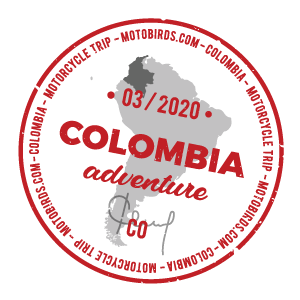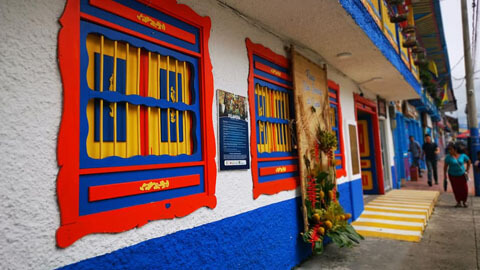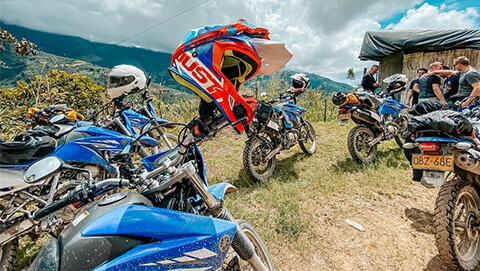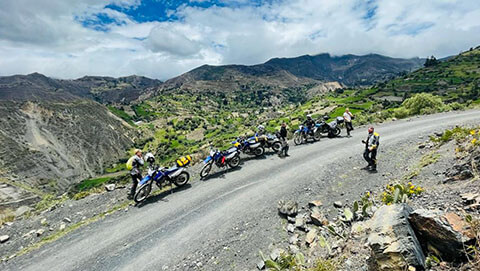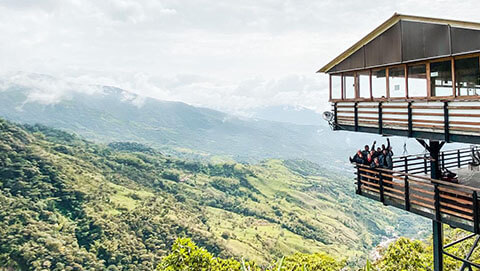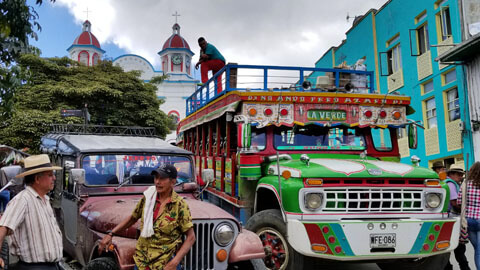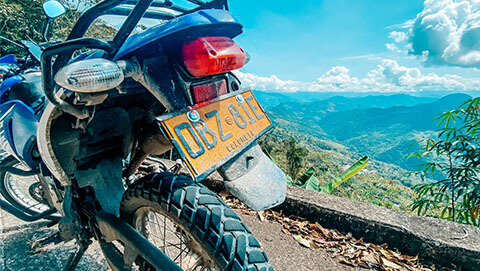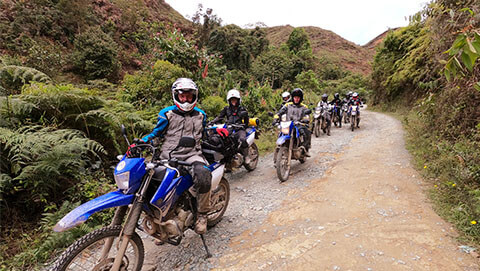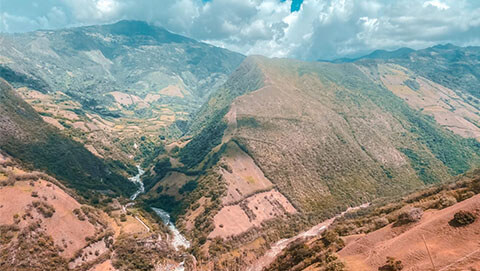 MOTORCYCLE
Honda XRE300 / Kawasaki Versys 300. Motorcycle rental included in the tour price.

GUIDE
Assistance of a multilingual MotoBirds guide on a motorbike.

SUPPORT CAR AND SERVICE
Our luggae will go in the support car. We travel light!

FOOD AND ACCOMODATION
All accommodation on 2 sharing basis at 3* hotels or guesthouses. Breakfasts. We can arrange a single room upon request – cost 50 EUR/night supplement.

TRANSPORT TO/FROM HOTEL
Group airport transfers are included in the tour price, provided your arrival date is on the tour program dates. Individual transfer can be organised on different dates, but is not included in the tour price.

INSURANCE
Basic travel insurance. Upon request and with additional fee, we can offer additional insurance, covering for example the costs related to non – showing up on the trip due to Covid -19. Tourist Guarantee Fund fee. When rental motorbikes are used, they have third-party liability insurance.

PHOTOS AND TRACKS
After the trip we will send you photos from the trip and tracks from the road.

MOTOBIRDS WELCOME PACK
Each participant will receive a starter pack from MotoBirds, which includes, among other items: MotoBirds tour stickers, a detailed trip program, a list of hotels, a tour souvenir T-shirt.
Airplane tickets to and from Medellin (please don't buy the plane tickets until the minimum amount of participant joining the trip is confirmed).
Meals other than breakfast.
Optional attractions and activities, such as rafting.
Motorcycle fuel.
The costs resulting from damage to the motorcycle caused by the driver.
Entrance tickets to tourist attractions along the route.
Rafting and other extra attractions.
Any COVID tests / vaccinations that may be required at time of travel.
Any medical expenses not covered by our insurance
Book a place on this tour by paying reservation fee - 500 EUR or pay the full amount. After selecting the "BOOK" option, you can choose whether you pay only the reservation fee or the entire amount, on the "CART" page you can choose the transaction currency - EUR, PLN or USD.
SIGN IN TO THE INTERESTED LIST OF THIS TOUR
Not sure yet? Subscribe to the interested list and receive notifications about this trip.