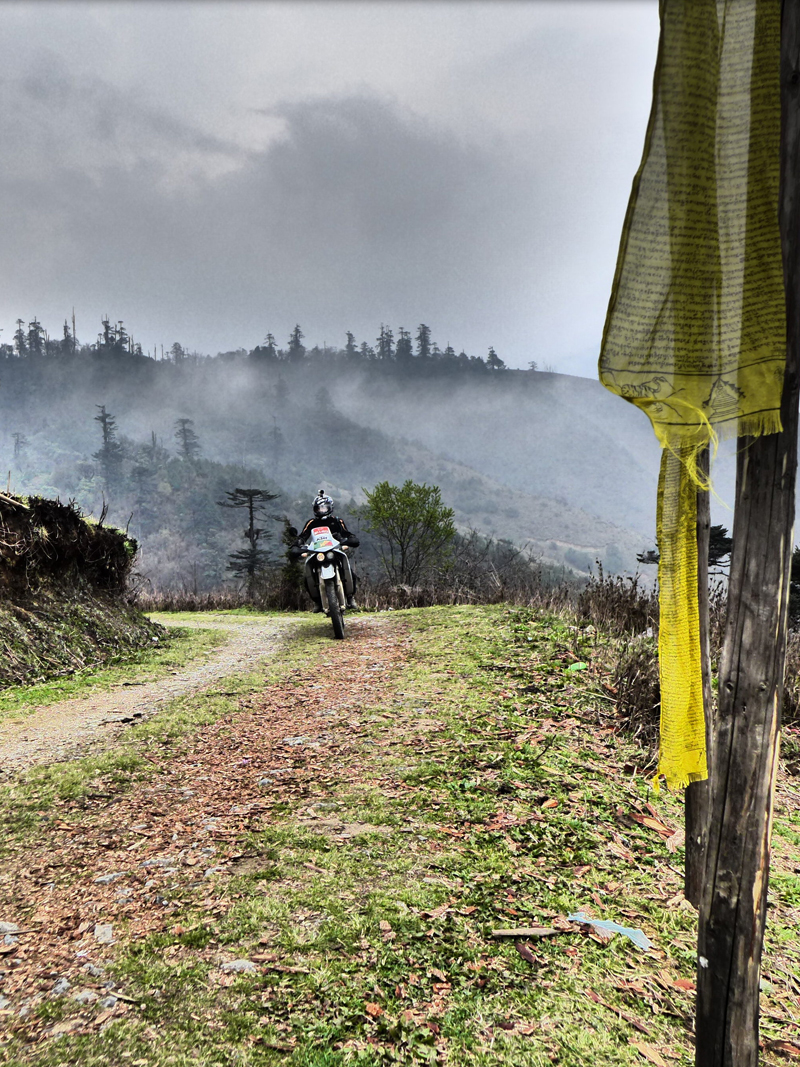 START:
2 October 2023 / Bagdogra, INDIA
FINISH:
13 October 2023 / Gauhati, INDIA
TYPE OF ROADS:
90% on road + 10% off road
LEVEL OF DIFICULTY:
3 / 10
MOTORCYCLE:
We will ride on the legendary Royal Enfields Himalaya. Renting motorcycles is included in the price of the tour.
ABOUT THE TRIP:
Bhutan is the last of the Buddhist Himalayan kingdoms. It survived squeezed between two world giants – China and India. It is situated entirely in the mountains: twenty summits of which exceeds 7000 m. On ly750 thousand people inhabit this country, but almost all of them happy. It is no wonder that the idea of Gross National Happiness (GNP) was first invented exactly in this tiny Himalayan Kingdom, and is now perceived as an intangible contribution of the Fourth King of Bhutan - Jigme Singye Wangchuck to the global economy. Gross National Happiness is a subject of an annual assessment conducted by the designated royal institution. The studies on happiness of Bhutan citizens has been conducted for 40 years now. The officially released results indicate that as much as two-third of Bhutanese people consider themselves as fortunate. What is more, Forbes ranked this relatively poor (as from the economic standpoint) country, in the top ten of the happiest places in the world. Bhutan slowly opens for the rest of the world, following its own mysterious rhytm. The first motor vehicle came to the country in 1961. Towards the end of the 1960s the so-called " celestial road of a thousand bends" was completed. Till now, it is the only, 3.5 meters wide, asphalt East-West highway. Radio broadcasting started in 1973; since 1999 only a few TV set's owners can relish watching TV. The Internet was introduced only in 2000. The first tourists came to Bhutan in 1974. The country has opened its door gradually. Undoubtedly, Bhutan is perceived by travelers as an exclusive destination. A journey to Bhutan is not only about traversing long distances, it is a real time travel. In Bhutan there are still over two thousand monasteries and gomps, and every major city has its dzong – a distinctive Bhutanese fortress. Houses in Bhutan are built according to a traditional model and Bhutanese people wear colorful national costumes every day. Is Bhutan the last Shangri La - the mythical land of happiness? According to James Hilton, the author of Lost Horizon, Shangri La is located somewhere in the Himalayas and is governed by righteous lamas. Shangri La is obviously a fictional utopian lamasery, however, those who have searched the land, agreed that Bhutan best represents its major traits. Check out yourself. Take part in adventure of your life!
COVID-19 FLEXIBLE BOOKING AND GUARANTEED REFUND
If due to Covid-19 restrictions we were forced to cancel a tour or a transport, the choice is yours: either get a full cash refund, or we can transfer your deposit to any other tour or service that we provide.
Book your next Tour or Transport with confidence!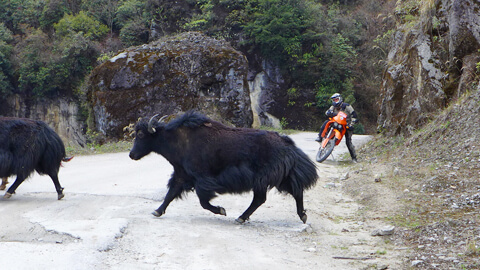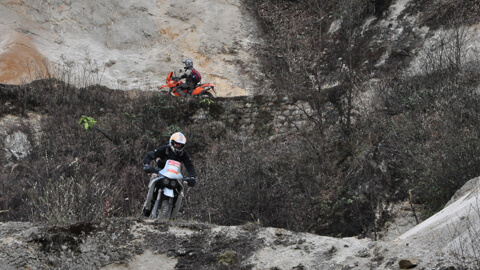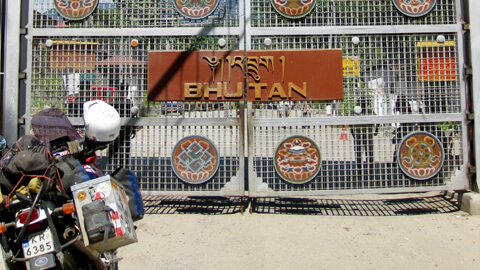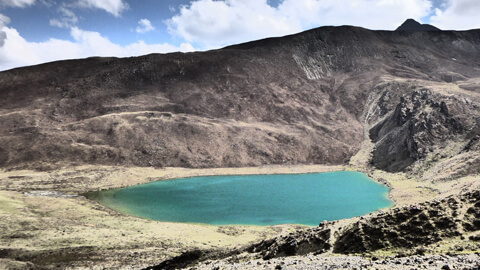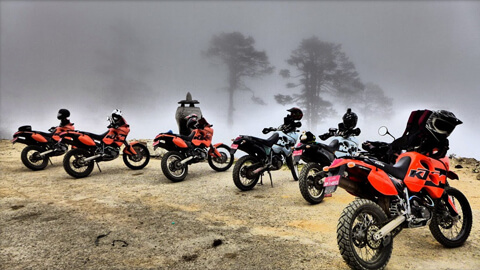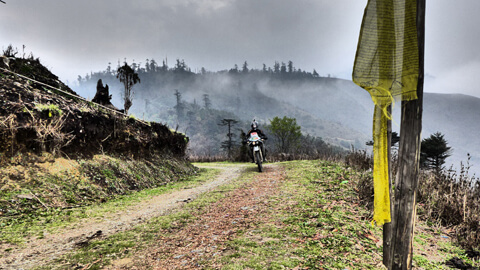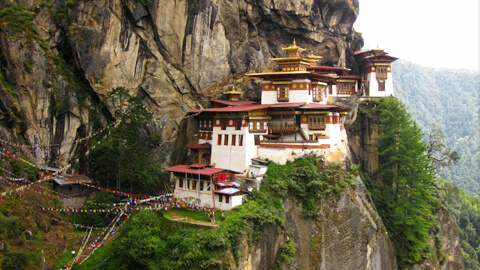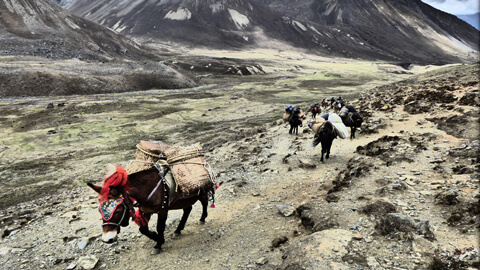 HIGHLIGHTS:
Last Buddhist kingdom
Paro and Paro Ringpung Dzong
Monastry Tiger's Nest
Haa Valley
Phunaka Dzong and Trongsa Dzong
Bhumtang Valley, Kurgye Monastery and Tamshing monastry
Region Lhuntse
East Bhutan
Winding mountain roads – it is said that the longest straight road in Bhutan is the runaway
Chelela Pass (4000 m npm)
Dochula Pass (3150 m npm)
Pelela Pass (3300 m npm)
Yutongla Pass (3400 m npm)
Thrumshingla Pass (3750 m npm)

ABOUT THE ROAD:
The ride itself is not difficult or technical – but we promise it will be absolutely stunning! We will be riding mostly paved roads and a few gravel roads in good conditions. High altitude and infinite turns can provoke tiredness.

SPEED:
It is not a race, and we care about safety. We will be going at our own pace and make sure all participants reach the destination safely.

WEATHER  CONDITIONS:
The weather at this time of year is generally sunny, but as in the high mountains it can change quickly. It is much cooler at night, the temperature can drop to several degrees. During the day, the temperature varies between 15C and 20C.

Remember:
Remember this is a motorcycle trip, so you have to use adequate gear.
ITINERARY:
Day 1
Fly to Bagdogra (India), transfer to Phuentsholing
Day 2
Phuentsholing – Paro
Day 3
Paro – visit in Tiger's Nest Monastery
Day 4
Paro – Thimphu via Haa valley
Day 5
Thimphu – Punakha
Day 6
Punakha – Trongsa via Phobjikha Valley
Day 7
Trongsa  – Bumthang / Jakar
Day 8
Bumthang local excursions
Day 9
Bumthang – Mongar
Day 10
Mongar – Trashigang
Day 11
Trashigang – Samdrup Jongkhar
Day 12
Samdrup Jongkhar – Gauwahati Airport fly out
DUE TO THE PLANNED OPENING OF NEW ROADS IN LADAKH, CONNECTING THE ZANSKAR VALLEY WITH LEH – MANALI HIGHWAY, THE ROUTE MAY CHANGE FAVORABLY.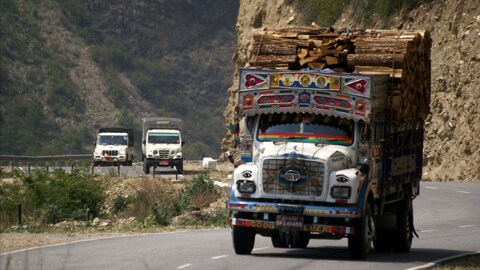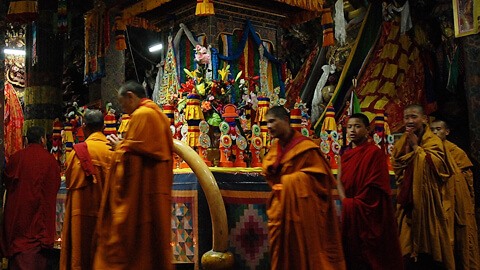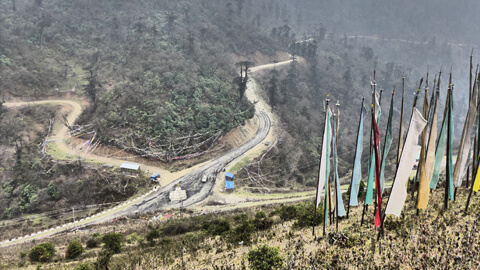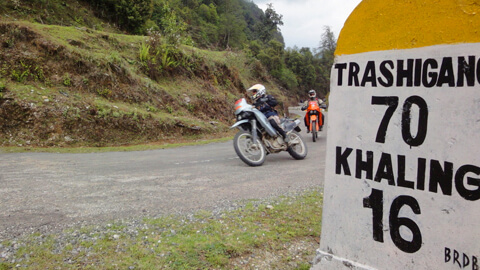 motorcycle
We'll ride the legendary Royal Enfields. We even prepare for you latest "enduro" Himalayan model! Motorcycle rental is included in the tour price.

TRANSPORT TO/FROM HOTEL
Transport from Bagdogra airport to the hotel in Phuentsholing and from the hotel in Samdrup Jonpur to the airport in Gauhati. Airport transfers are included in the tour price if your arrival and departure are on the official tour dates.

GUIDE
Assistance of a multilingual Moto Birds guide on the motorbike and local guide.

SUPPORT CAR AND SERVICE
The support car will carry all our luggage. We travel light! An experienced mechanic is coming with us. If necessary, we provide spare parts.

FOOD AND ACCOMODATION
Accommodation in twin rooms, in a 3-star hotels. Breakfasts, Lunches and dinners. Single room accommodation possible against a supplement of EUR60 / night

insurance
Basic travel insurance. Upon request and with additional fee, we can offer additional insurance, covering for example the costs related to non – showing up on the trip due to Covid -19. Tourist Guarantee Fund fee. When rental motorbikes are used, they have third-party liability insurance.

VISA AND TICKETS
Bhutanese visa. Entrance tickets to tourist attractions en route, including Buddhist monasteries.

PHOTOS AND TRACS
After the trip we will send you photos from the trip and tracks from the road.
Airplane tickets to Bagdogra and Gauhati – you should fly through Delhi (please don't buy the plane tickets until the minimum number of participants joining the trip is confirmed).
Fuel for the motorbike.
The costs resulting from damage to the motorcycle caused by the driver.
Cost of the Indian visa – visas are organized by participants individually.
Extra attractions.
Any COVID tests / vaccinations that may be required at time of travel.
Book a place on this tour by paying reservation fee - 500 EUR or pay the full amount. After selecting the "BOOK" option, you can choose whether you pay only the reservation fee or the entire amount, on the "CART" page you can choose the transaction currency - EUR, PLN or USD.
SIGN IN TO THE INTERESTED LIST OF THIS TOUR
Not sure yet? Subscribe to the interested list and receive notifications about this trip.