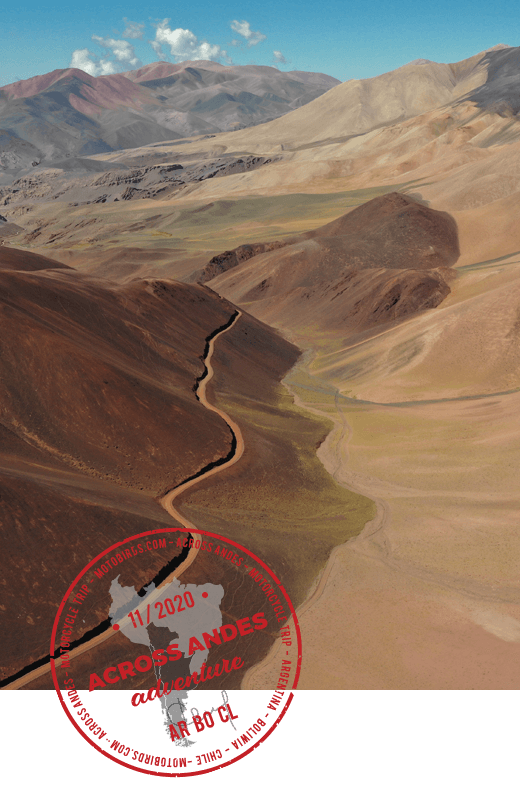 START:
6 April 2021 / SALTA, ARGENTINA
META:
20 April 2021 / SALTA, ARGENTINA
TYPE OF ROADS:
80% off road + 20% on road
LEVEL OF DIFICULTY:
9 / 10
MOTORCYCLE:
Motorcycles available in Argentina - Yamaha XTZ 250. Renting motorcycles is included in the price of the tour.
ABOUT THE TRIP:
Bordering region of Argentina, Bolivia and Chile is one of the most amazing, mysterious and picturesque of South America. It's a real challenging paradise for adventure lovers! During our trip we will get to know both the Andean roads and the Atacama Desert. We will visit the largest salt flats in the world – Salar de Uyuni, and get a feel of what it feels like to lose orientation and perspective. We will see multi-colored volcanoes and lagoons teeming with flamingos. Make sure not to forget your swimsuit, as steaming geysers are waiting for us! On the route we will surely meet llamas, vicuna, guanaco and flamingos. We will try those fantastic Argentinian steaks, and have the opportunity to vote which of the Argentinian or Chilean wine is better. We'll also get to know more about the warm hospitality and nature of the local population. Our journey combines demanding off-road riding with culture, cuisine and nature. We promise it will be hard, but more importantly, you will go home with ever-lasting memories – and a craving to come back!
COVID-19 FLEXIBLE BOOKING AND GUARANTEED REFUND
If due to Covid-19 restrictions we were forced to cancel a tour or a transport, the choice is yours: either get a full cash refund, or we can transfer your deposit to any other tour or service that we provide.
Book your next Tour or Transport with confidence!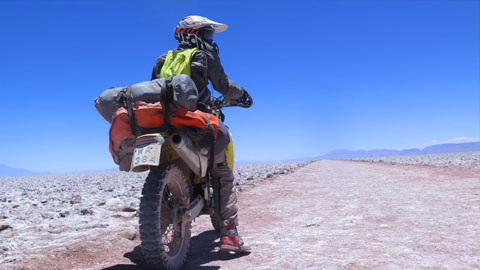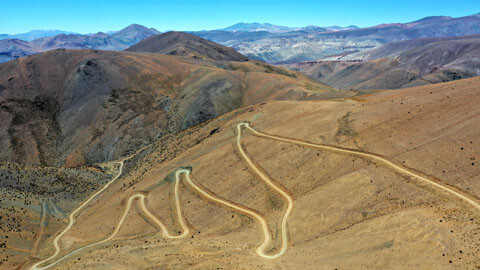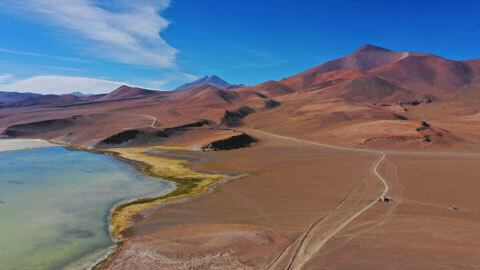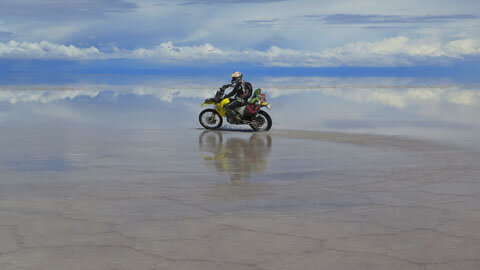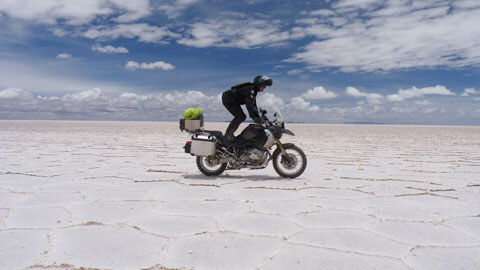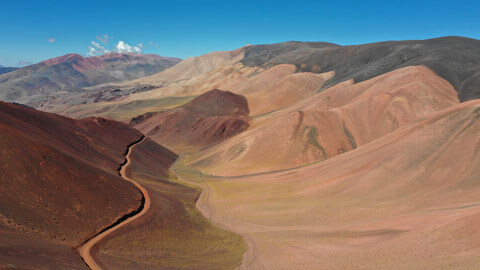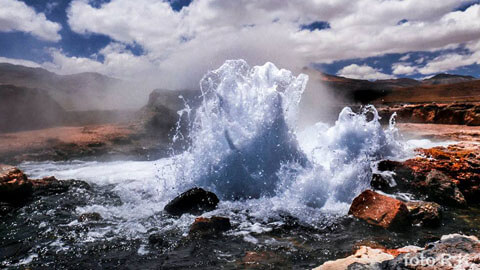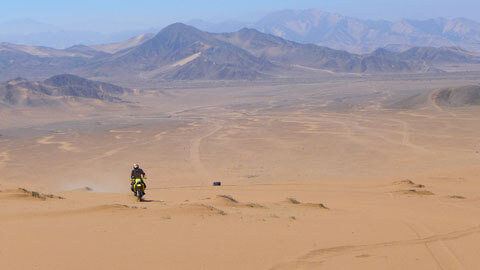 HIGHLIGHTS:
Salta;
Cafayate;
San Pedro de Atacama;
Geiseres de Tatio
Ruta de las Lagunas in Bolivia
Salar Uyuni;
San Voncente
Iruya;
Purmamarca;
Tilcara;
lagoons;
Atacama Desert;

ABOUT THE TRIP:
The ride itself is quite demanding at times. In some areas, the high altitude adds to the challenge. All the tracks are however rideable and this is not a hard-enduro expedition for stuntmen. Expect deep sand of all types, and in some parts corrugations you'll never forget. However, the reward is clear: stunning landscapes and undying memories! We will be riding mostly gravel tracks of varying conditions.

speed:
It is not a race, and we care about safety: We will be going at our own pace and make sure all participants reach the destination safely.

WEATHER CONDITIONS:
The weather at this time of year is generally dry and sunny. Sometimes, freak storms can occur, and we should have the right gear for this too. We will be riding at high altitudes and it can be very cold if the weather turns against us.

REMEMBER:
Wearing suitable riding gear is the responsibility of each rider. It is also a good idea to have a camelback with you, as the air is very dry. Pack some sunscreen, and your sunglasses, but also make sure to bring a couple of warm layers and be prepared for the odd rain.
ITINERARY:
DAY 1
Salta arrival
DAY 2
Salta – Cafayate
DAY 3
Cafayate – Cachi
DAY 4
Cachi – San Antonio de los Cobres
DAY 5
San Antonio de los Cobres – Salinas Grandes – Pastos Chicos
DAY 6
Pastos Chicos – San Pedro de Atacama (via Paso Llama)
DAY 7
San Pedro de Atacama – day off
DAY 8
San Pedro de Atacama – Mano del Desierto
DAY 9
Mano del Desierto – Chuvica
DAY 10
Chuvica – Uyuni (via Salar)
DAY 11
Uyuni – Tupiza (via San Vicente)
DAY 12
Tupiza – Iruya
DAY 13
Iruya – Purmamarca
DAY 14
Purmamarca – Salta
DAY 15
FLIGHT TO BUENOS AIRES AND TO EUROPE
The itinerary may be subject to change due to political or social reasons or weather conditions.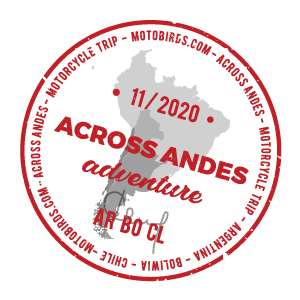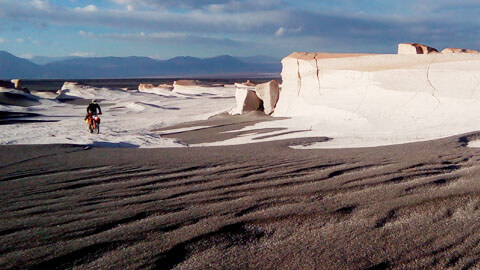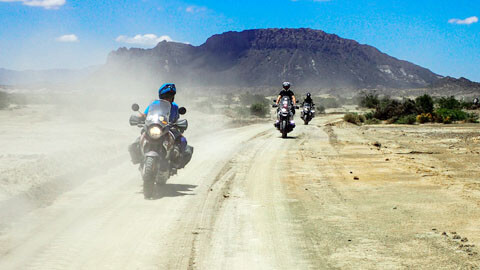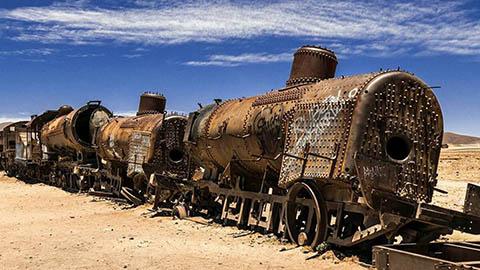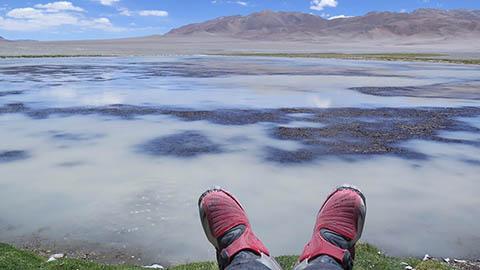 motorcycle
Motorbikes available in Argentina  – Yamaha XTZ 250 Tenere.

guide
Assistance of a Moto Birds Spanish speaking guide on a motorbike.

SUPPORT CAR
Our luggage will go in the support car. We travel light!

FOOD AND ACCOMODATION
All accommodation on 2 sharing basis at 3* hotels or guesthouses. Breakfast. We can arrange single room supplement upon request – cost 50 EUR/night.

TRANSPORT TO/FROM HOTEL
Transport from Salta airport to the hotel and from the hotel in Salta to the airport.

INSURANCE
Civil liability insurance for the motorbike. Travel insurance. Tourist Guarantee Fund fee.

PHOTOS AND TRACS
After the trip we will send you photos from the trip and tracks from the road.
Airplane tickets to and from Salta (please don't buy the plane tickets until the minimum amount of participant joining the trip is confirmed).
Meals other than breakfast.
Motorcycle fuel.
The costs resulting from damage to the motorcycle caused by the driver.
Entrance tickets to tourist attractions along the route.
Extra attractions.
Book a place on this tour by paying reservation fee - 500 EUR or pay the full amount. After selecting the "BOOK" option, you can choose whether you pay only the reservation fee or the entire amount, on the "CART" page you can choose the transaction currency - EUR, PLN or USD.
SIGN IN TO THE INTERESTED LIST OF THIS TOUR
Not sure yet? Subscribe to the interested list and receive notifications about this trip.